Fannie Mae (OTCQB:FNMA) and Freddie Mac (OTCQB:FMCC) on a combined basis make over a billion dollars a month on a normalized basis at current g-fee levels. That's over $30 million dollars a day including weekends. They are both Fortune 50 private companies. The government has been in control of the conservatorship that it has placed them into and since 2008 they have been giving all their money to the government. Unless that changes, the publicly traded common and preferred shares are intrinsically worthless.
Investment Thesis: The government interprets the law to permit two parts of government to negotiate between themselves with neither having fiduciary duty to shareholders in regard to deciding what to do with Fannie Mae, Freddie Mac and their money and future profits. Right now the bulk of the litigation against actions taken against Fannie Mae and Freddie Mac during conservatorship are against the third amendment net worth sweep. If any of these should prevail, the government in its own words says that it will have to revert back to an old capital paradigm. This old capital paradigm is the one where money and capital matters and is the same one that all private companies and individuals participate under and under this paradigm the publicly traded common and preferred shares are not necessarily worthless. Common shares in both enterprises used to trade over $50 and preferred shares used to trade around their respective par values, leaving a lot of upside on the table for both.
Collins V. FHFA
A new lawsuit challenging the third amendment was filed in the Southern District of Texas. This lawsuit reflects discovery and makes specific references to government insiders: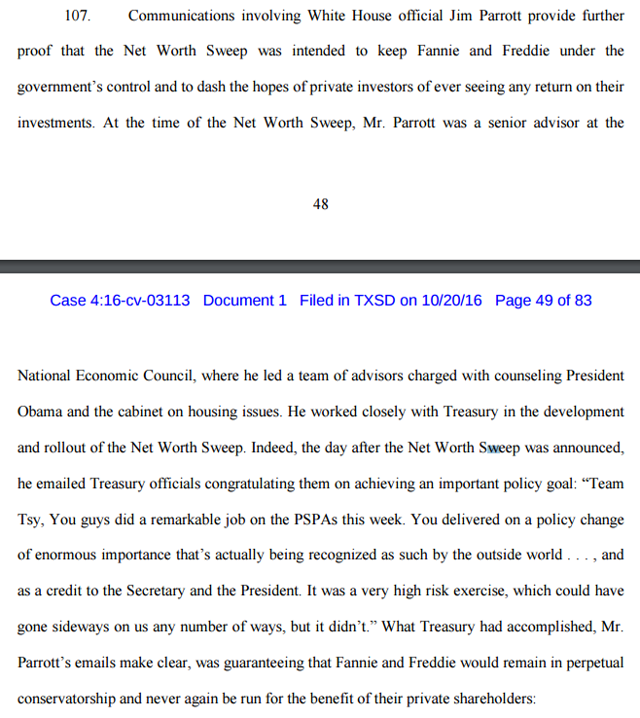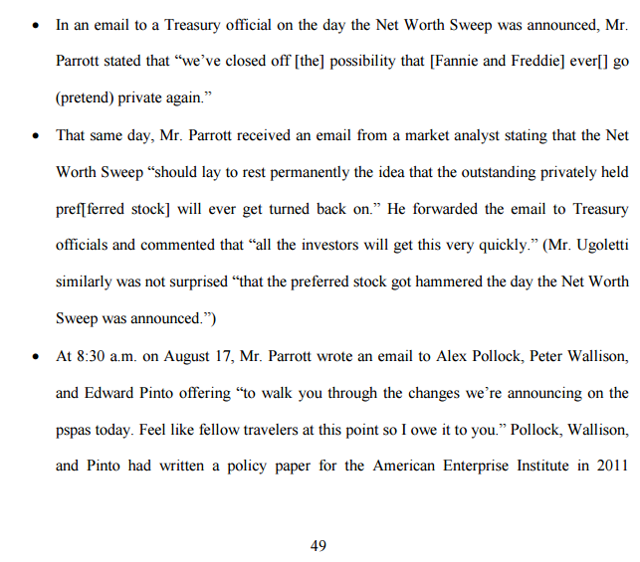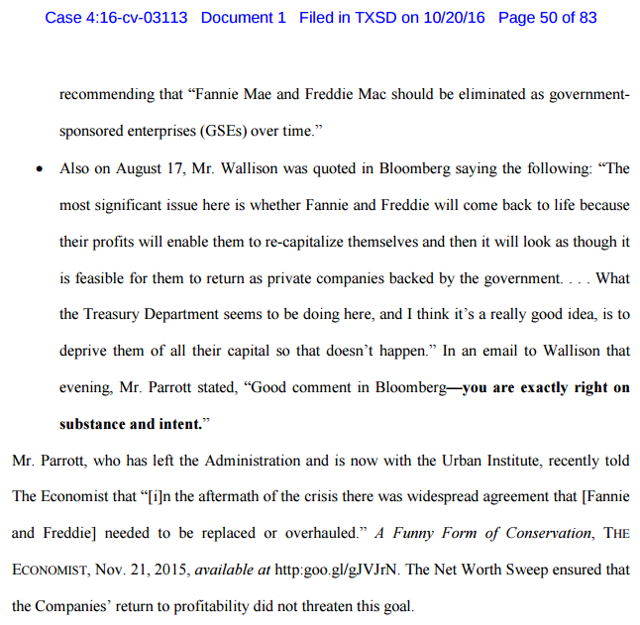 In its entirety, this lawsuit is Similar to Robinson and is seeking to enforce the same interpretation of the law as Perry Capital. Perry Capital was dismissed in 2014 by Judge Lamberth based on his interpretation of the law which permits the government under HERA the ability to make agreements on behalf of the enterprises with any counterparty that are immune from judicial review.
The Appeal of Perry Capital: Judge Ginsburg's Words
Judge Ginsburg is the senior of the three judges presiding over the Perry Capital Appeal. Here's the snippet from the title of this article demonstrating that Judge Ginsburg interprets the law differently than the government at least during oral arguments: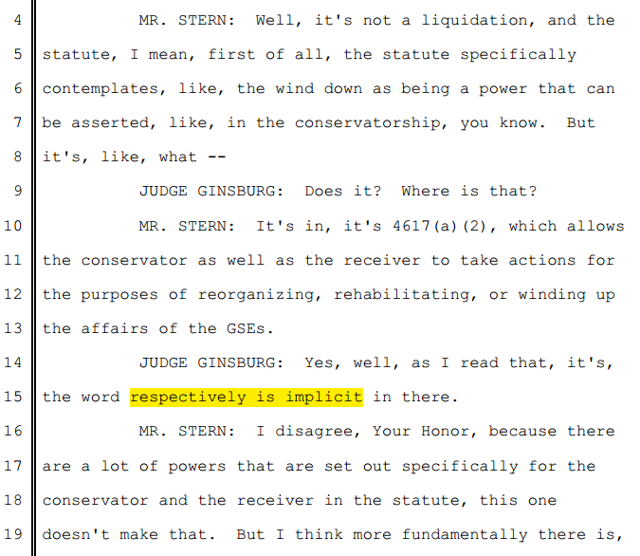 In the above excerpt from oral arguments, Judge Ginsburg disagrees with the government's interpretation of HERA. The government interprets conservator powers to more or less be inclusive of receiver powers whereas Ginsburg reads the powers to be separate.
Nevertheless, we are a nation of laws, not just a nation of the spirit of the laws. Lamberth's interpretation of the law continues to be the prevailing interpretation as it has impacted Pagliara, Robinson and Pratt rulings - two of which had the same basic legal argument and the Pagliara case which argued to inspect the books. Judge Ginsburg is only one of the three Judges on the Court of Appeals panel where two is a majority.
The Perry Capital Appeal was argued in the middle of April and came out with three additional questions for class plaintiffs and became fully briefed on July 20th. It's been three full months since then.
CBO - The Effects of Increasing Fannie Mae's and Freddie Mac's Capital
The Congressional Budget Office has issued a new report with regard to the capital of Fannie Mae and Freddie Mac. Sen. Richard Shelby, the Alabama Republican who is chairman of the Senate Banking Committee, had requested that the agency report on the effects of allowing the companies to keep earnings in April.
The most relevant section is the section where the CBO did not account for possible effects on its estimates: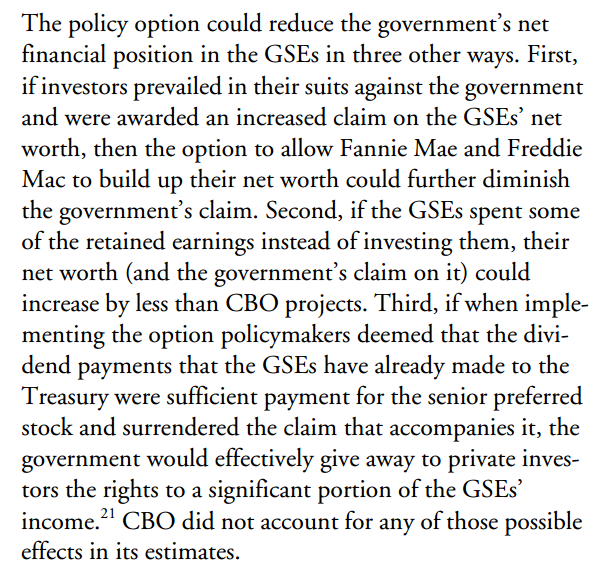 The government isn't counting on investors prevailing in these lawsuits and they aren't counting on policymakers to deem the dividend payments that the GSEs have already made to Treasury to be sufficient payment for the senior preferred stock. It does seem that the dialog in this CBO report is setting up the utility model for Fannie and Freddie.
Prior CFO of Fannie Mae Timothy J Howard weighed in on the CBO report:
By its authors own admission, the proposal "would not restructure the housing finance market; rather, it would allow the GSEs to retain some of their profits and thus increase their capital." FHFA could do the same thing administratively, if it wished to, simply by allowing the companies' Boards of Directors to decline to declare senior preferred stock dividends to Treasury (under the net worth sweep) until the companies build a capital cushion FHFA deems to be sufficient. Had the authors of the CBO piece known that, they could have saved themselves a considerable amount of work.
It seems that the government might be floating a plan of action that they could implement administratively that would be accelerated or implemented by a plaintiff legal victory in the pending litigation against the net worth sweep.
Reflections On Choosing The Best Preferreds
Based on the last Investors Unite conference call in some legal outcome scenarios the time when the preferred share was issued is relevant. Upon reflection this outcome would hurt me the most in my position of FMCCP which currently accounts for roughly 13% of my preferred position. Given that it has paid 6% since 2001 and conservatorship started in 2008, if I assume that the payout at the end of the day is par less cumulative dividends I could expect roughly 58 cents on the dollar whereas my recovery of a position in a preferred issued more recently or one with a lower cumulative dividend may be higher. FMCCP got as high as $20 before the Lamberth dismissal whereas 58% of par value is $29.
There are many Freddie Mac preferreds to choose from: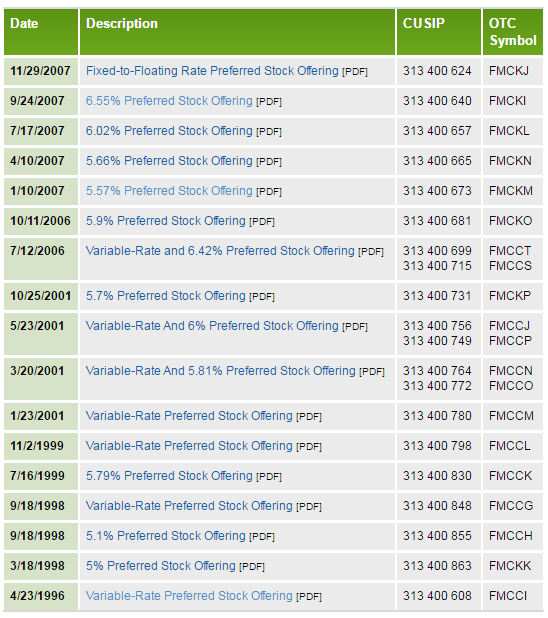 There are many Fannie Mae preferred to choose from: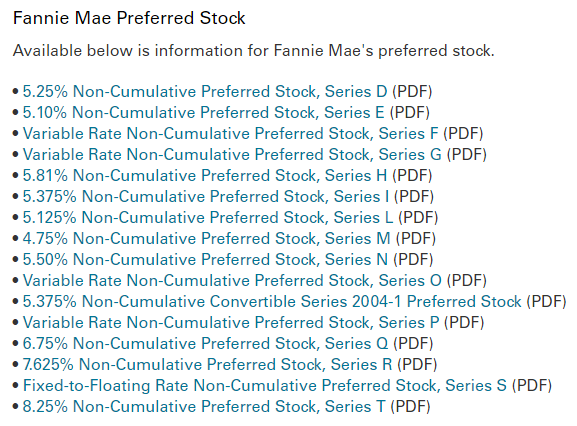 I've been looking at the most recent bid/ask size of the preferreds I own and comparing it to the preferreds I could switch into if this scenario and I haven't seen any arbitrage opportunities. When I originally built positions in these preferreds I targeted discount to par and future dividend potential in the event the companies continued to operate. Karen Petrou suggests Fannie and Freddie aren't going to be privatized anytime soon as evidenced by the FRB taking a big and increasing bet on its "back-door entry into U.S. housing finance."
Summary and Conclusion
As such, I have 4050 shares of FMCCH, 9340 shares of FMCCP, 9714 shares of FMCCT, 2600 shares of FMCKI, 1025 shares of FMCKO, 6585 shares of FMCKP, 27225 shares of FNMFN and 5 shares of FNMFO. I have no plans to trade at this time as we wait for the Perry Capital Appeals ruling. Given that it has taken so long and that they asked only the class plaintiffs additional questions implying that the questions were relevant whereas Lamberth didn't, I think that we will get a remand or possibly a reversal. Worst case, the decision gets affirmed and the government was right all along and they can take companies that have their highest levels of capital in history and spin that capital off to the government while leaving shareholders outstanding but with no economic rights to protect their respective ownership interests. That being said, PricewaterhouseCoopers just settled an accounting fraud lawsuit with respect to the audits that they performed on behalf of the government for Fannie Mae and Freddie Mac during conservatorship.
In addition, Judge Sweeney has ruled in favor of Plaintiffs' motion to compel in the court of claims. To date the government hasn't produced any documents and the government has won a motion for another month so that they can properly respond to Judge Sweeney with regard to sanctions.
The CBO has flipped the out of court government dialog from being one of capital not mattering at all to one of retaining capital except that it would take over a decade to retain an amount of capital at Fannie and Freddie that would be prudent given their perceived operational risk profile according to the government. Inside the chambers of Judge Ginsburg, Judge Brown and Judge Millett is where the live action is assuming that they do not affirm Judge Lamberth's lower court ruling that has been used in other courtrooms around America to mute shareholder economic interests. I own preferreds and am betting on a recapitalization and release sometime after the net worth sweep is ruled to be illegal. If the net worth sweep is legal in the DC Court of Appeals then I will really be questioning my better judgment as this moves forward in other courts and possibly the Supreme Court. As a shareholder, we'd be down but not out as the wait for justice would simply be longer than if we get a favorable ruling sooner.
Disclosure: I am/we are long FMCCH,FMCCP,FMCCT,FMCKI,FMCKO,FMCKP,FNMFN,FNFMO.
I wrote this article myself, and it expresses my own opinions. I am not receiving compensation for it (other than from Seeking Alpha). I have no business relationship with any company whose stock is mentioned in this article.
Editor's Note: This article discusses one or more securities that do not trade on a major U.S. exchange. Please be aware of the risks associated with these stocks.