Imagine for a moment that you're watching the reality TV show Shark Tank when the following idea is presented:
The entrepreneur suggests that he's going to sell an unhealthy food across America. Not only that, but he's going to take that unhealthy food, and fry it, making it potentially diabetes inducing (that won't be part of the presentation to the sharks). Moreover, he's going to sell it in a channel within which he's never previously sold a product.
The idea seems absurd and the judges probably won't be making an offer - more likely, they'd likely laugh him off the set.
However, this is representative of precisely what Hostess Brands and Wal-Mart are doing with "Deep Fried Twinkies," which are being carried nationwide at Wal-Mart (exclusively for 3 months through mid-November, and then across retail nationwide). To be clear, we're not criticizing Hostess; we're praising them. This is the beauty of a brand - the heavy lifting of marketing and creating awareness has been done, and the potential to extend a brand, if managed intelligently, is significant.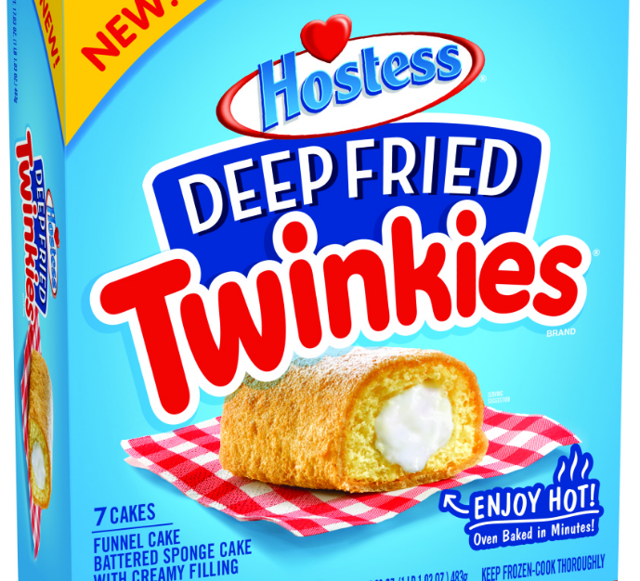 Image of Deep Fried Twinkies, exclusively at Wal-Mart
Thus far, the reviews of Deep Fried Twinkies have been very positive. This is a product that had been in development in collaboration with Wal-Mart (NYSE:WMT) for a year, and is now in Wal-Mart's refrigerated section, a segment of the store where Hostess had not previously had real estate. One can buy Hostess today via Gores Holdings (NASDAQ:GRSH), which issued its definitive proxy this morning and should close its merger with Hostess on November 3rd. It trades at just over at an almost 2 EBITDA turn discount to Hershey's (NYSE:HSY) and a 4+ EBITDA turns discount to Mondelez (NASDAQ:MDLZ), despite higher EBITDA margins and faster organic growth than either company. The nutritional value of a Twinkie is actually superior to a Hershey bar.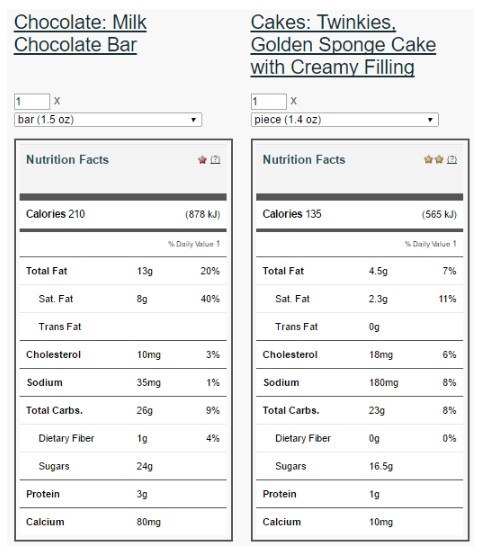 Source: Caloriekings.com
We previously wrote at length about Gores in an August 15th Top Idea. We will discuss Gores/Hostess further below.
Berkshire and Apple
On August 15th, with the filing of quarterly 13-Fs, the media widely reported on Berkshire Hathaway's (NYSE:BRK.A) (NYSE:BRK.B) increased its position in Apple (NASDAQ:AAPL) - a positioned they upped by 55%. This would have been a somewhat less newsworthy item if Berkshire's purchases weren't concurrent with large Apple sales by hedge fund luminaries, and if Buffett weren't famous for his claim that he doesn't understand technology. Hedge fund industry giant Leon Cooperman recently said, "Apple's best days might be behind it" - and given the slowing growth of smartphones (IDC now forecasting just 1.6% y/y growth globally in 2016) that may very well be the case. We doubt the Oracle of Omaha was buying shares of Apple because he foresaw Samsung's (OTC:SSNLF) Galaxy Note 7 debacle.
A not so healthy Galaxy Note 7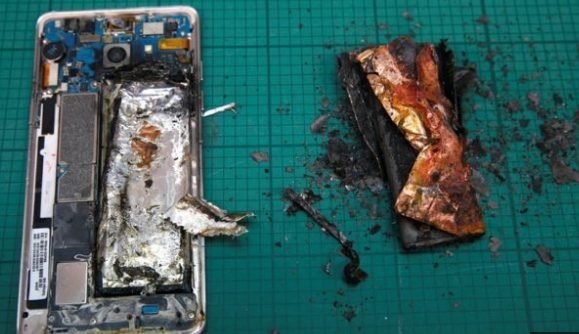 Why did Berkshire add to Apple? Perhaps, he's anticipating an iPhone 8 super-cycle, although we'd be surprised if that's his sole rationale - he's not typically made big technology bets.
Instead, Apple fits many of Buffett's traditional paradigms: it has exceptional returns on capital, strong leadership, a shareholder friendly capital allocation plan - while they could buy back more, most of their cash is trapped offshore and they've certainly come a long way versus 3 or 4 years ago - and, perhaps most importantly, Apple is an incredible brand.
The history of cell phones is littered with companies that could not maintain market leadership: How many of you still own a Nokia (NYSE:NOK) or Motorola (NYSE:MSI) phone - each once had number one market share products (recall the Nok 1100 or Motorola RAZR V3?).
We don't claim to have a unique view on the future of the iPhone. We weren't overly impressed by September's new iteration. We don't see iPhone as significantly superior from a hardware, software or service perspective versus competitors, particularly in light of Google's (NASDAQ:GOOG) well-reviewed Pixel - although we're sure Apple adherents might disagree, and we certainly acknowledge their ecosystem. What Apple has done is create an incredible brand, with devotees willing to camp out to get the product first. However, that Apple is an exceptional brand is nothing new.
As the world's leading brand, Apple is able to charge a meaningful premium, for its iPhones and (in our view, less impressive) iPads.
Buffett knows he has an aligned and thoughtful capital allocator in Tim Cook and a brand that should be sustainable. Further, like Hostess, with Deep Fried Twinkies, Apple will have the opportunity to extend its products into new markets and enjoy substantial, immediate attention. The iWatch has enjoyed success, but remains relatively immaterial to Apple's numbers. However, if and when an iCar comes, something that could move the needle for the company, is there any media outlet that won't report on it, and any consumer considering a car purchase that won't put it in the conversation? We don't know to what extent, if any, this went into Buffett's calculus, but he's had enough success with brands to know that iconic brands have the potential for adjacent growth opportunities that we haven't even contemplated.
The amazing thing about Apple is that it was a great brand 15 years ago, when the stock was in the dumps. According to a December 2002 Wired article titled Apple: It's All About the Brand, the company was spending upwards of $100 million per year through the 1990s on brand advertising, and in 2001 was named brand of the year by brandchannel.com. We remember Apple's unique ad campaigns from the 80s and 90s. In 2003, the stock was awful (even Microsoft (NASDAQ:MSFT) which bailed it out with a $400 million investment dumped the stock way too soon), but the brand was iconic.
In April 2003, the day that iTunes went live, and 18 months after the very successful introduction of hard-drive based iPods, one could have bought shares for under $1. If you bought shares at the time of iTunes introduction, it would be a 140x return (including reinvested dividends). We know two people that did, one a tech portfolio manager at a Midwest-based mutual fund, and one an IT professional (we didn't listen to either), and they shared a common thesis: Apple is a brand that everyone knows and if they get it right they will get market share and can rapidly scale, creating the potential for outsized returns. We recognize that for every Apple there is a Blackberry (NASDAQ:BBRY), and for other 100 baggers like Starbucks (NASDAQ:SBUX), there's a Jamba Juice (NASDAQ:JMBA) or for a Monster (NASDAQ:MNST) there's a Reed's (NASDAQ:REED), but we believe buying excellent brands at good prices, with strong leadership creates the opportunity for asymmetric outcomes. And one Apple makes up for 10 or 20 Blackberrys.
Buffett, with successes with iconic brands like American Express (NYSE:AXP) and Disney (NYSE:DIS), which would be a 3000 bagger had he not sold at a 55% profit after just one year (Berkshire's return has been even higher over the corresponding period), has profited mightily from investing in iconic brands led by aligned and capable managers.
Buffett has also benefited from a sweet tooth. Coca-Cola (NYSE:KO) has been a 100-bagger and private investments like See's Candies have seen net income grow more than 25-fold from when Buffett acquired the company. Dairy Queen is also in the Berkshire portfolio.
Great brands, good price
All of the above leads us back to Gores Holdings. Like Apple, it receives premium pricing given its strong consumer recognition.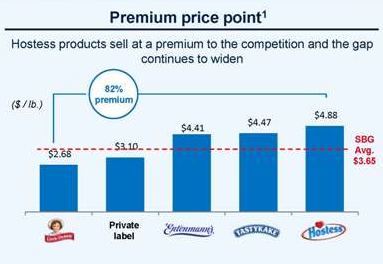 Source: GRSH investor presentation
Premium pricing means better margins for the company and the retailer, which leads to more shelf space, and opportunities like Deep Fried Twinkies. Customer and channel awareness are likely to help improve the outcome of any M&A that Hostess may pursue.
We expect Gores' SPAC transaction with Hostess Brands to be approved by shareholders on November 3rd. The company will be owned by SPAC sponsor Alec Gores and Gores Holdings, and also have participation from his brother Tom. Both of the Gores brothers are self-made billionaires. Hostess is being sold by Dean Metropoulos and Apollo Global Management; however, each is retaining significant stakes (Metropoulos 25% and Apollo 17%) - with Metropoulos rolling $50 million of cash into new shares. Like the Gores both Metropoulos and the senior principals of Apollo are billionaires (Mr. Metropoulos' son Daren recently purchased the Playboy Mansion for $100 million). We like investing alongside billionaires. While doing so doesn't guarantee a positive outcome, a study by Joel Shulman and Erik Noyes of Babson College published in the Journal of Index Investing indicates that over the 15 year period of their study, on average, billionaire-run companies outperformed indices by 700bps per year.
We're also encouraged that Metropoulos will continue to hold a significant stake in Hostess. He's made a fortune turning around and revitalizing brands, and having spoken to numerous sources familiar with Metropoulos, his ongoing association (as Executive Chairman) and significant ownership gives us confidence that better times lay ahead.
Metropoulos's resume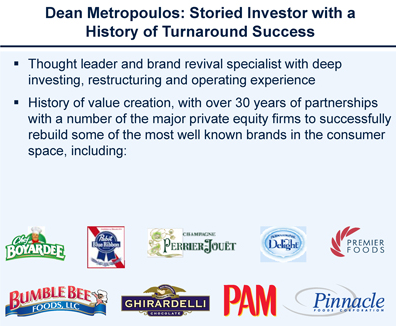 Source: GRSH investor presentation
We think the opportunity to invest in Gores/Hostess remains very attractive. The stock trades at over an almost 2 EBITDA turn discount to Hershey's and is over 4 turns below Mondelez. Both of these comps are experiencing slower organic growth than Hostess and have lower EBITDA margins, but both receive excellent multiples because they house exceptional brands - although the snack food space in general enjoys hefty valuations.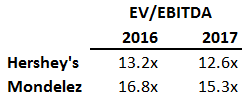 Source: FactSet
If Gores/Hostess traded in line with Hershey's/Mondelez, its valuation would imply a range of $14.50-$19.50 per share - or 24%-66% upside (and significantly more for the warrants GRSHW - which are also liquid, and undervalued based on prices implied by Black-Scholes).

Source: Company filings, Dane Capital Management LLC estimates
Of course, there's probably additional Hostess brand extensions and/or accretive M&A that we don't know about and which aren't in the numbers. With smart, aligned insiders and a brand built over 96 years, we think there's a lot that can go right.
We can argue whether Hershey's and Mondelez are the right comps, but in our view, an iconic brand like Hostess, which is asset light, has the highest margins in the space, is enjoying robust organic growth, and has insiders that are aligned and a history of producing outstanding returns, will likely trade at a 14x-15x EBITDA multiple - or $16-$17.
The nice thing is Gores/Hostess doesn't require an event or something going right to merit this valuation. By this, we mean that our $16-$17 target is based on achieving 2016 projections and doesn't require higher product sales prices, asset divestitures, restructuring, etc. We'd suspect that shares will rapidly move toward that price. While this might sound optimistic, we'd point out that we previously wrote about (in an August 1 Top Idea) another SPAC, Limbach (OTCQB:LMBH) which had an arbitrary day 1 price, and traded at 6x EBITDA versus 10x for peers. Shares are subsequently up 60% in less than 3 months, although they still trade at a 25% discount to peers despite organic revenue and backlog growth that is dramatically above peers. Notably, Limbach also is a great brand, with a 115-year-old history, and customers like Disney (NYSE:DIS) (a dozen projects in the pipeline). For those that would suggest businesses that sell to businesses aren't really brands, we'd reference the old catchphrase "Nobody ever got fired for buying IBM." This came into the public lexicon through IBM's (NYSE:IBM) corporate sales to businesses, not through sales of PCs - and probably not coincidentally, another long-term Berkshire holding. While the average consumer may not know Limbach, in its field, it will get a look at almost any opportunity (and like Apple, Hostess, IBM or Lindblad (see below) they win on quality and brand reputation, not on lowest cost.
We expect Gores/Hostess deal closure to be a catalyst for their shares. We suspect some investors are currently on the sidelines because they are uncomfortable with the SPAC structure or uncertain about the transaction closing. In addition, it currently appears that the company has a ~$400-$500 million market cap (listed on various financial websites) since it was a 37.5 million share IPO, but with Founders' shares and new shares issued as part of the transaction, upon deal completion the company will have a $1.5 billion market cap at current prices. This will be an institutionally ownable security, should receive inclusion in multiple indices (resulting in significant forced buying), and we suspect the company will have a strong sell-side following (the company's presentation for research analysts is here).
In addition, some investors may be concerned that this is a company that has gone bankrupt twice in 14 years. Notably, it exited its 2nd bankruptcy without the $2bn pension liability that had been costing $100 million annually in cash flow. They also exited the bankruptcy without costly union contacts - factories went from 11 to 3 (with significant recent cap-ex upgrading facilities), factory utilization went from 54% to 80%+, T&D dropped from 34% to 16% and EBITDA margins from negative to 30%, better than snack food peers. It's just not an apples-to-apples comparison with old Hostess. We think in months to come this will be a much more closely followed story, with a multiple closer to Mondelez than Hershey's (although both provide solid upside).
Boats
While on the subject of brands, we thought we'd touch on Lindblad Expeditions (NASDAQ:LIND), which has been a poor investment thus far in 2016, but we expect will generate strong returns in years to come.
We continue to believe that Lindblad fits into the category of iconic brands with strong leadership. If you're not into experiential travel or cruises, the company may be unfamiliar, but for those that know the company, the loyalty is high - in 2014, 37% of their passengers were repeat customers including 10% that were traveling with Lindblad for their 5th (or more time).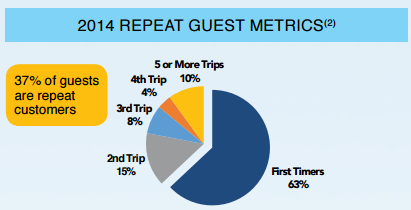 Source: Lindblad investor presentation
Lars-Eric Lindblad was the first person to run commercial boating expeditions to Antarctica 50 years ago. Lindblad, run by his son, Sven-Olaf Lindblad continues that tradition.
Like other respected brands, Lindblad benefits from a premium price point. Apple charges a premium for a not distinguishably better product (in our view). As discussed above, Twinkies is the high price-point product in its market segment - for yellow cake filled with cream. Lindblad charges 5x-6x the price per day of Carnival (NYSE:CCL), Norwegian (NASDAQ:NCLH) or Royal Caribbean (NYSE:RCL) for an experience on their vessels.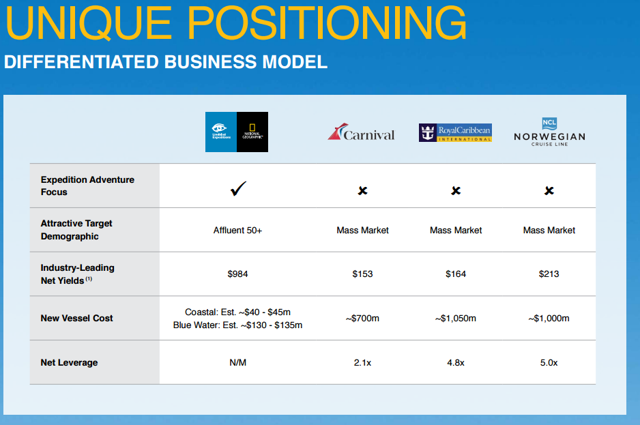 Source: Investor presentation
Given Lindblad's premium pricing, and the fact that they don't require crystal chandeliers and other opulent features on their ships, returns on invested capital on new builds are expected to be in the neighborhood of 20%. As a result, their ships are essentially self-funding. National Geographic ("NG") has been Lindblad's partner for over a decade, and NG is a powerful marketing partner and branding tool.
We don't expect 2016 to be a great year for Lindblad. They've been impacted by the late delivery of marketing materials and transitions with new vessels (i.e. passengers waiting to book after the delivery of new ships).
However, we suspect much better times are ahead. We call 1.800.Expedition (1.800.397.3348) at least once a week. Simply calling this number gives you the sense of the brand. If you're put on hold you're given expedition reports - not live, but they clearly give you the sense of the experience. The sales team is internal and they intimately know the ships and the itineraries. They also will let you know that Cuba (starting in December) is nearly fully booked and if you hope to go to Antarctica in 2017, there's availability in November (2017).
For Lindblad, we suspect that 2017 will be a much better year with Cuba for all of 1Q (versus just December 2016), a full year of Natural Habitats (acquired in May) versus 7 1/2 months in 2016, the higher priced (lower cost/more efficient) NG Endeavor 2 beginning in December 2016, and the NG Quest launching in June 2016. The company should be set up for some strong year-over-year comps.
In addition to being a strong brand, Lindblad has excellent leadership - starting from the top. In the company's April proxy statement, we saw something that we don't recall having seen previously. CEO Sven-Olaf Lindblad unilaterally decided to give 1 million of his shares to employees (which required and subsequently received shareholder approval).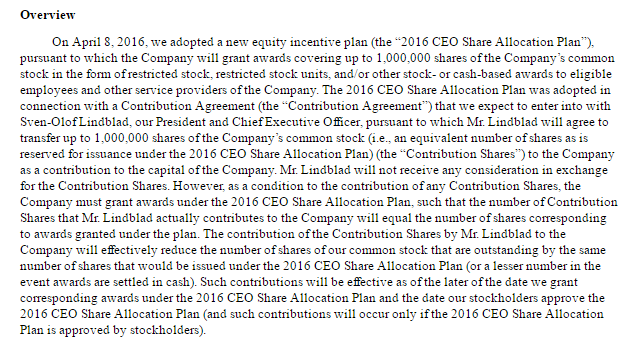 Source: Lindblad Proxy p. 32
When we discussed this with Sven he said, "I don't understand why every CEO wouldn't do this." As we all know, they don't. We think this is the type of leader that Buffett would support. In our view, this is the type of behavior that engenders employee loyalty and creates long-term brand value.
Given our less than sanguine outlook for 2016 one might question why we currently own shares of Lindblad. The facts are 1) 2017 is now less than 3 months away and should be a far better year, 2) we are hopeful that Lindblad, with excess capital, will either re-engage in share repurchase activities after reporting 3Q or make an accretive acquisition - either a positive for the company, 3) the company could make an accretive acquisition at any time, and 4) while we don't anticipate a near-term sale of Lindblad, Norwegian-based experiential cruise brand Hurtigruten is said to be for sale and potentially will fetch 12-14x EBITDA, which on 2017 numbers which would imply $14-$16 for Lindblad. We believe Lindblad will be a compounder over time, and the time to own it is when it's unpopular, not when it's well-loved.
Conclusion
We are looking to own companies that can produce outsized returns over time. Well known, well run brands create the potential for asymmetric outcomes. Sometimes such outcomes take time. Gillette traded sideways (up 40% total) for 18 years before becoming a 100-bagger - we'd prefer not to wait 18 years. Sometimes things go down before they go up. Netflix (NASDAQ:NFLX), for example, dropped 25% in a day on 4 different occasions since the company's founding. Berkshire has seen its stock decline 50% from highs on 3 different occasions. We'd like to be perfect market timers, but market timing is not easy and we don't know that we wake up to positive news on Lindblad on Monday (or any day). With a strong balance sheet, exceptional brand, and aligned leadership, we expect to be duly rewarded. We think both Gores (Hostess) and Lindblad are brands that will meaningfully reward investors over time.
Disclaimer: This article was provided for informational purposes only. Nothing contained herein should be construed as an offer, solicitation, or recommendation to buy or sell any investment or security, or to provide you with an investment strategy, mentioned herein. Nor is this intended to be relied upon as the basis for making any purchase, sale or investment decision regarding any security. Rather, this merely expresses Dane's opinion, which is based on information obtained from sources believed to be accurate and reliable and has included references where practical and available. However, such information is presented "as is," without warrant of any kind, whether express or implied. Dane makes no representation as to the accuracy, timeliness, or completeness of any such information or with regard to the results to be obtained from its use should anything be taken as a recommendation for any security, portfolio of securities, or an investment strategy that may be suitable for you.
Dane Capital Management, LLC (including its members, partners, affiliates, employees, and/or consultants) (collectively, "Dane") along with its clients and/or investors may transact in the securities covered herein and may be long, short, or neutral at any time hereafter regardless of the initial recommendation. All expressions of opinion are subject to change without notice, and Dane does not undertake to update or supplement this report or any of the information contained herein. Dane is not a broker/dealer or investment advisor registered with the SEC, Financial Industry Regulatory Authority, Inc. ("FINRA") or with any state securities regulatory authority. Before making any investment decision, you should conduct thorough personal research and due diligence, including, but not limited to, the suitability of any transaction to your risk tolerance and investment objectives and you should consult your own tax, financial and legal experts as warranted.
Disclosure: I am/we are long GRSH, LIND, LMBH.
I wrote this article myself, and it expresses my own opinions. I am not receiving compensation for it (other than from Seeking Alpha). I have no business relationship with any company whose stock is mentioned in this article.
Editor's Note: This article discusses one or more securities that do not trade on a major U.S. exchange. Please be aware of the risks associated with these stocks.