I recently did articles on the 3 biggest banks in Canada, The Bank of Nova Scotia (NYSE:BNS), Toronto-Dominion Bank (NYSE:TD), and Royal Bank of Canada (NYSE:RY), all of which offer different prospects to long-term investors. Those articles can be found here, here and here.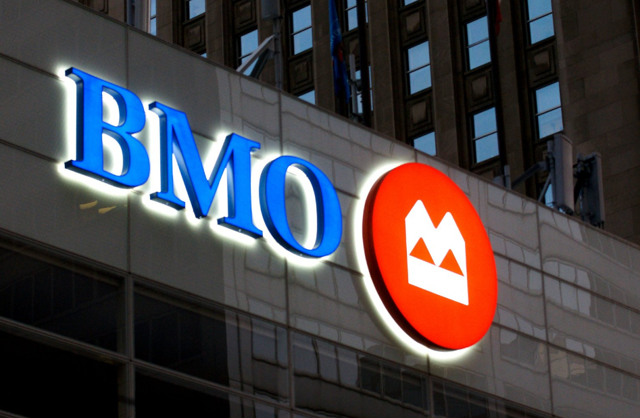 The Bank of Montreal (NYSE:BMO) is the fourth largest bank in Canada, by market capitalization, at ~$42B. They have been in business since 1817, and have now grown to employ ~46,000 employees providing financial services and products to more than 12M customers. Ranking by assets, BMO is the 8th largest bank in North America and they have paid a dividend for 187 years, the longest running dividend record of any company in Canada. However, most recently, they froze their dividend growth for 3 years during the financial crisis and have raised it for 5 years since then.
They currently carry an 11.2% Tier I Capital, the best of all the big 5 Canadian banks, the closest being the Canadian Imperial Bank of Commerce (NYSE:CM) with a 10.9%. This is well above the 6% requirement from Basel III. This ratio measures the financial health of a bank and acts as a way of measuring how well a bank would fare when placed under stress like another financial crisis.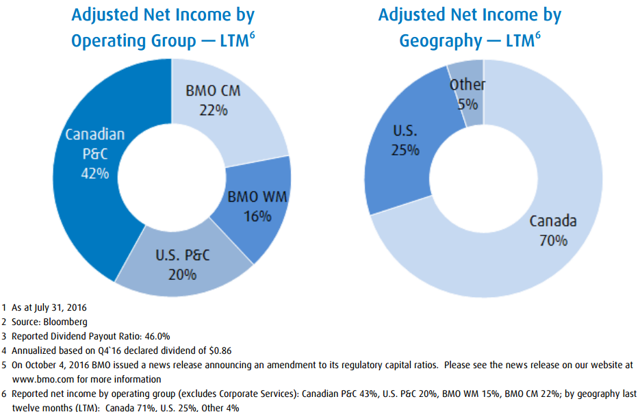 Source: Fact Sheet
Like RY and TD, BMO derives their income primarily from Canada and the United States. Within those countries, approximately 2/3 is in personal and commercial banking, with the rest coming from their wealth management and capital markets divisions. I will look into their growth prospects in these markets more closely later in the article.
Loan Portfolio

Loans/assets and loans/deposits are 2 ratios that an investor can use when analyzing a bank to determine how conservative they are. A higher ratio on either one shows that the bank is willing to loan out a higher amount in comparison to their deposits on hand and total assets. While it's obvious that this ratio can be too high, it can also be too low, showing a bank is not carrying enough loans to drive further earnings. The standard benchmark I have seen is a loan/deposit ratio of ~80-90%. Anything too much lower than that may show a bank is having issues driving loan growth to keep up with their deposits. As we can see above, BMO falls right into the middle of all the big banks, including Wells Fargo (NYSE:WFC), which I added as a favorite conservative pick south of the border (recent news notwithstanding).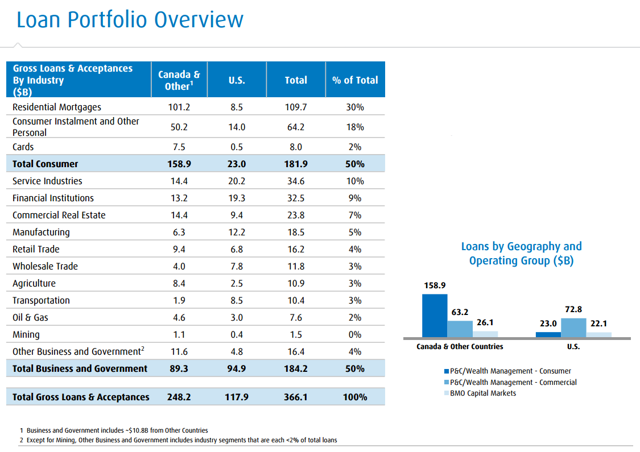 Source: Investor Presentation
The chart above details BMO's loan portfolio. They derive 30% from residential mortgages, which I discussed heavily in my last article on the Royal Bank of Canada. Half of their business comes from businesses, and within that segment, it is well diversified. Much has been made of BNS and their large exposure to oil and gas, which is not an issue for BMO.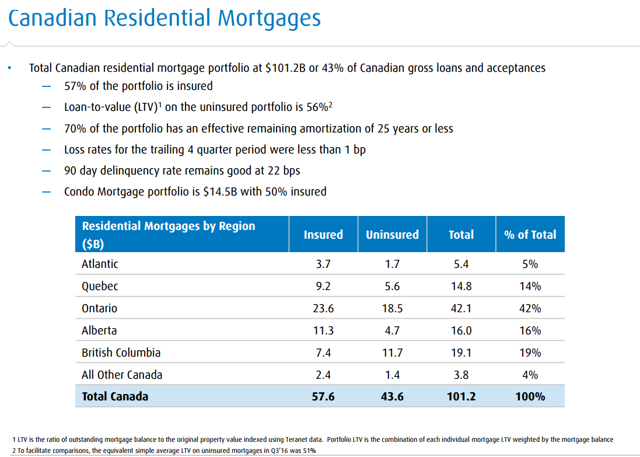 Source: Investor Presentation
This breakdown of BMO's Canadian residential mortgage portfolio shows that it is pretty well diversified geographically. Housing prices have risen drastically in part of Canada, but with 57% of the mortgages being insured, and a high LTV ratio, this shouldn't be too alarming. Generally speaking, the Canadian housing market is more conservative and less prone to the issues seen in America with regards to defaults.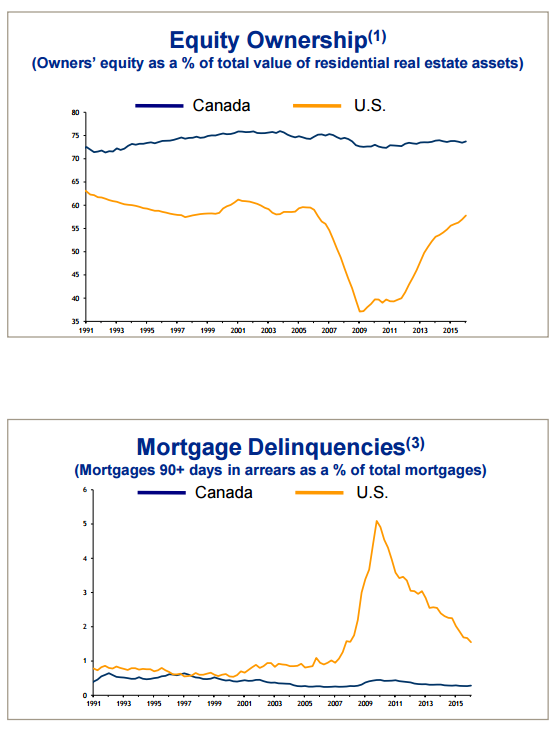 Source: RY Investor Presentation
Growth
BMO has moved into the ranks of investment banks looking to grow their AUM by launching SmartFolio, a robo-advisor. This essentially targets the growing trend among younger investors to establish a hands-off, low fee approach to investing. An automated system is used to create portfolios and automatically adjusts it based on age, risk tolerance and other factors. This can be cannibalistic to other services provided by the bank. However, BMO has their own ETFs that SmartFolio can use, which will give them fees on both ends. This follows their main focus, which is growing their technology platforms and leveraging them for growth.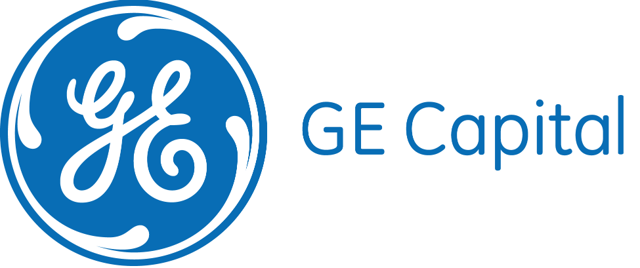 Their acquisition of GE Capital's (NYSE:GE) Transportation Finance division late last year represents further expansion in their commercial banking segment and geographic diversification into the United States. This division is the largest financier to the commercial truck and trailer segment in North America, and is well diversified both geographically, and by type of loan. Bolt-on acquisitions like this one will continue to drive growth for the bank going forward.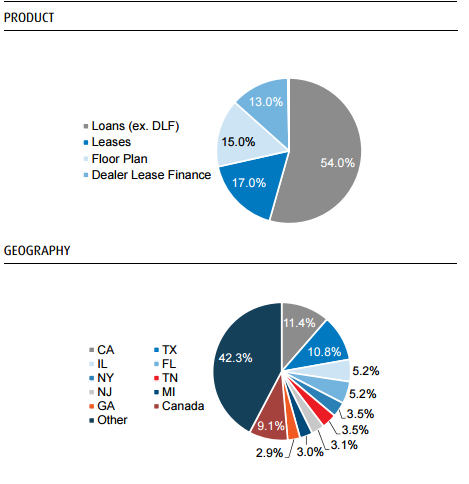 Source: Acquisition Investor Presentation
In their most recent quarter, BMO was able to increase loans by 6% and deposits 8% YOY. This is solid growth for a large bank like this one. They increased their EPS 4% YOY, which is about in line with historical trends. They have compounded their EPS at a 5.5% rate over the last 5 years, and analysts project ~4% for the next 5. That is a reasonable target, in my opinion, and combined with their dividend it would drive 8% shareholder total returns from a relatively conservative investment.
Financials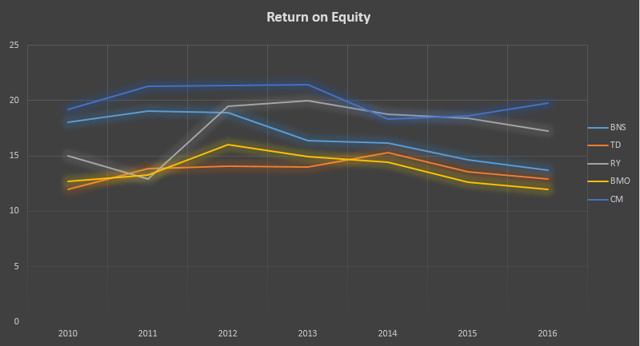 BMO has the lowest ROE of all 5 major Canadian banks. Return on equity is an important metric for investors, showing the company's profitability. I show multiple years here, because it gives an idea of the fact that BMO has mostly been at the bottom for some time.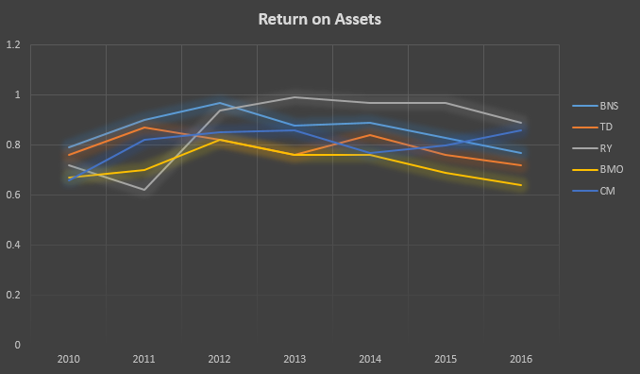 Similarly to their return on equity, BMO is at the bottom in their return on assets, as well. This shows the same thing that the return on equity does, that BMO has had anemic net income growth versus both shareholder equity and their total assets.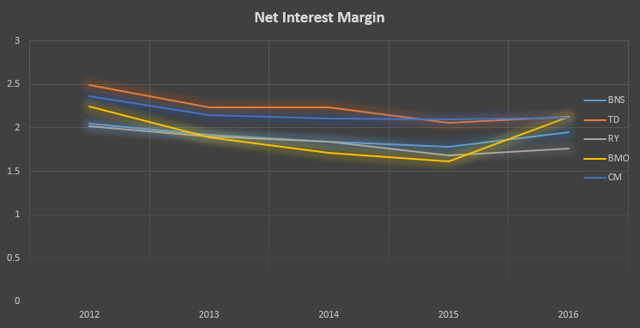 BMO's net interest margin is in line with the rest of the banks. This metric will help drive profitability for all the banks when interest rates rise, as it represents the margin between loans and deposits.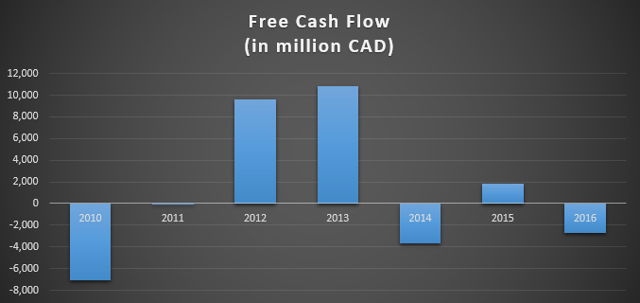 BMO has not had great dividend growth rates. This isn't too alarming, since they are currently yielding ~4.2%. However, looking at their FCF, I don't see the moat that I would like to. This is not even close to the cash cow status that TD is at, or even where RY and BNS are. They are sitting at a similar payout ratio of most of the other banks, at 50%, but I don't see growth increasing with their FCF generation where it is. This isn't to say it's likely they will cut their dividend, and their Tier I Capital Ratio shows their financial strength, but given the option I will take the bank generating more cash.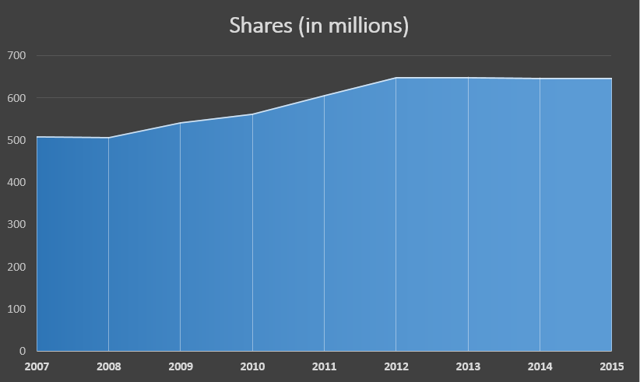 On 12/1/2015, BMO announced the intention to repurchase up to 15M shares. This would retire ~2.3% of their share count at a price of $962.5M as of Friday's closing price. This would bring their share count back down to its lowest since 2011, which is a start. However, their dilution over the last decade is second only to TD, which is not a metric I would be excited about holding the lead in. With their uneven FCF generation, I also don't see them being able to aggressively buy back shares at the rate of the larger 3 banks without taking on debt. That being said, these banks are not typically engaging in share buybacks, outside of RY.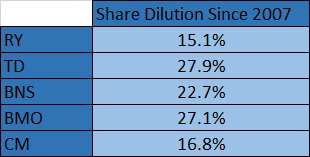 Valuation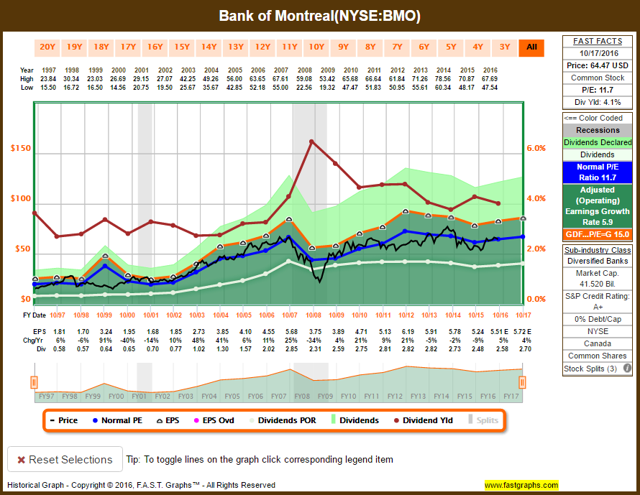 Source: FAST Graphs
Looking at their long-term valuation graph, BMO looks fairly valued at this time. They have an 11.7X P/E ratio, in line with their historical average of 11.7X.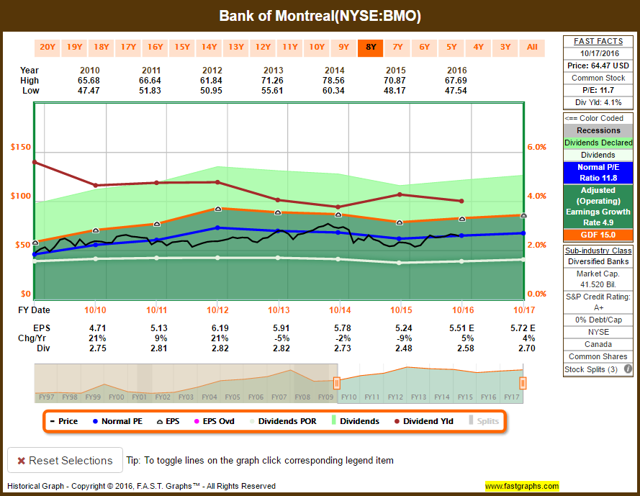 Source: FAST Graphs
Looking closer, it is almost exactly the same. Their average P/E ratio is 11.8X over this period, taking away the financial crisis time period.
Conclusion
BMO is a safe, conservative bank offering a healthy dividend yield. However, due to their poor returns on equity and assets combined with inconsistent free cash flow and slow dividend growth, I believe that there are better investments at this time.
If you liked this article, and would like to read more like it, please click the "Follow" button next to my picture at the top and select Real-time alerts. Thanks for reading.
Elsewhere on Seeking Alpha
Financial statistics were sourced from Morningstar, with the charts and tables created by the author, unless otherwise stated. This article is for informational purposes only and represents the author's own opinions. It is not a formal recommendation to buy or sell any stock. Please do your own due diligence and/or consult a financial professional prior to making investment decisions.
Disclosure: I/we have no positions in any stocks mentioned, but may initiate a long position in BNS, RY, TD over the next 72 hours.
I wrote this article myself, and it expresses my own opinions. I am not receiving compensation for it (other than from Seeking Alpha). I have no business relationship with any company whose stock is mentioned in this article.