I have covered a lot of different topics on Seeking Alpha over the past several years, but I have not discussed the correlation between high yield bonds, Treasuries and equities in detail. While I have written frequently about the high yield bond market, I have been remiss to further the discussion on an asset class that falls between low-risk Treasuries and higher-risk equities on the risk-return spectrum.
In this article, I will be examining 32 years of market returns for high yield bonds, Treasuries (BATS:GOVT) and the S&P 500 (NYSEARCA:SPY) back to the advent of the modern high yield bond market. In a past article, Junk Bonds or Stocks, I described the historic total returns of the high yield bond market and equity market, and demonstrated how junk bonds have historically delivered higher risk-adjusted returns. It should be no surprise to readers then that over this long-run sample, high yield bonds have generated higher absolute returns relative to Treasuries and higher risk-adjusted returns relative to equities.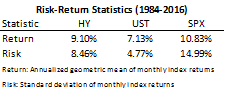 The outperformance relative to Treasuries is a function of the credit spread premia of high yield bonds, adjusted for realized credit losses. The return advantage would be higher for high yield bonds if the two indices were more closely duration matched as the longer duration Treasury index has benefited from falling interest rates over this sample period. Some investors may be surprised that high yield bonds have lagged equities by just 1.7% per year, despite having just over half as much risk as measured by the variability of returns. Levering high yield bonds over this time period would have delivered structural alpha. How have the returns of these three asset classes been correlated to each other over this sample period?

The correlation coefficient between high yield bonds and the S&P 500 (+0.58) has been much stronger than the correlation coefficient between high yield bonds and Treasuries (+0.05). This is a fixed income asset class that is more responsive to risky asset classes than it is to risk-free rates. In periods of an improving economy, high yield bonds are going to rally as improved earnings organically lower leverage levels of high yield issuers and credit spreads tighten, given the likelihood of more limited losses. These periods also typically correspond with rising interest rates.
In periods where the economy weakens, high yield bonds typically underperform as concerns mount about whether levered issuers will be able to service and refinance existing debt. These periods typically correspond with falling interest rates.
In an article published last week entitled "A First for the High Yield Market," I described how the highest quality segment of the high yield bond market is trading with negative convexity as the average price of these BB-rated issuers has moved above their average call price. Yields for BB-rated debt are historically low given the still low reference Treasury yield and credit spreads that have tightened.
What does all of this mean for the relative returns for Treasuries, high yield bonds and equities? If you believe that the economy is headed for continued expansion, then you should favor more risky asset classes like high yield bonds and stocks. If you believe that the economy is headed for contraction, then you should favor lower risk assets like Treasuries.
The problem of course is that with the Treasury index yielding just 1.4%, average returns in Treasuries are expected to be anemic for investors holding bonds to maturity, a gross yield level which could trail inflation. Long-time readers know that I prefer the BB segment of the high yield bond market due to its higher realized returns and lower volatility, but with expected average returns in the 4% range after adjusting for very modest losses, returns will also be lackluster, albeit very likely higher than Treasuries given an average credit spread of 3% that will outpace realized losses. Lower rated bonds could return 5-6% after losses, but will be incrementally more volatile and responsive to economic and credit conditions. Investors in the popular high yield bond exchange traded funds (HYG, JNK) should expect average total returns around 5% over the next several years. At approximately 20x earnings, the broad equity market is offering a 5% earnings yield plus the likelihood of some modest earnings growth, which could translate into 7-8% annual returns over an intermediate horizon, but with the higher volatility typical of equities and the downside risk of both the typical underperformance in a weak economic environment and the potential for a normalization of a historically elevated equity multiple.
My apologies that those expected returns do not look appealing relative to past realized returns, but both bond and equity markets are trading near historic highs, which signals lower forward returns. I hope this article at least helps frame the relationship between these three asset classes and the potential interplay between these markets going forward.
Disclaimer: My articles may contain statements and projections that are forward-looking in nature, and therefore, inherently subject to numerous risks, uncertainties and assumptions. While my articles focus on generating long-term risk-adjusted returns, investment decisions necessarily involve the risk of loss of principal. Individual investor circumstances vary significantly, and information gleaned from my articles should be applied to your own unique investment situation, objectives, risk tolerance and investment horizon.
Disclosure: I am/we are long SPY.
I wrote this article myself, and it expresses my own opinions. I am not receiving compensation for it (other than from Seeking Alpha). I have no business relationship with any company whose stock is mentioned in this article.