In a previous article, I had a look at the Boeing (NYSE:BA) 747-8 and the Airbus A380 and concluded that both aircraft have actually flopped. In this article, I will have a look at what the future looks like for the Boeing 747-8 and when it will run out of backlog and, maybe more importantly, where there are some chances for the company.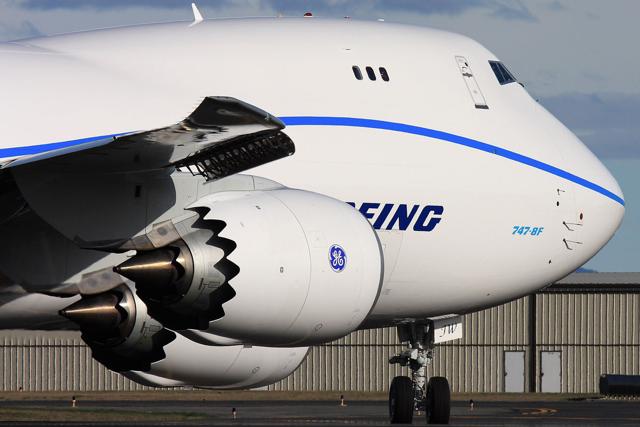 It has been a while since there has been a lot of good news that could stretch production for the Boeing 747 in the length of many years. More than 2 years ago, there had been rumors that Boeing held a pitch for Emirates, aiming to sell 100 Boeing 747-8 aircraft to the Gulf carrier. While I thought an agreement for at least some 747 aircraft could be reached to pressure Airbus (OTCPK:EADSF), there had been no orders from Emirates.
Lack of backlog
AirBridgeCargo Airlines committed to taking delivery of 20 airframes, but given the freight carrier's expansion plans, the commitment could not prevent Boeing from being forced to cutting production rates for its 747-8 aircraft. The carrier also did not place a firm order for the airframes, but rather, firms up orders as it pleases. This means that if recovery on the cargo market is brittle, as it has been for years, AirBridge could refrain from firming up its commitment.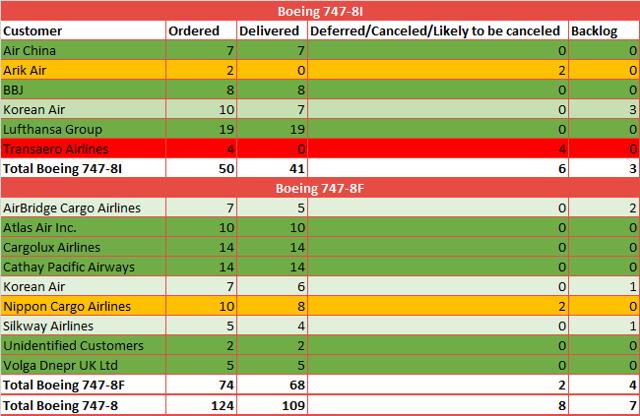 If we look at the orders and deliveries, in theory there is a backlog of 15 units. Fifteen units is a miserable backlog for a program that continues to fail accumulating orders and, until recently, put out aircraft at a rate of 12 per year. Even at the new rate of just 6 per year, there are just 2.5 years of backlog left. Things, however, are a bit worse for Boeing's biggest airplane, since some airframes are highly unlikely to ever be delivered.
The order from Arik Air for 2 airframes is still in Boeing's books, while the airline intends to convert the order. The now defunct Transaero ordered 4 Boeing 747-8Is. These slots have not been absorbed by any airline and are likely only to be in Boeing's book as a leverage as one of the airline's creditors. This reduced the backlog for the Boeing 747-8I from 9 to 3 units. Two aircraft destined for Transaero had already been built and now are in long-term storage.
Boeing still lists 2 freighter aircraft from Nippon Cargo Airlines as unfilled orders. Given cancellations of 4 aircraft at an earlier stage, I think it is unlikely that the unfilled order for two aircraft is in any way firm.
Removing orders of which it is highly doubtful that they will ever be delivered, we end up with a backlog of 7 aircraft. Even at current rates, this means just little over a year of 747 production. Additionally, there are 4 white tail aircraft. These aircraft have been built, but do not have a customer. So without order inflow, the jumbo jet's book would close in a year.
Prospects
With a year of production - maybe even less - in backlog, Boeing needs to have some successful sales campaigns in order to keep the program alive.
Iran Air is planning on taking delivery of 4 Boeing 747-8Is. The two aircraft that were once destined for Transaero and already have been built are likely part of the deal. This means that another 2 airframes have to be produced.
AirBridgeCargo could fully exercise its order intention adding 14 airframes to the backlog.
This would add 15-16 units to the backlog or 2.5 years of production. The carrier, however, plans to take delivery of 2-3 aircraft annually. This means that deliveries would be smeared over a period of 5-7 years, and Boeing would need another 2-3 orders annually to meet its production of 6 units a year.
Boeing will also produce the next presidential aircraft for the President of the United States of America, but this is rather a target than a real addition to the backlog. The company has to manage somehow to keep production alive until 2018, when these airframes should be delivered.
Conclusion
Even at the minimal production rate, Boeing is hardly able to fill its available slots. AirBridgeCargo will take delivery of 2-3 airframes a year at steep unit discounts and low lease rates from Boeing Capital. Other customers have to fill the 3-4 remaining delivery slots. Demand for the Boeing 747 as a passenger jet is low, and there seems to be very little interest from airlines to buy the jet due to its seat-to-mile costs. Recovery of the cargo market has been slower than anticipated, and pressures demand for cargo lifters such as the Boeing 747-8F.
The latest cut is an ultimate one to buy extra time in order for the market to recover. If this recovery remains absent or insufficient, Boeing could either terminate the program, which is likely, or continue producing white tail freighters and put them in long-term storage.
Due to the unique lifting capabilities of the Boeing 747-8F, terminating the program is a very hard decision. Production of so-called "white tails" (aircraft without customer) is uncommon and would deliver a small headwind to Boeing's cash flow for an aircraft for which it already has not been able to book any profits for years, since it accumulated charges and demand has been below expectations.
With Boeing's latest cut, it is trying to sit out the current market conditions and wait for a spike in retirement of older Boeing 747 freighters.
If you would like to receive updates for my upcoming articles, please click the "Follow" text at the top of this page next to my profile.
Disclosure: I am/we are long BA.
I wrote this article myself, and it expresses my own opinions. I am not receiving compensation for it (other than from Seeking Alpha). I have no business relationship with any company whose stock is mentioned in this article.