Note: Get my articles as soon as they are published by clicking the big orange "follow" button at the top of this page. Make sure you choose "real-time alerts."
As I prepare for Q4 earnings season, in which we exploit the statistical patterns in what is the most bullish earnings season of them all, I am also looking at certain sector seasonality. In general, I want to bet in the direction of the seasonal drift of a sector. For example, if biotech is drifting upward, I'd be much more willing to take a long earnings position on the SPDR Biotech ETF (NYSEARCA:XBI) than a long earnings position on a stock in a stagnant sector.
November is a pivotal month for both traders and investors. For the latter, we have the end of the famous " sell in May" advice, which tells investors to buy back sometime in November. This advice is more acceptable once we drill down on the sector seasonality and yearly seasonality (e.g., whether the advice holds in an election year).
Today, I want to get straight to practical advice. Despite the common advice and even authored advice in popular trading books, seasonality is not as cut-and-dry as "here is the half of the year that this sector is bullish." In fact, as I explain in the video below, I've found the seasonal "trends" in books to be wrong in many cases:
Below you will find three sectors/ETFs that actually are good buys in November, according to my backtesting of the data, stratified by month:
Pick Number 3: The General Market - the SPDR S&P 500 ETF (NYSEARCA:SPY)
As you might already know/guess/believe, the general market typically enters a bullish phase in late October and early November. This is not a surprise to most seasoned investors, but I want to make a point of the current year, 2016, an election year. Statistically, election years show stronger-than-average Q4s, with stronger earnings than pre-election and post-election years.
That said, the election itself has implications for the market, and vice versa. If the market drifts up in the months leading to the election, the incumbent party almost always wins; if down, the opposing party wins. With the market trending sideways, it's anyone's guess.
An incumbent win will likely maintain the pseudo-bullishness status quo of the market; a Trump victory could cause an "uncertainty panic," a la Brexit. The latter would be a buying opportunity - the fundamentals of the companies in the SPY holdings did not change despite the change of parties, and a selloff will likely rebound. Overall, the election is not so scary for investors who are not affected by emotions, and the SPY is a decent buy for November: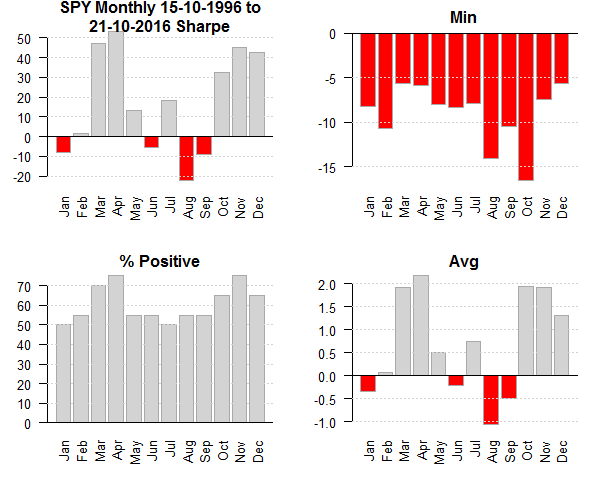 The SPY has its highest winter Sharpe ratio in November. Despite November being an election year, November drawdowns in the SPY are average. However, bullishness is strong, with a 3/4 chance of being up and an average gain of 2%.
But if you were to simply buy the SPY and wash your hands of individual sector weights, you probably wouldn't be reading this article. What about the sectors likely to outperform in November? Let's take a look at them, now that we've shown that the general market's seasonality in November to be worth taking extra long positions in the stronger sectors.
Pick Number 2: Utilities Select Sector SPDR ETF (NYSEARCA:XLU)
The utility sector is supposed to begin its bearish season in November, according to the Stock Trader's Almanac. However, my data show that utilities actually do their best at the end of the year. Buying at the end of November exposes you to the best month of XLU: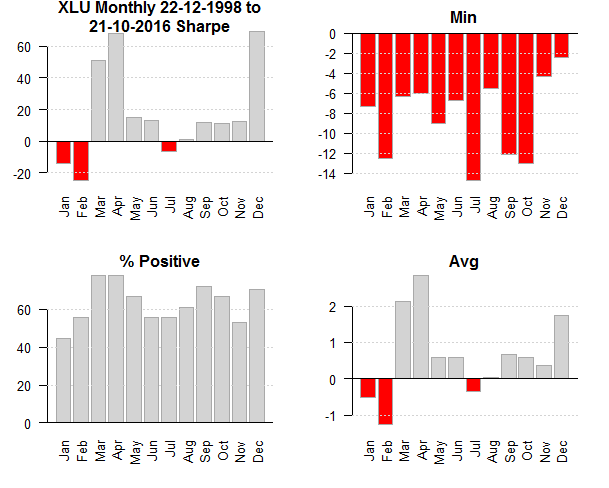 Not only are we looking at the highest Sharpe ratio, but we are buying a generally safe sector that also pays dividends during an uncertain time (read: elections). While the average gain in December is 2%, the maximum drawdown in the past 8 years has been… 2%. That should be a good enough indication of the beneficial risk/reward for XLU as we approach the year's end.
Pick Number 1: iShares US Real Estate ETF (NYSEARCA:IYR)
The almanac also points out a "seasonality" for real estate. Unfortunately, the real estate sector is simply not so simple. Instead, we have a selection of great months, bad months, and boring months all staggered throughout the year: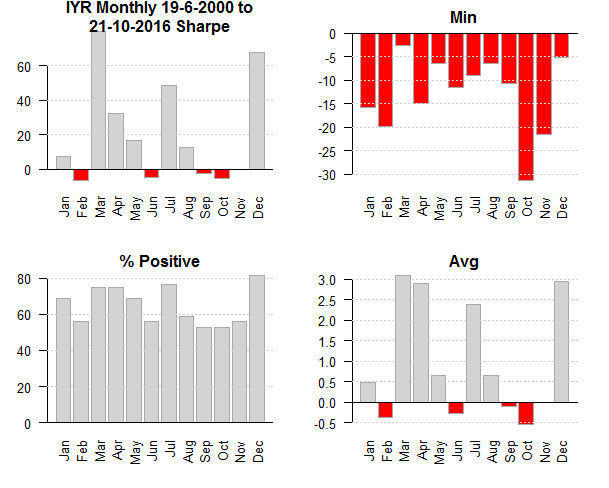 Still, November is a special month for this sector, as it is the first month clear of a general bearish trend. September and October have negative averages and large drawdowns. Indeed, this year we see September and October not treating IYR very well.
While November is not exactly a turnaround story for the ETF, it is the time to put IYR or other real estate stocks/REITs on your watch list. December is the second best month for the sector and comes with low risk, as only 20% of Decembers have been down, and with small drawdowns.
Note: All unlabeled figures were created by me from data pulled from Yahoo and ADVN through R. Charts with blue backgrounds are from Etrade Pro.
Learn More about Earnings
Exposing Earnings - my earnings prediction newsletter - is now live, here on Seeking Alpha. In this newsletter, we employ both fundamental and pattern analyses to predict price movements of specific companies after specific earnings. I offer specific strategies for playing those earnings reports.
Disclosure: I/we have no positions in any stocks mentioned, and no plans to initiate any positions within the next 72 hours.
I wrote this article myself, and it expresses my own opinions. I am not receiving compensation for it (other than from Seeking Alpha). I have no business relationship with any company whose stock is mentioned in this article.