United Rentals (NYSE: URI) is the largest equipment rental company in the world. It operates 900 locations in North America, 122 of which are in Canada. This is a company that will rent you anything from a chain saw to the equipment needed to run a paper mill or a power plant. United Rentals reported its third quarter earnings this week and owners should be quite happy with the results and with management's comments about the future.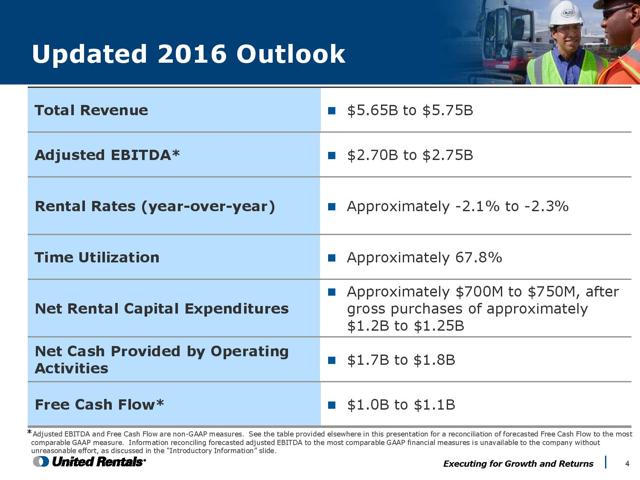 Source: United Rentals
Pricing for equipment, a major driver of earnings and thus stock price, is much more stable after a rough patch earlier this year. Time utilization has also improved. United Rentals has generated $846 million of free cash flow year to date, and has increased guidance for free cash flow to a range of $1.0 billion to $1.1 billion. This is significant considering the current market value of the company is only $6.6 billion. For the investors that were willing to buy shares earlier this year when United Rentals share price was below $50, they were able to buy at prices that locked in an astounding 26% free cash flow yield for the current year. Investors today still are able to get a very nice double digit free cash flow yield and things appear to be turning higher again for United Rentals. GDP and industrial production are rebounding from a weak period earlier this year, and the business cycle still has room to run.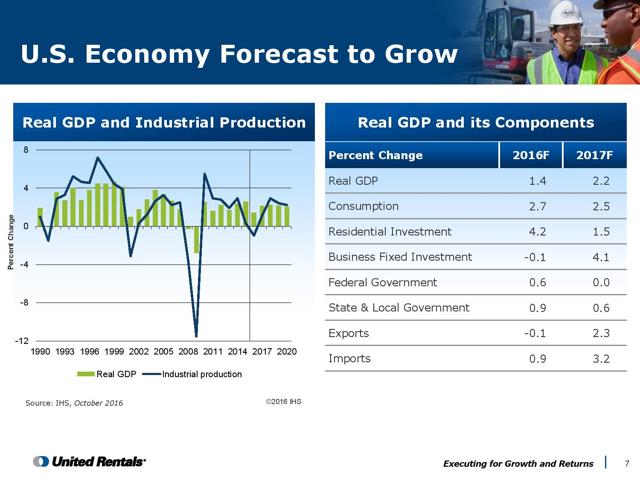 Source: United Rentals
In the monthly jobs report for September, construction jobs increased for the second month out of the past three. This bodes well for United Rentals. In addition, in the just released industrial production report for September, the mining component, which includes oil drilling, increased 0.4% month on month, leaving four of the past five months showing positive month over month growth. Followers of United Rentals will know that the decline in oil prices has been a large contributor to their struggles, especially in Canada.
Historically, United Rentals free cash flow rises and falls with the business cycle. Generally it is inversely correlated, where free cash flow tends to decline when the business cycle ramps up and United Rentals spends on new equipment to serve customers. Free cash flow tends to be at its peak when United Rentals pulls back on spending ahead of any pause in growth in demand for its equipment. Oddly, the stock price tends to outperform during periods of CapEx growth and bottom during periods of massive free cash flow. I don't see any reason why this time around would be any different. The stock is already well above the lows of earlier this year and now that things appear to be improving, United Rentals is talking about increasing spending again. Free cash flow is expected in the $600-$900 million range for next year. The wide variance allows room for United Rentals to increase spending should the market require it. Regardless, at the mid point of this 2017 estimated range URI is still a stock with a double digit free cash flow yield.
| | | |
| --- | --- | --- |
| Year | Operating Cash Flow | Free Cash Flow |
| 2007 | $859 million | $242 million |
| 2008 | $764 million | $335 million |
| 2009 | $438 million | $367 million |
| 2010 | $452 million | $227 million |
| 2011 | $612 million | $23 million |
| 2012 | $721 million | ($223 million) |
| 2013 | $1,551 million | $383 million |
| 2014 | $1,801 million | $557 million |
| 2015 | $1,995 million | $919 million |
| 2016E | $1,700-$1,800 million | $1,000-$1,100 million |
| 2017E | | $600-$900 million |
Source: United Rentals 10K filings
United Rentals has authorized a significant share repurchase program and has been putting this free cash flow to work. In the past year United Rentals has repurchased almost 10% of its shares, and has a further 6% authorized for repurchase. My guess would be that this entire authorization will be completed by some time next year. At that point, assuming oil prices continue to rebound and GDP continues to expand, the business will likely be firing on all cylinders and net income and earnings per share will be at record levels.
At some point, United Rentals is a sell. Recessions are inevitable and when they hit, United Rentals will certainly feel pain. For now this is a great company to own and even after the significant rise off of the lows for the stock set last winter, I feel it is still a buy.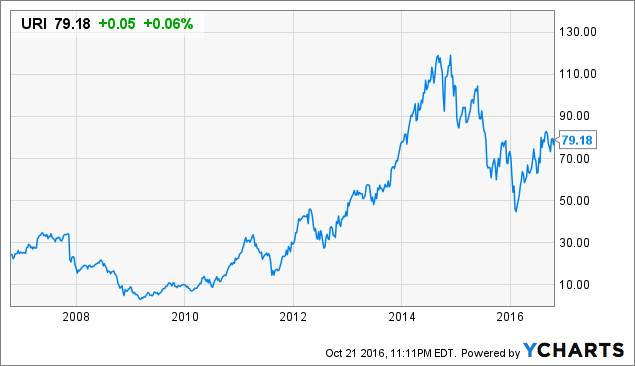 Disclosure: I am/we are long URI.
I wrote this article myself, and it expresses my own opinions. I am not receiving compensation for it (other than from Seeking Alpha). I have no business relationship with any company whose stock is mentioned in this article.