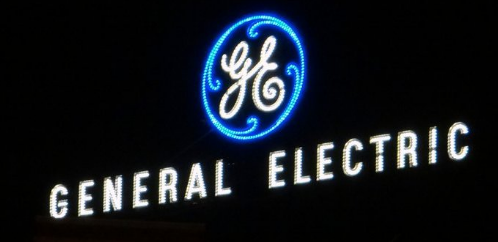 I was a long-time bull on General Electric (NYSE:GE) until it decided to sell off its Capital assets and buy back stock. I've found the shares to be expensive since that happened and while GE has bounced around a lot, it remains elevated. But the Q3 earnings report certainly had some interesting data points in it - including a guidance cut - and the shares are at their lowest point since June. With the stock looking weaker and weaker, is this finally the time that investors revalue GE lower?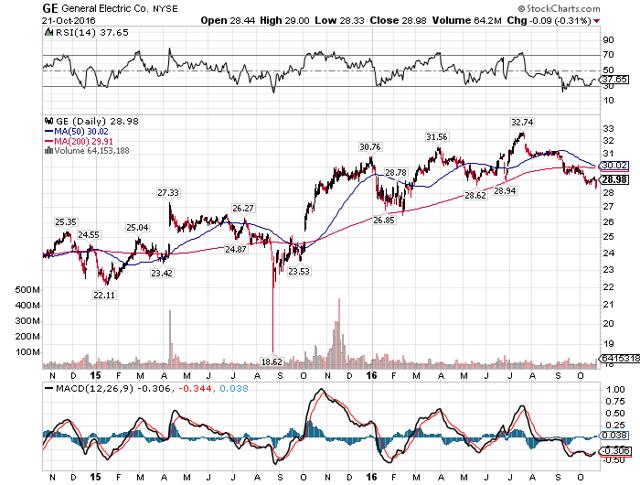 GE's total revenues were up 4% in Q3 as the Alstom business hasn't anniversaried just yet. As a consequence, GE's organic revenue growth was more tepid at just +1%. The problem for GE is that its stock has remained elevated as though it was growing much more quickly than it actually is, an issue I've called out before. One percent organic revenue growth simply won't get it done and although the backlog grew yet again and is now up to $319B, orders were down 6% on an organic basis. The Alstom deal allows GE to hide behind headline numbers that look much better but beginning in Q4, that will no longer be the case. In short, GE still has some pretty significant demand generation problems and while the backlog certainly helps fill in the gaps, I'm still worried about its ability to grow longer term.
In addition, the fact that the backlog continues to grow despite very weak organic demand generation is strange. Why can't GE actually deliver on some of these orders? Why does the backlog have to grow every quarter? When organic orders are down 6% the backlog should not be growing and I still can't understand why GE is so good at taking orders but not so good at actually filling them.
The goal of essentially getting rid of Capital was supposed to be to end up with an industrial juggernaut that had very high operating margins and less risk than the financial services giant GE had become. The problem is that the operating margin narrative is also failing despite the fact that the very low margin appliance business is gone. GE's industrial operating margin was just 10% on a GAAP basis, down 130bps against last year's Q3. That number is much better on a non-GAAP basis at 15.3% but was still down 20bps. Neither of those numbers is close to the upper-teens margins we were promised and while I understand it takes time, GE is going the wrong direction. GE's tremendously high operating margins were a big reason why I used to be bullish but it simply isn't as good as it was. And when the stock is trading for a high multiple, that's a big problem. In particular, if you couple disappointing margins with disappointing revenue growth, well, you get the picture.
GE's sales of Capital assets have allowed it to buy back a tremendous amount of stock, including over $18B thus far this year. GE added another $4B to its authorization during the Q3 release and that's great, but again, GE's progress is rather disappointing. When GE released its plans to buy back enough shares to offset the lost earnings from Capital, I was skeptical to say the least. And while the diluted share count is down 11% Y/Y - a huge reduction by any standard - it isn't close to offsetting the enormous amount of earnings Capital used to produce. Understanding there is long way yet to go, I would have thought GE would have made more progress by now and it seems my fears that a reduced share count won't be able to offset the loss of Capital aren't being assuaged; they're strengthening.
Revenue guidance was trimmed to flat to up 2% from 2% to 4% earlier this year. That's not a huge reduction but consider that GE had a very manageable target in the low single digits and was forced to cut it by two-thirds. Such is the position GE finds itself in and while the midpoint of EPS is still the same, it seems it is going to have a more difficult time growing as an industrial company than it thought. Indeed, estimates for next year are for -1% sales growth so it isn't as though this is a transitory issue. I'm really struggling to find much that is positive in the Q3 report and while the stock has sold off a bit, has it been enough?
GE's current price has it trading for 16.9 times next year's earnings, certainly not a nosebleed multiple by any means. But keep in mind that the prodigious buybacks are going to end at some point and GE's -1% sales growth just isn't going to cut it. GE would be fine if its margins were growing but they aren't, despite the fact that they remain at relatively low levels. To be honest, I'm really surprised at how poorly GE is performing as closer to a pure play industrial as it is underperforming even my own low expectations. The gap between how much of the float GE can buy back and the earnings it has lost via divestitures is wider than I imagined and that's not great.
I'm not the only one that has noticed this; here's a YTD chart of GE against the SPY.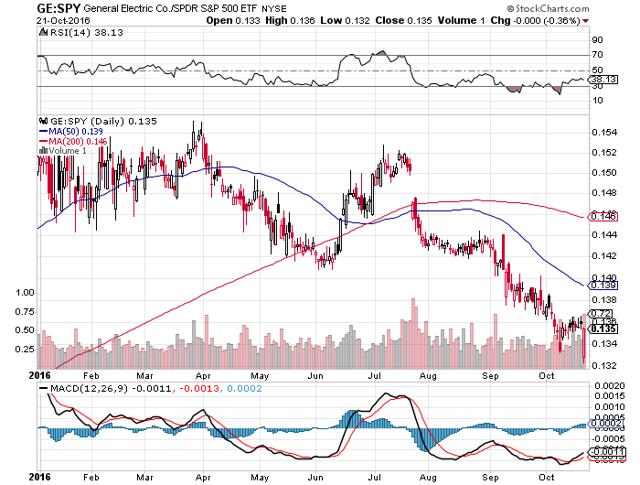 We can see marked underperformance against the SPY in a year that hasn't been amazing for the broader market by any means. But with GE still trading for almost 17 times forward earnings despite all of its revenue and margin issues, I have to think the 2017 chart of this cross will look very similar to this. In other words, I'm not sure why one would want to own GE here. GE is not the same company it used to be and that is not something I say kindly. I think GE has botched getting out of Capital and the results are right there in front of our faces; GE is a sell.
Disclosure: I/we have no positions in any stocks mentioned, and no plans to initiate any positions within the next 72 hours.
I wrote this article myself, and it expresses my own opinions. I am not receiving compensation for it (other than from Seeking Alpha). I have no business relationship with any company whose stock is mentioned in this article.