Two weeks ago, shares of GoPro (NASDAQ:GPRO) headed sharply lower on news that the company halted shipments to Amazon (NASDAQ:AMZN). We felt that sell-off was overdone, so we bought the dip and shares have subsequently rallied 10% in a week. Although we think shares have upside in a multi-month window, we think the Amazon-related sell-off and subsequent rally is a microcosm of how the stock will trade until the Q4 report. The importance of Q4 as the pillar of GoPro's turnaround story coupled with uncertainty surrounding sales will cause the stock to overreact to both positive and negative news. As has been the trend for the past 6 months, we expect those sharp stock price movements to correct themselves. At the end of the day, we see GoPro as a range-bound trader's stock with lots of volatility until the Q4 report, a catalyst which we think will send shares materially higher.
GPRO data by YCharts
For context, here is a list of what we are paying attention to on the news front related to GoPro:
Overall, we think GoPro's brand power, specifically among Millennials, will leverage the company to sell a lot of Hero5 cameras this Holiday quarter. We have much more tempered expectations for Karma given intense competition with DJI, and do think lagging Karma sales could provide a ceiling for the stock as many investors see the drone market as the company's big growth avenue.
Nonetheless, we think the Q4 numbers and 2017 guide will be very strong, and that will send shares markedly higher. Until that report in January/February 2017, though, we think shares will experience intense volatility and that this volatility will create several trading opportunities for investors.
Let's look at how the stock has moved over the past 6 months. It is significantly up from its May lows, but it has been anything but a smooth ride from $9 to $15. The stock has jumped around almost exclusively on the chances of a potential turnaround with Hero5 and Karma. Now that both products are on the market, we expect volatility to significantly pick up into the end of the year.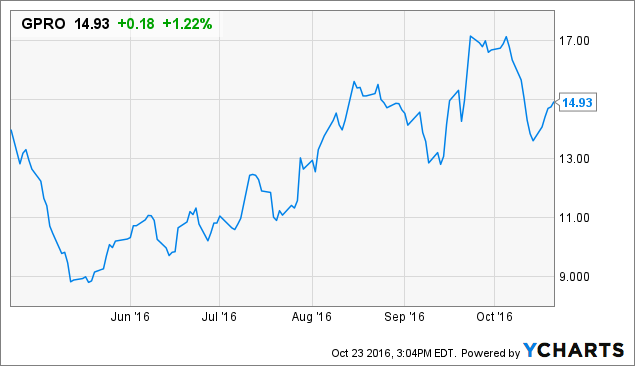 GPRO data by YCharts
More importantly, graphing GoPro's day-to-day stock price percent change since May reveals a trend of high volatility. Indeed, some of the stock's best days are often followed by some of the stock's worst days (data uses adjusted closing price from Yahoo Finance).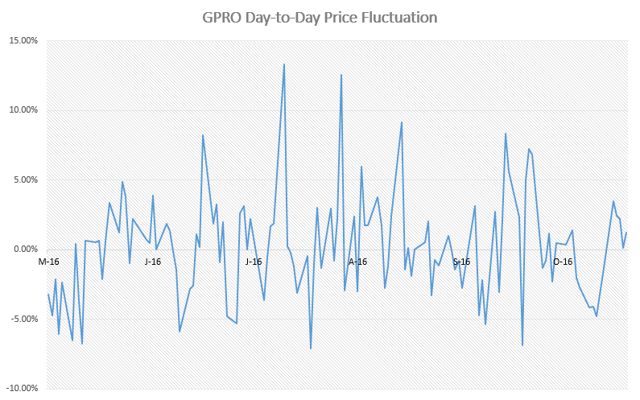 These daily moves are also often very big. In 54% of trading days since May 1, the magnitude of GoPro's daily price change (closing price from day to day) has been greater than 2%. A shocking 14% of trading days saw a move of 5% or greater.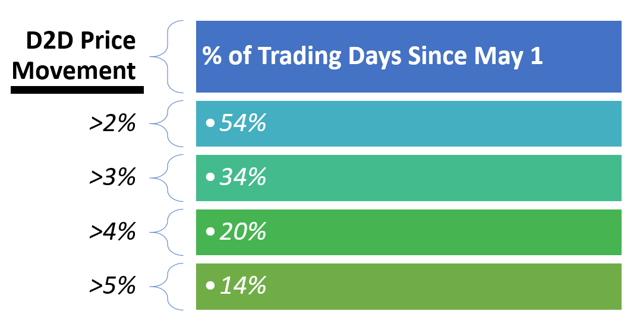 The takeaway here is that the stock has been the subject of significant volatility over the past 6 months, and that likely will not stop as long as sales of Karma and Hero5 remain uncertain. As such, we think GoPro is a great trading stock until the Q4 report adds clarity to Karma and Hero5 sales. We have used our $16 fair value as the benchmark price for our trading strategy. We are buying the stock on dips significantly below $16 and selling into strength as the price approaches the $15 range (to guarantee margin of safety). We will continue to do this into the Q4 ER due in January/February 2017.
Disclosure: I am/we are long GPRO, AMZN, BBY.
I wrote this article myself, and it expresses my own opinions. I am not receiving compensation for it (other than from Seeking Alpha). I have no business relationship with any company whose stock is mentioned in this article.