Linn Energy, LLC (OTCPK: LINEQ) and LinnCo LLC (OTCPK: OTCPK:LNCOQ) have soared in price recently because of rising energy prices and other positive developments with other energy companies, but dropped late last week. As expected, under a proposed reorganization plan filed very late on Oct.21 (docket 1092 ), unit holders will get no recovery, but since the plan's confirmation hearing is not until Jan.24 2017, some unitholders are still hoping that energy prices will rise further before then and that an official equity committee will be appointed. A disclosure statement (docket 1093), which will be amended to include various valuations and analysis data, was filed the same day.
Reorganization Plan
Under the reorganization plan, unit holders get no recovery as stated in the plan, "Each LINN Section 510(b) Claim shall be deemed canceled, discharged, released, and extinguished, and there shall be no distribution to Holders of LINN Section 510(b) Claims on account of such Claims." Unit holders are not entitled to vote and are deemed to have rejected the plan.
The unsecured note holders get stock and stock rights in the new company. 2lien holders, the institutional holders that participated in last year's exchange offer, get a pro rata share of $30 million cash, stock, and stock rights. The 1lien lenders get cash and participation in the exit credit facility.
Rights Plan
Under the rights plan, 2lien and unsecured debt holders will be issued rights to purchase stock in the new LINN. The percentage issued to a holder is "the product, expressed as a percentage, of a party's allowed General Unsecured Claim multiplied by the quotient of $530,000,000, divided by the aggregate amount of all Allowed Second Lien Notes Claims (about $2 billion plus unpaid interest) plus all Allowed Unsecured Notes Claims" (about $3.023 billion plus unpaid interest). The result is $1 per $10 claim. Not including unpaid interest claims, an unsecured note holder would have to pay $100 per $1,000 note to fully use their rights to buy the stock. (see valuation below.)
There are $1.0 billion principal amount of the 12% secured notes outstanding, but under the plan the 12% notes are being allowed a $2.0 billion claim, which is why $2.0 billion is used and not $1.0 billion to determine rights and new stock issued. This would effectively reverse the debt exchange from November 2015, but it does not reverse the exchange itself for tax purposes nor does it seem to reverse the CODI tax issue from 2015.
There is also a "backstop" arrangement that would purchase the stock not purchased by secured and unsecured holders. The $530 million will be used to fund the lender paydown and pay $30 million to 2lien holders. Effectively the rights are not transferable.
Valuation Of The Rights
According to the reorganization plan, "LINN Plan Value" means the equity value of Reorganized LINN (after including cash on hand of Reorganized LINN in excess of $50,000,000) pro forma for the restructured capital structure, including after giving effect to the participation in the LINN Rights Offerings by Holders of Allowed LINN Notes Claims and any other rights offering participation by holders of LINN General Unsecured Claims, based on an enterprise value of $2.35 billion (which enterprise value excludes cash on hand of Reorganized LINN in excess of $50,000,000), as determined in the manner specified in the LINN Backstop Agreement.
Using this estimated value (These estimates do not factor in the backstop agreement fees):
Equity $2.40 billion-Cash $50 million=Equity Enterprise Value $2.35 billion
Equity capitalization via rights $530 million+Equity capitalization via shares issued $1.87 billion=Total equity capitalization $2.40 billion
The purchase "price per share to be determined based on a 20 percent discount to LINN Plan Value." To get a better understanding, assume that there is 100 million shares.
100%-20% = 80%
0.80x$2.35 billion/100 million=$18.80 per share (purchase price) vs. $24 per share($2.4 billion/100 million)
$24-18.80=$5.20 (value of the right)
Valuation Of Unsecured Notes
The $3 billion in unsecured notes are to receive approximately 60% of the new equity.
0.60x$1.87 billion(equity value of new shares)/$3.0 billion=.374
The notes are worth 37.4% of principal amount (not factoring in unpaid interest) using the "LINN Plan Value".
Plus the value of the warrants:
($5.20/$24.00)x$530millionx.60/$3 billion=.023 or 2.3% of principal
Value of unsecured notes is 37.4%+2.3%=39.7% (not factoring unpaid interest). As energy prices change, the equity values change, but it is an interesting initial valuation.
Current Time Table
*December 8-Hearing to approve disclosure statement
*January 12-Voting deadline to approve reorganization plan
*January 24-Confirmation hearing to approve reorganization plan
Positive Developments With Other Energy Companies
Unit holders of Brietburn Energy Partners LP (OTCPK: OTCPK:BBEPQ) were excited that bankruptcy Judge Stuart Bernstein ordered the U.S. Trustee to appoint an official equity committee (Breitburn Energy docket 679) after months of litigation. In another energy bankruptcy case, Arch Coal, Inc. (NYSE: ARCH), the new company's stock opened trading at $70 that capitalized ARCH at $1.75 billion compared to analysis prepared by PJT Partners that estimated the value of the equity at the bankruptcy exit at $324 million-$666 million in the disclosure statement (Arch Coal docket 1093) filed in early July.
WTI NYMEX Prices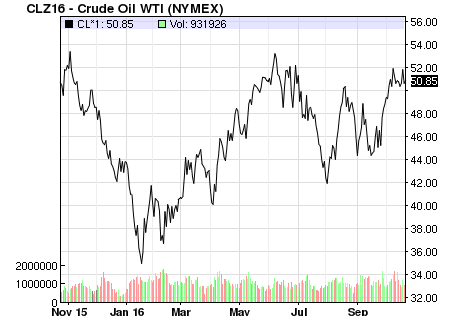 Natural Gas Prices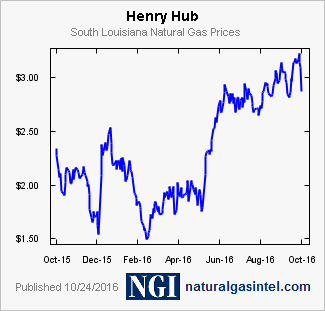 Potential CODI Liability
Since LINEQ is taxed as a partnership for income tax purposes and when debt is cancelled at below par results in income that called cancelled debt income. The gain on this cancellation flows to LINEQ unit holders as the disclosure statement mentions on page 87, "The cancellation of Claims against LINN should give rise to cancellation of indebtedness income ("CODI"). Because LINN is a partnership for U.S. federal income tax purposes, such CODI will be allocated to LINN's unitholders..." Holders of LNCOQ do not have to worry about CODI because LinnCo LLC is taxed as corporation and does not flow to LNCOQ holders. (Note: 71% participated in the LNCOQ for LINEQ exchange offer.)
Part (or even most) of the CODI could be offset by losses caused by the transfer of assets. The offset varies depending upon certain issues associated with each taxpayer and is beyond the coverage in this article. As the disclosure statement indicates on page 86, "LINN should be treated as transferring its assets... in a taxable transaction. Because LINN is a partnership for U.S. federal income tax purposes, LINN's items of gain or loss in connection with these transfers should be allocated to LINN's unitholders...The Debtors anticipate that substantial losses should be generated in connection with such transfers."
Monthly Operating Report
The latest monthly operating report filed with the court is for August (docket 1030). These reports do not follow GAAP and are of poor quality, but they do give some indications of results. Note that there was a $509.9 million reorganization gain in May that distorts income in May and May 1-Aug.31. A $551 million non-cash gain was recorded after filing for bankruptcy for the write-off of contractual interest on the 12% 2lien notes. In addition, the large difference in taxes (other than income taxes) each month is an example of not following GAAP.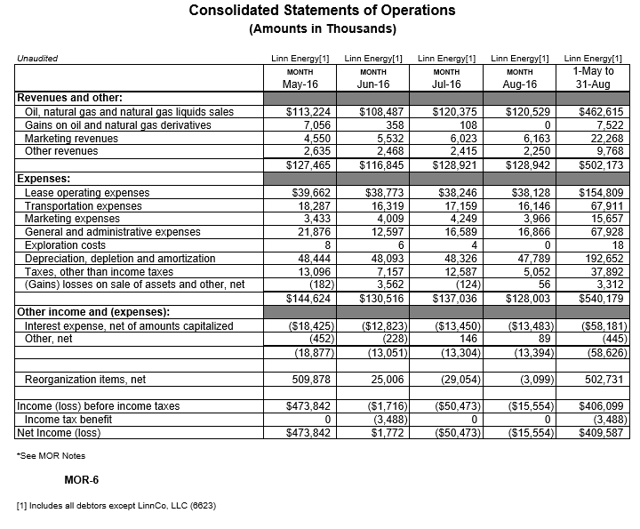 The MORs also show an extremely low exploration expenses, but total CAPEX is not shown. The last CAPEX was disclosed in the second quarter 2016 for $29 million with 39 wells drilled, which compares to $115 million and 148 wells drilled during the same period in 2015. Eventually low CAPEX will impact production.
Conclusion
The plan of reorganization does not give any recovery to LINEQ holders. Before the plan is confirmed by the bankruptcy judge and before the plan becomes effective, I would expect an aggressive attempt by unit holders to get an official equity committee appointed. Even with an official equity committee, it is very unlikely that there will be any recovery for unit holders unless there is a major increase in energy prices. Since there is a very real possibility of a CODI tax liability greater than losses on the transfer of assets for LINEQ holders on the plan's effective date, I rate LINEQ a sell. LNCOQ, which is not exposed to CODI tax liability directly to unit holders, is effectively extremely speculative call options on the prices of natural gas and oil.
The various notes are selling at a modest discount to possible recovery under the reorganization plan, but are sensitive to natural gas/oil prices and any potential plan amendments. Investors bullish on energy prices may want to include the notes in their portfolios.
Disclosure: I/we have no positions in any stocks mentioned, and no plans to initiate any positions within the next 72 hours.
I wrote this article myself, and it expresses my own opinions. I am not receiving compensation for it (other than from Seeking Alpha). I have no business relationship with any company whose stock is mentioned in this article.
Editor's Note: This article covers one or more stocks trading at less than $1 per share and/or with less than a $100 million market cap. Please be aware of the risks associated with these stocks.