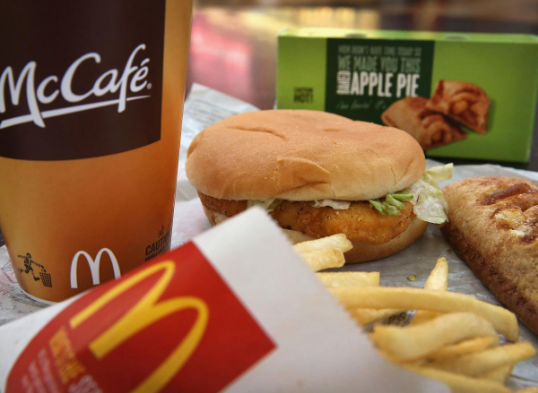 McDonald's (NYSE:MCD) wildly successful all-day breakfast menu has sent the stock soaring in the past few quarters. Shares reached the dizzying height of $130 before finally selling off a bit and a bounce earlier this summer failed to reclaim those highs. Since that time, MCD has had a rough go of it but a well-received Q3 report did produce a bounce. But the stock still looks very weak technically; is it a buy on the post-earnings bounce?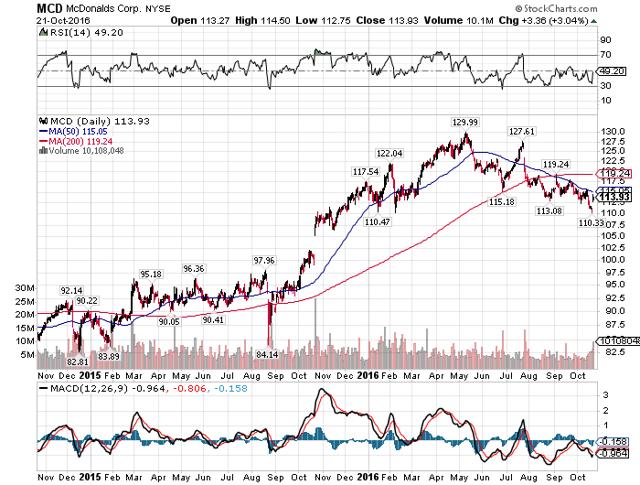 I've been bearish on MCD not because it is inferior but because investors bid the stock up furiously without respect to what MCD could actually do to earn its valuation. The all-day breakfast menu has been hugely popular and MCD is certainly better off for it but keep in mind that the stock rose roughly 30% from the time the initiative was implemented to its top. Is MCD 30% better because of all-day breakfast? Obviously, the answer is 'no' and it seems investors have just begun to figure that out. But in the $113 area, is MCD good enough to rise from here?
Global comp sales were up 3.5% in Q3, a terrific number that MCD should be proud of. And while all segments were positive, the US (1.3%) and High Growth (1.5%) segments were well below the company average. The gain came from a 10.1% showing in the Foundational segment and a 3.3% increase in the International Lead segment. The US comp is nice considering the all-day breakfast menu has anniversaried; this is actual organic growth and proves that the breakfast initiative wasn't a one-trick pony. Total revenue was down because of the refranchising effort but no one cares about that; it is all about the comps and MCD delivered in Q3 even if the gains were a bit skewed towards one segment.
Total operating expenses fell by 6% as MCD continues to work on its refranchising effort. SG&A costs were flat but a sizable drop in company-owned store operating expenses was enough to bring the total down. I have to think there is room for improvement in SG&A costs as MCD owns fewer stores over time; it shouldn't take the same amount of investment to run a higher mix of franchised stores. But higher comps are helping with the unit-level piece of profitability and it is making up for what seem like slightly high SG&A costs.
Operating income was up 5%, a nice showing considering total revenue is still falling. Of course, the point of a higher franchise mix is to achieve better margins and MCD is delivering. There is still room to run here as well and I expect we'll see MCD continue to grow operating margins for the foreseeable future.
But MCD's profitably isn't the only thing that has improved; its enormous capital return program is bearing fruit as well. The diluted share count is down 9% Y/Y as MCD has taken cash it has generated during its refranchising effort and bought back stock. MCD has done a nice job of putting money to work at favorable prices although in Q3, that wasn't the case. Still, MCD's buyback program has been pretty successful and it is a big reason why the growth trajectory looks as good as it does.
The thing is that the cheaper version of MCD is still going for 18.6 times forward earnings and while that's not a huge multiple, keep in mind that the refranchising effort is going to cost MCD lots of revenue not only this year but next year as well. Despite the fact that it is the right thing to do, the simple reality is that MCD faces an uphill battle with respect to EPS growth considering its revenue is going to be down in the mid-single digits or worse.
Operating margins are growing and the buyback is working wonders as well. But can MCD hit 10% or 11% EPS growth again next year as revenue is down 6% or 7%? That's a very lofty goal indeed and while I'm not suggesting MCD can't do it, I am suggesting that it will be difficult. And high expectations lead to generally unfavorable outcomes and meeting expectations or missing them outright are both subpar results for the stock. In short, I'm not sure how MCD can overcome a 7% loss in revenue and best its 11% EPS growth forecast. It would take yet another very, very strong year of comp sales growth and that will be very difficult to achieve.
The stock has also very clearly broken down off of its highs and has been in a downtrend for months now. The bounce we saw on Friday was nice but it isn't close to arresting the decline we've seen since it hit $130. The stock is well below the 50DMA and 200DMA and the former crossed under the latter at the end of August. That's bearish and even more so, the 200DMA is rolling over. As that goes to a negative slope it will present a significant hurdle towards MCD rallying sustainably and to my eye, this looks like a broken stock. It will take a Herculean effort from buyers to not only crest the 200DMA but break MCD out of its downtrend and right now, there is no evidence that is going to occur.
When I couple that with a lofty valuation and the simple fact that expectations are high, I'm concerned. I think MCD will get close to or meet its EPS expectations next year because it is executing pretty well and the refranchising effort is working. But beating those expectations is going to be unbelievably difficult and as the stock has already broken down, I don't see a happy ending here for bulls. I think MCD is an avoid at best and a sell at worst; rallying anytime soon is going to be difficult.
Disclosure: I/we have no positions in any stocks mentioned, and no plans to initiate any positions within the next 72 hours.
I wrote this article myself, and it expresses my own opinions. I am not receiving compensation for it (other than from Seeking Alpha). I have no business relationship with any company whose stock is mentioned in this article.