Strong FICC performance
U.S. banks' Q3 earnings reporting season has started on a positive note.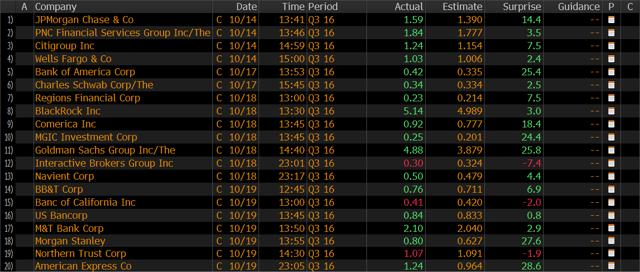 Source: Bloomberg
Investment banks' results were better than expected, with the FICC (Fixed-Income, Commodities and Currency) being a particular strength. Strong 2Q FICC revenue performance has continued in 3Q, driven by improved Credit Trading and Rates.

Source: Bloomberg
Strong FICC performance at JPMorgan (NYSE:JPM), Citigroup (NYSE:C), Bank of America (NYSE:BAC), Goldman Sachs (NYSE:GS) and Morgan Stanley (NYSE:MS) is very encouraging for Barclays' (NYSE:BCS) revenues. As a reminder, Barclays has large U.S. fixed-income trading operations after buying the investment banking and trading divisions of Lehman Brothers' businesses during the 2008-2009 financial crisis. As such, Barclays is traditionally thought of as a play on the FICC, given its significant exposure to the segment. More than 65% of its market revenues came from the FICC division in 1H16. Hence, the bank should be one of the main beneficiaries of a better FICC revenue environment.

Source: Company data
FX tailwinds
With almost one-third of Barclays' revenues coming from the Americas, the bank could also benefit from FX revaluation gains in Q3 given the British pound devaluation.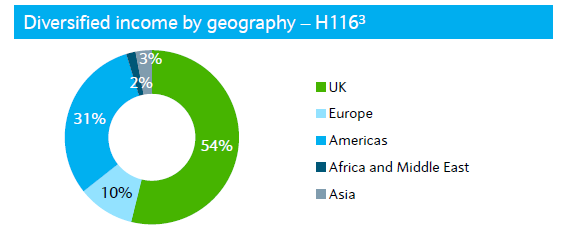 Source: Company data
Barclays is a trade, not an investment
The bank should deliver a solid earnings beat in Q3, and the stock will likely get a decent boost from the results, in our view. As such, we think the Q3 numbers provide an attractive trading opportunity. Having said that, we think Barclays is a trade, not an investment. We are negative on the stock and have a SELL recommendation due to the following factors:
1) Still challenging capital markets conditions.
2) Barclays is exposed to considerable uncertainty in its core UK retail as well as in its investment bank given the post-Brexit slowdown. The key question is how bad of an impact.
3) The British pound devaluation complicates Barclays's cost-cutting measures, as the bank's cost guidance of GBP12.8 billion assumed an average GBP/USD exchange rate of 1.42. As a reminder, the current exchange rate is 1.22.
4) The UK 10-year yield has declined by 100 bps YTD, and the Bank of England has moved to cut interest rates, both of which are negative for Barclays' interest margins.
5) The stock is trading at a premium to its peers.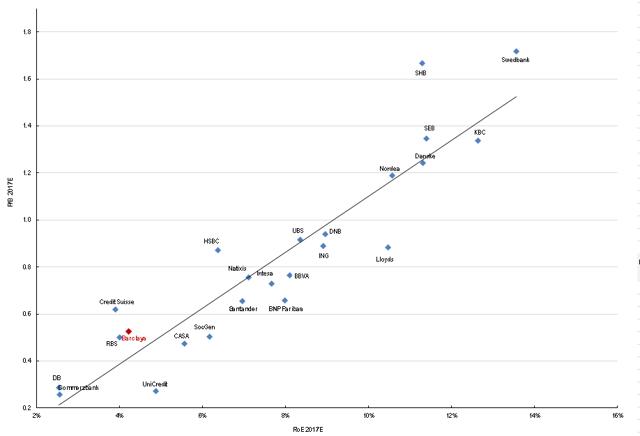 Source: Bloomberg, Renaissance Research
6) Ongoing U.S. RMBS litigation risk and Deutsche Bank's saga result in a poor risk-reward ratio for European investment banks, which remain uninvestible, in our view.
7) Barclays has a number of legacy/litigation issues to deal with: PPI, "interest-rate hedging products" case, "dark pools", "precious metals", the U.S. Department of Justice RMBS case.
As such, we think 3Q results will provide an excellent selling opportunity for those who are still long Barclays.
Thank you for reading. If you are interested in equity research on U.S., European and LatAm banks/financial companies, including fundamental analysis, DCF/multiples valuation, commentaries on price-sensitive events and actionable trading ideas, consider following us by clicking the "Follow" button beside our name at the top of the page.
Disclosure: I am/we are long JPM.
I wrote this article myself, and it expresses my own opinions. I am not receiving compensation for it (other than from Seeking Alpha). I have no business relationship with any company whose stock is mentioned in this article.