We're at the start of earnings season and have witnessed mixed results from Lam Research (NASDAQ:LRCX), KLA-Tencor (NASDAQ:KLAC), and ASML (NASDAQ:ASML). As of this writing, only a few companies have released Q3 CY2016 earnings, but I forecast that revenue growth will be muted for the quarter compared to Q2. And Q4 may be worse!
Already, Q3/Q2 revenues for LRCX were up 5.6% compared to 18.0% for Q2/Q1. For KLAC, results were worse: -18.3% for Q3/Q2 compared to +28.9% for Q2/Q1.
Q1 2016

Q2 2016

Q2'16/Q1'16

Q3 2016

Q3'16/Q21'16

Lam Research

1,310

1,546

18.0%

1,632

5.6%

KLA-Tencor

713

919

28.9%

751

-18.3%

ASML

1,333

1,740

30.5%

1,815

4.3%

Source: The Information Network
One key is booking and billing data from SEMI, the global industry association. For September, bookings were down 6.1% over August 2016 and billings down a whopping 12.4%. Based on these statistics, equipment revenues should be muffled for Q3 revenues and stymied for Q4 2016.
Semiconductor equipment as an investor's choice is riddled with caveats
While a stock will rise or fall based on consensus estimates, the long-term investor needs to understand the intricacies of the industry to make knowledgeable decisions. This writing this based on my 31 years of analyzing the semiconductor and semiconductor equipment space since I started The Information Network in 1985. I have no stock in any companies, which could influence my advice. I urge readers to click on the links to other articles I have written for more in-depth analysis of a given topic.
Key technology moves for the investor to consider are:
Migration to smaller dimensions (sub 10nm);
3D devices (3D NAND, 3D Logic, 3D TSV); and
Growth of the industry in China.
A key takeaway in the move to smaller dimensions is who is selling chips to Apple (NASDAQ:AAPL), and which companies make equipment to sell to these semiconductor manufacturers. One way is to explore Apple teardowns. For example, we can read historical facts about the iPhone 7 teardown, but really need to look forward to the iPhone 8. For example, TSMC (NYSE:TSM) should remain the sole provider of A11 chips for Apple, and in fact, there are other TSMC 10nm customers, which include HiSilicon, Media Tek (OTCPK:MDTKF), and Xilinx (NASDAQ:XLNX).
In the 3D space, I previously wrote about it in an article entitled "Applied Materials' Q3 Earnings Call - Separating The Hype From Reality," in which I discussed how Lam Research was gaining market share from Applied Materials (NASDAQ:AMAT).
Honing in on China
There has been a great deal of press about the strong growth in fab construction in China lately, and I discussed this in an August 28, 2016, article in Seeking Alpha entitled "Bain Is Right About China's Semiconductor Market And Applied Materials' Outlook Is Flawed."
SEMI published the table below, which is a listing of 19 new fabs and lines that will begin construction in 2016 and 2017. These are projects with a probability of 60 percent or higher (in other words push outs), according to SEMI.
By product segment in China.
100mm wafers are for LED production.
200mm wafers; in 2016, MES and Power dominate, while in 2017, Power.
300mm wafers are mainly for Memory and Foundry.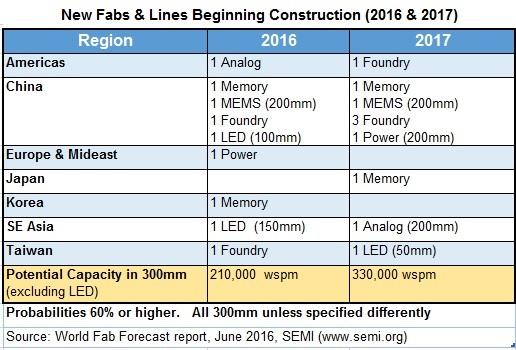 Further, on September 6, 2016, SEMI published its August update of the World Fab Forecast report, as shown in the table below.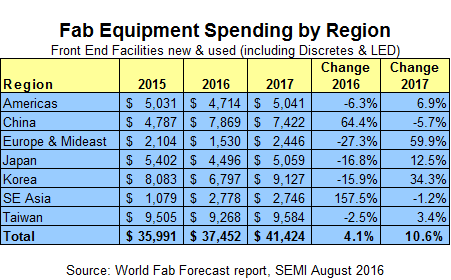 There are two important takeaways from the table, which shows (1) increased equipment spending, reaching 4.1% year over year in 2016 and 10.6 percent in 2017, and (2) China in second place for overall equipment spending with 64% growth 2016.
Before you start buying stock in companies selling equipment into China, keep in mind one important thing - not all equipment is new. Many semiconductor companies building or expanding into the country over the past decade have moved old 200mm equipment from, say a fab in Japan, into the China fab, then purchased new equipment for the Japan fab.
Globalfoundries, for example, has been planning a 300mm fab in China as part of a joint venture with the government of Chongqing. Globalfoundries had expected to start producing 300mm wafers at the facility in 2017, using technology from its production line in Singapore. Globalfoundries intended to install used equipment from its Singapore fab. Unfortunately, the Chongqing government has balked and the project may not move forward.
Nevertheless, new 300mm equipment is expected to be purchased and installed in China's 300mm foundries. In an attempt to capitalize on the success of TSMC as the world's largest foundry, China-based foundries have been promoting themselves by marketing "TSMC-like" services, mimicking the company's purchases for advanced-node equipment. This is a positive sign for the equipment market.
Another important fact to remember is that for every fab build in China, that fab will not be built elsewhere.
This past week, LRCX reported Q1 2017 financials and saw continued spend predominantly in the China region at the 28 nanometer and above nodes.
KLAC also reported that 30-35% of its foundry business was with China.
Key metrics of the semiconductor equipment market
There are several important realities that investors in semiconductor equipment manufacturers need to know:
Semiconductor manufacturers make purchases each year to the tune of $30 billion for either (1) technology buys when a company is moving to smaller dimensions, or (2) capacity buys when they need more equipment to make the same device
Equipment purchases are strongly influenced by macroeconomic factors - if the economy is down, consumers will reconsider buying discretionary stuff that has chips.
Semiconductor manufacturers are now closely monitoring demand and employing just-in-time principles to buy equipment (as well as other supply chain products) only when needed. In 2000, erroneous forecasts for DRAM growth by Gartner resulted in end users buying twice the number of DRAMs they needed to secure allocation, and DRAM manufacturers thought it was the real thing, making huge capacity purchases to make more DRAMs. The result was a collapse in the market and an oversupply of $10 billion DRAMs and ancillary chipsets in 2001.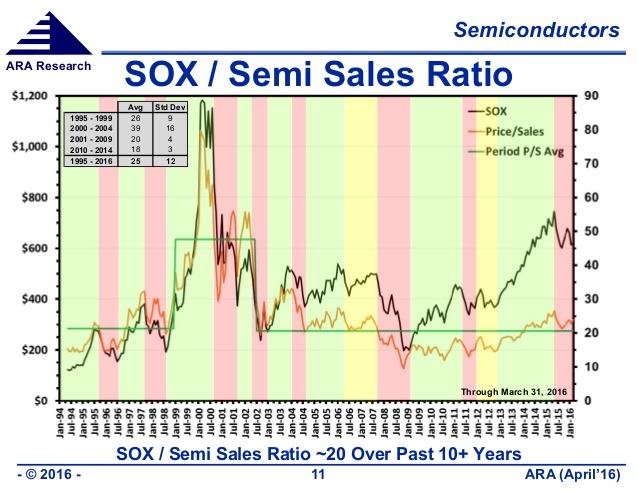 There is no real correlation between semiconductor revenue growth and equipment revenue. Yes, there are big inflections, such as the one I noted above for 2000/2001 and for the Great Recession in 2009, and there is a correlation between minor bumps in semiconductor revenues and followed a short time later by a minor bump in equipment bookings. However, the trendline for equipment bookings is flat, while the trendline for semiconductors is up. I discussed this way back in an April 17, 2009, article in Seeking Alpha.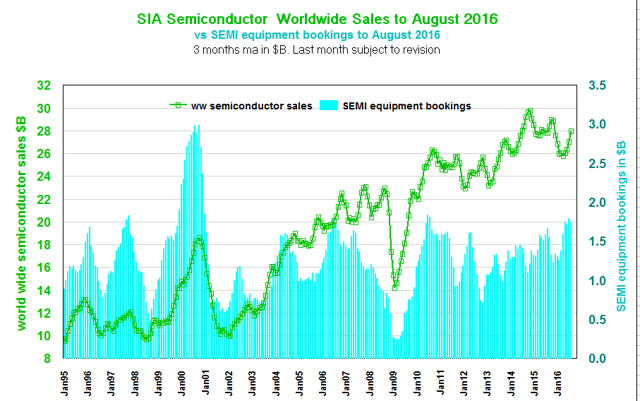 Investor takeaway
As I pointed out above, I own no stock in any of these companies, and none are clients of The Information Network. I write these articles in Seeking Alpha as a sanity check against the hype provided by company management.
Revenues for Q3 CY2016 will be down compared to Q2, and I anticipate that Q4 growth will be lower than Q3 growth. These are revenues, and not earnings, which drive the volatility in stock prices. But I feel that the service I provide is of value for the long-term investor.
Disclosure: I/we have no positions in any stocks mentioned, and no plans to initiate any positions within the next 72 hours.
I wrote this article myself, and it expresses my own opinions. I am not receiving compensation for it (other than from Seeking Alpha). I have no business relationship with any company whose stock is mentioned in this article.