Oil prices continue to soar recently, rising more than 3% at one point on October 19th and continued to stay higher during the week after news broke from the EIA (Energy Information Administration) regarding oil inventory and other data. In what follows, I will dig into the data and give my thoughts on what it likely means for investors in companies like Memorial Production Partners (NASDAQ:MEMP), Approach Resources (NASDAQ:AREX), and Legacy Reserves (NASDAQ:LGCY), as well as for the United States Oil ETF (NYSEARCA:USO) and other oil-related ETFs moving forward.
Mixed but great inventory data
According to the EIA, crude oil stocks managed to fall around 5.3 million barrels over the course of a week, dropping from 474 million barrels to 468.7 million. Though this means that there is still quite a large glut in the works when it comes to US storage, this drop represents a positive move compared to the 3.8 million barrel decline estimated by the API (American Petroleum Institute) and was materially better than the 2.1 million barrel build forecasted by analysts.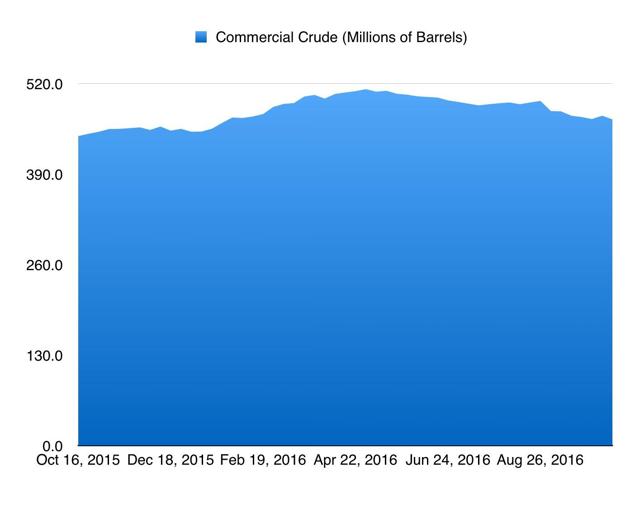 *Created by Author with EIA Data
In addition to seeing an improvement in crude stocks, the EIA also reported drops in fuel ethanol, which declined by 0.4 million barrels from 19.4 million to 19 million, a 1.3 million barrel drop in distillate fuel, which fell from 157 million barrels to 155.7 million, and a decline of 1.2 million barrels in the propane/propylene category of petroleum products, which dropped from 103.9 million barrels to 102.7 million. Overall, these drops are pretty nice and should help the overall rebalancing of the oil picture.
Unfortunately, some areas did worsen during the week. For instance, motor gasoline stocks rose by 2.5 million barrels, jumping from 225.5 million to 228 million, and kerosene-type jet fuel ticked up 0.4 million barrels from 43.3 million to 43.7 million. Residual fuel rose a rather hefty 1.5 million barrels, climbing from 37.8 million barrels to 39.3 million, and even the "other" category of petroleum products inched up 0.1 million barrels from 283.2 million barrels to 283.3 million. Despite these increases, however, total crude plus petroleum products managed to fall by 3.6 million barrels during the week, dropping from 1.344 billion barrels to 1.3404 billion.
So-so production and demand data
Looking at the picture from a pure inventory perspective, the report was certainly bullish, but there were some negative aspects to the report. For instance, domestic production during the week averaged, according to the EIA, 8.464 million barrels per day, an increase of 14 thousand barrels per day (or 98 thousand barrels for the week) from the 8.450 million barrels per day seen a week earlier. Though this is negative, it's not that large and when you consider that the Lower 48 states (including the Gulf of Mexico) saw production rise just 6 thousand barrels per day (or 42 thousand barrels per week), the rise wasn't material but the trend is still less than ideal. In the graph below, you can see the trend that oil production has taken over the past 52 weeks.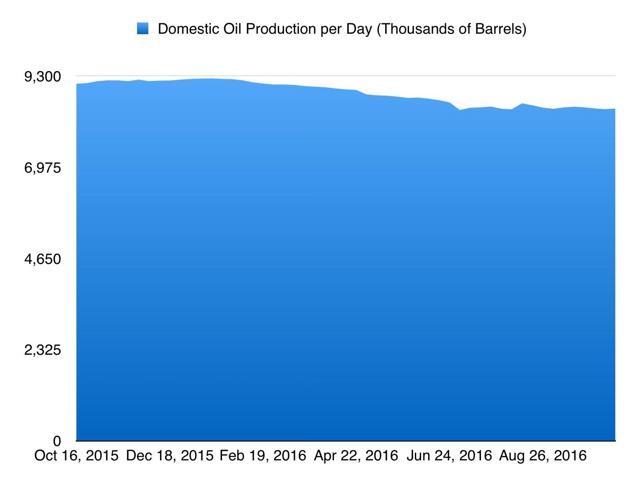 *Created by Author with EIA Data
Another downside during the week came from motor gasoline demand. During the week, demand averaged 8.798 million barrels per day, a decrease compared to the 9.264 million barrels per day seen a week earlier and down 3.9% compared to the 9.157 million barrels per day seen the same week a year earlier. Meanwhile, the four-week average came out to 9.083 million barrels per day, up just 0.2% compared to the 9.068 million barrels per day seen the same period last year. The four-week average for distillate fuel, however, improved very nicely, rising 3.3% year-over-year from 3.848 million barrels per day to 3.975 million barrels per day.
It should be mentioned that this data may be off due to inclement weather recently, especially from Hurricane Matthew. You see, in addition to demand being lower, the amount of oil imported plummeted week-over-week, falling by 912 thousand barrels per day (or 6.384 million barrels for the week). Just from speculation, it is possible that these changes were driven by the fallout associated with that weather but, then again, many people (myself included) thought the same with Hurricane Hermine, expecting that imports would rebound. However, that never transpired so we will have to wait and see on that front.
One really bad piece of news
Another piece of data I looked at during the week was the oil rig count. According to Baker Hughes (BHI), the number of oil rigs in operation rose by 11 units during the week, climbing to 443. Though this is bad in and of itself, the rig count is still 25.4% below the 594 units in operation the same time a year earlier. On the upside, the oil rig count in Canada fell by a hefty 21 units for the week, hitting just 69 at the moment. This represents a year-over-year decline of 17.6% compared to the 84 units in operation this time last year.
Takeaway
Based on the data provided, it seems like, from an inventory perspective, matters continue to improve and are doing so at a nice clip. I do wonder how long this trend will continue near-term but for now I am enjoying the ride. I am a bit worried about the demand side of the equation (as well as the potential for an import rebound if the recent drop is attributable to inclement weather) but until we see a couple more weeks go by, it'll be impossible to know whether matters are temporary or part of a larger trend toward rebalancing.
Disclosure: I am/we are long AREX, MEMP, LGCY.
I wrote this article myself, and it expresses my own opinions. I am not receiving compensation for it (other than from Seeking Alpha). I have no business relationship with any company whose stock is mentioned in this article.
Additional disclosure: I own LGCYO, not LGCY
Editor's Note: This article covers one or more stocks trading at less than $1 per share and/or with less than a $100 million market cap. Please be aware of the risks associated with these stocks.