An extended version of this article was given to subscribers on Thursday. On Friday, 10/21/2016, I bought shares of the company.
The latest mortgage REIT to get thrown on the trash heap is Capstead Mortgage Corporation (NYSE:CMO). Why did investors kick them to the curb? A lower dividend yield and fear of another dividend cut. This is precisely the kind of market failure I spend my time hunting.
This article is going to focus on the change in discounts to book value and the expected movement in book value.
I'm coming out with a strong buy rating.
Why Look at CMO?
They had one of the worst price performances since the end of Q2. See the modified chart from my weekly series on quick and dirty discounts: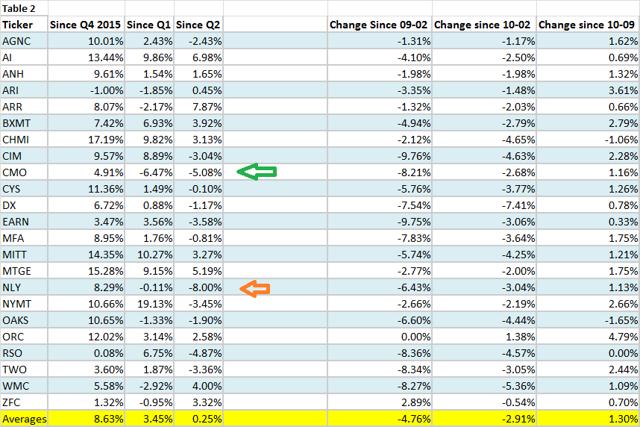 CMO has the second largest decline in price to Q2 book value. The only company that declined further is Annaly Capital Management (NYSE:NLY). I already have a buy rating on NLY.
Who Are They?
Capstead Mortgage Corporation is a medium size mortgage REIT. They run a portfolio of agency ARMs (adjustable rate mortgages) with very high leverage and lower hedge durations. The lower hedge duration makes sense since the mREIT's asset portfolio moves far less than a fixed-rate portfolio would move.
The following chart shows their portfolio: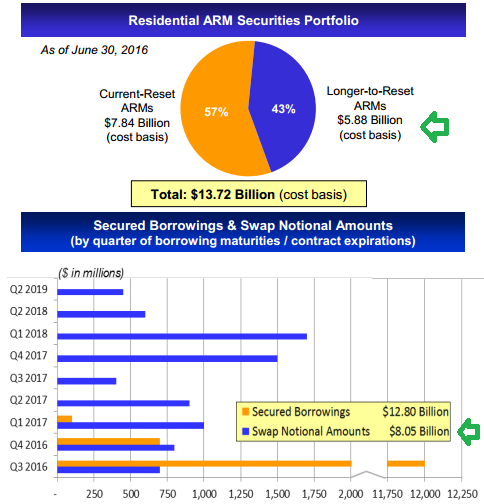 The green arrows highlight the value of their "Longer-to-Reset" ARMs and the notional value on swaps. The higher notional on the swaps is useful because they are fairly short duration. The longest swaps would only last until Q2 of 2019, and most of the swaps and everything else expires in Q2 2018 or before. A very high notional balance on the swaps is necessary in that situation.
By my estimate, the swaps are going to generate a benefit roughly around .27% of the total notional value. The notional value of the swaps is about 8 times book value, so that converts to about a 2% gain to book value. I would expect the longer-to-reset part of the portfolio to be declining around .25%. That part of the portfolio is only around $6 billion (compared to $8 billion in swaps), so I would expect the decline to only drop around 1.5% of book value. Net impact brings in a BV gain of .5%. I'm going to estimate that we may see a little more gain for CMO on the basis of agency securities becoming more attractive, so I'll increase that up to a 1.5% gain for the top end of my estimate. My estimated range is a gain of .5% to 1.5%.
To touch on the "current reset" portion of the portfolio, the values on those pools don't fluctuate much. Consequently, I don't see a need to model any changes to value on them.
The next thing to discuss is the leverage:

CMO uses exceptionally high levels of leverage because their assets don't fluctuate as much in value. This is a simpler portfolio. It is simple to build and simple to hedge. When the spread between MBS and swaps is very attractive, it makes sense to ramp up the leverage even more. That was the case in June and CMO responded by running very heavy on leverage. That was an excellent choice. You wouldn't know it from the way their shares traded down, but they were making great decisions.
What Else is Unique?
Prior to AGNC Investment Corp. (NASDAQ:AGNC) internalizing management, CMO had the lowest effective operating expense of any of the mREITs I followed. The effective operating expense is the ratio of overhead costs to equity.
Note: Individual investors and analysts can determine whether they want to use total equity or common equity. Under either set of calculations, CMO should've been first prior to AGNC's movement and second after the transaction.
If two mortgage REITs held the exact same assets and hedged in the same manner, the difference in the net interest income available for shareholders would be a function of which mREIT had lower operating expenses.
Because CMO has such a lower expense ratio, they should usually trade at a better than average price-to-book-value ratio. As you might guess, that isn't the case today.
Conclusion
CMO trades at a larger than normal discount to trailing book value. While I believe many mortgage REITs will see their book values increase by a few percentage points (compared to a mere .5% to 1.5% for CMO), the expected gains for those mREITs are not enough to justify the difference. I would classify CMO as being one of the best mortgage REITs. They have a simple portfolio, provide clear presentations that make the business more transparent, and they keep their expenses low. Despite all the positives, CMO trades at a larger discount.
I'm setting CMO to a strong buy rating. There are only a handful of mREITs trading at attractive prices, but CMO is one. Following the publication of a much longer version of this article for subscribers, I went long on CMO. I also followed my buy rating on Annaly Capital Management and initiated a position there.
To avoid any possible confusion:
CMO = Strong Buy Rating.
NLY = Buy Rating.
If you want to get my best research and early access to some of my REIT articles, consider joining The Mortgage REIT Forum. For the cost of one lunch per month, you can get access to the research I'm using for managing my own investments. Subscribers also receive real time alerts when I see the liquidity failing on individual securities.
Disclosure: I am/we are long CMO, NLY.
I wrote this article myself, and it expresses my own opinions. I am not receiving compensation for it (other than from Seeking Alpha). I have no business relationship with any company whose stock is mentioned in this article.
Additional disclosure: Information in this article represents the opinion of the analyst. All statements are represented as opinions, rather than facts, and should not be construed as advice to buy or sell a security. This article is prepared solely for publication on Seeking Alpha and any reproduction of it on other sites is unauthorized. Ratings of "outperform" and "underperform" reflect the analyst's estimation of a divergence between the market value for a security and the price that would be appropriate given the potential for risks and returns relative to other securities. The analyst does not know your particular objectives for returns or constraints upon investing. All investors are encouraged to do their own research before making any investment decision. Information is regularly obtained from Yahoo Finance, Google Finance, and SEC Database. If Yahoo, Google, or the SEC database contained faulty or old information it could be incorporated into my analysis. Tipranks: Assign buy rating to CMO and NLY.