By Pablo Ayon, Jack Friedberg, Avery Fowler, and Mason Fugger.
Our recommendation
We predict strong growth from Blue Buffalo Pet Products, Inc. (NASDAQ: BUFF) in the coming years supported by dependable in-house manufacturing, an upward trend in high-end pet food sales, and high margins for the industry that they are in. We expect to see the stock price increase by about 42% over a five-year period to $34.

What is Blue Buffalo?
BUFF is the fastest-growing major pet food company in the United states that was founded in 2002 and incorporated in 2012. BUFF develops, produces, markets, and sells dog and cat food made with natural ingredients such as whole meats, fruits, and vegetables. BUFF is based in Wilton, Connecticut, and at the end of 2015 it had a total of 5 properties in the United States for manufacturing, distributing, warehousing, and administrating its products. It currently operates in the United States, Canada, Japan, and Mexico but over 95% of net sales are from the United States. At the end of 2015, BUFF had approximately 6% of the U.S. pet food market ($23 billion market) and fed 2-3% of the 164 million pets in the United States.
Company Data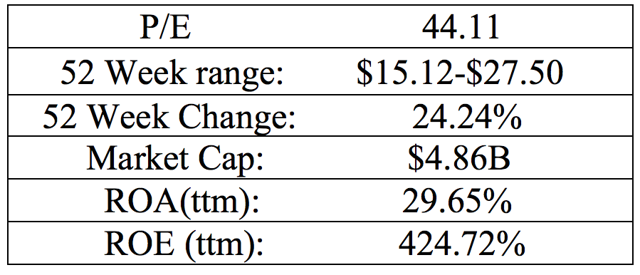 Source: Bloomberg
State of the Pet Food Industry
In the United States, 95% of pet owners consider pets part of the family, and the number of pets has consistently increased every year for the past 10 years except for in 2010. Spending on pet food has increased substantially and in 2015, the US pet industry market expenditures were $60.28 billion and pet food market revenue was $23.05 billion. Pet "humanization" is the biggest driver of the desire for premium and healthy pet food. In the last 10 years, the premium category of pet food has grown twice as fast as pet food sales overall. Mars PetCare Inc, Nestlé (OTCPK:NSRGY) Purina PetCare, Big Heart Pet Brands, Hill's Pet Nutrition, and Diamond Pet Foods are the top 5 biggest pet food companies based on their annual revenue, and all of them have at least one specialty product to appeal to this market. BUFF is 6th in revenue but expects to continue to capture market share with an aggressive advertisement campaign that it's competitors don't plan on running.
Source: IBISWorld
The case for an undervalue blue buffalo.
5 year Bullish Target Price: $34
BUFF's current price is representative of investors' hesitation to take a chance on the new healthy pet food trend. Assuming sales remain relatively linear and BUFF continues to improve its in-house manufacturing process, BUFF will be perfectly positioned to capture an increased market share in the pet food industry. Market leaders like Big Heart by JM Smuckers (NYSE: SJM), Iams by Mars, and Nestle Purina recognize the trend towards healthy pet food and the number of competitive brands has started to consolidate. BUFF has shown impressive resistance to these larger companies and will continue to increase their profitability by expanding in-house manufacturing capacity.
Increased Popularity of Wet Food Sales and Internal Manufacturing Capability to Drive Higher Margins
Wet food is a higher margin product that has grown in popularity with the healthy pet food trend. This, combined with moving from co-packers to in-house manufacturing will drive higher margins. This will take effect starting in 2019 when the new plant will open.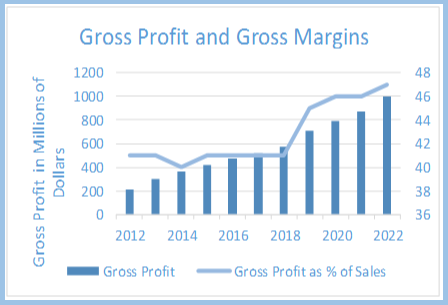 Source: BUFF 10k
Attractive Sales Numbers and a Modern Customer Acquisition Strategy.
Steadily increases sales numbers driven by online outreach and a large investment in advertising campaign drive brand recognition.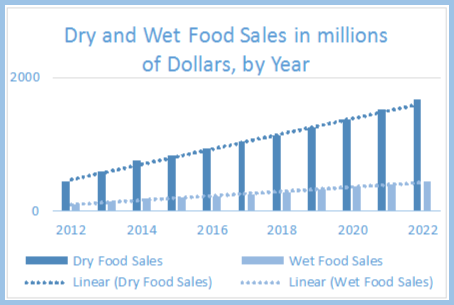 Source: BUFF 10k
Expanding Internal Manufacturing Capability and Moving Away Outsourced Production
Recently BUFF announced that it would be expanding its in-house manufacturing capacities in order to move away from using foreign co-packers. This move was meant to address two separate issues. BUFF wants more control over the manufacturing process after the recent litigation by Nestle over meat by-products being in their food. They also are looking to increase their gross profit margin by streamlining the manufacturing process. Currently, BUFF's gross profit margin sits at approximately 41%, but we estimate that profit margins could reach upwards of 45% without having to pay co-packers. This will lead to higher annual revenue for BUFF. Indiana is also offering corporate tax credits to BUFF for opening a new manufacturing plant in their state.
Risks of going long
5 year Bullish Target Price: $14
Loss of Customer Trust: Damage to BUFF's reputation could negatively impact their sales. BUFF recently settled in a lawsuit filed by Nestle for false advertisement. The lawsuit alleged that BUFF's products had certain meat by-products that went against their statement of "natural" ingredients. In the health-food market, the reputation of a product is key, and if BUFF continues to be sued for not properly labeling or producing its products, consumers may turn to other brands of dog food, forcing BUFF to lower prices or go out of business.
Increased Competition: The humanization of pets has driven a renaissance in pet food. This was quickly picked up on by major pet food producers like Mars and Nestle, who have acquired competing healthy pet food brands. These large corporations already have the facilities and managerial capacity to quickly adapt and could even price BUFF out of the market if they felt threatened.
Acquisition Premium: Failure to be acquired could have adverse effects on BUFF's stock price. BUFF is a high growth company in a high growth market. The company could be an acquisition target, as many large conglomerates like JM Smuchersand Mars are buying up the competition. As such, we believe that there is a slight buy-out premium that has already been priced into the stock. As the company matures or fails to hit their earnings projections, they could become a less attractive acquisition, causing a drop in stock price.
Failing to Meet Projected Margin Increases: BUFF is expected to turn higher margins due to an expansion in their capacity to manufacture their pet food in-house and a fast growing market for wet foods (which are a higher margin product). If the transition to fully in-house manufacturing is not timed correctly or the trend towards wet food stalls out, the valuation of the company by many major stockholders will be judged as too high and could lead to a large sell off of the stock
Management and Ownership
BUFF has a total of 276 shareholders with 168.7 million shares owned. As a whole, BUFF's top 10 shareholders have combined total of a 64.53% stake in the company. Key executives at BUFF include President William Bishop Jr., CEO Kurt Schmidt, and Chairman of the board William Bishop. They are among the company's 11 insiders that are also shareholders of BUFF.

Source: Bloomberg
The management team, key executives and board of directors, hold an average of 4.98 years in their current positions. Roughly the same amount of time that BUFF has been a public company. CEO Schmidt has been working at BUFF since 2012, and has worked in the food industry for over 14 years. Chairman Bishop and President Bishop Jr. have been in the company since its founding. The rest of the board members belong to Invus Financial Advisors LLC, Invus Group, Harvard Business School, and Artal Group S.A: an investment company, a financial services company, a top ranked education institution, and BUFF's major shareholder, respectively.
Source: Bloomberg
From 2012 to the end of 2015 there has been an average revenue growth of 25.7% per year indicating positive results of the developing management team. In 2015 the directors of the board received US $935,000 in stock awards which served as positive reinforcement for the board members to not only achieve but also exceed company expectations and future goals. BUFF's results taken from the last 4 years gives us confidence that the company will continue to thrive and its stock price will show positive growth trends.
Sources: BUFF Proxy Statement
Bullish Case Discounted Cash Flow Valuation
Free cash flow was calculated using projected annual revenues found below. Depreciation and amortization sees a bit of a spike starting in 2018 due to the opening of their new factory and the costs associated with it. Capital expenditures also spiked in 2016 and into 2017 during the construction period of the new plant. Our WACC value was calculated using a beta of 0.75. BUFF's actual beta is .29 but because it is such a new company we used the industry average to get a more accurate valuation. The bullish DCF uses an EBIT that reflects marginal growth from 41% to 47% over the 5-year period. We used a 10x multiple of our final year's free cash flow to arrive at our terminal value.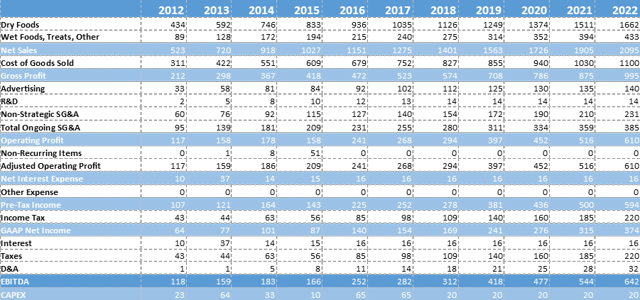 Source: BUFF 10k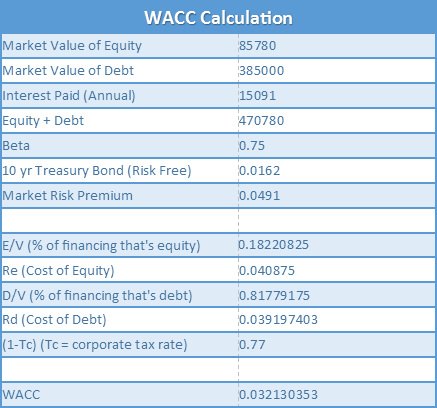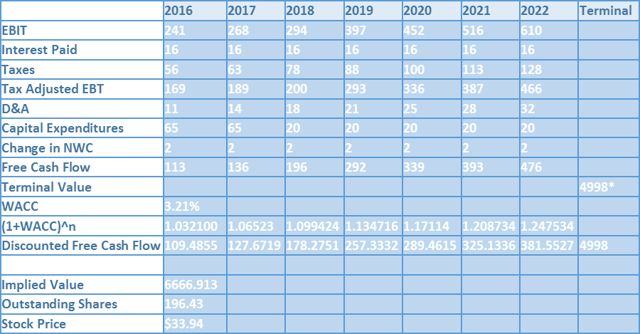 Source: BUFF 10k
Bearish Case Discounted Cash Flow Valuation
Free cash flow was calculated using projected annual revenues found below. Depreciation and amortization sees a bit of a spike starting in 2018 due to the opening of their new factory and the costs associated with it. Capital expenditures also spiked in 2016 and into 2017 during the construction period of the new plant. Our WACC value was calculated using a beta of 0.75. The bearish DCF uses an EBIT that reflects no marginal growth due to the possibility of mismanagement of the new manufacturing plant. We used a 3.2x multiple of our final year's free cash flow (the historical rate of growth for companies in the S&P 500 to arrive at our terminal value
Source: BUFF 10k
Conclusion
BUFF is a high growth company in a burgeoning industry leaving it plenty of room to grow. It has responded well to increased competition from larger companies and has potential to increase its profitability by moving away from foreign co-packers and expanding it's in-house manufacturing abilities. Sales have consistently risen, and should continue to rise, on the back of an aggressive multi-platform ad campaign. Based on these assumptions, we rate BUFF as a BUY with a 5-year price target of $34.
Supporting Documents
Disclosure: I/we have no positions in any stocks mentioned, and no plans to initiate any positions within the next 72 hours.
I wrote this article myself, and it expresses my own opinions. I am not receiving compensation for it (other than from Seeking Alpha). I have no business relationship with any company whose stock is mentioned in this article.
Editor's Note: This article discusses one or more securities that do not trade on a major U.S. exchange. Please be aware of the risks associated with these stocks.