Disappointing Chinese trade data sparked concerns over the Chinese Yuan
China's September exports decreased by 10% from a year earlier, far worse than expected.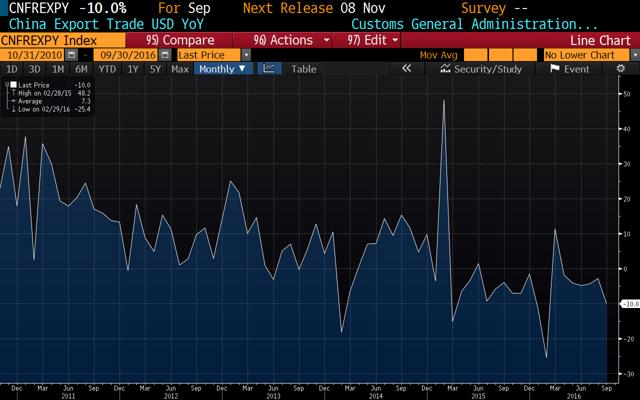 Source: Bloomberg
The weak data has renewed concerns over the Chinese Yuan. In fact, it has reminded the market that the Yuan devaluation is still the key global story to focus on.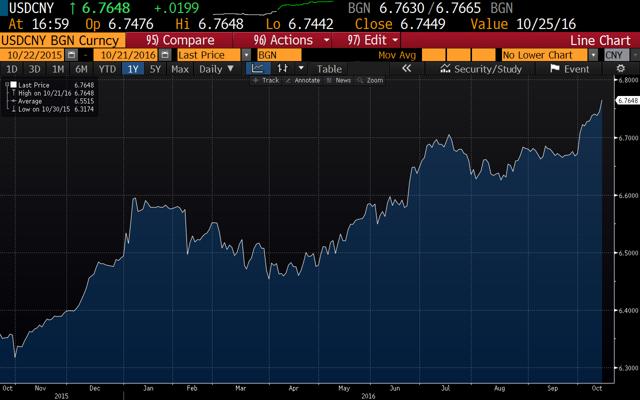 Source: Bloomberg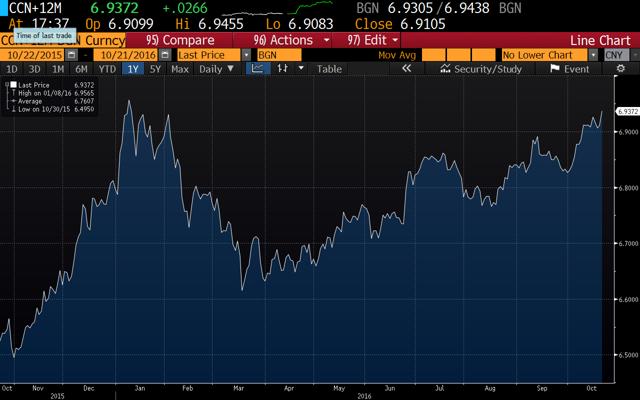 Source: Bloomberg
Here is a bit of commentary from Societe Generale Research:
Even before yesterday's weak Chinese trade data showed exports falling 10% yoy in September, the authorities had guided the renminbi to a six-year low. The weak trade data just accelerated that decline. So far, you could say that the renminbi's renewed decline is just a replay of previous occasions when the dollar strengthened as the Fed looked set to hike rates. But with the Chinese economy set to slow noticeably over the next six months as the authorities restrain yet another housing bubble, it is the global deflationary impact of a weak renminbi that we need to watch closely and especially whether the targeted trade-weighted CFETS basket also breaks to new lower levels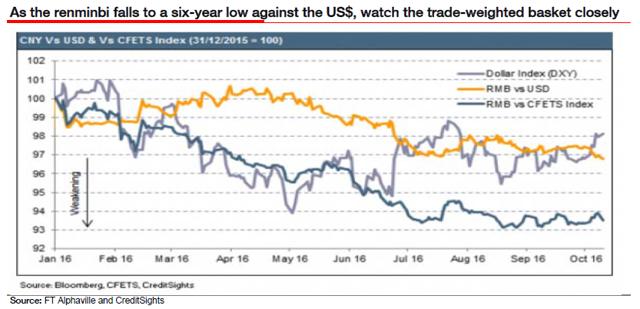 Source: SocGen Research
In addition, the International Monetary Fund said that "China is edging towards "financial calamity" and must wean itself off its debt addiction and reform if it is to avoid a crisis."
HSBC is a hedge against the CNY devaluation?
We do agree that it sounds a little bit odd, but mainland Chinese investors are buying HSBC's (NYSE:HSBC) shares to hedge against the devaluation in the Chinese Yuan. In a prior article on HSBC, we noted that a part of HSBC's re-rating could be attributed by a recent pick-up in demand for the bank's stock in Hong Kong from mainland Chinese investors via the Shanghai-Hong Kong Stock Connect.
According to Deutsche Bank Research, "over the past 18 months Chinese ownership of HSBC via southbound Stock connect has increased from almost nothing to c$5.0bn today. This is equivalent to just over 3% of HSBC's outstanding shares, so "stock connect investors" are now a top 3 shareholder in the group".
Source: Deutsche Bank Research, Hong Kong Exchange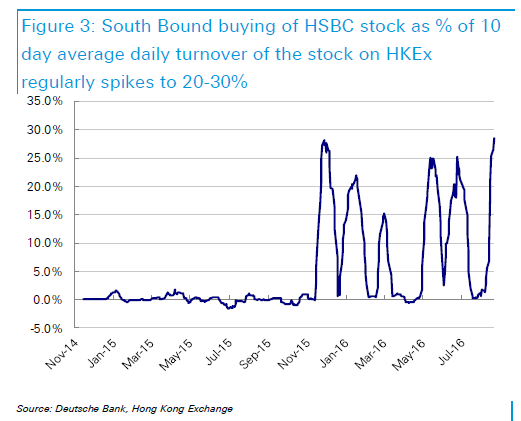 Source: Deutsche Bank Research, Hong Kong Exchange
As Deutsche Bank put it, "with a closed capital account, expectations of further RMB depreciation and limits on how much RMB can be converted to US$ mainland investors have increasingly looked to HSBC's shares in HK to gain US dollar exposure." As such, in our view, the weak trade data and the comments from IMF will likely increase demand for HSBC's shares as an attractive hedging instrument.
SocGen FX strategist suggests that Chinese policymakers would wait until after the U.S. elections before allowing more depreciation:
While the authorities will ultimately acquiesce to depreciation pressures, the timing is not ideal. More depreciation now would provide ammunition for Trump's protectionist rhetoric leading up to the elections....A prudent approach would be for policymakers to wait until after the elections before allowing more depreciation. The path of travel continues to be for the RMB to weaken. Consensus remains too complacent, expecting USD-CNY at 6.85 in Q3 2017, whereas we expect the currency to reach 7.10.
HSBC offers an 8.5% shareholder yield
HSBC has recently surprised the market with the announcement of a $2.5bn share buyback. It was unexpected for a stock where consensus had been forecasting a future dividend cut. The announced buyback has reassured investors of HSBC's ability to maintain the $0.51 dividend, corresponding to a 6.7% dividend yield, based on current share prices. HSBC trades at an 8.5% total shareholder yield: a 6.7% dividend yield plus a 1.8% buyback yield.
We expect a repeat of the announced buyback in 1H17 following regulatory approval to dividend surplus capital from the US unit back to the group. On our estimates, there could be up to USD6bn of surplus capital in the US business and we expect it to be returned to shareholders in a buyback in 1H17. The company's 10-Q filings show that HSBC USA holding company had a CET1 ratio of 16.5% at Q2 2016.
Given that each 1% reduction in the CET1 ratio of the US unit would allow around USD1.5bn of capital to be repatriated, HSBC could release up to USD6bn, while leaving the US unit with a still conservative 12% CET1 ratio.
Bottom line
HSBC's headline dividend payout ratio for 2016-2017 has already exceeded 100%, the fundamentals continue to deteriorate and a low interest rate environment is painful for a bank with a sub-70% loans-to-deposits ratio. Having said that, HSBC's shares enjoy solid support from an attractive shareholder yield, further capacity to return up to USD30bn of capital to shareholders, while renewed concerns over CNY will increase demand for HSBC's shares from mainland China. As such, HSBC shares can re-rate further as this rally appears driven more by technicals than fundamentals.
Thank you for reading. If you are interested in equity research on U.S., European and LatAm banks/financial companies, including fundamental analysis, DCF/multiples valuation, commentaries on price-sensitive events and actionable trading ideas, consider following us by clicking the "Follow" button beside our name at the top of the page.
Disclosure: I am/we are long HSBC.
I wrote this article myself, and it expresses my own opinions. I am not receiving compensation for it (other than from Seeking Alpha). I have no business relationship with any company whose stock is mentioned in this article.