I first wrote about New Flyer Industries (OTCPK:NFYEF) in February of 2013 and suggested investors consider the maker of natural gas fueled busses due to robust demand for its product line (see New Flyer: Big CNG Bus Contracts And A 19.99% Interest By MarcoPolo). It took awhile, but New Flyer shares have nearly tripled since that Seeking Alpha piece was published. More gains lay ahead.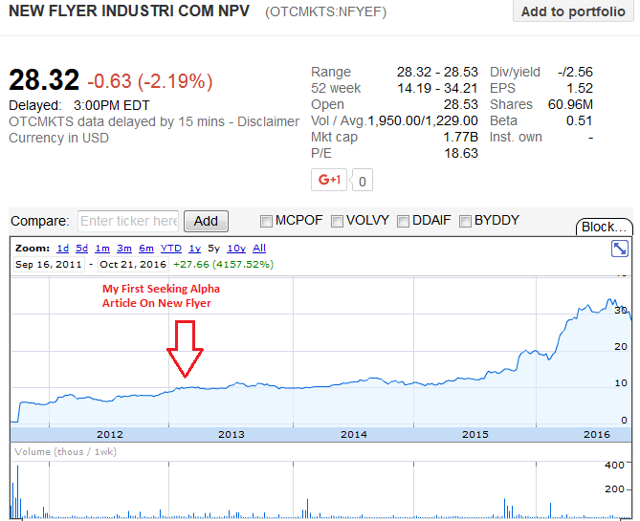 New Flyer is a mid-cap company (market cap ~$1.8 billion) with a simple investment thesis:
North America's #1 Transit Bus & Motorcoach manufacturer with an installed base of ~70,000 buses and an ~50% market share in the transit bus market.
Firm backlog of $1.6 billion (over 3,000 units) with optional upside to $3.6 billion (~7,000 units).
Broad product line of natural gas, hybrid, and battery-electric vehicles.
Relatively low leverage (~2.2x) with a low payout ratio (~22%) and a current yield of 2.3%.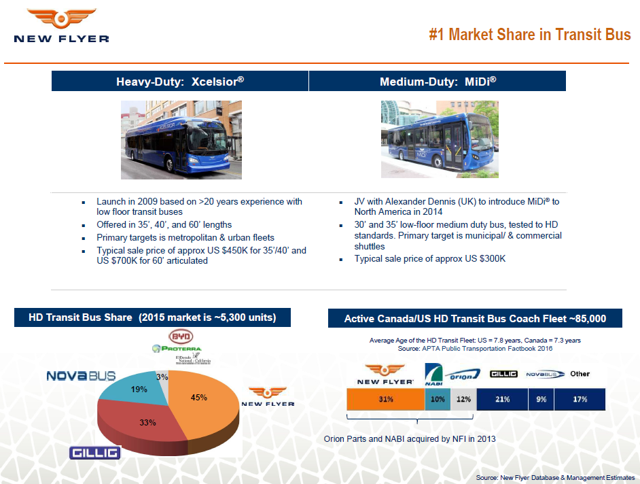 Source: August Presentation
New Flyer is the main player in North America's transit bus fleets, supplying 24 of the largest 25 markets with NF buses. This is because the company is offering a broad line of environmentally friendly buses that can be economically operated while at the same time reducing emissions in urban centers. The days of hopping off a transit bus only to inhale black soot emanating from the tail pipe as the bus takes off to the next bus stop are over. Specifically, natural gas and electric buses are ideal for an urban transit bus agency as they return to their home base for refueling and/or recharging. The low-price of natural gas in North America is also a tailwind for New Flyer.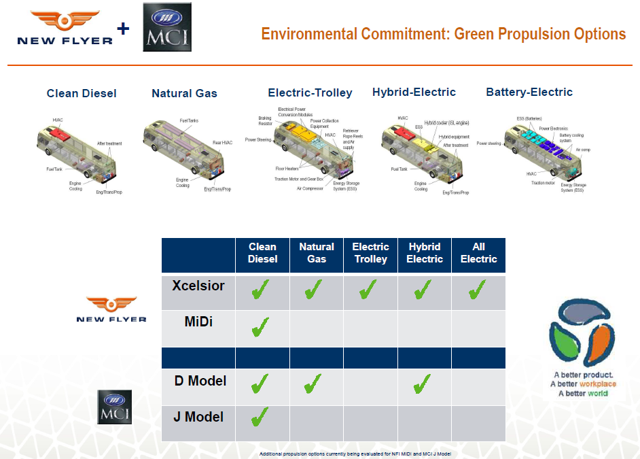 Since 2011, sales have grown at a CAGR of ~21%. Better yet, economies of scale due to acquisitions and larger transit fleet adaptation have boosted ROCI from 6% to 14% while annual EBITDA has more than tripled at a CAGR of 35%. As a result, free cash flow has grown at nearly 60%. And it is important to note that nearly 1/3 of LTM EBITDA comes from higher margin after-market sales, which will only grow as fleet adoption grows.
Outlook & Catalysts
This week, New Flyer released its Q3 Orders & Backlog report: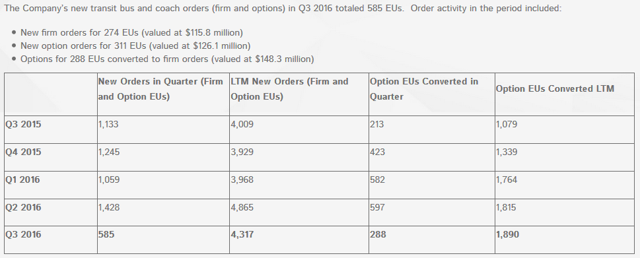 While new orders during the quarter (Firm and Option Equivalent Units) were down both yoy and sequentially, the note the company delivered 777 equivalent units ("EUs") in Q3 2016, an increase of 152 EUs compared to 625 EUs in Q3 of the year earlier (+24%). Also note LTM New Orders (Firm and Option) are up 7.7% yoy and optional units converted to LTM orders continue to climb.
On the technology front, New Flyer continues to collaborate and adapt the Cummins (NYSE:CMI) Westport ISL-G near zero emissions engine. The ISL G NZ NOx natural gas engine is the first mid-sized engine in North America to receive the 0.02 g/bhp-hr. optional Near Zero NOx Emissions certification standards from both U.S. Environmental Protection Agency ("EPA") and the Air Resources Board ("ARB") in California.
Summary & Conclusion
New Flyer is reasonably priced (P/E=19) for a company with such a high growth profile. The relatively low payout ratio bodes well for future dividend increases. Meanwhile the stock yields 2.3% - not bad considering the 10-year Treasury - even after a big rise recently - is still yielding only 1.7%. New Flyer is the dominate player in its market. As such, NF offers investors an excellent opportunity to own a long-term BUY and hold company.
Disclosure: I/we have no positions in any stocks mentioned, and no plans to initiate any positions within the next 72 hours.
I wrote this article myself, and it expresses my own opinions. I am not receiving compensation for it (other than from Seeking Alpha). I have no business relationship with any company whose stock is mentioned in this article.
Additional disclosure: I am an engineer, not a CFA. The information and data presented in this article were obtained from company documents and/or sources believed to be reliable, but have not been independently verified. Therefore, the author cannot guarantee their accuracy. Please do your own research and contact a qualified investment advisor. I am not responsible for investment decisions you make. Thanks for reading and good luck!