VF Corp (NYSE:VFC) is a clothing company, it distributes a wide range of brands internationally and operates in the segments Outdoor and Action Sports, Jeanswear, Sportwear, and Contemporary Brands. Brands you would likely recognize are Vans and Harley Davidson, among others. Large companies based on brands have a business aspect that we find interesting, they can tuck-in (roll-up) other brands allowing them to snowball with their cash flow, as they can bring scale of production, marketing, and distribution to acquisitions making them much more profitable relatively easily, and allowing the acquirer to pay higher multiples while keeping economics sound. The company was founded in 1899 making it one of the oldest clothing companies in the world, although still much younger than the Hudson's Bay Company which was founded in 1670. VF is also one of the 50 Dividend Aristocrat stocks, meaning it has been paying an increasing dividend for at least 25 years, actually that number is more like 43 years.
Today VF Corp announced its Q3 earnings results, overall the top-line results were below expectations, EPS was a small beat, but most importantly they included a worse than expected outlook, meaning the stock will sell-off this morning when the markets open. The question is how bad will it be, recently we saw GPC sell-off sharply on its earnings last week. It's not uncommon for these stocks, even the aristocrats to fall 5% to 10% on a bad quarter. In the past we have found buying aristocrats on large dips to be a compelling strategy to acquire premium companies at discount prices.
Retail stocks are not doing well, this includes companies such as Macy's (NYSE:M) as well as VF, with VF already trading at 3-year lows, the market is clearly worried about the future of retail. But one thing we should not worry about is consumers will continue to spend money on branded clothing, one way or another we must all be dressed.
Even the CEO of VF is worried about retail:
"We continue to operate in an uneven, global economic environment including especially sluggish retail conditions in the Americas, our largest market" ~Eric Wiseman
Performance for the quarter included:
2% higher sales in the Outdoor and Action Sports segment, this includes North Face, Vans, and Timberland. A 6% decline in the Jeanswear segment that includes the Wrangler and Lee brands, a small decline in Imagewear, and a large 13% decline in Sportswear that includes the Nautica and Kipling brands.
Overall the results reflected general weakness in the retail sector; the market will not receive them well. Still there was good news by the company as they continue to look past a rocky period of a dynamic retail environment, instead choosing to allocate capital back to shareholders in the form of increasing dividends and buybacks.
Use of Cash: the use of cash test provides a visual overview of the various cash uses that a company has been allocating cash towards. It shows the relative size of the cash uses versus the outstanding cash balance available to the company. It is a quick and simple way to view how the company has used its cash over the past 10 years, and is indicative of what the company may do in the next 10 years with its cash reserves. We examine dividend payments to all shareholders (including payments to preferred dividend holders) as well as net repurchases which includes equity issued via stock option plans etc… as well as interest payments on debt, this offers a more wholesome view of how the company allocates capital.

Source: www.SmartDividendStocks.com
One of VF's major focuses in the past few years has been returning capital via share buybacks, with the result being a decreased share base boosting EPS. This continued in Q3 with another 2.7M shares repurchased for $166M In 2016 VF purchased nearly 16 million shares for $1 billion. There are approximately 15M shares left on the outstanding NCIB.
VF also uses its large amounts of cash flow to consistently raise dividends, which are an increasing burden on the cash flow, but still manageable. One of the reasons for this is how little the debt service burden is. The end result is a solid use of cash chart, and great capital allocation for shareholders.
10-Year Dividend Yield and Payout Ratios: Higher dividends are great but not if they come at the expense of dividend sustainability. Assessing the payout ratio is a key metric in determining the sustainability of a dividend, and is calculated as dividend per share dividend by earnings per share (DPS/EPS).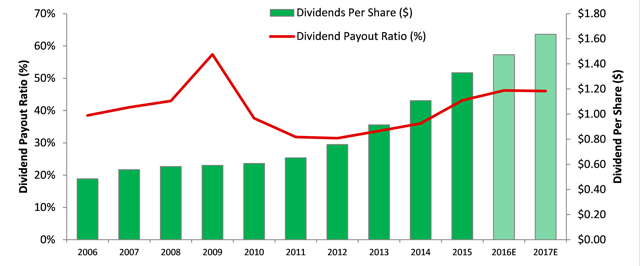 Source: www.SmartDividendStocks.com
The other piece of good capital allocation news was another dividend increase. On October 20, VF's Board of Directors declared a quarterly dividend of $0.42 per share, reflecting a 14 percent increase over the previous quarter's dividend. This dividend will be payable on December 19, 2016, to shareholders of record at the close of business on December 9, 2016.
Given that earnings growth has underperformed dividend growth for the past few years, the dividend payout ratio has risen, from the low 30% range towards today's near 50% level. Still, this is a reasonable payout ratio, and leaves plenty of room for tuck-in operations. If needed, buybacks could also be reduced to create more space to pay the rising dividend.
On an absolute basis, VF's dividend has increased by about 250% over the past 10-years. The most recent dividend increase takes the annual dividend to $1.68/sh, and increases the yield to 3.1% before the market opens (it will be higher after share prices fall when the market opens). This means that VF is very likely to earn a place as one of the high yield dividend aristocrats.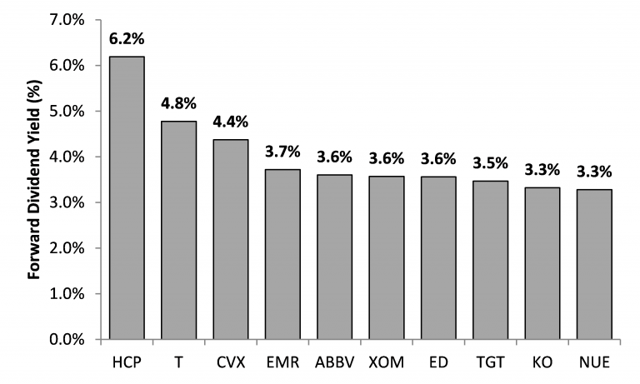 Source: www.SmartDividendStocks.com
Long-term Dividend Growth: It is important to view dividend sustainability across market cycles, following the prolonged bull market we have seen in recent years it is necessary to look a bit further out to get a more balanced view of dividend sustainability.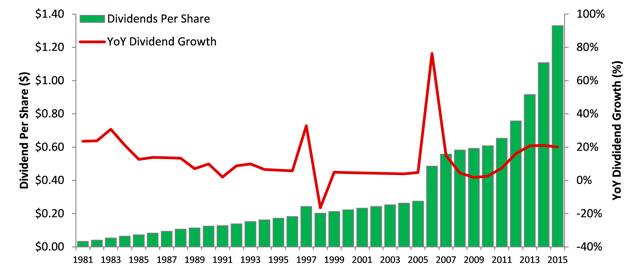 Source: www.SmartDividendStocks.com
Dividend growth has been accelerating in the past 5-years, clearly a trend that cannot last forever. Over the past 10-years the earnings CAGR has been 8.5% while the dividend CAGR has been 11%.
Since 1980 when dividend growth became more stable the company has seen average annual dividend growth of 13%. This is a very healthy dividend growth rate to compound your money at. The growth has largely been supported by earnings which we like to see.
Credit risks: One of the largest risks to dividend sustainability is a leveraged company facing large debt payments and/or putting its credit ratings at risk, which would lead to higher interest charges.

Source: www.SmartDividendStocks.com
VF is very conservatively leveraged, with minimal debt due over the next five-years. It's Net Debt/EBITDA is only 1.1x, and interest coverage is around 20x, both of which are very conservative, and well below aristocrat peers. VF has an A3 investment grade credit rating from Moody's which it holds as a priority to maintain. While the company recently issued 850M or Euro-denominated bonds in September, these carry a 0.625% coupon rate, which is excessively cheap. It is also well below the existing US$ bonds that carry 3.5% to 6.5% coupons.
Summary: VF reported a less than stellar quarter; the stock is going to see a large decline when the market opens. Historically we have found buying premium stocks when they undergo large pullbacks to be lucrative times to buy. VF remains a great company even if the retail outlook is less than amazing. Additionally, VF continues to pay increasing dividends and makes sizable repurchases. This brand based business can grow through both organic and via M&A, offering it multiple levers.
Don't forget to check out our recent articles on Automatic Data Processing (NASDAQ:ADP) and McCormick (NYSE:MKC) here on seeing alpha
Thanks for reading our article all the way to the bottom! To get these articles as soon as they are published head back to the top of the article, hit the 'follow' button, and select 'real-time alerts'.
Disclosure: I/we have no positions in any stocks mentioned, but may initiate a long position in VFC over the next 72 hours.
I wrote this article myself, and it expresses my own opinions. I am not receiving compensation for it (other than from Seeking Alpha). I have no business relationship with any company whose stock is mentioned in this article.