The trading in Valmont Industries (NYSE:VMI) so far this year makes some sense, in my opinion: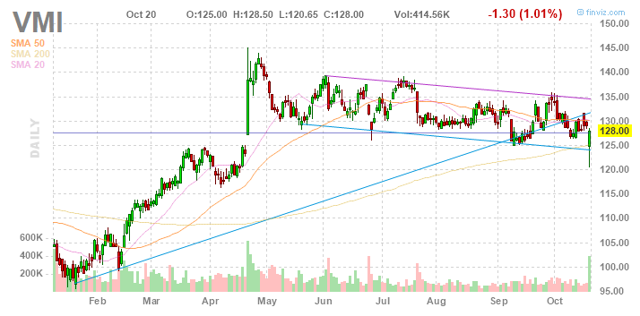 Source: finviz.com
The stock was simply too cheap below $100, as early-year broad market weakness brought down shares of the cyclical manufacturer. A strong Q1 - aided by cost-cutting, and, as I believed at the time, soft expectations - drove shares toward $140, the low end of the fair value range I'd estimated at the time. Since then, however, the news, at least from a near-term standpoint, has been relatively grim. Crop prices are at almost stunning lows, putting U.S. farm income on track for a third straight annual decline.
The high correlation between farm income and irrigation spend has weakened demand for Valmont's Valley brand. Steel structure demand has been choppy, with U.S. telecoms pulling back on investment. AT&T (NYSE:T) has focused on integrating DIRECTV and management on the Q3 conference call cited speculation that carriers moved "to the sidelines" ahead of the FCC's spectrum auction this year.
Both Q2 and Q3 numbers have looked weak relative to expectations (in fact, VMI's top line has disappointed repeatedly over the past few years). Only an aggressive cost-cutting program is driving the guided 10-13% EPS growth this year.
So the modest range-bound decline over the past six months makes some sense: Valmont has done a nice job of controlling what it can control, and there hasn't been any real evidence that the lack of growth (sales are down 7% year-to-date) is anything but cyclical. And I can understand why investors as a whole appear to have lost some patience since April: not only has there been no progress from a demand standpoint, but the situation appears to have become a bit worse, with the Coatings segment now struggling in Q3 and into Q4.
In fact, I'm somewhat surprised the market has stayed as patient as it has: VMI shares did plunge in early trading Thursday after the Q3 report, falling as much as 8% at one point, but investors bought the weakness and shares wound up down just 1%. And I'm a bit disappointed, selfishly, in the market's patience because I'd love to see a cheaper price for VMI.
But it may also be that at least some investors are seeing what I see in the Q3 report: Some support for the hope that things will get better in 2017, and particularly 2018. Because I do think there's still upside here: the question is when it will arrive.
Segment By Segment
Overall, the news from Q3 doesn't seem particularly good. Revenue declined 3.5%; while adjusted EPS increased, adjusted operating income actually fell year over year. The Coatings business saw a "sudden meaningful decline" in volume, per the Q3 presentation, in large part due to solar customers pulling back. That business already has declined in both sales and adjusted margin in 2014 and 2015, with 2016 looking to be another drop. Combined with unsurprising weakness in Irrigation and Energy & Mining, over half of Valmont's 2015 adjusted segment-level operating income is coming from what look like significantly depressed businesses.
This has been the VMI story for some time, however: a collection of businesses that were supposed to offset cyclical impacts instead has magnified those impacts, with 2012-2013 being "boom years" and weakness ever since. And looking at VMI business by business, I can see some argument that 2017 might be better:
Irrigation
I mean, it can't get much worse, right? Adjusted operating income was more than halved between 2013 and 2015, and declined further in the first half before a flat (and seasonally weak) Q3. Farm income has declined for three straight years, and wheat and corn trade near or below their lowest prices in a decade or more.
Then again, it doesn't look like it's going to get much better, either. For Valmont, irrigation spend historically has been tightly correlated with farm income, and there's little evidence at the moment to suggest a rebound coming next year. CEO Mogens Bay admitted on the Q3 call that he "would not rule out further downward pressure" next year; rival Lindsay (NYSE:LNN) last week said it projected no improvement in 2017.
Still, Irrigation weakness is a clear cyclical story, and we're not far from a point where farm income or not, the replacement cycle should pick up somewhat. In the interim, pricing has held, a key factor relative to upcycle potential: Bay long has argued that price competition (particularly in the U.S.) is destructive and counterproductive for the industry as a whole.
And there's no evidence that Valmont is losing share: in Lindsay's fiscal 2016 (which ended August 31), its Irrigation segment saw revenue decline 7 percent. (Valmont and Lindsay don't have a duopoly in the business, particularly overseas, but they're not far from it, either.)
The news here isn't great, admittedly - but it hasn't changed much over the course of 2016, either. Valmont and its shareholders simply will have to be patient, which can be easier said than done. But despite the fact that Valmont's 'story' often centers around irrigation, the business actually is down to roughly one-third of trailing twelve-month adjusted segment income. And the news is better elsewhere.
Utility Support Structures
As I've pointed out in the past, the biggest driver of VMI's consolidated profit decline - EPS fell from near $11 in 2013 to under $6 in 2015 - actually has been the USS business, which drove roughly half of the total decrease. Now, USS looks like the segment with the most room for near-term optimism. Margins have improved thanks to cost reduction: non-GAAP operating margin improved nearly 150 bps year over year in Q3, continuing a recent trend.
And the outlook looks stronger than it has in some time. Revenue was down 9%, but the decline mostly came from steel prices (which largely are passed through to end customers) and international weakness, with a large project in Europe pushed out to Q4. Lead times are increasing, and pricing is improving; meanwhile, industry capacity was taken offline over the past 2-3 years. As CFO Mark Jaksich put it on the Q3 call, "we see at least for the next three to five years, [a] very good market outlook in total." It's been several quarters since a Valmont executive said that about anything.
Engineered Support Services
The ESS business was supposed to benefit from the long-awaited US highway bill, but the market actually sold the news on that event last year. Meanwhile, there's been little impact in 2016, possibly due to discussions about funding priorities at the state and federal levels. (Here in Illinois, for instance, there is an amendment on the ballot to segregate gas taxes and transportation-targeted fees for road use only.)
But, here too, 2017 looks potentially better. Inquiries are up "meaningfully," and Valmont's lighting business generally picks up near the end of a cycle improvement (as lighting stanchions are usually the last aspect of a project to be installed). Valmont itself expects improvement next year in highway construction, which would be a welcome change.
Meanwhile, North American wireless spend has been weak, as noted above. There may be some pent-up demand there next year once the complicated spectrum situation is resolved. Europe has been weak, but the Middle East has grown. Revenue actually ticked up in Q3 (though operating income fell), and there are signs of a potential bottom in ESS as well.
Coatings
Coatings weakness drove the Q3 miss and lowered full-year guidance. Demand fell off sharply, which Valmont attributed to lower solar installations after the expiration of a tax credit. Operational mishaps had an impact as well, though they were offset in the Q3 numbers by a reversal of an accrual relating to an acquisition.
The outlook here does look like it's weakened; rival AZZ (NYSE:AZZ) plunged after its fiscal Q2 report earlier this month, with that company calling out both solar and oil & gas weakness as drivers. From a near- to mid-term perspective, the lower demand in Coatings certainly is the worst news out of Q3, and likely the most troublesome development in 2016 as a whole. (That's not to say the news has been great elsewhere, but for the most part the results have been within expectations, however muted those expectations were.)
Still, while Coatings is the highest-margin segment, it remains the second-smallest in terms of profit contribution (on both a trailing basis and in terms of my normalized estimates), and improvement in the two support structures business should more than offset any further weakness in 2017.
Energy & Mining
There even were some signs of life in the E&M business, which unsurprisingly has been hit hard over the past few years. Adjusted operating margin improved from 4.3% to 6.9%, on relatively flat revenue (down a bit under 4%), leading to a 56% improvement in adjusted operating margin. The restructuring led to a better cost structure, helping margins, and the access systems business is making some progress in diversifying away from a reliance on the volatile mining and O&G end markets.
E&M remains a tiny part of overall profit (~4% in 2015 at the segment level), and a VMI bull case isn't being driven by the business barring a massive, multi-year change in end markets. But after a decline that raised concerns the business could turn EBIT-negative, the recent improvement is somewhat comforting.
Valuation
In April, I estimated mid-cycle earnings from VMI at above $8 per share ($8.34 to be exact), pro forma for the impact of 2016 cost savings. While the headline numbers in the subsequent Q2 and Q3 reports have been disappointing relative to Street estimates, I haven't really seen much to change my opinion at that front, nor on a mid- to high-teen multiple suggesting fair value in the $140-$150 range.
So, since then, with VMI relatively range-bound, I've thought the stock was intriguing, but not necessarily compelling. I'm not alone in being a bit worried about the current macro situation, or the broad market, and one imagines VMI would be first in line for a haircut in any sort of correction. From a margin of safety standpoint, too, a $125-$130 price isn't quite enough discount, particularly if that mid-cycle fair value estimate looks like it has to be discounted back for 2-3 years.
Coming out of Q3, with the stock closing Friday at $128.05, my overall sentiment hasn't changed much. I still like the stock at these levels, but the $120 price offered early Thursday morning (albeit briefly) seems much more attractive. But, overall, Q3 looks modestly positive for VMI (I thought the same about Q2, for what it's worth), as there are signs of some growth in 2017. That could be enough to change the story from "Valmont is a pretty good company, but its end markets stink and you'll be waiting for a long time," to "hey, look, Valmont's cycle has turned!" And that probably gets shares to $140+ within twelve months, a double-digit return.
That's admittedly not the most interesting or explosive bull case in the market, but for a well-managed company with impressive market share - and additional cost savings coming next year, both the tail of the recent restructuring and from additional efforts in Australia - the market seems to be offering a reasonable discount. I'd love if that discount was a little wider - but that's always the case. $128 for VMI is a good price - the question is whether an investor wants to wait for a better one.
Disclosure: I/we have no positions in any stocks mentioned, and no plans to initiate any positions within the next 72 hours.
I wrote this article myself, and it expresses my own opinions. I am not receiving compensation for it (other than from Seeking Alpha). I have no business relationship with any company whose stock is mentioned in this article.