Western Copper and Gold (NYSEMKT:WRN) often trades as if it is mainly a copper mining company, its daily stock price rising and falling along with copper more than gold.
But as the company's own CEO has said, it should really be called Western Gold and Copper. Their Casino Project in Yukon has Proven & Probable Reserves of 8.9 million ounces of gold and 4.5 billion pounds of copper. At current spot prices, that is $11.3 billion worth of gold and $9.4 billion worth of copper.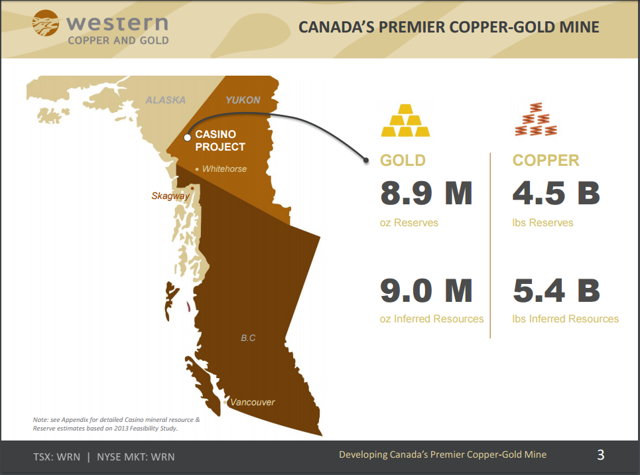 Moreover, I expect the gold price to rise much more and much faster than the copper price over the next 1-3 years. I analyzed the dynamics of the gold and copper prices in my article on the Gold/Copper ratio. When gold outperforms copper in the years ahead, the value of Western Copper and Gold will lie primarily in its gold reserves.
But since investors and traders have seen it as a copper first company, Western Copper and Gold's stock has remained significantly undervalued for its gold reserves. Its current market cap is only $71.5 million. That is a valuation of just $8 per ounce of gold reserves in the ground -- and that's ignoring the 4.5 billion pounds of copper completely.
At this bargain basement valuation, Western Copper and Gold stock is a screaming buy. The big outstanding issue for the company is the approval of the Casino Project mine by the Yukon Environmental and Socio-economic Assessment Board (YESAB). In February, the Board's executive committee required a high-level Panel Review of the Casino Project, and this process is still ongoing.
It is understandable that investors have hesitated on Western Copper and Gold while this high-stakes environmental review process plays out. At the same time, it is important to be aware of many factors that are in the company's favor in this situation:
Yukon is a mining-friendly province, with mining making up a significant part of its economy. It is much more likely that YESAB will allow the project to proceed after the company submits appropriate environmental modifications, and much less likely that they will attempt to shut the project down entirely.
Here is a telling example for illustration: Another recent local news article described economic troubles for Yukon due to all the mine closings in recent years, even warning that "Yukon may soon have no working mines." But the report by the Conference Board of Canada also notes positive upcoming developments, and in particular, "It points to Kaminak's Coffee Gold project (recently purchased by industry heavyweight GoldCorp), Victoria Gold's Eagle project, and Western Copper and Gold's massive Casino project as bright spots on the horizon."
I see this as a significant and very positive piece of evidence. If the Casino mine were some marginal project likely to be shut down and never built due to environmental problems, it is unlikely that the Conference Board of Canada would be citing it in this way as a bright spot on the horizon for Yukon's mining economy.
Western Copper and Gold provided an update on the status of the environmental review in August, indicating that they are making progress toward addressing YESAB's concerns. The company also has an entirely separate website devoted to the Casino Project, which promotes the project's commitment to addressing social and environmental concerns.
Conclusion
It is true that investors cannot be certain about the timing of the resolution of the environmental review. But if timing is the only issue, rather than the question of whether the Casino Project will be approved and built at all, then Western Copper and Gold stock remains a screaming buy.
At today's stock price you are paying only $8 per ounce of gold reserves in the ground, plus you essentially get a huge copper mine for free. Such a bargain valuation is very hard to find after this year's run-up in gold mining stock values.
Yes, you may have to wait a year or even 2 years for the ultimate payoff, depending on the timing of the YESAB approval process. On the other hand, a major gold miner could see the positive writing on the wall, and step in and acquire Western Copper and Gold at a premium price at any time. At today's price, the enormous potential reward is well worth the possible wait.
Disclosure: I am/we are long WRN.
I wrote this article myself, and it expresses my own opinions. I am not receiving compensation for it (other than from Seeking Alpha). I have no business relationship with any company whose stock is mentioned in this article.
Editor's Note: This article covers one or more stocks trading at less than $1 per share and/or with less than a $100 million market cap. Please be aware of the risks associated with these stocks.