Suntrust Banks
Suntrust Banks (NYSE:STI) made steady progress in 3Q 2016. Investors will find stronger growth in smaller peers for round of results. I think the real investment juice in STI is that it can probably improve operating leverage further and, if I am right, the stock is cheap. This will require a new set of financial targets and after a powerful recovery in the shares after the unwarranted selloff in Q1 this year, I am a happy holder on these numbers.
Let's start with the balance sheet. Growth is pretty buoyant with 8.4% YoY in deposits and 7.4% YoY in net loans. As you can see on the chart below, net loans were flat QoQ. STI reported strength of demand in consumer loans and nonguaranteed residential mortgages. The bank sold ~$1bn of indirect automobile loans in September as part of its "optimization" strategy, which tempered overall growth. We'll monitor loan developments closely but one quarter isn't too important either way. The deposit growth provides an offsetting volume lift when parked in non-loan assets.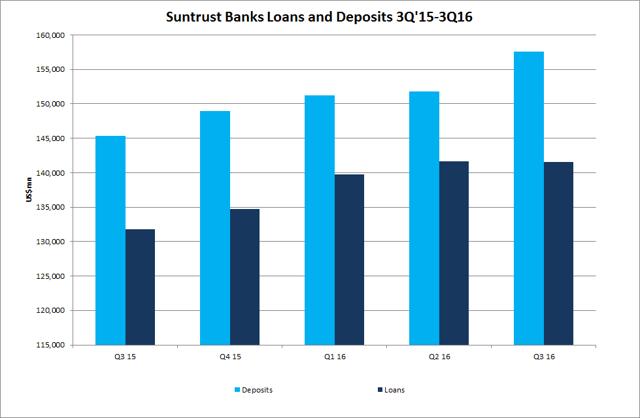 Source: Company data
Turning to revenue, there is pleasing strength. Total revenue growth is 8.7% YoY. Investors will want to consider this in the context of other sectors and nominal U.S. GDP growth. With flat loan growth in the quarter but strong deposit growth it is not surprising that net interest margin fell 3 bps. This doesn't matter. QoQ growth in Net interest income was 1.6%. While YoY net interest income was strong, with 8% growth, I was even more encouraged by the near 10% growth in non interest income.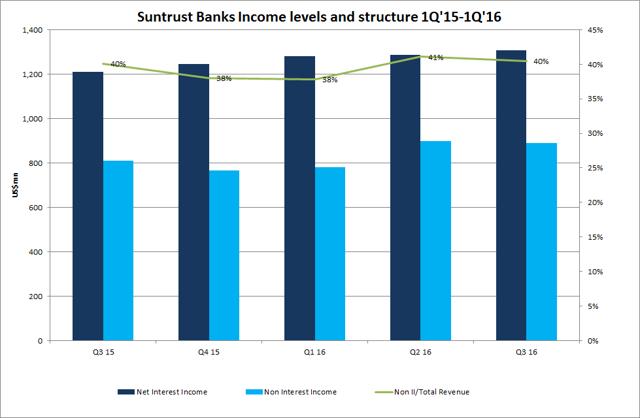 Source: Company data
A few weeks ago, I wrote about Suntrust Banks in comparison with U.S. Bancorp and asked whether STI would aspire to USB's level of profitability. One difference at the moment is that USB has a stronger income mix with higher non interest income within total income while operating similar net interest margins to Suntrust (about 2.6% on average total assets). I think Suntrust should aim for a 45% non-interest income/total income ratio long term. This I should stress is just my idea but every quarter where non II outstrips net interest income growth gets us closer to a fuller income mix and higher structural ROE.
In this respect, at least on the surface, costs where a bit less encouraging with 11% YoY growth - negative "jaws" at the headline level, with operating leverage decreasing. This restricted pretax profit growth to 4%. The main drivers of higher costs were regulatory and compliance expenses and higher staff and outsourced processing expenses. Improving operating leverage is a major theme in the sector, and reflects bank management teams digging in to procure shareholder value from their businesses in the face of lower for longer rates. STI has recently achieved a better efficiency too, but the dynamics went the other way this quarter. It's worth just checking the detail here:

So you can see that within the array of factors mentioned by STI management, the largest delta is in outside processing and net occupancy, both of which grew in dollars by much larger amounts than has been typical over the last twelve months inclusive of this quarter, which of course itself lifts the average. Outside processing has been flat in absolute terms but has now risen $24m and net occupancy was down until 2Q but has again now shot up by $15m. The point is these are related to business growth and are unlikely to repeat this kind of growth consistently. I think we'll see either flat or improving cost/income efficiency in 4Q and this should remain a key target for STI over the next planning phase.
Credit charges (LLP) were low, at just 4.4% of total operating income and reflecting strong asset quality - a universal feature of the sector.
Conclusion
There is enough here to keep long term holders happy, with the main positives in the quarter being growth in deposits and overall revenue. I would add if the stock came back, though I'd concede this is unlikely given the encouraging sector results that are rolling in, and the potential for the sector to continue catching up with the wider market. Points to monitor near term are loan growth and cost evolution. STI trades on ~13x EPS for 2016, and 11x 2018. This is not challenging for a bank that I suspect could put in place ambitious long term targets that make a compelling long term case.
Disclosure: I/we have no positions in any stocks mentioned, and no plans to initiate any positions within the next 72 hours.
I wrote this article myself, and it expresses my own opinions. I am not receiving compensation for it (other than from Seeking Alpha). I have no business relationship with any company whose stock is mentioned in this article.