Dream Office REIT (OTC:DRETF) is Canada's largest pure-play office REIT and a core holding in my personal portfolio.
In August, Dream announced a significant writedown to their reported Net Asset Value Per Unit and as a result, their unit price on the TSX has tanked. This post serves to give an update to investors. I believe Dream still presents a good value opportunity, though not so much as before.
Note: Dream Office REIT is a trust, not a corporation, so some of the terms used in their business are different. In this analysis, I may use the words "dividend" and "distribution" interchangeably, though distribution is correct. Similarly, I may use the terms "shares" or "shareholders" interchangeably with "units" or "unitholders," though units are correct.
Business Overview and Ownership Structure
Dream owns significant amounts of office real estate, with ~64% of their portfolio concentrated in Toronto and Calgary. They have relatively little exposure to Vancouver, so for investors who are concerned about a real estate bubble in that region, Dream may be a good way to get REIT exposure.
The ownership structure of Dream Office REIT is as follows: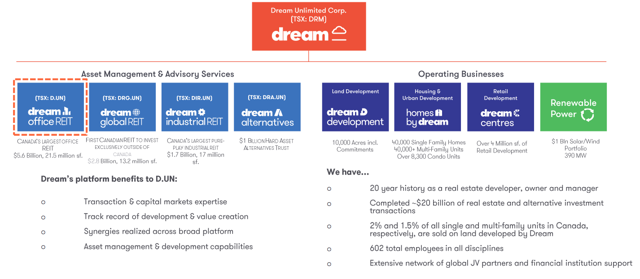 The Story
I first purchased Dream Office REIT in February of this year after searching around for a good source of real estate exposure in my portfolio.
I was attracted to Dream for two reasons. First of all, they had a fantastic distribution yield. Many investors thought that the distribution, then at $0.1866/month, was unsustainable, and so management cut the distribution. This was well received by investors and the stock surged 20% between the distribution reduction and Dream's Q1 earnings report.
Secondly, I was attracted to Dream because they were (and still are) trading at a significant discount to their net asset value ("NAV"). I don't know about you, but I like buying dimes for nickels, which was essentially what I was doing for Dream - my cost basis was ~$20.00 and the Trust's reported NAV was $30.31. However, that number was adjusted later in the year.
The NAV Adjustment
On August 10th, Dream Office REIT reported their second quarter results. In the press release, it was noted that due to challenging economic conditions (particularly in their Alberta markets), the Trust had recorded a fair value loss of $675.3 million and $748.4 million for the three and six months ending June 30, respectively. This accordingly reduced their net asset value per share from $30.31 three months prior to $23.64.
As you would expect, the price of Dream on the stock market tanked.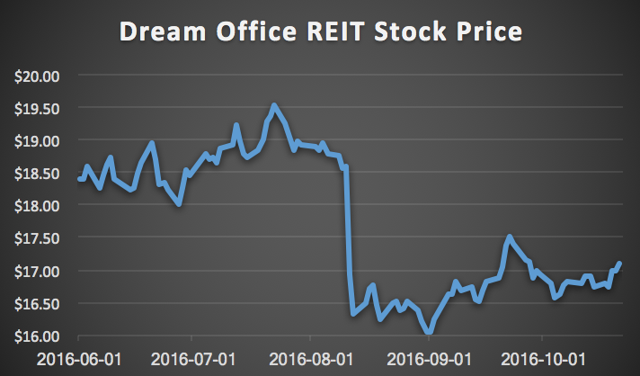 Source: Yahoo! Finance
Not all was lost, though - I'm still going to continue to hold Dream. Here's why.
Sources of Current Value
Dream's portfolio of real estate is still much more valuable than their stock price on a per-unit basis, even after the fair value adjustment in August. I believe that management's Strategic Plan, announced in February at the time of the distribution cut, will lead investors to realizing significant capital appreciation on their units of Dream.
In their September 2016 Investor Presentation, Dream described their assets as follows:
"Core Assets are irreplaceable assets, primarily located in downtown Toronto, downtown Montreal with 700 De la Gauchetiere, 5001 Yonge in North York and Station Tower in suburban Vancouver.

Private Market Assets are good quality, primarily located in the GTA suburbs, Ottawa, Vancouver and are considered to have a higher degree of liquidity in the private market at a fair price.

Value Add Assets are good quality assets largely located in Alberta that may require leasing and improvements in either the asset or the market prior to improving their demand profile and liquidity in the private market."
Outside of the Strategic plan, I believe Dream presents value based on three factors - assets, future earnings, and their fantastic distribution yield.
I elaborate on each of these points below.
Value Based on Assets
As mentioned, August saw Dream write down their net asset value per share from $30.31 in the previous reporting period to a current level of $23.64.
At October 21's close of $17.09, this represents a Price-to-NAV Ratio of 0.72. Fantastic value for the bargain hunting investor.
When I first purchased Dream, the NAV was reported as $30.31 and my cost basis was ~$20.00. So I was buying at a Price-to-Book Ratio of somewhere around 2/3, or 66%. Today's price is not as compelling but still represents good value.
Value Based on Earnings
In the same press release where Dream Office REIT announced their NAV adjustment, they also presented earnings for the three and six months ending June 30 2016.
Most notable is their diluted FFO of $1.33 per share for the six months ending June 30. This is equivalent to a run-rate of $2.66. If we compare that to the Trust's current unit price of $17.09, we notice a Price/FFO of 6.4. It is clear that Dream is a bargain based on earnings.
A Safe Yet Juicy Distribution Yield
Dream Office REIT has been paying a $0.1250 distribution since February, when they announced a (well-needed) cut from $0.1866. It was in response to this distribution cut that I first purchased shares in Dream.
At today's price of $17.09, a $0.1250 monthly distribution per unit is equivalent to $1.50 of annual distributions. It's easy to calculate that the annualized distribution yield of Dream Office REIT is approximately 8.7%.
Consider the following:
The US 10-year bond yield is ~1.73%
The Canadian 10-year bond yield is ~1.13%
The S&P 500 dividend yield is ~2.05%
Clearly, it's hard to find income in today's financial markets. With all that in mind, Dream presents a fantastic level of income, particularly considering that you're buying the units with the expectation of capital appreciation. Getting "paid to wait" is one of the best things about an investment in Dream.
We should also be investigating whether Dream's distribution is safe. After all, their last dividend cut was in February, only eight months ago. Consider the $2.66 run rate of FFO discussed earlier and compare that to today's annualized distribution of $1.50, and we get a distribution payout ratio of 56%. This is very reasonable in the REIT sector, so there's no need to worry about the safety of Dream's distribution.
The Bottom Line
Dream Office REIT still trades at a material discount to net asset value, and I believe an investment in this trust will outperform the market for investors with a long time horizon.
Readers, what are your thoughts on Dream Office REIT?
Disclosure: I am/we are long DRETF.
I wrote this article myself, and it expresses my own opinions. I am not receiving compensation for it (other than from Seeking Alpha). I have no business relationship with any company whose stock is mentioned in this article.
Editor's Note: This article discusses one or more securities that do not trade on a major U.S. exchange. Please be aware of the risks associated with these stocks.