After the bell on Tuesday, all eyes will be on Apple (NASDAQ:AAPL) as the company reports its fourth quarter results and gives guidance for the all important holiday period. There will be a bit more intrigue this time around thanks to an expected extra week in fiscal Q1 and Samsung's (OTC:SSNLF) struggles, and Apple shares go into the report up tremendously from their earlier year lows. Beyond the obvious headline numbers that will be important and reported everywhere, here are some key items I'll be focusing on.
Average iPhone selling prices:
Sure, everyone wants to know how many iPhones were sold, and the current expectation is for roughly 45 million. I'm more interested in knowing how much revenue Apple derived from those sales, the average price per unit sold. There are many factors that can influence this number, primarily the mix of models sold and currency fluctuations. Generally speaking, we see a rise from fiscal Q3 to Q4 when the company releases new models, as seen below.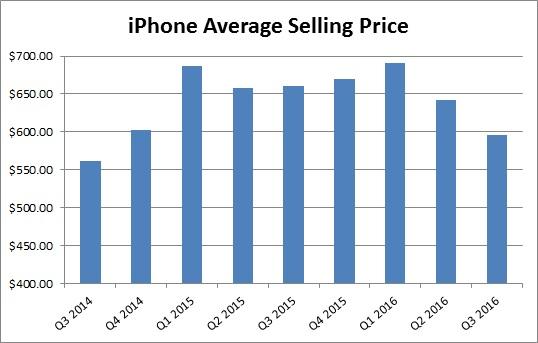 In last year's Q4 period, Apple achieved an average selling price of more than $670 per iPhone sold, and that peaked above $690 during Q1 of the current fiscal year. As we moved away from launch and the lower cost SE was released, selling prices declined to a recent low of $595 in fiscal Q3.
The SE will still provide a bit of a headwind in Q4, perhaps representing up to 20% of total iPhone sales. However, the newer models will provide a tailwind, especially given the Plus model starts $20 higher than in previous launches. From all reports, this year's Plus has had a higher selling percentage compared to previous launches, so that bodes well for the ASP figure. The difference between an ASP of $650 versus $625, for example, would be more important than whether or not Apple beats or misses the unit sales number by say a few hundred thousand units.
How are things going in China?
Apple management thinks that China could eventually be Apple's largest market, and the company continues to expand its retail presence in the country at a brisk pace. After some great growth throughout fiscal 2014 and 2015, Greater China revenues have seen some tough comparisons recently, with two large percentage declines in the top line recently.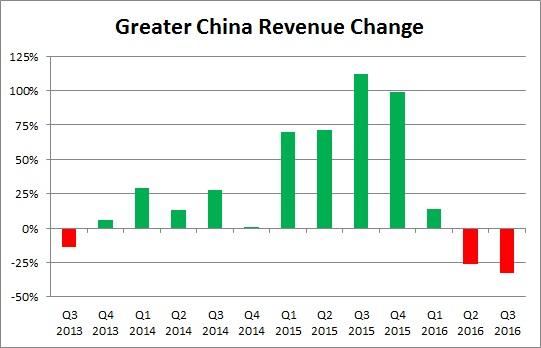 In last year's fiscal Q4, Greater China revenues just about doubled to more than $12.5 billion. Recently, UBS voiced some concerns about Chinese smartphone makers taking market share away from Apple. For those looking for Apple's overall revenues to return to growth, it's important to see growth in Greater China revenues, not large double digit percentage declines.
Examining capital returns:
Apple has the biggest buyback plan going in today's market thanks to its tremendous cash flow generation and low interest rates. This has helped to significantly reduce the company's outstanding share count, as well as boost earnings per share. In fiscal 2015, Apple made a bunch of share repurchases that didn't look great at the time, given how shares have fallen back below $100 at times. However, fiscal 2016 has gone a bit better, as the table below summarizes Apple's recent buyback activity ("ASR" stands for accelerated share repurchase agreements, detailed on page 16 in the latest 10-Q filing).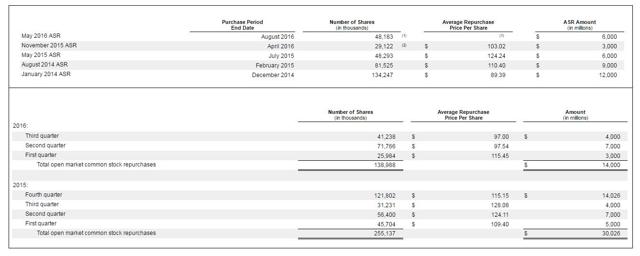 I mention the buyback as a key item due to the large rally we've seen in Apple shares over the past few months. Obviously, it's better to buyback stock at $95 than it is at $115, but there is more to this story, and it has to do with the changing market dynamic. When Apple was $20 lower, its dividend yield was a lot higher. At that time interest rates were also a bit lower. Thus, Apple could borrow at a low rate and retire shares with a higher dividend yield, this realizing a savings in cash flow. Unfortunately, the roughly 40 basis point decline in Apple's annual yield plus a jump in the 10-Year US Treasury as seen below makes the buyback much less effective in this respect.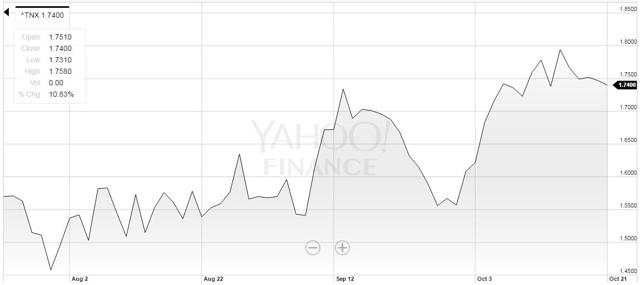 The rapid growth of services:
If there is one segment of Apple's business I expect management to gush over on the conference call, it is definitely the service segment. This includes items like Apple Pay, Apple Music, iTunes store, etc. It is the one segment of the company that has not seen any revenue declines in quite a long time, as seen in the chart below.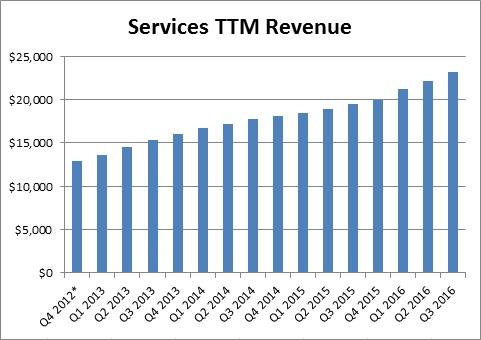 *Fiscal Q1 of 2012 was a 14-week quarter, so the TTM figure for this period in chart above is a 53-week year.
In fact, if we normalize fiscal 2012 to a 52-week period, Apple may come close to or actually report that service revenues have doubled in just four years. For calendar 2016, this segment of Apple's business may generate as much revenues as Facebook (NASDAQ:FB), for a comparison. In many quarters, service revenues actually are higher than we see from either the iPad or Mac. As Apple heads towards 20 million Music subscribers and Apply Pay expands its global footprint, it will just be a quarter or two before the service segment boasts $25 billion in trailing twelve month revenues.
Three potential risks:
The main risk every quarter is that Apple doesn't sell enough products and services, but there are three specific risks I've identified for this week's report. The first is one I discussed in a recent article, and that's a lack of new products. While a Mac event is scheduled for this week, it's a little later than previous year's releases of new non-iPhone products. Should Apple not update the iPad, for example, it will make the December quarter's comparison period a bit tougher to match.
The second risk is one that all US multi-nationals are dealing with, and that's a stronger dollar. As seen in the chart below, the Dollar Currency Index has rallied to six month highs, primarily thanks to weakness in the Euro, Yen, and British Pound. The worst part here is that the recent leg of the rally came after the iPhone launch, so Apple had already priced the iPhone in a number of key countries before the dollar started to rise again. Should Apple have to raise product prices due to dollar strength, it could sap demand.

(Source: CNBC.com)
The final risk is one of rising expectations. With the combination of Apple shares rallying and Samsung's Note 7 problems, investors and analysts are going to be expecting a lot more from Apple than they were just a month or so ago. In fact, analyst estimates continue to rise, with a large chunk of those increases coming in just the past couple of weeks.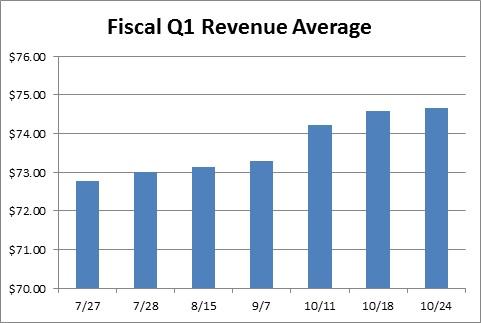 (Source: Yahoo! Finance analyst estimates page)
Final thoughts:
When Apple reports on Tuesday afternoon, everyone will be watching to see how the iPhone is doing in the wake of Samsung's troubles. A rebound in selling prices for the smartphone will be key to driving total company revenues, while management is likely to talk about the strength in the services segment. While I expect a good report from Apple this week, expectations are a bit higher for this earnings announcement than the last couple of ones.
(All non-sourced data in charts comes from Apple's financial information page as well as SEC quarterly/yearly filings page)
Disclosure: I/we have no positions in any stocks mentioned, and no plans to initiate any positions within the next 72 hours.
I wrote this article myself, and it expresses my own opinions. I am not receiving compensation for it (other than from Seeking Alpha). I have no business relationship with any company whose stock is mentioned in this article.
Additional disclosure: Investors are always reminded that before making any investment, you should do your own proper due diligence on any name directly or indirectly mentioned in this article. Investors should also consider seeking advice from a broker or financial adviser before making any investment decisions. Any material in this article should be considered general information, and not relied on as a formal investment recommendation.