ONEOK, Inc. (NYSE:OKE) has suffered from the low natural gas prices that came about in recent years. The fall in natural gas prices is due to hydraulic fracturing and horizontal drilling in places like North Dakota's Bakken Shale formation. As a result, there has been an abundance of natural gas to supply, and ONEOK's revenue and net income figures have suffered in consequence. Year on year, revenue fell -36.34%, and net income fell -22.01%.
| | | |
| --- | --- | --- |
| Year | Revenue ($) | Net Income ($) |
| 2014 | 12.20 billion | 314.11 million |
| 2015 | 7.76 billion | 244.98 million |
Can ONEOK reverse this trend and continue to provide its shareholders with value for money?
Overview
Founded in 1906 as the Oklahoma Natural Gas Company, ONEOK, Inc. today is the sole general partner of ONEOK Partners L.P. (OKS), a large master limited partnership in which it has a 41.2% stake.
The MLP is the owner and operator of one of the U.S.'s biggest natural gas liquids systems. Natural gas liquid supplies from the Mid-Continent, Permian, and Rocky Mountain regions are gathered, fractionated, treated, processed, stored and transported in the U.S.
ONEOK's operations are divided into three integrated business segments: Natural Gas Liquids, their commodities segment; Natural Gas Gathering and Processing, their differential segment; and Natural Gas Pipelines, their fee-based segment.
Natural Gas Liquids provides non-discretionary services and links key markets for natural gas liquids in Conway, Kansas, and Mont Belvieu, Texas. It provided 10% of ONEOK's earnings in 2015.
Natural Gas Gathering and Processing provides non-discretionary services to producer customers, and provided 5% of 2015 earnings. Natural Gas Pipelines, as noted, primarily takes in earnings from fees, and is by far ONEOK's most profitable segment, having provided 85% of earnings in 2015.
ONEOK, Inc. is headquartered in Tulsa, Oklahoma, has a workforce of approximately 2,300 employees, and has a market capitalization of $10.71 billion.
Competitive Advantage
ONEOK's competitive advantage stems from its enormous asset base.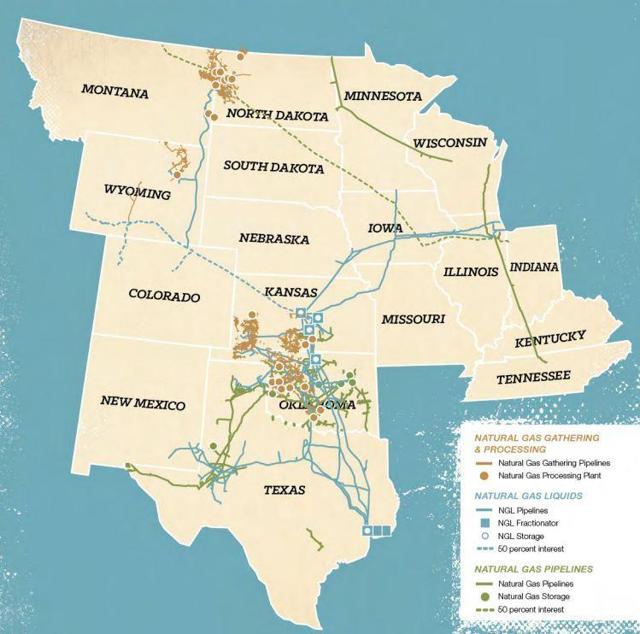 ONEOK holds 37,000 miles of natural gas liquid and natural gas pipelines, 55 billion cubic feet of natural gas storage capacity, and has a natural gas fractionation capacity of 840,000 barrels per day.
While ONEOK was hit by the downturn in natural gas prices, as a midstream firm it has been able to weather the storm more easily than upstream companies such as ConocoPhillips (NYSE:COP), which saw its revenue decrease year on year by -43.75% (from $52.37 billion to $29.46 billion) and its net income decrease from a $6.87 billion profit in 2014 to a $4.43 billion loss in 2015.
The Natural Gas Pipelines segment has been critical to ONEOK during this rough period, as its assets generate fees based on volumes transported and stored. And, as noted above, these fees made up 85% of ONEOK's revenue for 2015.
Valuation
Currently, ONEOK, Inc. is trading around the $50 range at a price-to-earnings ratio of 37.5, a forward price-to-earnings ratio of 25.4, and offers a dividend yield of 4.86% with a payout ratio of 186.30%. ONEOK is thus overvalued and its dividend unsustainable.
ONEOK trades at a premium to the S&P 500's P/E ratio of 19.6, and its P/E ratio is higher than its five-year average P/E ratio of 31.1 - though this latter figure is higher than the forward P/E ratio. While ONEOK's current dividend yield is higher than its five-year average yield, the payout ratio makes that yield seem unsustainable.
However, as supply stocks have been building more slowly in recent months, natural gas prices have risen by 11% since the end of September and are up almost 44% since February lows. Going forward, ONEOK should benefit from the resurgence in natural gas prices, and be able to cover its dividend in consequence.
Final Thoughts
ONEOK's P/E valuation does seem off-putting, and it has rallied considerably over the past year.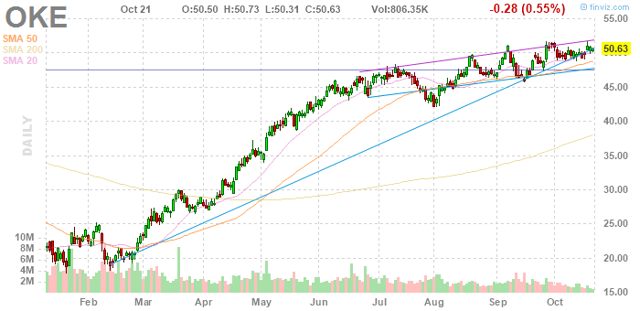 However, for those who do hold ONEOK in their portfolio, there seems no compelling reason to divest themselves of it at this time. The rise in natural gas prices should enable this big-league player to sustain its dividend and reverse its recent revenue and net income decline going forward.
Disclaimer: I am not a financial professional and accept no responsibility for any investment decisions a reader makes. This article is presented for information purposes only. Furthermore, the figures cited are the product of the author's own research and may differ from those of other analysts. Always do your own due diligence when researching prospective investments.
Disclosure: I/we have no positions in any stocks mentioned, and no plans to initiate any positions within the next 72 hours.
I wrote this article myself, and it expresses my own opinions. I am not receiving compensation for it (other than from Seeking Alpha). I have no business relationship with any company whose stock is mentioned in this article.