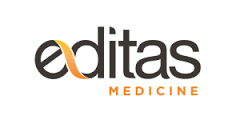 Editas Medicine (NASDAQ:EDIT) was established in 2013 and is headquartered in Cambridge, Massachusetts. The company's focus is on developing treatments on CRISPR/Cas9 gene editing platform licensed from the Broad Institute/Harvard. The company launched its IPO in February 2016 at common stock price of $16 per share. The company's stock price has declined in recent months. After hitting a 52-week high of $43.99 in April, the stock hit a 52-week low of $12.57 at end of September but is rebounding.
We have recently published a detailed research report on Intellia Therapeutics (NASDAQ:NTLA), which describes the history of CRISPR/Cas9 gene editing technology and the ongoing patent dispute between University of California and Broad Institute/Harvard. Readers interested in these details should review this report.
We have Buy rating on Editas' common stock and price target of $30.67, with fair value based on a sum-of-parts, enterprise DCF method.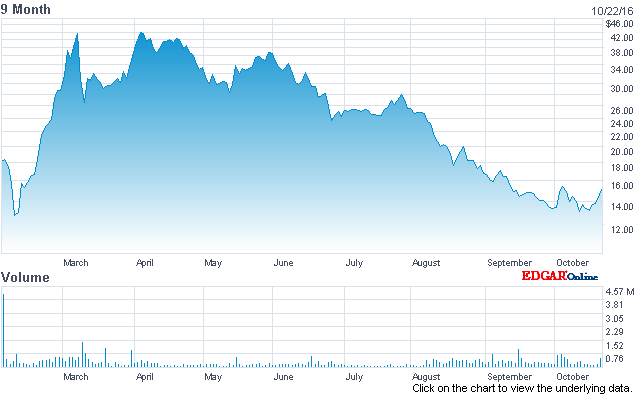 Figure 1: Editas Medicine's common stock price chart from Nasdaq.com.
Investment Highlights:
Current stock price= $15.32
52-week price range= $12.57 to $43.99
Average daily share volume= 259,690
Market Cap= $542 million
Cash reserves= $217.65 million
Debt= $22.68 million
Short Interest= 3.5%
Short Interest, days to cover= 3.94
Investment Thesis:
There are more than 6,000 diseases caused by genetic mutations. Only 5% are currently addressed by available therapies. Editas' initial focus is on hereditary causes of blindness, cancer and blood disorders like sickle cell disease and beta-thalassemia.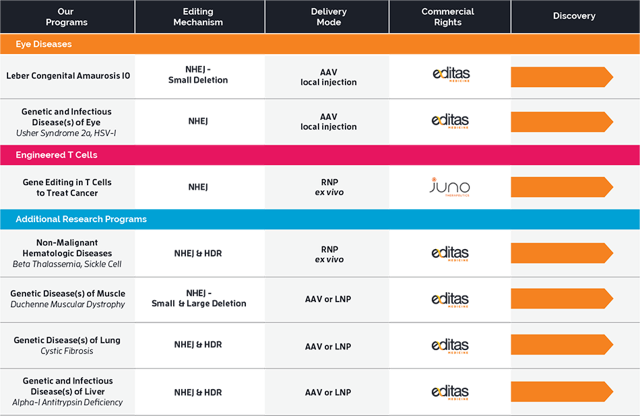 Figure 2: Editas Medicine's product pipeline.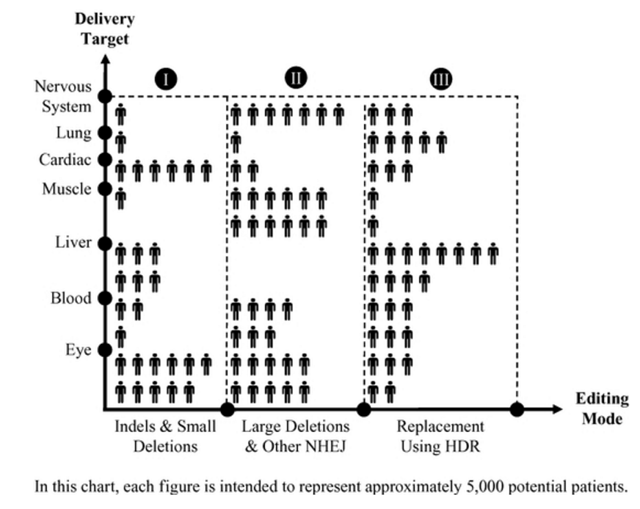 Figure 3: Editas Medicine's estimate of potential target patients for its gene editing technology (from S-1, IPO prospectus)
Leber Congenital Amaurosis:
The Problem:
Leber Congenital Amaurosis (NASDAQ:LCA) is the most common inherited cause of childhood blindness. The incidence is 2-3 per 100,000 live births worldwide. There are existing 15,000 patients with this disorder in the Western world (from S-1). Symptoms appear in the first year of life and include progressive loss of vision, involuntary movements of the eye and eventually blindness due to loss of photoreceptor cells. There are 18 subtypes of LCA. The most common type of LCA is LCA10 which is caused by a mutation within the CEP290 gene. It accounts for 20-30% of all LCA subtypes. Currently, there are no treatment options for LCA10.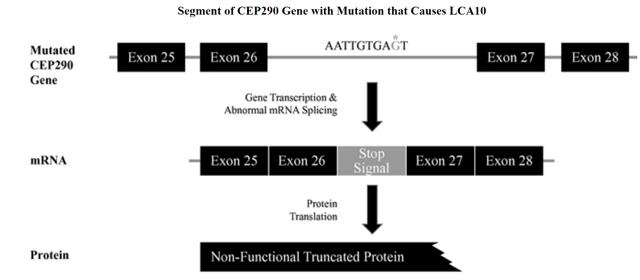 Figure 4: Impairment of normal protein expression that causes LCA10 (from S-1 IPO prospectus).
The New England Journal of Medicine reported successful gene therapy in few human subjects with LCA caused by mutations in RPE65 gene in a phase I/II study. There have been no reports of successful gene therapy in LCA10. Gene therapy in LCA10 is not feasible as it requires delivery of an entire DNA coding sequence for CEP290, which is too large to fit into AAV viral vector.
Editas' solution:
Editas is attempting to use it CRISPR/Cas9 gene editing technology to cut a part of the CEP290 gene, which may restore the normal protein expression and function of remaining photoreceptor cells. The abnormal nucleotide change in the CEP290 gene is located on an intron that does not code for a protein. Gene editing using CRISPR/Cas9 is an ideal therapeutic approach for this disorder. The company plans to use sub-retinal injection of its therapy for this disorder which also minimizes the chance of any off-target side effects. The company plans to develop this target without a partner.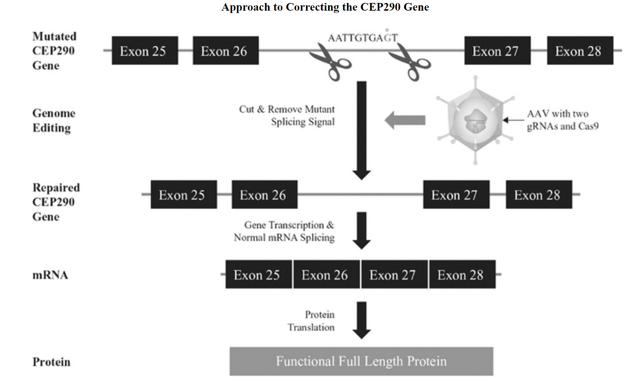 Figure 5: Editas Medicine's approach to correcting the mutation that causes LCA10 using its gene editing technology (from S-1 IPO prospectus)
Editas plans to use an AAV delivery vehicle containing a Cas9 nuclease and two guide RNA molecules designed to eliminate the mutation by cutting and removing it from the patient's genome. As a result, transcription of the edited DNA produces mRNA that no longer contains the premature stop codon, allowing for the production of functional protein.
The company has done preclinical studies (ex vivo, or outside the body) using cells taken from human patients with this specific gene mutation and then performing gene editing using CRISPR/Cas9. The gene editing restored significant level of normal mRNA and significantly reduced the level of mutant RNA.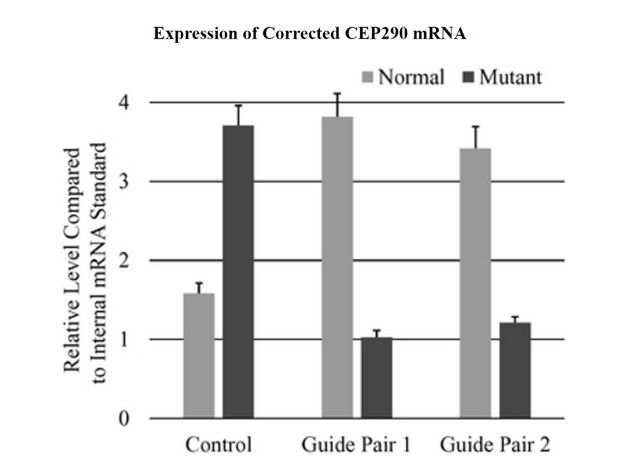 Figure 6: Expression of corrected CEP290 mRNA after gene editing. (Source: S-1 IPO prospectus.)
Results of the mRNA expression shown above were statistically highly significant for both guide pairs (p<0.0001).
Successful gene editing in this study also resulted in more than 2 fold increase in expression of normal CEP290 protein expression. The company believes that increased regular CEP290 protein expression could arrest further decline in vision in these patients.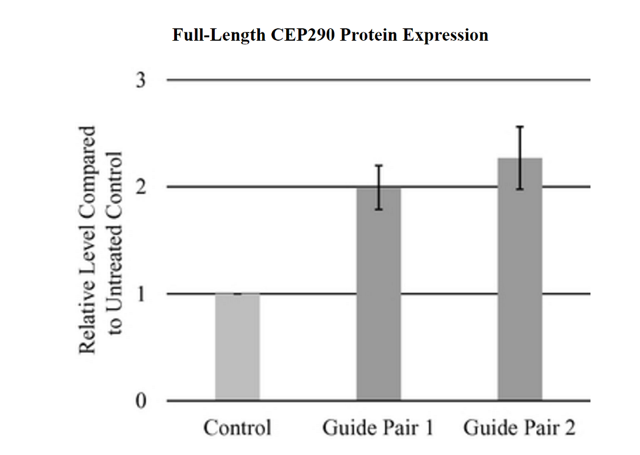 Figure 7: Increase in normal CEP290 protein expression after gene editing. (Source: S-1.)
Editas plans to start the first human trial of its gene editing therapy in LCA10 in 2017.
Juno Therapeutics partnership:
In June 2015, Editas entered into a partnership with Juno Therapeutics (NASDAQ:JUNO) to use its CRISPR/Cas9 technology to improve T cell persistence and overcome tumor inhibitory microenvironment.
Under this partnership, June has sole responsibility at its own cost for worldwide development, manufacturing and commercialization of selected CAR and TCR engineered T cell products for treatment of any cancer in humans (excluding medullary cystic kidney disease type 1). Juno has already filed an IND (investigational new drug) application for engineered T cell program for prevention or treatment of a cancer in humans.
Editas will receive $22 million in research funding from Juno for 3 programs under this deal. It will also receive $160 million in potential research and regulatory milestone payments for each of the 3 selected targets. In addition, it will receive, $75 million in sales milestones for each of the 3 programs and tiered royalties of low double-digit percentage of net sales of products developed under this deal (for 10 years after commercial launch).
In an in vitro (preclinical study), cells from human donors were isolated and gene editing was performed in two targets, A and B. In these two targets, 90% gene editing for target A and 50% for target B was seen at day 4 after therapy.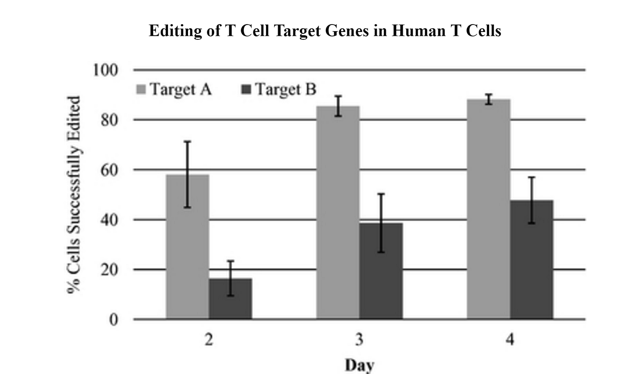 Figure 8: In vitro gene editing in two target genes in human T cells. (Source: S-1.)
In addition, there was 75% viability of T cells 4 days after therapy.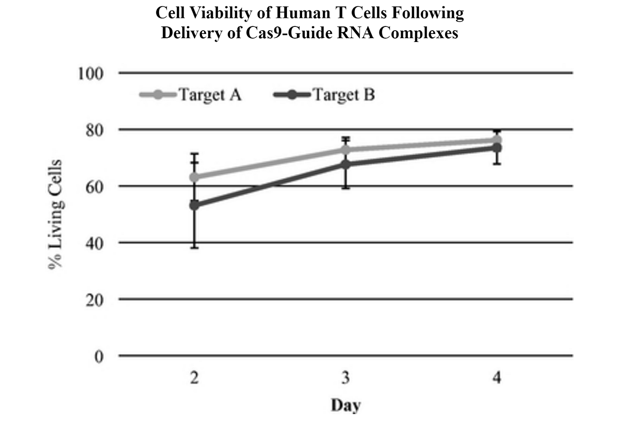 Figure 9: Viability of T cells after gene editing. (Source: S-1.)
We anticipate these three therapeutic targets to be adult acute lymphocytic leukemia (ALL), non-Hodgkin's lymphoma (especially diffuse B-cell lymphoma, DLBCL) and chronic lymphocytic leukemia (CLL), which are the three priority CAR-T programs under development by Juno Therapeutics.
Details of the epidemiology and valuation assumptions for these programs are described in our earlier research report on Juno Therapeutics.
Sickle-cell disease and beta-thalassemia:
Editas has performed ex vivo gene editing of human beta globin gene in cells obtained from three human donors. About 55-60% gene editing was seen in the donor cells compared to none in controls.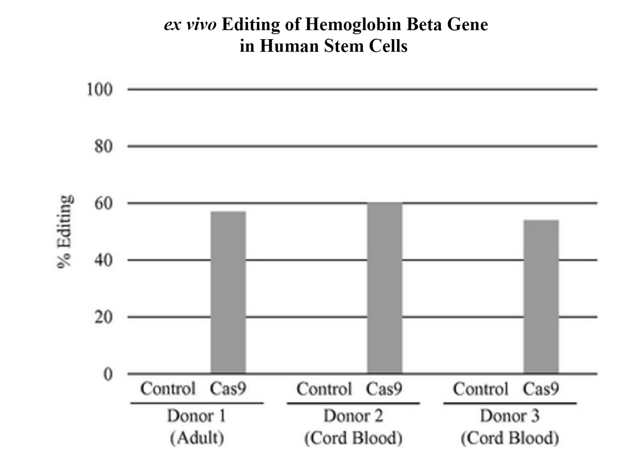 Figure 10: Ex Vivo gene editing of human beta globin gene in human stem cells. (Source: S-1.)
Editas' collaboration with Juno Therapeutics is likely to assist in developing therapies in non-malignant hematopoietic diseases as well. Gene editing of the patient cells outside the body and then transfusing them back is also likely to minimize the potential of any off-target adverse effects.
In vivo editing of factor VII gene: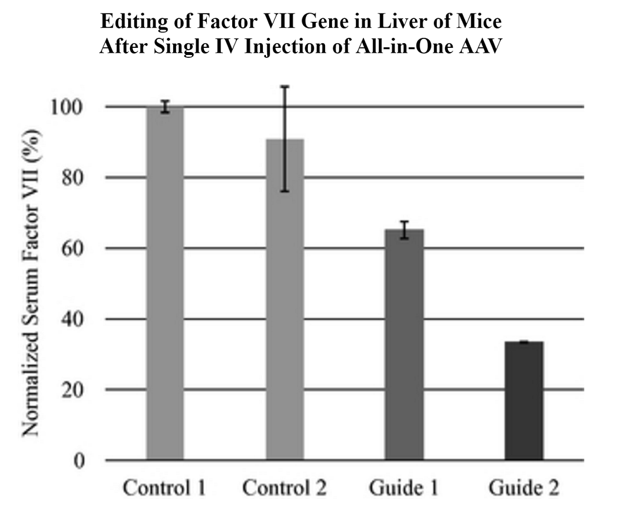 Figure 11: Editas has shown high level of gene editing in mice liver through administration of its CRISP/Cas9 system using AAV vector. (Source: S-1.)
In our Intellia report, we published a graph from a preclinical study done in factor VII gene editing in mice liver. Editas has slightly higher gene editing in this experiment (using AAV vector) compared to Intellia (using lipid nanoparticle).
Continuous innovation in CRISPR gene editing:
Editas is continuously exploring new techniques to improve the CRISPR gene editing technology. For example, it is identifying and optimizing different Cas9 nuclease enzymes and guide mRNA molecules. Traditionally, Cas9 nuclease was obtained from the bacteria Streptococcus Pyogenes. Editas has tested Cas9 nuclease enzyme from the bacteria Staphylococcus Aureus. This Cas9 nuclease enzyme is smaller in size than that obtained from Strep. Pyogenes and is easier to be packaged into AAV (adenoviral) vector for delivery to the target organ. In addition, identifying Cas9 enzymes with different gene editing abilities may enable targeting different genes. Editas designs guide RNA molecules using its proprietary software, which may increase target efficacy and increase safety by reducing off-site effects.
To reduce the likelihood of off-target effect, Intellia is using a technique called GUIDE-Seq, which identifies the specificity of different guide mRNAs directed at the same gene. Intellia is applying GUIDE-Seq technology to increase the safety of its CRISPR/Cas9 gen editing in LCA10 and Juno-partnered engineered T-cell programs.
Intellectual property:
The current licensed patents for Broad/Harvard are expected to expire between 2033 and 2034. We have discussed the issue of on-going patent dispute between Broad/Harvard and University of California in our previous subscriber-only report on Intellia Therapeutics. Rockefeller University has also filed an independent patent application for technologies licensed by Editas from Broad/Harvard but no patent interference has been filed yet. Toolgen has filed suggestion of patent interference regarding some pending patent applications that Editas licensed from Broad/Harvard.
Collaborations and partnerships:
The partnership with Juno Therapeutics has been described above. Editas licensed CRIPS/Cas9 technology from Broad Institute/Harvard. Under this agreement, Editas will pay $14.8 million in clinical and regulatory milestones for each licensed product in US, EU and Japan, additional $54 million of sales milestone payments for each licensed product in same territories and mid-single digit percentage of revenue as royalty payment to Broad Institute. Under another agreement with Massachusetts General Hospital, Editas will pay additional low single digit percentage of revenue as royalties on each licensed product. Certain technologies were licensed from Duke University for CRISPR gene editing in Duchenne muscle dystrophy. Editas will pay Duke University up to $625,000 for each licensed product and low single-digit percentage of revenues as royalty payments. The cystic fibrosis foundation has provided $5 million in funding over 3 years to Editas medicine. Editas will pay the foundation $10 million after first commercial sale of a cystic fibrosis product in US and EU, additional $10 million in the year when commercial sales of cystic fibrosis product exceed $100 million and 10% of revenue as royalty payments.
Near-term catalysts:
Editas will start first human trial of its gene editing technology in LCA10 in 2017.
Potential competition:
The closest competition to Editas' CRISPR/Cas9 technology are Intellia Therapeutics and recent IPO CRISPR Therapeutics (NASDAQ:CRSP). Intellia's initial targets are genetic diseases of the liver like tranthyretin amyloidosis. Similar to Editas' Juno collaboration, Intellia has partnered with Novartis (NYSE:NVS) to apply its gene editing technology in CAR-T cells and non-malignant hematopoietic stem cells. CRISPR Therapeutics also plans to target sickle cell disease and beta-thalassemia as initial targets.
bluebird bio (NASDAQ:BLUE) is conducting phase 2/ 3 trial of its gene therapy in transfusion-dependent beta-thalassemia and phase 1/ 2 trial in sickle cell disease.
ProQR Therapeutics (NASDAQ:PRQR) is conducting pre-clinical studies of QR110 oligonucleotide mRNA therapy in LCA10.
Management:
CEO Katrine Bosley:
She has served as the former CEO of Avila Therapeutics (acquired by Celgene (NASDAQ:CELG)); former President, Celgene Avilomics Research at Celgene; former Entrepreneur-in-Residence at The Broad Institute; former VP, Business Development at Adnexus Therapeutics and then VP, Strategic Operations after its acquisition by Bristol-Myers Squibb (NYSE:BMY). She also served in various important roles at Biogen (NASDAQ:BIIB).
She also currently serves as Chairman of the Board of Genocea Biosciences (NASDAQ:GNCA), member of the Board of Directors of Galapagos (NASDAQ:GLPG). She also serves on the board of directors of the Biotechnology Industry Organization.
Chief Scientific Officer Charles Albright, Ph.D.:
He has served as the vice president of genetically defined diseases and genomics at Bristol-Myers Squibb. Previously, he also held positions at Incyte Corporation (NASDAQ:INCY) and DuPont Pharmaceuticals and was an assistant professor of biochemistry at Vanderbilt University.
Chief Medical Officer Gerald Cox, MD, Ph.D.:
The company hired a prominent genetic diseases expert, Dr. Gerald Cox, MD, Ph.D., as its Chief Medical Officer earlier this month. Dr. Cox earlier served as the Vice President, Rare diseases development at Sanofi Genzyme (NYSE:SNY). He also has practiced as clinical geneticist for 20 years at Boston Children's Hospital.
The Board of Directors includes the current Chief Medical Officer at Alnylam Pharmaceuticals (NASDAQ:ALNY) and the current CEO at aTyr Pharma (NASDAQ:LIFE). Dr. Feng Zhang from Broad Institute/Harvard (who owns one of the patents in CRISPR/Cas9) and Dr. George Church (prominent genetics diseases expert at Harvard University and one of the earliest pioneers in the Human Genome Project) are among the prominent scientists who serve as the company's founding scientific advisors.
More details about the management and the Board of directors are available here.
Balance sheet:
The company has a healthy balance sheet with about $217 million in cash and other cash-equivalent investments to fund its ongoing R&D programs. It has debt obligation of $22.6 million (construction financing obligation).
Institutional holders:
Several prominent institutions hold a stake in this company.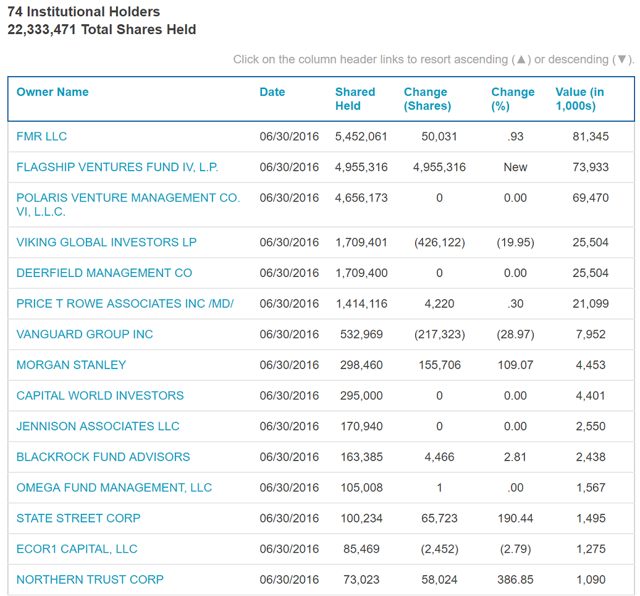 Figure 12: Editas Medicine's institutional shareholders. (Source: Nasdaq.com.)
Valuation of the common stock:
LCA10:
To value the company's future potential revenue in LCA10, we used target market size=4500 existing patients and then annual new cases of 12/year in the U.S., 15/year in the E.U., and Japan=3/year. We input per patient cost of therapy (one-time treatment)=$1 million, which is in line with the cost of Spark Therapeutics's (NASDAQ:ONCE) approved gene therapy for REP65 mutation associated inherited blindness (in Europe). We used the probability factor of 25%, based on the average data for success for rare genetic disease products at this stage.
Using these inputs and adjusting for royalties payable to Broad/Harvard, we modeled peak $900.6 million revenue in 2023 from this indication (after product launch in 2019). Using risk-factor of 25%, the risk-adjusted peak revenue was $225 million.
Using discount rate of 15% (for first 5 years), then decreased to 12%, and 10% close to patent expiry in 2035, we calculated NPV of future cash flows from this indication= $324.4 million or risk-adjusted NPV of $81.1 million and contribution to fair value per common share= $2.07.
Using similar approach as with LCA10 and considering North American and E.U. markets, the risk-adjusted DCF valuation for revenue from other potential clinical indications in the company's pipeline is summarized in the following table.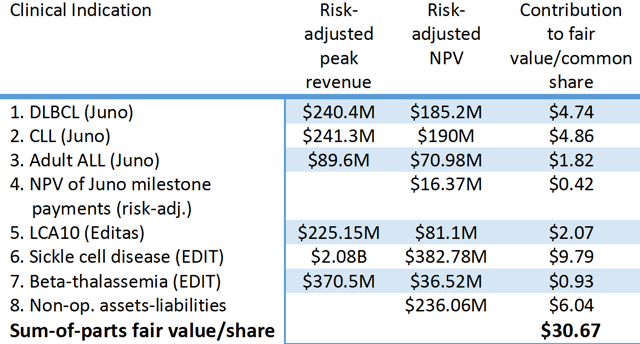 Figure 13: Risk-adjusted sum-of-parts DCF valuation for Editas Medicine.
Using sum-of-parts DCF method, we calculated total contribution per share of Editas Medicine from the above indications is $30.67 fair value per common share. This is our first price target for each common share of Editas medicine.
We have not modeled future potential revenue from other indications like DMD, cystic fibrosis and alpha-1 antitrypsin deficiency, which could add further upside to the stock price.
Subscribers to Vasuda Healthcare Analytics, our premium investment research service on Seeking Alpha's marketplace can download the valuation models/ spreadsheets used in this article.
Risks in the investment:
Like every emerging pharmaceutical company, this investment has risks. There is no guarantee that the on-going R&D programs will be successful. No human trials have been done testing this company's CRISPR/Cas9 technology. Unexpected side effects may be seen in human trials. It is possible that regulatory agencies might not approve the products, unexpected side effects might be seen in future, clinicians might not widely prescribe the products or insurers might not reimburse them. Competing products from other companies might gain significant market share in the planned clinical indications. The company may also need to raise more cash to fund its operations in future through equity and/or debt financing, which might put downward pressure on the stock price.
Conclusion:
In conclusion, we consider Editas Medicine undervalued at its current common stock price. We are initiating coverage on Editas Medicine with Buy rating on its common stock and first price target (fair value based on sum-of-parts DCF method= $30.67 (adjusted for probability)). We expect the company as one of the future leaders in gene editing field (alongside Intellia Therapeutics and CRISPR Therapeutics).
Note: To get more investment ideas like this as soon as they are published, click on my profile and hit the big orange "Follow" button and choose the real-time alerts option.
Premium Research Service:
Get more investment ideas like this by subscribing to Vasuda Healthcare Analytics, our premium equity research service (listed in SA Marketplace, in partnership with Seeking Alpha). Subscribers have earlier access to the research reports, can download the valuation models/ spreadsheets in the research reports and have access to the portfolio (over 40 open positions so far with price targets and suggested allocation). Few investment ideas are exclusively limited to subscribers (Recent research reports include Alnylam Pharmaceuticals, Neurocrine Biosciences, DBV Technologies and Aimmune Therapeutics). The model portfolio is outperforming the benchmark Nasdaq Biotechnology Index since inception. Free 30-day trial is available to test drive the service (only few free-trial spots left).
Disclosure: This article represents my own opinion and is not a substitute for professional investment advice. It does not represent solicitation to buy or sell any security. Investors should do their own research and consult their financial advisor before making any investment.
Supporting Documents
Disclosure: I am/we are long EDIT, NTLA, JUNO, BMY, BLUE.
I wrote this article myself, and it expresses my own opinions. I am not receiving compensation for it (other than from Seeking Alpha). I have no business relationship with any company whose stock is mentioned in this article.