Pfizer, Inc. (NYSE:PFE) is a research-oriented global biopharmaceutical company that was established in 1942, and is now headquartered in New York City. The company is focused mainly on developing and manufacturing biotech and healthcare products, and this is evidenced by the fact that Pfizer classifies its businesses in two segment: Pfizer Innovative Health (IH) and Pfizer Essential Health (EH). The company operates its contracts its manufacturing businesses through Pfizer CentreOne.
Recently, the company has completed significant moves as Pfizer's September deal with Oncoimmune (valued up to $250 million) for option and license agreements now coincides with Pfizer's premerger notification with Medivation filed premerger notification on September 7. Pfizer's set to expire on September 22 and requirements were made for Medivation to pay Pfizer a termination fee of $510 million upon termination. On August 2, the company made statements to settle multidistrict litigation relating to Celebrex, Bextra for $486 million, helping bring an end to earlier volatility in the stock.

Chart Source: Biotech Stocks US
All of these events have served to realign the outlook for Pfizer, which is significant because of the company completed acquisition of Anacor that occurred in June. In that same month, the company and Icon entered in a service agreement for undisclosed amount. For investors, the next step is to view these moves in the broader earnings context.
On August 2, Pfizer announced Q2 results. Revenues for Q2 came in at $13.1 billion versus expectations of $13.01 billion. Adjusted earnings for Q2 were seen at $0.64 per share versus expectations of $0.62. The company's worldwide revenues for Ibrance (a breast cancer treatment which gained approval in 2015) rose significantly, to $514 million compared to the $140 million seen last year.
Chart View: Pfizer 1-Year Performance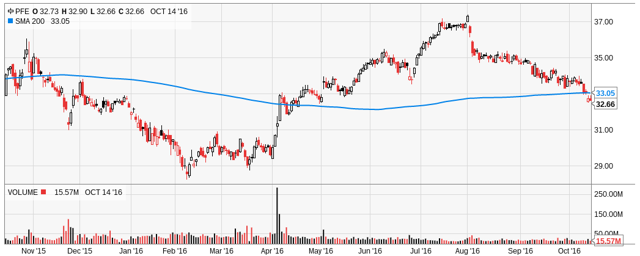 Chart Source: Biotech Investments
These performances have done little to propel the stock, as it is trading around $33 -- almost exactly where it was a year ago. During past year we have seen lows of $28 in February and highs of $37 in August. It's trailing twelve-month earnings-per-share is $1.13 and at current prices the PE ratio for PFE is 29.35x (compared to the industry average of 36.39x). This is encouraging because we are now seeing a largely undervalued stock that has dropped back to its 200-day moving average near $33. This leaves significant upside that should have no problems being realized if Pfizer is able to meet analyst expectations that earnings-per-share will hit $2.46 for the year ending in December 2016, and $2.66 for December 2017.
If you are generally a shorter-term investor, this might seem like a good deal of time to wait but it should be remembered that the company is regular dividend payer. Pfizer currently pays a quarterly dividend of $0.30, which equates to a solid dividend yield of 3.63%. This far surpasses what is seen in the industry average (which is a yield of 1.42%), so there is a variety of benefits that can be captured for investors looking to buy PFE at current levels.
On the negative side, the stock is currently showing a 5.83% annualized return-on-investment, which is quite low when compared to the industry average of 17.59%. But this has been artificially influenced, to some extent as the recent declines are simply not justified and the numbers start to improve when we look at the stock's 11.42% annualized return-on-equity over the same period. Pfizer's 5-year annualized EPS growth rate is 1.59%, and its 5-year average annualized return-on-assets is 4.96%. Pfizer's margins are still better than the industry average, with gross margins at 81.30% on average on average over the last 5 years. Net profit margin are 16.70% for this period. The industry averages here are 52.05% for gross margins and 11.33% for net profit margins, so there are clear advantages with the company from a comparative perspective. Buy PFE on drops to $30 on the expectation that we will see later rallies to new highs.
Disclosure: I/we have no positions in any stocks mentioned, and no plans to initiate any positions within the next 72 hours.
I wrote this article myself, and it expresses my own opinions. I am not receiving compensation for it (other than from Seeking Alpha). I have no business relationship with any company whose stock is mentioned in this article.