SAP (NYSE:SAP) recently reported its Q3, 2016 results and full year outlook. While it delivered solid top line growth the bottom line wasn't impressive. The company faces competition from the likes of Apple Inc. (NASDAQ:AAPL), Intel Corporation (NASDAQ:INTC), Microsoft Corporation (NASDAQ:MSFT), Amazon's (NASDAQ:AMZN) web services and Oracle Corporation (NYSE:ORCL). SAP's business network is managed through three players: Ariba, Fieldglass and Concur.
Financials Q3, 2016
SAP's Q3 adjusted operating profit rose only 1% to €1.64 billion. Revenue rose 8% to €5.4 billion.

As per report, regional revenue grew as below:

Overall, revenue from cloud subscriptions and support increased YoY by 28%, software licenses and support increased by 5% resulting in an overall YoY increase of 8%. But YoY operating profit declined by 9%. This fall in IFRS operating profit, the company noted, was mainly due to an increase in share-based compensation expenses.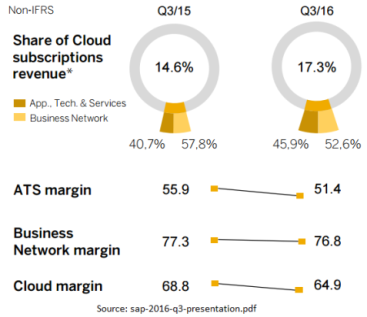 EPS decreased by 19% to €0.61 per share.
At constant currencies and on a non IFRS basis the company expects fiscal 2016 cloud subscription and support revenue to be between €3 billion to €3.05 billion. Full-year 2016 non-IFRS cloud and software revenues are expected to increase by 6.5% - 8.5%. Operating profit is expected to be between €6.5 billion - €6.7 billion.
Acquisitions and a strong pipeline
SAP has floated an aggressive plan of investing $2.2 billion in the IoT (Internet of Things). This transformation framework will help connecting almost anything, thereby ensuring optimal and best use of resources. The IoT market is expected to grow to almost $11 trillion by the year 2025.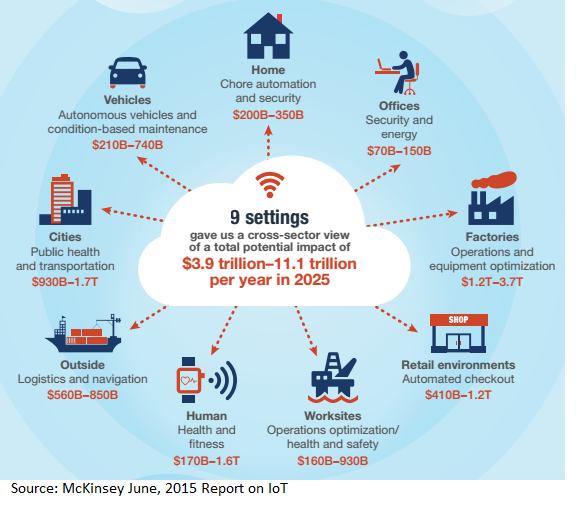 Another report claims the Western Europe and Asia Pacific markets for IoT devices are to grow the most through 2021.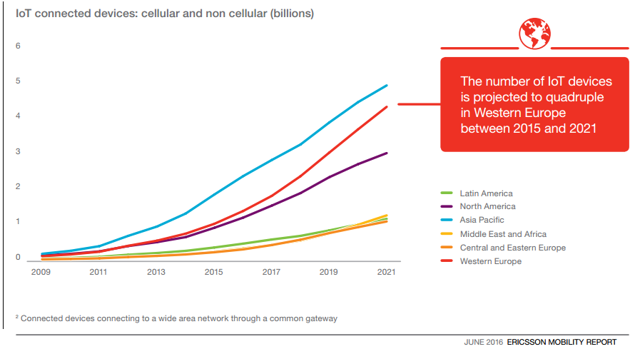 SAP's investments are in line with the IoT perspective, with offerings such as Hadoop, PLAT.ONE and FEDEM, all integrated with HANA. The company claims to have made some additional investments in machine learning (M.L.) and artificial intelligence (A.I.). After Amazon web services open sourced DSSTNE it is now contemplating on a future of AI in healthcare through Amazon Echo and Alexa. Apple Inc. acquired Turi to foray deeper into personalized gadgets, for example, an enhanced Siri experience. The ML toolkit is compared with the likes of Google's TensorFlow. Intel's acquisition of Nervana Systems could help lower costs by delivering higher performance through probable integration of Nervana Engine IP to a Xeon CPU. It is interesting to know that there's been a growing interest over getting a share of the AI pie.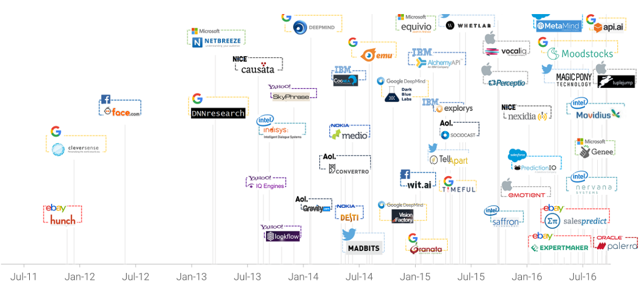 In Q3, SAP launched the HANA express edition, a powerful downloadable in-memory platform that helped the company in expanding its customer base. Also, through SAP Build, based on its Fiori platform, the company provides a cloud-based prototyping and user research tool for enterprise application developers. It started shipping its Build platform to clients such as ATB Financial, Convergent IS and Linklaters. Apart from these the company launched TripLink by Concur, Time Entry mobile app by Fieldglass and Direct Materials Sourcing capability by Ariba.
These developments along with positive market acceptability ensure stable growth going forward. Cloud has gradually become a key metric for SAP. It Accounts for 15% of total revenue. However, YoY gross margin has slightly gone down.
Partnership with Microsoft
Microsoft's implementation of SuccessFactors Employee Central is expected to offer better employee engagement in terms of retaining talent and expertise. Also, Microsoft and SAP are expanding partnership in the cloud, which will bolster growth and presence for both the companies in the long run.
Now SAP's cloud-based human resources software will run on the Azure public cloud. Further, integration with Fieldglass will help manage their external workforce. The Microsoft partnership has many dimensions to it, and is going to grow in future.
Conclusion
SAP has had a stable year so far, and with the current progress is almost sure to reach its 2020 ambition of an operating profit of €8 - €9 billion with a 70 - 75% share through cloud. It has a good cash flow to support its journey into cloud. However, weakness in key end markets such as Latin American countries and China may disturb revenue growth. As per reports, the global IT industry is expected to remain sluggish through the rest of 2016. The cloud space has also become very competitive. So, it is definitely a buy, but only after a slight correction.
Disclosure: I/we have no positions in any stocks mentioned, and no plans to initiate any positions within the next 72 hours.
I wrote this article myself, and it expresses my own opinions. I am not receiving compensation for it (other than from Seeking Alpha). I have no business relationship with any company whose stock is mentioned in this article.