"An appeaser is one who feeds a crocodile, hoping it will eat him last." - Winston Churchill


The biotech sector spent yet another week marking time before the upcoming election. The main biotech indices rose ever so slightly since our last weekend update. Based on the latest state polls, it appears very likely that the House of Representatives will remain in Republican hands. The Senate is basically a coin flip; it easily could end split exactly down the middle when all the ballots are counted. If the government remains divided between the two parties after the election, I do feel good around the biotech sector through year-end and beyond. After an over 30% decline since its peak in the summer of 2015, a lot of bad news is priced into the sector. I expect both the biotech and pharma sectors to have a nice year-end rally provided the political environment is accommodative.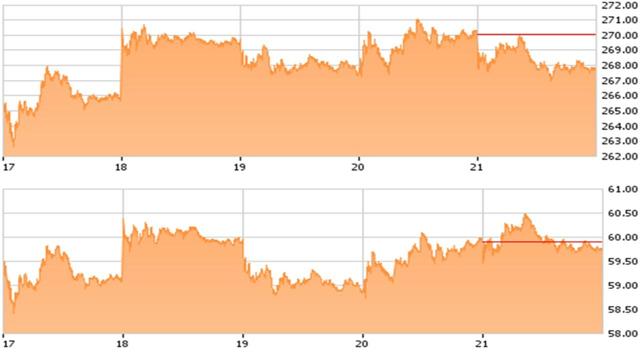 Source: Five day charts of the IBB & XBI, two of the largest biotech ETFs
Note: To get these Biotech Forum Daily Digests as soon as they are published, just click on my profile, hit the big, orange "Follow" button, and choose the real-time alerts option.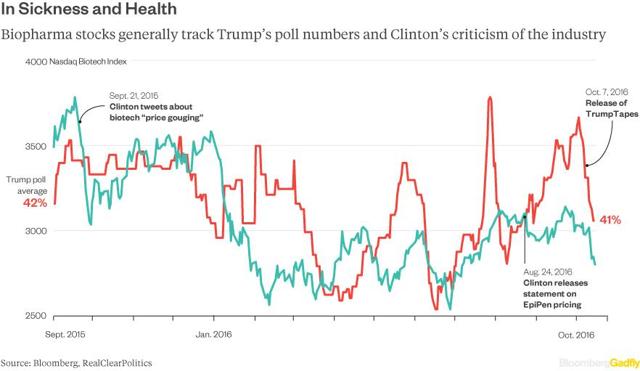 A very good piece appeared in Bloomberg recently about how the political concerns that have been an overhang on the biotech and pharma sectors this year are overdone. Specifically "recent stock swings suggest investors are dramatically overrating the potential impact of a Clinton victory and the possibility of a sweep." Healthcare (down approximately 16% in 2016) has been the only sector on the NASDAQ that has declined this year and its significant underperformance should be a clarion call for true "contrarian" investors in the market. Prediction market PredictIt now implies an 18 percent chance of a changeover in the House which would be required for major legislative changes on the biotech & pharma industries. Food for thought to begin the trading week.
The FDA will review Bristol-Myers Squibb's (NYSE:BMY) Biologic License Application for Opdivo for the treatment of patients with locally advanced unresectable or metastatic urothelial carcinoma that has progressed on or after platinum-based chemotherapy, a Breakthrough Therapy indication. The action date for the decision is early March. Bristol could use a victory for Opdivo as its stock has been hit recently thanks to some trial setbacks to extend indications Opdivo is approved for, as well as momentum coming from its primary competitor in this space "Keytruda" from Merck (NYSE:MRK). Merck recently cut short its Phase III trial of Keytruda in advanced bladder cancer, saying it hit its endpoint, and is moving on to present the data to regulators. The company's stock has dropped from ~$75 to ~$50 a share in recent months.
Vaccine maker Inovio Pharmaceuticals (NYSEMKT:INO) is going to get off to a tough start in the trading week. The FDA has placed its Phase 3 clinical program for lead product candidate VGX-3100 on clinical hold. The agency has requested additional data to support the shelf-life of the newly designed and manufactured disposable parts of the CELLECTRA 5PSP intramuscular immunotherapy delivery device. The company states it can have this information back to the agency by the end of 2016, but it will delay the start of Phase 3 trials until the first half of 2017. The stock is down some 15% in early trading.

Jefferies reiterates its Buy rating and $40 price target on Cempra (NASDAQ:CEMP). The company's lead product candidate Solithera for the treatment of community-acquired bacterial pneumonia has a PDUFA date with the FDA late in December. It also has an Ad Comm Panel on November 4th. Jefferies believes there is a "70%-80% likelihood of a positive panel outcome. The risk/reward skews to the upside with greater than 50% appreciation potential"
I recently did a positive Spotlight follow-up on this name and am positive on its prospects. An exclusive deep dive analysis will appear on the Biotech Forum later this week and we will revisit Cempra here after we hear from the Ad Comm panel.
Small cap concern BioDelivery Sciences (NASDAQ:BDSI) got a rare shout-out from Roth Capital on Friday who reiterated its Buy rating and $7 price target on this small biopharma stock. The company has done a very solid job signing contracts with insurance providers recently. This should greatly expand pain management products BUNAVAIL and BELBUCA's sales footprints in 2017 and boost scripts nicely after a slow start in 2016.
Gilead Sciences (NASDAQ:GILD) saw four analyst firms reiterate Buy ratings, in front of its upcoming third-quarter report, last week including Cowen & Co. and Jefferies. Price targets range from $93 to $120. BMO Capital reiterated a Hold rating last week as well, but has a $98 price target on Gilead which currently sells for approximately $74 a share.
Gilead is dirt cheap on a free cash flow and on an earnings valuation basis. However, until the company moves on making an acquisition to address growth concerns and/or the decline in hepatitis C sales ebbs, sentiment on this concern will likely remain negative.
Note: New analyst ratings are a great place to begin your due diligence, but nothing substitutes for deeper individual research in this very volatile sector of the market. Many of the small-cap names highlighted in the "Analyst Insight" will eventually appear in the "Spotlight" section, where we do deeper dives on this type of promising but speculative small-cap concern.

We open a week with a slightly different Spotlight feature. Today we look at a mid-cap specialty generic drug maker at the behest of a Biotech Forum subscriber that wanted a deeper dive on this "off the radar" name within the pharma sector.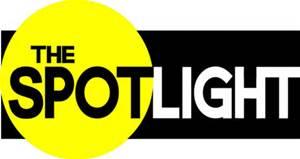 Company Overview:
Akorn, Inc. (NASDAQ:AKRX) is a specialty generic drug maker based just outside of Chicago. Even though the company was founded 45 years ago and has been a public entity since 2007, it is not a name many pharma or biotech investors are very familiar with, despite an over $3 billion market capitalization. The stock goes just under $27 currently, half the levels it was selling at before a bear market swept over the biotech & pharma sectors in the summer of 2015.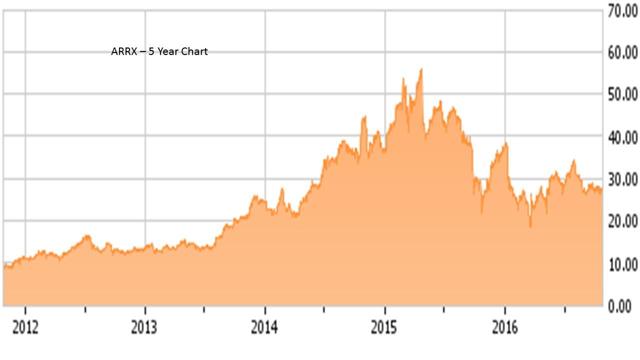 Product Portfolio:
The company specializes in hard-to-manufacture generic products, which have higher margins than the typical generic product that is off-patent. Specifically, Akorn specializes in difficult-to-manufacture sterile and non-sterile dosage forms including: ophthalmics, injectables, oral liquids, otics, topicals, inhalants and nasal sprays. It also has an animal health division. The company has grown both organically and via a series of small, strategic acquisitions over the years.
The company has nearly 200 products and is not overly dependent on any one drug. It also has myriad product launches and ANDAs in the pipeline so its product portfolio will continue to expand at a healthy clip.
Recent Results & Growth Trajectory:
Acquisitions have accelerated since the company was listed on the NASDAQ in 2007, particularly over the past five years. In 2009, Akorn had just under $50 million in annual sales. In FY2016, it should produce over $1 billion in revenues for the first time. Adjusted EBITDA should be approximately $500 million in FY2016 per the company's guidance in September. The company made $2.02 a share in earnings in FY2015. Profits this year look like they will come in at $2.15 to $2.20 a share and $2.30 to $2.40 a share in FY2017. Revenue should continue to grow in the mid- to high- single digits.
Analyst Commentary & Balance Sheet:
The company has spent the last two years deleveraging after making several purchases in 2014. The company had nearly $300 million in cash flow from operations in FY2015 and leverage ratios have dropped markedly since its acquisition surge in 2014. Its balance sheet is in a good position.
Analyst commentary is mixed. Over the past six months, the company has received six Buy ratings and three Hold ratings. It should be noted that the last three ratings have been positive with Piper Jaffray being the last analyst firm to chime in. It upgraded the shares to a Buy with a $35 price target on August 29th. The median price target on the shares is just north of $37 a share currently.
Outlook:
Akorn is more than a reasonable value at around 12 times this year's likely profits. The specialty pharma space has come under a lot of political and regulatory scrutiny over the past year which is a key reason these names sell at a considerable discount to the overall market multiple. This sector should get a boost provided the election results in continued split government. Akorn seems selling at an attractive but not compelling valuation level. I will probably put in a buy order to pick up shares if they fall to $25 a share.
"If you're going to kick authority in the teeth, you might as well use two feet." - Keith Richards

Thank You & Happy Hunting
Bret Jensen
Founder, Biotech Forum
Disclosure: I am/we are long BDSI, CEMP, GILD, INO.
I wrote this article myself, and it expresses my own opinions. I am not receiving compensation for it (other than from Seeking Alpha). I have no business relationship with any company whose stock is mentioned in this article.