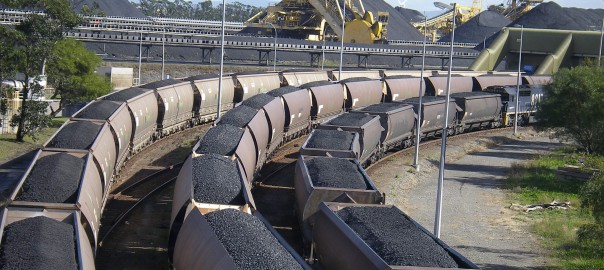 Source: Australian Mining, Hunter Valley Coal Exports, July 2016
This past Thursday, Genesee & Wyoming (NYSE:GWR), G&W announced that the company had entered an agreement to acquire Glencore Rail, GRail and to concurrently issue a 49 percent equity stake to Macquaire Infrastructure and Real Assets, MIRA.
I recently wrote regarding the fact that Florida East Coast Railway, FECR was now up for sale and that G&W could possibly be a potential bidder. Based on the financial components of this deal, G&W still could end up making a move for FECR.
But investors should consider the motivation for G&W to make a move outside of the U.S. Investors should be aware that nearly 40 percent of G&W's revenues during the trailing twelve-month, TTM period as of June 2016 were outside of the U.S. at nearly $830 million. The GRail deal is expected to add another $76 million to this amount bringing the total above $900 million, taking the revenue share outside of the U.S. towards 45 percent.
For those not familiar with the Australian coal business, GRail's coal haulage operation was established in 2010 as an alternative rail service provider to the other railroads in the Hunter Valley and has grown to be the third largest coal haulage business in Australia.
G&W's Freightliner Australia subsidiary, GWA has been the rail operator for GRail since inception providing haulage and logistics services which will continue following the deal. Importantly, GWA will enter a 20-year rail haulage contract with Glencore Coal Pty Limited, GC. This contract will contain rights, subject to certain limitations, to exclusively haul all coal produced at GC's existing mines in the Hunter Valley to the Port of Newcastle and will have minimum guaranteed volumes over the first 18 years.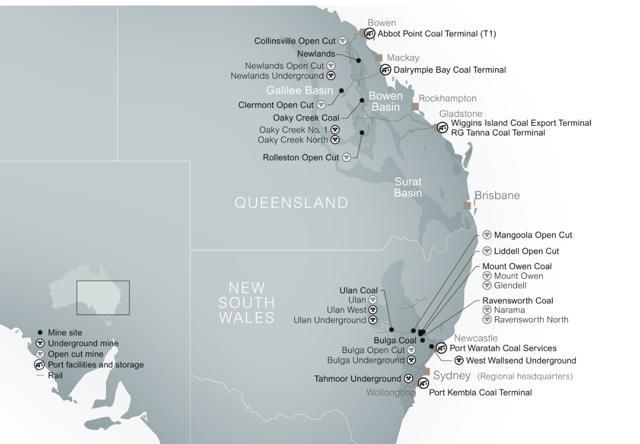 Source: Glencore Australia
As depicted above, the New South Wales geography just north of Sydney illustrates the Hunter Valley shaded coal region, including GC's coal operations connecting to the Port of Newcastle. While coal volumes have been one of the hardest hit commodities here in the U.S., coal volumes have picked up during the first six months of 2016 to the Port of Newcastle by over two percent to 78.6 million tons.
Part of the growth has been driven by port terminal efficiencies. Through the Port Waratah Coal Services, PWCS, which operates the port's three coal terminals, gains have been made in reductions of time to load coal ships with improvements between 11 and 15 percent. Prices for thermal coal, Hunter's main export, have dropped by around six percent from year-end December 2015 to $46 per ton.
PWCS has recorded that Japan consumes nearly half of the Hunter's coal, followed by Korea at 12.8 percent and China at 11.9 percent. In addition to Asia, India is anticipated to generate strong demand for coal in the future. Australia's key geographic position sets the country's coal producing regions up well to continue to compete for Asia/India coal demand as Europe and the U.S. become more efficient for shale gas extraction and reduce coal dependence domestically from policy changes.
The GRail transaction includes the acquisition of nine train sets including 30 locomotives and 894 wagons. Rail haulage service is operated on government-owned, open-access track that is coordinated by a neutral third-party and track access fees will continue to be paid by GC.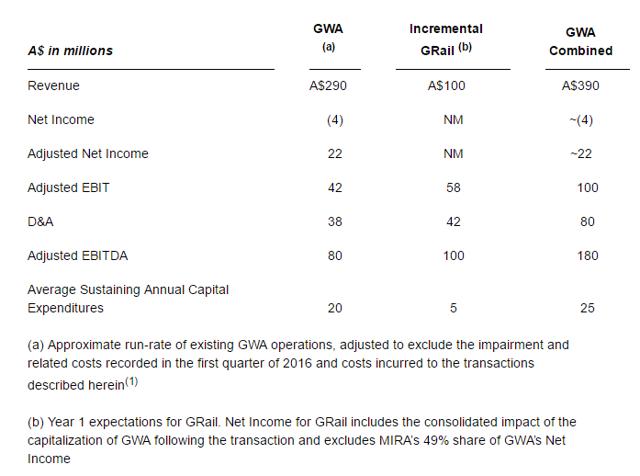 Source: G&W's press release
On a constant currency basis, the deal is anticipated to increase GWA's revenue by nearly 35 percent to A$ 390 million. Adjusted EBITDA is anticipated to increase by 125 percent to A$ 180 million. Over the TTM period, G&W generated nearly $560 million in EBITDA. The assumed $76 million in added EBITDA from GRail reflects an increase of nearly 14 percent on an annual basis.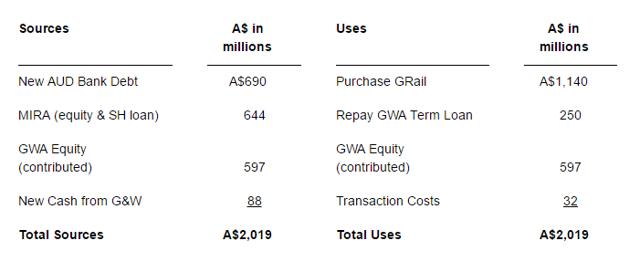 Source: G&W's press release
For investors, important factors to consider for the financing of the deal include the new Australian bank debt and non-recourse subordinated shareholder loan from MIRA. In constant currency, the net debt after this deal for GWA will amount to A$ 680 million, or $517 million.
As of June 2016, G&W's total net debt stood at $2.1 billion. By including the increase in enterprise value of $1.5 billion and anticipated increase in EBITDA, G&W's debt to capital and debt to EBITDA ratios would increase to 51 percent and 4.2 respectively. This would reflect an increase from 45 percent and 3.9. Enterprise value to EBITDA would increase to 12 times from the current 10.4. Enterprise value would rise to over $7.5 billion. EBITDA margin could improve by nearly 300 basis points from 27.3 percent to nearly 30 percent.
Following the deal closure, G&W will continue to consolidate 100 percent of GWA and will record a noncontrolling interest for MIRA's 49 percent equity ownership. An incremental interest expense of $30 million is expected from the financing discussed above. Thus, G&W has concurrently entered an amendment to its Senior Secured Syndicated Facility Agreement, credit facility to among other things remove GWA as a borrower and guarantor under the credit facility upon the consummation of the GRail transaction.
This will serve as a separation of GWA from debt, interest cost or EBITDA in determining compliance with the financial covenants under G&W's credit facility. Investors should look for notes and a way to gauge GWA and G&W separately moving forward from a leverage risk perspective.
Net income, EPS and free cash flow for G&W on a TTM basis were at $224 million, $3.52 per share and $177 million through June 2016. An increase of $76 million during this fiscal year with the potential of an over 50 percent increase over the near-term will greatly benefit G&W's core profit measures.
Investors should continue to monitor leverage risk for GWA versus G&W, and the coal export market in Australia based upon demand from Asia and India. Overall, this move will be beneficial for GWA's business through the diversification of adding coal as a new commodity.
Disclosure: I/we have no positions in any stocks mentioned, and no plans to initiate any positions within the next 72 hours.
I wrote this article myself, and it expresses my own opinions. I am not receiving compensation for it (other than from Seeking Alpha). I have no business relationship with any company whose stock is mentioned in this article.