Brief description
Ixia (NASDAQ:XXIA) is an innovative provider of security and physical & virtual performance solutions to ensure that network operators can verify, optimize, and secure their networks. A toolbox of solutions is available to accomplish these goals, and Ixia provides "high performance hardware platforms, software applications, and services, including warranty and maintenance offerings" (taken from '16 10K). Revenue is primarily achieved through hardware, software and warranty channels.
I: Investment Thesis
Chart YTD

YTD, Ixia has underperformed both the S&P 500 and XLK (Technology SPDR ETF). This underperformance is a result of a combination of factors, the primary of which is that Ixia is a more conservative-growth technology company and is unlikely to achieve double-digit growth in the upcoming quarters even though industry growth is projected to be strong.
Ixia's share price increased 28% on February 24th as a result of a strong Q4 earnings report, reinforcing analyst's opinions that Ixia is a strong tech company at a reasonable valuation. Ixia saw a reversal of fortune when their revised Q1 revenue forecasts led the stock to decrease 17%. Analysts, on average, are currently giving a "Buy" rating to Ixia.
Investment Thesis: Ixia will see a reduction in share value as a result of their unfavorable relationships with clients and inability to capture industry growth.
II: Industry Outlook
Current State
Cybersecurity breaches have been growing in prevalence and number in the recent years, and their impact has grown exponentially. Moreover, the attention these hacks have received has increased, and consumers are more aware of the potential occurrence and negative results. Yahoo has recently seen some negative pushback as a result of the uncovering of a hack that compromised 500 million accounts. This was announced during the current acquisition by Verizon and is expected to weigh on the acquisition price.
Cybersecurity companies like Ixia are focused on innovation and quality to both expand their new customer base through new offerings and satisfy their current customers by providing all of their cybersecurity needs. This means that significant R&D expenditure is expected to produce these offerings. A high client turnover ratio would be destructive as their LTV is massive and a limited amount of quality clients are available.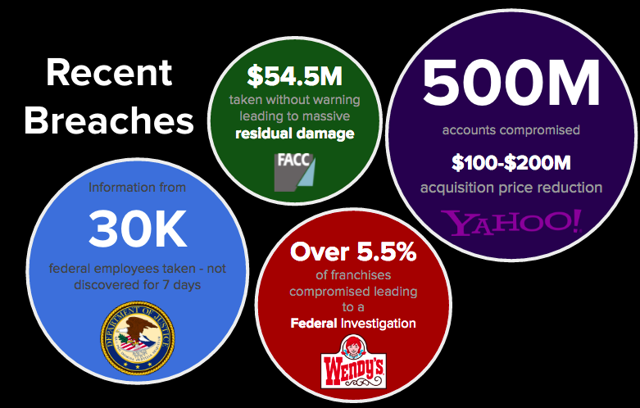 Future Outlook
Business spending on cybersecurity, as shown in the chart below, is expected to increase heavily in the upcoming years.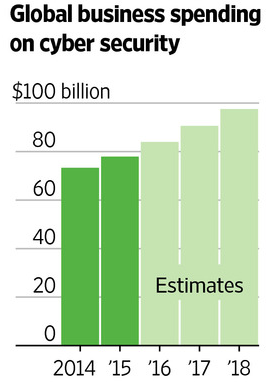 The cybersecurity market as a general whole is expected to grow at a 9.8% CAGR until 2020, with the highest growing verticals being security analytics, threat intelligence, mobile security, IoT, and cloud security. Governments spend the most, although usually developing in-house solutions or signing massive contracts, followed by the financial services industry.
Competition within the space is increasing as the growth potential is recognized by other firms. Cisco is an example of this, and will be expanded upon below. Moreover, the industry's offerings to their clients are exceedingly fragmented - often clients cannot obtain their entire servicing needs from just one company. Data is a particularly valuable asset as well, as it can help predict future security issues and enable better service to their clients.
Macro Outlook
Interest rate increases should not have a large material impact on the financial performance of Ixia in the short-term. The resulting strength of the dollar could bring rise to some negative financial results due to exchange rates, and 41% of Ixia's sales come from outside of the U.S. The strength of emerging markets is a major consideration when examining Ixia's value. A major source of growth in the future that Ixia is reliant upon is emerging markets, and if hesitation is seen within these markets a reduction in share price may occur.
Competitive Landscape
Two main competitors emerge when examining Ixia - Spirent Communications and Gigamon. While both are direct competitors of Ixia, each offers unique products and services. Other than these competitors the remainder of the industry is fairly fragmented.
III: Company Overview
Overview of Operations
Ixia has a fairly global sales reach, with 41% of their sales outside of the U.S. in the most recent quarter. This has fluctuated a minor amount over time, with the U.S. accounting for 60% of sales, EMEA for 15%, Asia Pacific for 20%, and 5% for other categories. More growth potential is available outside of the U.S. where cybersecurity is increasing in demand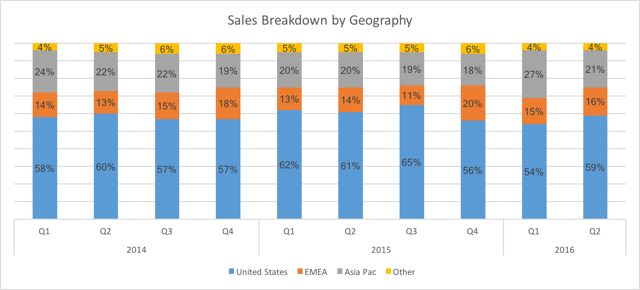 Ixia sells to three main clients - NEMs, Service Providers, and Enterprise & Government. This has also seen some fluctuation over time with NEMs accounting for ~47%, Service Providers for ~25%, and Enterprise & Government for ~28% on average.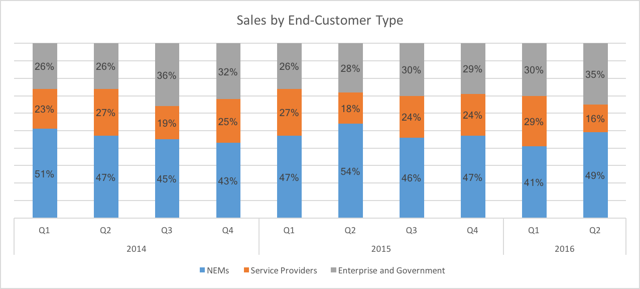 Ixia sells three main categories of products which include hardware, software, and warranties. Warranties has seen an increase in percentage of revenue it accounts for in the past few years, rising to ~30% of total revenue. Software has stayed nearly constant at ~10% and hardware has decreased somewhat to ~58%.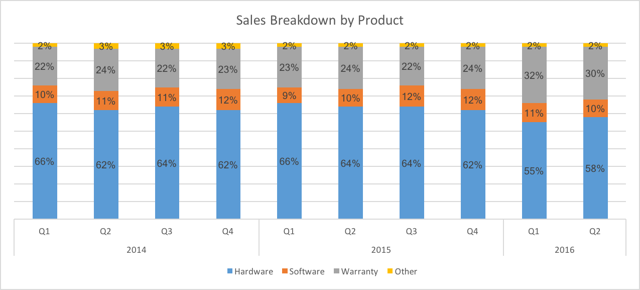 Strategy
Ixia is focused on continuing their expansion to addressable markets by expanding and further penetrating their customer base. Maintaining a strong focus on technology leadership should help Ixia accomplish this goal, as well as the fact that 45% of their employees are in R&D. An expanded international market presence is also a major focus, which should enable Ixia to capture stronger growth trends and expand their customer base as well. Finally, licensing and acquiring new products (such as Veriware in 2011, Anue in 2012, BreakingPoint in 2012, and Net Optics in 2013) provides a way to obtain a broader client base.
Management Team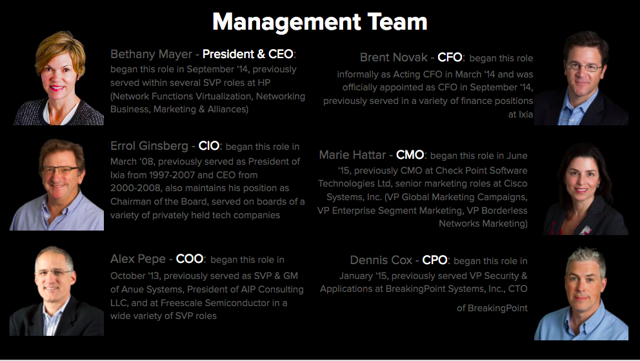 Ixia maintains a well-rounded and experienced executive management team with strong board oversight. In order to keep the interests of the board aligned with the shareholders, the board requires that each "non-employee director to acquire and hold shares of Ixia Common Stock having a value not less than five times the value of his or her annual Board retainer" (taken from amended '16 10K). This fairly unique relationship guides strong share value growth.
Catalyst: Reduction in margins and loss of key customers
A large amount of Ixia's revenue comes from a very small amount of clients, as is reasonably understood in the context of their business. These clients are capable of utilizing leverage when negotiating contracts and price points, implying a future reduction in margins particularly as competition increases heavily. One of Ixia's current advantages is their strong gross profit margin (78% vs 60% in the comparables analysis) but this should decrease steadily in the upcoming quarters as competition improves.
Moreover, their current clients are sometimes capable of developing in-house solutions. In Ixia's most recent 10K it was noted that "Cisco Systems, our largest customer, has used internally developed test products for a number of years. Although Cisco Systems has in the past accounted for a significant portion of our revenues, we cannot be certain that it will continue to do so." Reliance on large customers like Cisco (who are more than likely to transform into competitors) provides an additional layer of risk that is not mirrored in the current premium share price.
Risks
Risk #1: The growth and velocity of the IoT trend could increase share value and expand both the offerings and customer base of the company. The global IoT security market has been projected to grow with a CAGR of 55% from 2014-2019. Ixia is capable to capture some of this growth, and a certain amount is expected or they would be left in the dust of the competition. The company has been placing emphasis on R&D (shown through the fact that 45% of their employees are in R&D) yet has failed to make much progress in IoT up to this point.
Risk #2: Strong acquisitions could increase share value and increase Ixia's ability to be a one-stop-shop for the network security needs of their clients. Ixia's acquisition of Net Optics in 2013 enabled strategic synergies of both companies' technology and provided a stronger enterprise sales foothold. In 2012, Ixia's acquisition of BreakingPoint and their "library of more than 34,000 attacks, exploits, malware, and more" strengthened Ixia's security-testing quality and foothold within the space.
IV: Valuation
Comps
The output of the comps model is below, giving a final share price of $11.56. Five metrics were used in order to reduce skew and increase understanding. I compared Ixia to five other companies (shown in the table below) and the share price for each category is Ixia's number multiplied by the average of the comparable companies.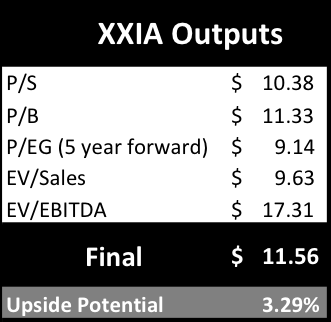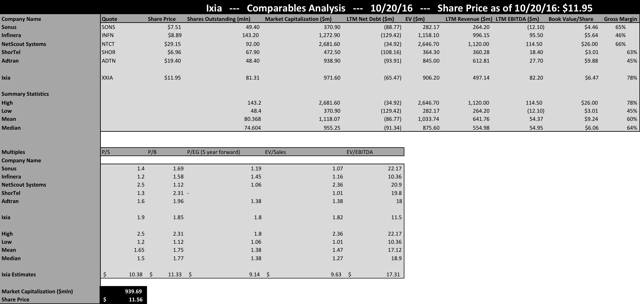 Recommendation and Price Target
Short with a price target of $10.00, which represents an upside of ~16%. This represents both the overvaluation shown in the comparables analysis and the additional risk brought forward by the catalyst. While I have no definitive timeframe on this investment decision, investors can expect progress to be made toward this share price when earnings reports and guidance are released.
Disclosure: I/we have no positions in any stocks mentioned, and no plans to initiate any positions within the next 72 hours.
I wrote this article myself, and it expresses my own opinions. I am not receiving compensation for it (other than from Seeking Alpha). I have no business relationship with any company whose stock is mentioned in this article.