Industrial Production
Industrial production rose a paltry 0.1% on a month-over-month basis in September, and August's decline of 0.4% was revised lower to 0.5%. The year-over-year rate of industrial production, which was down 1.0%, has now declined for 13 consecutive months.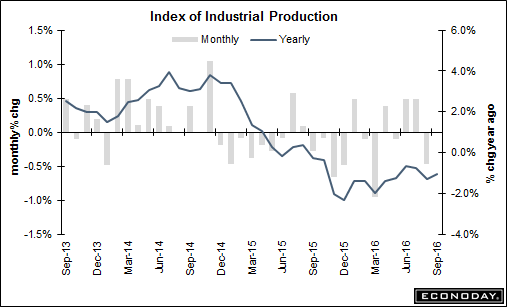 There is no growth in industrial production to help contribute to the overall rate of economic growth, and with capacity utilization of 75.4% running so far below its long-term average there is little need to increase capacity. This is a negative for the rate of economic growth moving forward.
Consumer Price Index
The Consumer Price Index rose 0.3% in September, while the core index, which excludes food and energy, rose 0.1%. This puts the year-over-year increase for the overall Consumer Price Index at 1.5%, which is up from 1.1% last month, while the core index is at 2.2%, which is down from 2.3% last month. The gap between the core rate and the overall rate of inflation is closing, as we anticipated earlier this year, with energy costs rising significantly. Gasoline prices rose 5.8% last month, and the energy index increased 2.9%.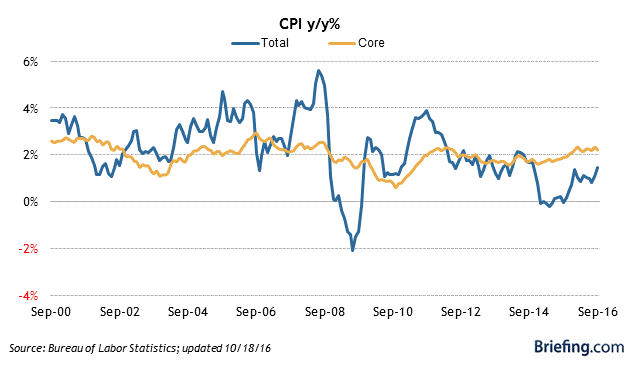 When economists talk about how the core rate of inflation is "improving," as it rises towards the Fed's target rate of 2%, they are clearly not considering the rate of income growth. The improvement in nominal income growth is not keeping pace with the increase in the core inflation rate, which means that consumers are losing purchasing power. This has led to a decline the rate of consumer spending growth, which ultimately slows the real rate of economic growth. As a result, we don't view the current rise in the core rate of inflation positively.
Home Construction
While the 9% plunge in housing starts during September looks ominous, it was all due to multi-family dwellings, which declined 38%. Single-family home starts rose 8.1%. Permits for single family homes increased 0.4%, which indicates continued growth for the housing market. Since the number of housing units under construction at the end of the third quarter (1.038 million) was 3% above that of the second quarter, home construction will contribute the rate of economic growth in the third quarter.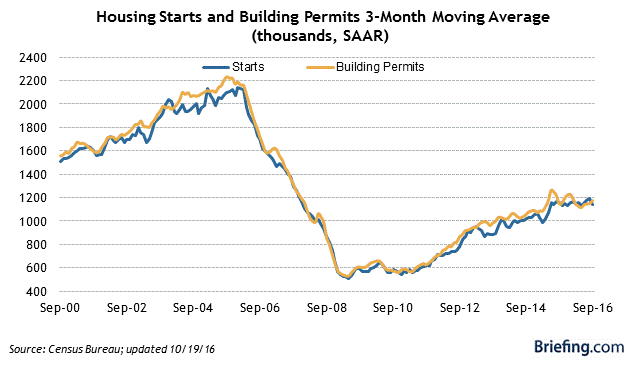 Existing Home Sales
Existing home sales rose 3.2% in September to an annualized rate of 5.47 million. Sales are up just 0.6% on a year-over-year basis, but there was some positive news in this report. The percentage of first-time home buyers increased to 34%, which is the highest percentage since July 2012. This allows existing home owners to purchase higher-priced homes, and it increases overall home ownership, which is a catalyst for growth.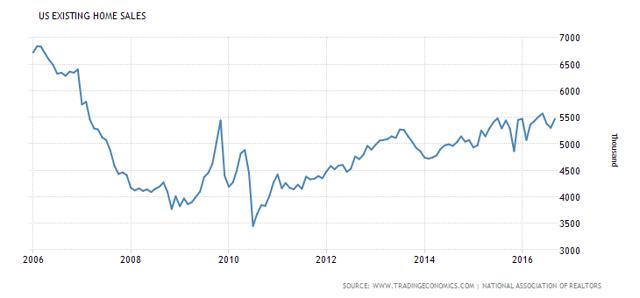 Conclusion
We are looking for evidence that indicates the rate of US economic growth is re-accelerating, but we can't find it yet. The ramifications for investors is that the consensus expectations for corporate revenue and earnings growth in the fourth quarter of this year, as well as 2017, are too optimistic. This is why firms like Goldman Sacs (NYSE:GS) are reducing earnings estimates for the S&P 500 (NYSEARCA:SPY) for 2017 and beyond. This also means that the forward market multiple for the stock market is probably much higher than the consensus is assuming it to be today.
Disclosure: I/we have no positions in any stocks mentioned, and no plans to initiate any positions within the next 72 hours.
I wrote this article myself, and it expresses my own opinions. I am not receiving compensation for it (other than from Seeking Alpha). I have no business relationship with any company whose stock is mentioned in this article.