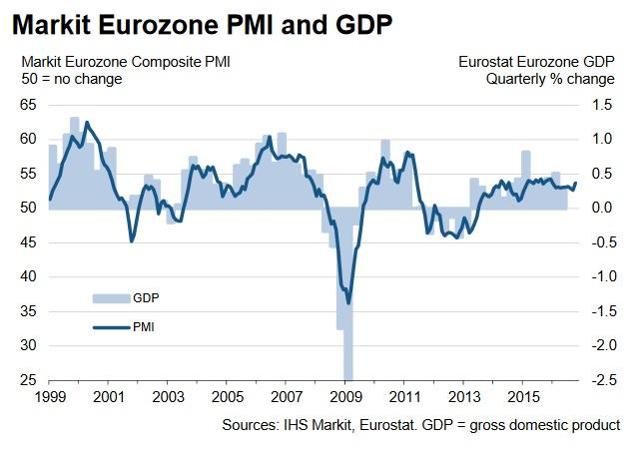 Just another manic Monday.
Europe gapped higher at their open (3am) and took our indexes up with it as no volume, of course, so we'll have to see what sticks but I already put up shorting lines for our Members in this morning's Live Member Chat Room. Essentially, we're just shorting at the same bounce lines I laid out last Tuesday so nothing has changed - except it's Monday, not Tuesday. Today though, we added the Nikkei (/NKD) short at 17,350, as strong data from Europe should strengthen the Euro and weaken the Dollar a bit (98.60).
This has, of course, been going on all year in a generally flat market, though that hasn't stopped us from ranging between 1,800 and 2,200 on the S&P - more than a 20% variance from highs to lows. Logically, 2,000 is then, the middle of the range yet, despite 65% of the S&P 500 trading below their 50-Day Moving Average, we're still much closer to the high end of our trading range.
Clearly the so-called smart money has been fleeing the markets all year, as evidenced by JackDamn's cash flow chart, which illustrates the massive outflow of money from the 500 in 2016. Think of each block of outflows like Jenga pegs that are being removed - even as the tower is built higher and higher. You KNOW what will eventually happen - you just don't know exactly when the whole thing will collapse. Given that the outflows are increasing at the moment - we should keep a careful eye on this indicator.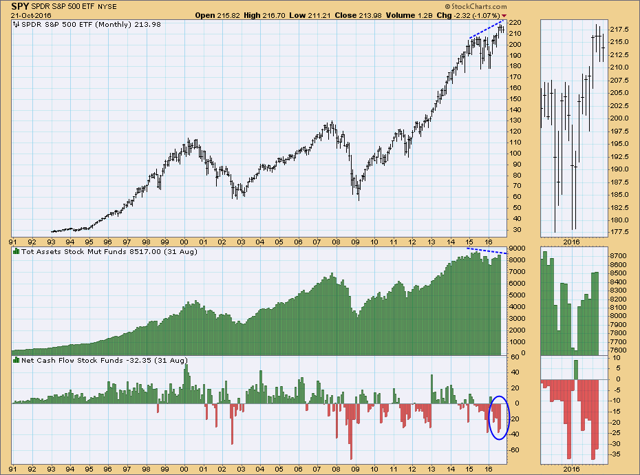 Oil (/CL) Futures tested $51 again early this morning but is already back to $50.34 so too late to short it if you weren't paying any attention to the last 3 week's worth of posts, where we shorted at $51 over and over again. Speaking of last week's picks - you can still pick up Natural Gas (/NG) long as it crosses over the $3 line and use that line as a stop so very little to lose and much to gain on those futures.

Meanwhile, the markets have gone nowhere since August and that suits us just fine as we did a Top Trade Review and 10 of our 13 (77%) Top Trade Ideas for August are already winners and the 3 that aren't are all ones we're happy to buy more of if they go any lower. Many of the Top Trade Ideas from Philstockworld end up being features in our Options Opportunity Portfolio, which you can follow over at Seeking Alpha as well.
The key to our success is following our core strategy, where we teach our Members to "Be the House - NOT the Gambler" a system that shows you how to take control of your investments by using stock options as a tool for both leverage and hedging - which is another key component to our trader education system. Being the house means we SELL a lot of premium so, when the market grinds up and down like this but goes nowhere, the bets we sell to other people in both directions tend to expire worthless and we collect that money - despite the stock itself going nowhere.
For example, back in August, we featured the following trade idea in our morning post:
Gilliead (NASDAQ:GILD) is our favorite pharma value and we'd also use the same short 2018 $60 puts to play the Direxion Daily S&P Biotech Bull 3x Shares ETF (LABU), which is already our very successful Top Trade for the 2nd half of 2016 (see our Weekend Review). As a new trade, we like:

Sell 5 GILD 2018 $60 puts for $4 ($2,000)
Buy 10 LABU March $35 calls for $10 ($10,000)
Sell 10 LABU Dec $50 calls for $7.50 ($7,500)

That spread nets out at $500 but returns $15,000+ at $50 or better in December and you have until March to keep making money if the trend is in your favor. We're going to make this a PSW Top Trade Alert so we'll be keeping an eye on it going forward. December options expirations are only 130 days away and making a $14,500 return on cash would be a nice 2,900% return in just over 4 months - not too shabby!
As you can see from the charts, LABU has gone nowhere and GILD has gone lower but because we SOLD premium to make our trades, time has eroded the value of the contracts we sold and now the LABU March $35 calls are $9 but the Dec $50 calls are just $1.75 so net $7.25 per contract is $7,250 on the bullish spread while GILD 2018 $60 puts are still $4 because $60 is still well out of the money and the stock isn't dropping fast enough to make it more likely that target gets hit.
So the net of this spread, which used $500 in cash and $3,000 in ordinary margin to originate, is now net $5,250 - up $4,750 (950%) against the cash outlay in less than 3 months - that's what BEING THE HOUSE is all about! Those are the kind of trades that make up PSW Top Trade Alerts as well as the kind we use for our Options Opportunity Portfolio.
We're waiting for LABU June options contracts to come out again before we make another play but I do like them back at $35, as I like GILD at $74 - if you are into BORING stock-only trades, that is. Biotech has been in a bit of a rut, likely over worries that Hillary and Co. will be cracking down on excessive drug profiteering but, as with the fears ahead of Obamacare that led to a massive boom in Biotech - this too shall pass.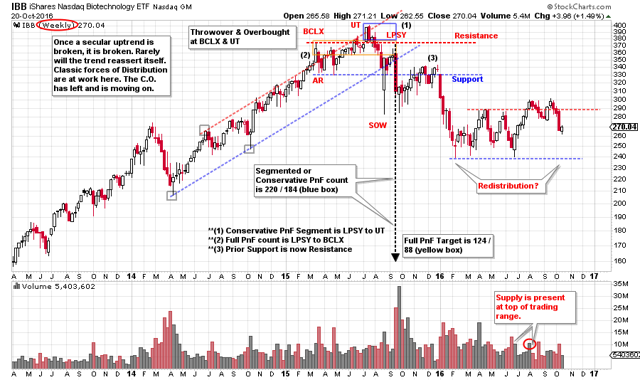 Speaking of Hillary and Co - I'm not sure I'm thrilled with more consolidation in the media and one could argue that AT&T (NYSE:T) buying Time-Warner (HBO) is no different than Comcast (NASDAQ:CMCSA) acquiring NBC Universal and Dreamworks (NASDAQ:DWA). CMCSA, in fact, attempted to buy TWX for $45Bn back in Feb, 2014 but the Government stopped that deal, threatening to file an anti-trust suite and causing Comcast to withdraw the offer.
Why then, would the Government - even the one we have now, allow an even bigger Telco/Cable giant to buy the same company (now $85Bn so good deal for TWX shareholders)? Of course T doesn't already own NBC/Universal and I suppose their logic hinges on that but didn't we try to break up AT&T just for being so big in the first place and now it's even bigger and buying other companies? Something is not right here. Also not right is that T has pressured most sites to take down Colbert's take on their ridiculous un-merger - and now we're going to hand them the keys to HBO, who just took over Vice? So watch it while you can - before there is only one media/communications provider in this country:

Meanwhile, while we still have the freedom to think, let's look at the week ahead and OH MY GOD - there are 4 Fed speakers today - that's crazy! Dudley (dove) at 9am, Bullard (NASDAQ:HAWK) at 9:05, Evans (DOVE) at 1:30 and Powell (neutral) at 1:45. What are they trying to do to us? Clearly they are burying the lone hawk - interesting... Then Lockhart (neutral) speaks at 1:20 tomorrow and, just as strange, that's it from the Fed for the week.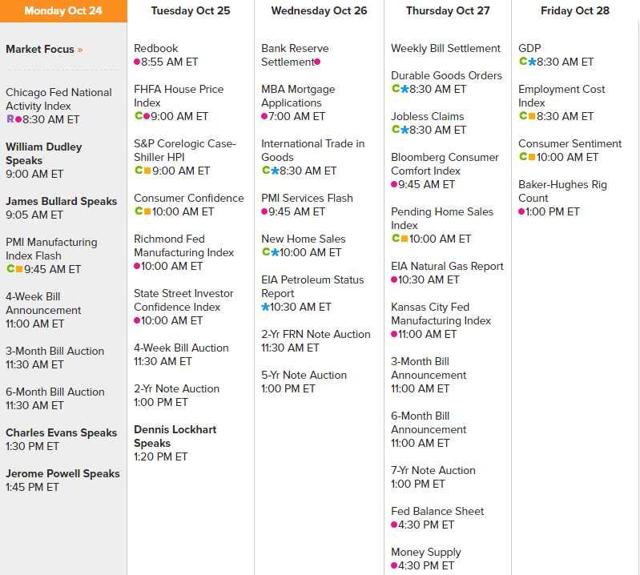 It's past 8:30 and Chicago PMI as an uninspiring -0.14 but not so bad considering Chicago has 78 homicides in August among 400 shootings. Frankly, it's amazing these people made it to work at all! Ahead of Friday's Q3 GDP report, we also have the Richmond Fed, KC Fed, Consumer Comfort, Confidence and Durable Goods - all good indicators of where we're likely to be on Friday (but I'll bet it's still generally flat).
While we wait for the data, we also have 100 S&P 500 earnings reports to look forward to, featuring: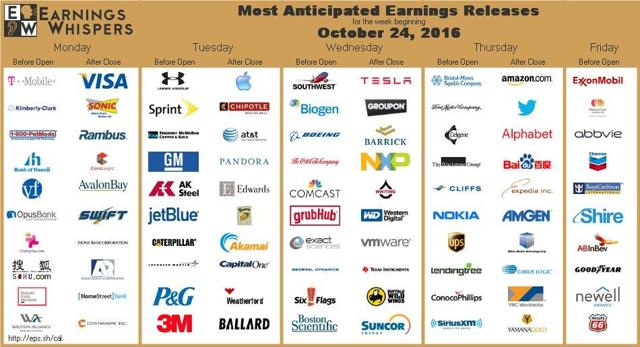 T gives us earnings tomorrow and it's going to be an interesting conference call over there. Lots of our favorites are on the list and we'll look forward to calling out some earnings plays in our Live Member Chat Room as well as on our Wednesday afternoon Live Trading Webinar (1pm, EST) - come join us there!
Disclosure: I am/we are long LABU, T, TWX, SQQQ, SDS, TZA, SQQQ, GILD, LQMT.
I wrote this article myself, and it expresses my own opinions. I am not receiving compensation for it. I have no business relationship with any company whose stock is mentioned in this article.
Additional disclosure: Positions as indicated but subject to RAPIDLY change (currently mainly cash and an otherwise bearish mix of long and short positions - see previous posts for other trade ideas). Positions mentioned here have been previously discussed at www.Philstockworld.com - a Membership site teaching winning stock, options & futures trading, portfolio management skills and income-producing strategies to investors like you.