SCANA Corporation (NYSE:SCG) has seen its share price rise and remain in the $70 range for much of the past year. This is due to the general trend of investors hunting high yield in safe stocks such as utilities.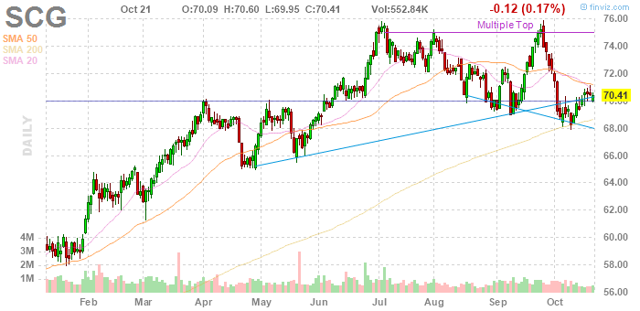 With current speculation that the Federal Reserve will raise interest rates at the December 14th meeting, and that defensive stocks such as utilities will likely see their share prices fall as a consequence, it may be worth looking at whether or not SCANA Corporation is worth considering for a long-term slot in an investor's portfolio.
Company Overview
Founded in 1924, the present-day SCANA Corporation is an electric and gas utility firm which offers electricity services to approximately 700,000 customers in South Carolina, and gas services to approximately 1.3 million customers in Georgia, North Carolina and South Carolina.
SCANA's services have allowed it to generate steady revenue and rising net income over the past five years:
| | | |
| --- | --- | --- |
| Year | Revenue ($) | Net Income ($) |
| 2011 | 4.41 billion | 387.00 million |
| 2012 | 4.18 billion | 420.00 million |
| 2013 | 4.50 billion | 471.00 million |
| 2014 | 4.95 billion | 538.00 million |
| 2015 | 4.38 billion | 746.00 million |
SCANA Corporation is headquartered in Cayce, South Carolina, has a workforce of 5,877 employees, and has a market capitalization of $10.08 billion.
Competitive Advantage
SCANA benefits from the two key advantages that most utilities enjoy: geographic monopoly and government regulation. Utilities like SCANA become monopolies simply because the costs of building power plants is prohibitive for competitors, and the cost of switching power suppliers is prohibitive for customers.
These facts necessitate government regulation to ensure that customers are not subject to price gouging, and the regulatory hurdles also raise the barrier for competitive entry still higher. This situation provides SCANA's shareholders with stable income.
The proof of this can be gleaned from SCANA's dividend history. Since 2000, SCANA has paid consecutively rising dividends to its shareholders - an impressive sixteen-year record.
Valuation
Currently, SCANA is trading around the $70 mark at a price-to-earnings ratio of 19.06, a forward P/E ratio of 16.79, and offers a dividend yield of 3.27% with a payout ratio of 60.60%. The dividend is thus sustainable for the foreseeable future.
Earnings per share for the past twelve months was $3.70, and EPS growth over the next five years is estimated at 6.00%. Using a discount rate of 11% - the stock market average - I calculate fair value for SCANA at $67.57. The stock is overvalued by 4% at this time.
Final Thoughts
SCANA Corporation is currently trading 4% above fair value, and is a very steady stock with a consistent record of rewarding shareholders with dividends. Should interest rates rise, the share price will likely fall, which would make it a better buy than it is now. As it stands, SCANA is definitely a hold at this time, but not a buy.
Disclaimer: I am not a financial professional and accept no responsibility for any investment decisions a reader makes. This article is presented for information purposes only. Furthermore, the figures cited are the product of the author's own research and may differ from those of other analysts. Always do your own due diligence when researching prospective investments.
Disclosure: I/we have no positions in any stocks mentioned, and no plans to initiate any positions within the next 72 hours.
I wrote this article myself, and it expresses my own opinions. I am not receiving compensation for it (other than from Seeking Alpha). I have no business relationship with any company whose stock is mentioned in this article.