I'm kicking myself a bit on Friday morning for not buying more shares of Knoll (NYSE:KNL) under $21 ahead of Thursday's Q3 report. I certainly considered it strongly; but my holdings already were relatively large (KNL was my second-largest position on Thursday; after a 9.3% gain Friday, it's back to being my largest) and, as I've written elsewhere, I have a rather heavy cyclical exposure at the moment in a still-uncertain macro environment.
Still, KNL's decline from $26+ at the beginning of September to under $21 some seven weeks later made little sense. A chunk of the decline came in sympathy with fellow office furniture maker HNI Corporation (NYSE:HNI) - but Knoll has been outperforming HNI for several quarters now, and when HNI rebounded sharply on Thursday, KNL was left out of that rally.
Under $21 was an almost silly price for KNL, to be blunt, given that the office furniture space continues to be 'good enough', if not spectacular, and given that Knoll clearly is outperforming the other majors in the sector.
That outperformance continued in Q3, and so it's important to note that the gains on Friday are by no means a "relief rally." In fact, I'd argue that the post-earnings jump only modestly narrows the gap between fair value and Thursday's close. Knoll continues to be far and away the best performer in its space, and even if that space has some concerns (both cyclical and secular), it's not as if KNL is receiving some sort of growth stock valuation even after Friday's gains. In my opinion, $21 was ridiculously cheap - but Friday's close of $22.58 still looks attractive.
The Good News
Knoll's Q3 report looked extremely strong, particularly in the key Office segment. Revenue overall increased nearly 11% year over year; Office growth was 15.5%. The Studio and Coverings segment combined actually declined, with weakness in Coverings (largely driven by continued weakness in the private aviation industry, which hurts the Edelman business in that segment) and a decline at HOLLY HUNT offsetting solid results and for KnollStudio in North America.
Gross margin increased 20 bps - again, driven largely by Office - and SG&A leveraged 90 bps. Operating margin exceeded 12%, including 9.7% in Office, with Knoll nearing a long-held target of 10%+ EBIT margins in that segment. Operating profit increased 23%, and EPS increased nearly 19% year over year.
All told, it was a stellar quarter - the reported results beat analyst estimates by $0.04 in EPS and 6+ points in terms of revenue growth. What's notable is that Knoll drove those sales and profits in what CEO Andrew Cogan admitted in the Q3 release was "a more mixed demand environment"; Cogan pointed out on the Q3 conference call that BIFMA (the industry trade association) data suggested just 3% growth market-wide. And Knoll's share gains appear to have come from complementary products and higher win rates (of what appears to be a shrinking pool, particularly of larger opportunities).
This isn't a new development, to be sure; Knoll's outperformance relative to peers (particularly HNI and Steelcase (NYSE:SCS) has been a major part of my bull case going back to last year, when shares traded below $20. But it's not just that Knoll is taking share; it's also how the company is taking share. New products are hitting. In previous quarters, Knoll has offset weakness in the energy and financial verticals by winning business in tech (exactly the sort of industry that bodes well for higher-end, higher-dollar projects).
Demand for larger projects has been somewhat muted this year (per commentary from Knoll and rivals), but Knoll has been able to drive growth (sales are up over 9% YOY through the first nine months) by winning $1-$5 million orders.
Given the revenue declines at HNI and Steelcase (Knoll's most direct rival, Herman Miller (NASDAQ:MLHR) has been solid, though its top line growth has lagged modestly that of Knoll), and weakening demand in Q3 (also cited by HNI), Knoll's performance looks particularly impressive. And while the equity markets are not as simple as "Company A is performing better than Company B, so buy A and short B," the divergence between Knoll and HNI in performance is somewhat startling.
HNI Office revenue fell 4.4% in Q3, operating margin compressed, and overall EPS (HNI also has a Hearth segment that targets residential construction and renovation) declined double digits. Yet HNI was bid up after that report, and year-to-date the stocks have traded roughly in line even including a 20%+ plunge for HNI after lowered guidance ahead of Q3: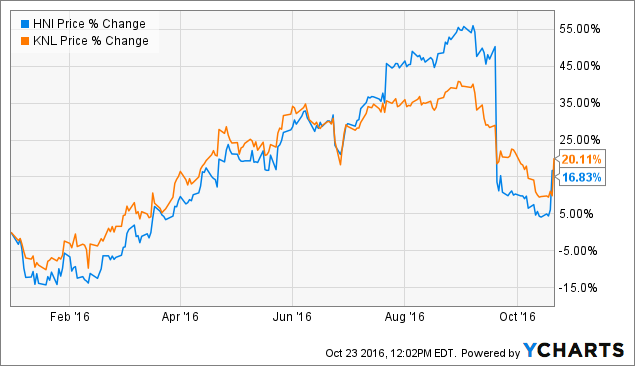 It still seems like Knoll should be getting more credit for its performance of late, and the fact that it clearly is out-executing the other majors in the space. But the market instead, at least relative to KNL, seems to be focusing on the potential pitfalls instead of considering the share gains and margin improvements made so far. Indeed, shares weakened in the second half of Friday's session, likely in response to some of those concerns. And, to be fair, even as a KNL shareholder, I'll admit they're not totally unfounded.
Reasons For Caution
The differing cases for KNL versus SCS and HNI reflect a classic investment question: Is a better business necessarily a better stock? Both HNI and SCS have 'turnaround' aspects to their cases: HNI is more supply-heavy and more cyclically-exposed, which implies a greater snapback once current demand choppiness is worked through. Steelcase's international business is a mess, and has been for some time; simply reversing current EBITDA losses in that segment could drive near-20% EPS growth from current levels.
For Knoll, there's likely a question of how much improvement is left, particularly from a margin standpoint. With Office heading toward double digits - Knoll's targets and in line with Herman Miller's performance - there doesn't seem to be room for further multi-year, 100 bps+ annual improvement (as the company has driven the past three years, including unofficial guidance for 2016).
Meanwhile, steel prices are rebounding, which Cogan on the Q3 call projected would be a headwind in the "upper millions" (in context, that appears to be high single-digit millions, or 70-80 bps of gross margin pressure). Coverings and Studio already have double-digit operating margins, and beyond operating leverage and continuous cost improvement efforts there seems little room for aggressive expansion there, either.
Meanwhile, it does appear that demand has weakened in the second half, with commentary from all four office furniture majors citing difficulty in end markets, particularly on larger projects. Knoll, again, has navigated those difficulties in the past, but Cogan admitted in the Q&A of the Q3 call that the quarter benefited from project timing, with "lumpiness" working in favor of Knoll in the period.
So the question for KNL even after the strong report is whether the stock necessarily is a compelling buy right now, with questionable catalysts for growth in 2017. A new Rockwell Unscripted line appears to be driving significant interest, but shipments won't begin until Q2 and Cogan estimated a $10-$15 million year one ramp (which would add about 1% to sales).
Steel prices are a legitimate headwind; there has been a "noticeable decrease" in multi-million dollar opportunities. That might help margins, actually, given how common discounting is at those levels, but it could make consistent growth in 2017 more difficult to accomplish. Overall demand does seem to have weakened, and combined with the long-running secular risk to office furniture (telecommuting, "open office", etc.), that could imply a reasonably steep decline in KNL shares if the company, its sector, or the broader economy stumbles over the next 4-6 quarters.
Overall, the bull thesis for KNL isn't, or at least shouldn't be, as simple as "above-peer growth + solid 2016 + 13x P/E = screaming buy." There are some near-term concerns, certainly, and a question as to how much improvement Knoll can drive on the margin front. Still, I think KNL remains too cheap.
Staying Long, Long Term
KNL's fellow office industry manufacturers have rerated as well over the past few months, which admittedly pulls down valuation on a peer basis. An in-line ~14x EPS multiple to 2016 EPS probably puts fair value in the $23-$24 range, admittedly not a ton of upside from this point.
But I'd still argue for at least a modest premium to peers, and it's not as if Knoll is headed for a substantial slowdown in growth in 2017. There should be some modest help from Rockwell and the recently acquired Vladimir Kagan, which drove only a few million in sales but should benefit from Knoll's distribution.
Coverings will lap more difficult comparisons in 2017, which should allow for a return to growth in that high-margin segment. Knoll, meanwhile, has reached a point where it might be considered underlevered, and there should be room for a dividend hike in December (with the stock already yielding 2.7%).
More broadly, at the risk of becoming overly attached, I simply like the Knoll story. The company clearly is operating well; I like and trust management, and there's a clear "wonderful company at a fair price..." argument here, to paraphrase Warren Buffett. I still see fundamental value in the ~$25 range (mid-teen multiple to ~$1.70 in 2016 EPS), and while ~12% upside might not seem terribly attractive given cyclical concerns at the moment, that valuation isn't based on peak or near-peak earnings, either.
This simply looks like a good company to own, at a price that's fair (if not better). And if Knoll continues to perform like it has, the stock price will reflect that performance, at some point. Near- to mid-term industry concerns aside, I didn't see any reason in the Q3 results to expect Knoll's performance to change - or to even consider exiting my position.
Disclosure: I am/we are long KNL.
I wrote this article myself, and it expresses my own opinions. I am not receiving compensation for it (other than from Seeking Alpha). I have no business relationship with any company whose stock is mentioned in this article.