Wabash National Corp. (NYSE:WNC) designs, manufactures and sells standardized and customized truck trailers and related products.
The last three years have been great for WNC as sales, operating profit and EPS all grew. Operating margins for the last 12 months have been in the double digits.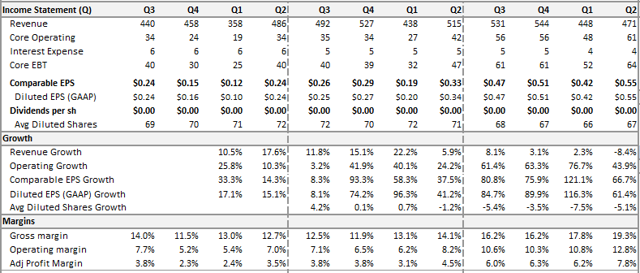 As the September investor presentation slide shows, management has set ambitious goals. It plans to increase revenues by 50% while maintaining double-digit margins and returns on capital.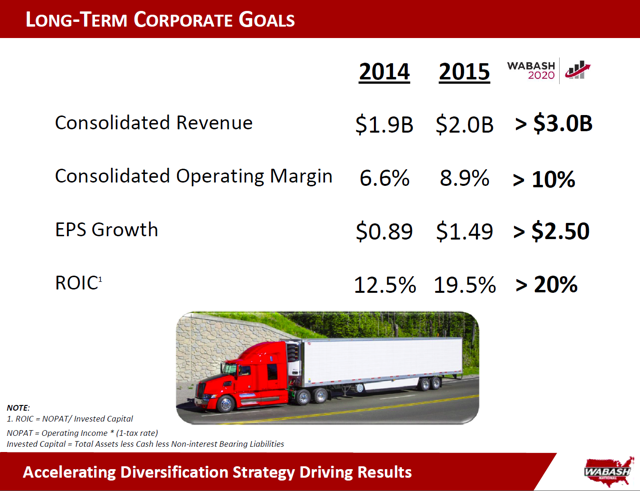 Source: Company Investor Relations
The company has come a long way from the dark days of 2009. As the table below shows, sales between 2006 and 2009 dropped -74%; the company went from profitable to consistently loss-making (2008, 2009, 2010) while the stock dropped to under $1.

If you look further back, you will see the company went from profitable in 2000 to loss-making again in 2001-2003. Obviously, the company is cyclical and its future performance will depend on the broader economy and industry fundamentals. In the last downturn, sales of trailers dropped from 66,000 units in 2006 to 16,000 units in 2009. During the last fiscal year (2015), unit sales were 66,750 while the current trailing 12-month figure is 63,850. Management outlook for 2016 is 60,000-62,000 with revenue "flattish to down slightly," but adjusted EPS at $1.80-1.90 (vs. $1.49 in 2015). In order for that to happen, margins will have to be better than last year. Street estimates for 2H16 are $942m in sales and $100m in operating profit for a 10.6% margin (vs. 10.4% for 2H15).
In 2Q16, backlog and both sales quantity and per unit price decreased. Backlog actually dropped for the second quarter while the trend continues to get worse (+52%, +31%, +39%, +9%, -8%, -22%).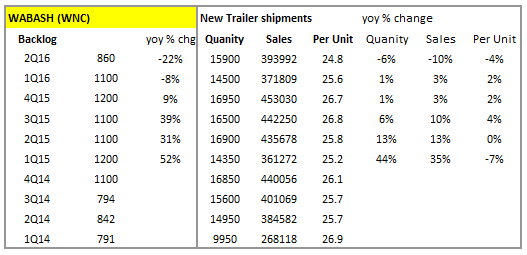 Truck tonnage continues to rise with a one-month drop in August.
But trailer forecasts show a decline from 300,000 shipments/production to under 250,000 in 2017.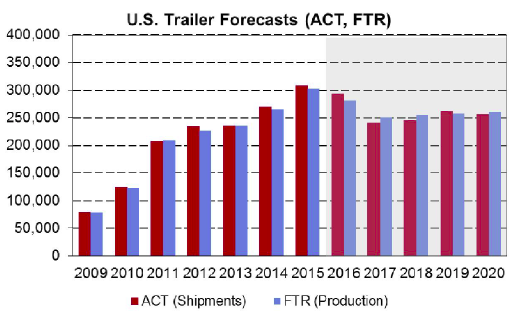 Source: Company Investor Relations
In September, the WSJ published a piece on how heavy duty truck orders are down. Uncertainty regarding the economy has resulted in a sluggish freight demand. If we look at the numbers from FTR here and here, we see that trailer orders are doing even worse!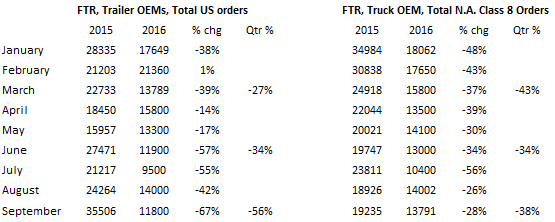 Source: FTR
Notice the acceleration in the drop over the last four months versus 2015. This quarter, trailer orders are down -56%!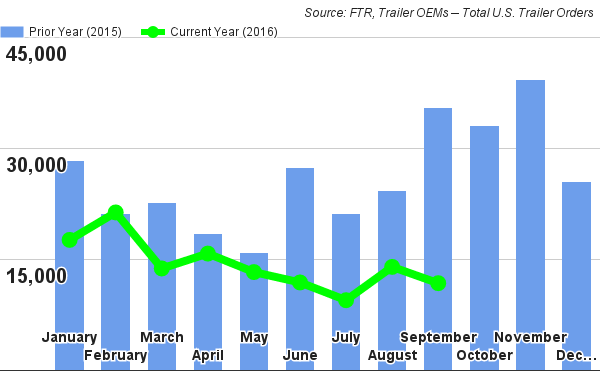 Now, if it weren't for this cyclicality, then based on mid-guidance of $1.85, it would not be hard to see the stock valued at $20, however, given what appears to be the beginning of an industry-wide decline investors need to be cautious.
Personally, I have been long the stock, but have decided to reduce my position based on the above. The company is reporting earnings today after the close. Investors should focus on backlog, margins and listen in on what management has to say about outlook. My view is that the numbers should tell most of the story and so I will be putting a lot more weight on the data than anything else.
Disclosure: I am/we are long WNC.
I wrote this article myself, and it expresses my own opinions. I am not receiving compensation for it (other than from Seeking Alpha). I have no business relationship with any company whose stock is mentioned in this article.