Real Estate Investment Trusts have been one of the best performers this year with REITs of all sizes rising strongly in value. Residential, retail and industrial REITs are all looking back on a robust year in terms of stock market performance. One company that has done particularly well is industrial REIT STAG Industrial, Inc. (NYSE:STAG) whose shares have risen a whopping 27.32 percent in 2016.
STAG Industrial, Inc. makes a strong case for itself: The industrial REIT sees strong core funds from operations that more than cover its dividend payout. In the second quarter, for instance, STAG Industrial pulled in $0.38/share in core funds from operations on a diluted basis which compares favorably to a cumulative dividend payout of $0.35/share. STAG Industrial is a monthly paying industrial Real Estate Investment Trust.

Source: STAG Industrial, Inc.
Fairly Valued?
When I last covered STAG Industrial at the beginning of August, I called for caution in light of the industrial REIT's stretched valuation on a run-rate core FFO basis (STAG Industrial's shares were changing hands for $25). I had this to say at the time:
"STAG Industrial again released good second-quarter financials, there are no complaints here on my side. However, despite strong core funds from operations, I think that the industrial REIT has become too expensive as an income vehicle for the long haul, and that risk is not attractively priced right now. STAG Industrial's shares are selling for ~16.4x Q2-16 run-rate core funds from operations. I'd say income investors better wait for a pullback into the $22-23 range before buying."
Read also: "STAG Industrial: Too Expensive."
STAG indeed dropped to ~$22 at the beginning of the month as part of a wider correction in the REIT sector, but has since recovered to $23.50. If you bought the dip, congratulations.
That being said, though, I think STAG Industrial is about fairly valued on a core FFO basis now.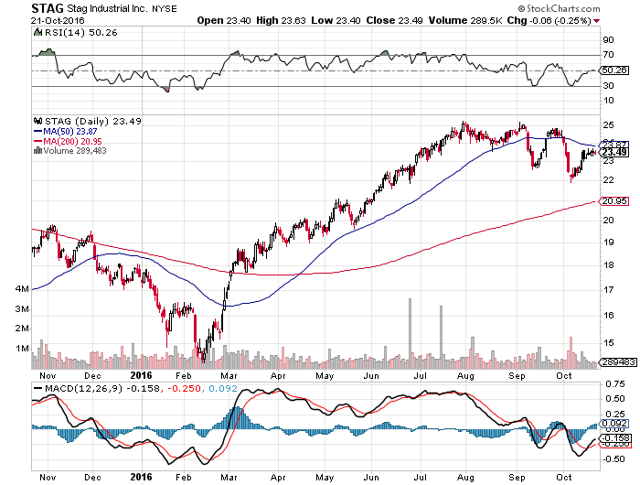 Source: StockCharts.com
Based on today's share price, STAG Industrial's shares are selling for ~15.5x Q2-16 run-rate core funds from operations, which I consider to be a fair price to pay. Considering that STAG Industrial is a cyclical REIT play, I wouldn't be comfortable paying a lot more than that. However, the company is an interesting REIT play to buy on dips should equity markets sell off.
Since STAG more than covers its dividend payout with core funds from operations, the REIT has some potential to hike its dividend, though I wouldn't want to hold my breath for it. An investment in STAG at this point yields just about 6 percent.
Your Takeaway
STAG Industrial is a monthly payer, which makes an investment especially appealing for income investors. I like the company a lot, and think management has done a good job growing the REIT's industrial property portfolio. Further, the Real Estate Investment Trust has a high occupancy rate of ~95 percent, and retains some potential to improve its capital efficiency. On the other hand, shelling out ~15.5x run-rate core FFO for a cyclical REIT play is a fair price to pay.
If you like to read more of my articles, and like to be kept up to date with the companies I cover, I kindly ask you that you scroll to the top of this page and click "follow." I am largely investing in dividend paying stocks, but also venture out occasionally and cover special situations that offer appealing reward-to-risk ratios and have potential for significant capital appreciation. Above all, my immediate investment goal is to achieve financial independence.
Disclosure: I/we have no positions in any stocks mentioned, and no plans to initiate any positions within the next 72 hours.
I wrote this article myself, and it expresses my own opinions. I am not receiving compensation for it (other than from Seeking Alpha). I have no business relationship with any company whose stock is mentioned in this article.