Regions Financial (NYSE:RF) has been a solid outperformer over the past six months, as it has been up roughly 40% versus a 11% higher financial sector ETF (NYSEARCA:XLF). The outperformance has been primarily driven by the announcement of several initiatives to generate positive operating leverage that has raised the expectations of a reduced valuation gap with peers. Q3 results were also very constructive for the bank as it reported total revenues of $1.4 billion and a EPS of $0.24, both coming ahead of the market consensus. After a period of outperformance, we believe the Regions will trail the market, and think that the stock is a hold since the upside potential is not compelling enough at this point.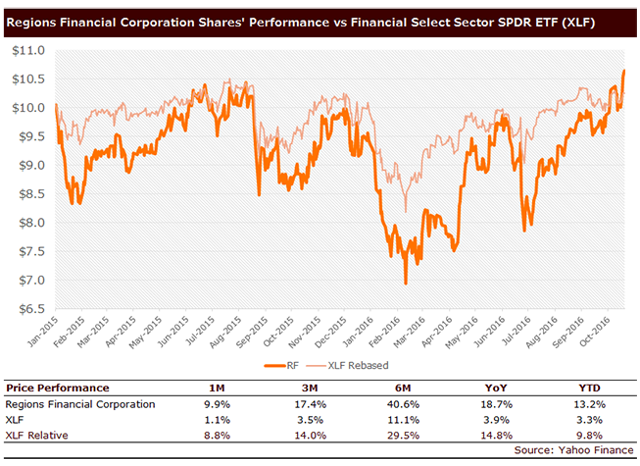 Regions earlier had announced its new cost savings plan which included a cut of $300 million in expenses (or 9% of its core expenses). As much as 40% of this had been expected to be realized this year. The management revised its guidance for additional $100 million during 3Q earnings conference, taking the total amount in planned cuts up to $400 million that represents 11.5% of the adjusted expenses base. While this at first seems positive for the long-term outlook in Regions, the management's attribution the additional cost savings to low rate low growth environment makes a little bit pessimistic about future volume growth.
In 3Q faster than expected top-line growth was mainly driven by a stronger fee generation. On a year-to-date basis, Regions has seen its non-interest revenues rising by 4.8% y/y, thanks to a number of items that posted double-digit growth this year including capital markets, investment services, card and ATM fees, and insurance. The bank recently announced the acquisition of First Sterling Financials which is asset management company which will believe further improve the bottom line growth. M&A advisory unit of the bank has also done quite well as it has been the key driver of the higher capital markets revenues. The management expects the share of non-interest income in the corporate banking unit to be up to 40% from the current 25% in the foreseeable future. We believe that supportive industry trends will continue to help the bank to grow its revenues, however, given the volatile nature of the business, we need to see more improvements to build an investment thesis at this juncture, which Regions appears to lack in our view.
Since the global financial crisis that left the bank with a great credit issue, Regions has undergone a major transformation under the leadership. The bank had lowered its total loan portfolio from a peak of $99 billion in 2008 to a trough of $75 billion in 2013. That said, the growth has been particularly over the past two years and Regions has lagged many of its peers. Regions has not appeared to be taking the advantage of the economic recovery as well as the favorable industry trends. For instance, the average loan book has only slightly improved during the first three quarters of the year by 0.8% y/y versus an industry average of 6%. It is very likely that loan growth will remain soft in the upcoming period due to decelerated business lending and muted customer demand.
We are largely optimistic about a margin widening in Regions, and think that a rate hike in December would translate to earnings so quickly that the bank will add $15 million in interest income, give or take. Accepting that a rate hike is a substantial margin driver in the short run, we should note that the evolution afterwards may not be as expected. Regions experienced an q/q acceleration of 14 bps in Q1 2015 in NIM which was followed declines of 4 bps and 9 bps in Q2 and Q3, respectively.
As we are in late-mid stage of the credit cycle, we expect to see some volatility in asset quality metrics in Regions stemming from larger dollar commercial credits. We believe that energy related issues are now behind across the board, there is some stress to be seen in certain segments such as commercial real estate. We estimate that NCO rate would be modestly up in Regions over the next years and average 0.4% of total loans and leases.
Overall, we are of opinion that Regions could add additional 125 bps to its ROATCE owing to the cost saving initiatives and stronger fee generation, that corresponds to a normalized ROATCE of 10.2%. We use this as an input in the Gordon growth model that incorporates with a cost of equity of 9% and a long-term growth rate of 3%. Ultimately, our price target is $11.1 (1.2x P/TBV based on 2017E TBV of $9.3) that only implies 4% upside potential for now. We believe that this is not compelling enough to rate the stock as a buy after an extremely strong six-month performance.
Disclosure: I/we have no positions in any stocks mentioned, and no plans to initiate any positions within the next 72 hours.
I wrote this article myself, and it expresses my own opinions. I am not receiving compensation for it (other than from Seeking Alpha). I have no business relationship with any company whose stock is mentioned in this article.