After a long, interesting, fast-moving and profitable trade - EXCO Resources' (NYSE:XCO) 2018 and 2022 issues are near a point of being "SELL" ready; that is, the bonds collectively have appreciated to nearly what I believe them to be worth in any go-private or total enterprise monetization transaction. Given that EXCO has recently (T24M) worked down the size of both issues, including a recent tender offer, and given that EXCO now has substantially all the permission it needs (via recent collection of consent solicitations) to execute any strategy it deems fiduciary - I believe ownership of the 2018 and 2022 issues has become infinitely more binary and will continue to do so in time. With now what I believe to be the single largest buyer of EXCO bonds "out of the market," EXCO Resources itself, there is considerably less liquidity available to bond owners as well as considerably less firm pricing demand underneath pricing. Both are contributing factors (in addition to the current market pricing and yield collection of the issues - which skews the risk/reward weighting of the issues) to my cautiousness towards holding too much longer into time.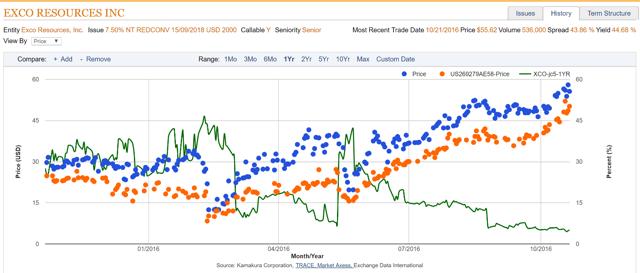 But don't read this EXCO update as negative. Nothing about my existing, standing-thesis has changed. The situation at EXCO has simply become ever more binary; and that's, again, not necessarily a bad thing. Only, binary isn't for everybody (nor should it be as I'm certain "binary" isn't appropriate for all parties). With that in mind, I try to make the case for considering a SELL of EXCO debt into anything of higher pricing. Enjoy the screencast.
Disclosure: I/we have no positions in any stocks mentioned, and no plans to initiate any positions within the next 72 hours.
I wrote this article myself, and it expresses my own opinions. I am not receiving compensation for it (other than from Seeking Alpha). I have no business relationship with any company whose stock is mentioned in this article.