The US$ gold price is in a strong support zone and the US$ index is probably topping out again with a triple top around the 99-100 level. These are weekly charts:
COMEX December Gold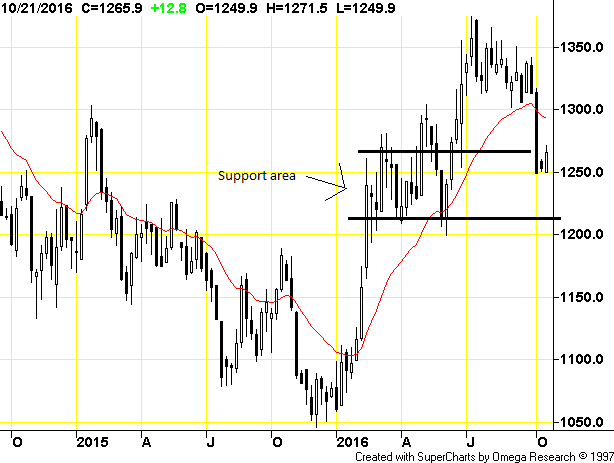 US$ Index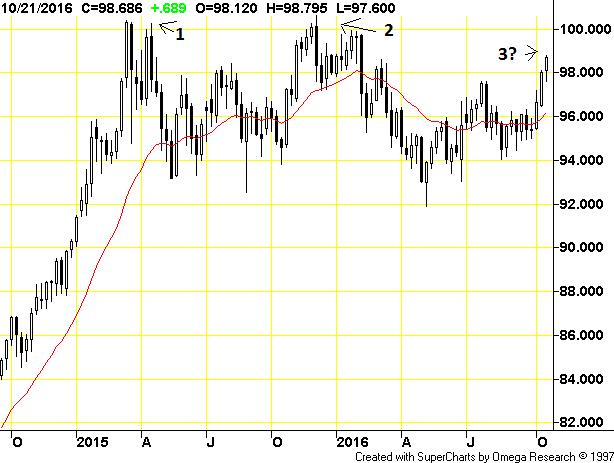 With the gold stocks, I want to see the HUI index take one step lower to the 180 area or base build longer above 195, either way a lower risk entry point for new positions.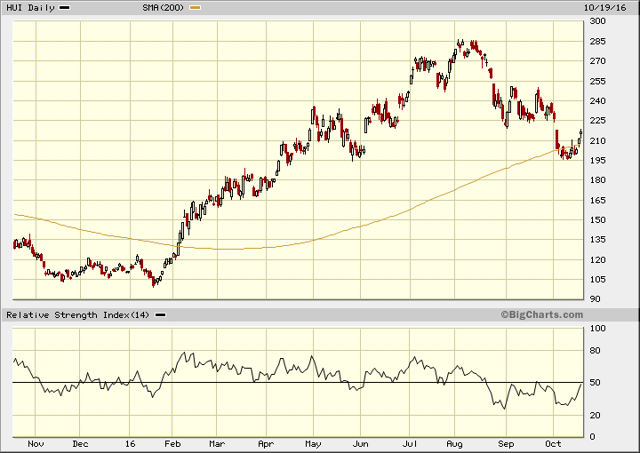 In my blog of Oct 4th, I commented that gold could correct further and fill the gap between $1,260 and $1,280. December gold actually went a bit lower to around $1,255.
I also noticed strange action in the bond market. I now believe I know what was behind that, which is a shift by the Fed to move to what it calls a "high pressure economy." Obviously, the big Investment banks knew that was coming, so were selling bonds with the idea of buying back cheaper. The high pressure economy is not official policy yet, but it will be. It enables the Fed to slither out from beneath the rock but still remain in a hard place.
I had some previous articles on gold stocks Kinross (NYSE:KGC), New Gold (NYSEMKT:NGD) and B2Gold (NYSEMKT:BTG) early in the year, so an update on these.
New Gold
New Gold has received negative press and downgrades because of a number of upward revisions to capex on its Rainy River project. The latest was US$105 million upward revision in early September.
New Gold says there will be no more, but the market does not have that confidence.
We are up considerable from a $2.21 buy price, so I am comfortable with the risk and will wait it out. Mainly because Rainy River is such a substantial asset that will almost double New Gold's production profile.
The company's consolidated 2016 gold production guidance is 360,000 ounces to 400,000 ounces, and Rainy River alone is expected to produce an average of 325,000 ounces of gold annually. Production at Cerro San Pedro in Mexico is expected between 60,000 and 70,000 ounces this year and that will drop off as the mine is reaching its end of life with a transition to residual leaching. Rainy River will more than make up for that as well.
B2Gold
Things are progressing very well with B2Gold with record gold production and record gold revenue for the third quarter and first nine months of 2016 indicated by its Q3 report.
2016 third-quarter highlights:
Record quarterly consolidated gold production of 146,686 ounces, 6 percent (or 7,988 ounces) above budget and 18 percent (or 22,315 ounces) greater than the same period in 2015.
Record gold revenue of $193 million on record sales of 145,029 ounces at an average price of $1,331 per ounce, an increase in revenue of 39 percent (or $53.7 million) over the same period in 2015.

Masbate mine's 2016 annual production guidance increased to between 200,000 ounces and 210,000 ounces of gold (up from its original guidance range of between 175,000 ounces and 185,000 ounces of gold);

Otjikoto mine achieves record quarterly production of 47,564 ounces of gold.

The company is now on track to meet a revised annual consolidated production guidance range of between 535,000 ounces and 575,000 ounces of gold in 2016 (up from the original consolidated guidance range of between 510,000 ounces and 550,000 ounces of gold).

Consolidated cash operating costs/all-in sustaining costs are expected to be below or near the low end of the company's annual cost guidance range of between $560 and $595 per ounce and between $895 and $925 per ounce, respectively.

Construction of the Fekola mine is progressing well, on schedule and on budget, and is expected to commence production in the fourth quarter in 2017.
Kinross Gold
Kinross is my long idea for 2016. I had a stop/loss at $4.40 and am now buying back the position under $4.00.
Things appear to be progressing as planned, and Kinross expects to be within its 2016 guidance range for production (2.7 million to 2.9 million AuEq ounces), production cost of sales ($675 to $735 per AuEq ounce) and all-in sustaining cost ($890 to $990 per AuEq ounce).
The company did hit a bit of a speed bump in Chile. The environmental authority began a legal process that sought to close Maricunga's water pumping wells in March. The area has seen several years of drought conditions and water use at the mine is getting blamed. Kinross said it vigorously opposed the authority's actions and has various appeals pending with Chile's environmental tribunal.
The company said the suspension of operations at the mine, originally scheduled for the fourth quarter, was unlikely to affect its 2016 production and cost forecast. The Maricunga mine accounted for 8 percent of the company's total gold production in 2015. There are also some rumblings, saying Kinross is looking to retreat from Chile and has put its main assets there up for sale.
Whether Kinross does or not, there is little sense speculating without knowing what assets and prices. The company is under no pressure to sell so it is not as if it has to accept fire sale prices.
I believe these three gold stocks will continue to participate quite nicely in the next leg up in the bull market.
Oil market coming back into balance
What I find of real interest now is the oil market. Prices have recovered back to the resistance area around $50, and I think will soon break higher to test $60. We might get a small pullback first, but I am not concerned much about that. This chart from GMP Richardson shows the commercials long position is the most bullish since 2014. These so called in-the-know traders see higher prices coming. I have to agree and we can see this in the other charts.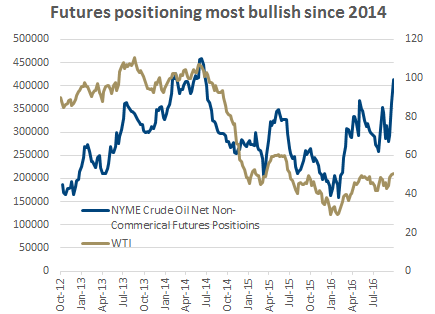 When you look at oil rig counts, we can see they are about as low as they get in North America; this will eventually mean less supply as current oil wells decline and not enough new ones are drilled. OPEC keeps going full bore, but eventually the lack of drilling everywhere else will be felt.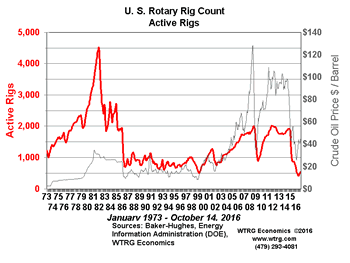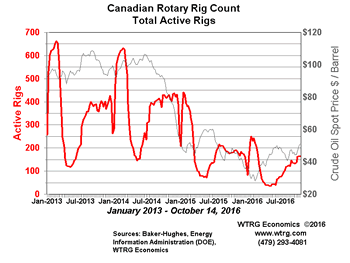 The see-saw action in the Canadian rig count has to do with winter freeze up and thaw. The international rig counts shown below are down to levels last seen in 2006.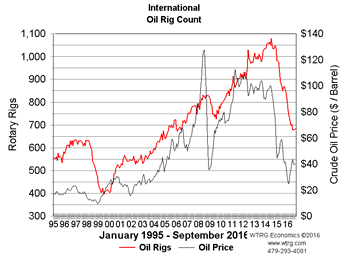 What is important to understand and what most analysts miss is the huge difference in the level of demand now compared to the late 1990s when North American rig counts were this low. At that time, the world was using about 65 million bopd and now we are using 95 million bopd.
Conventional oil wells decline about 8% per year. However we have turned to much more offshore that now accounts for 35% of world production and the decline rate there is around 20%. The shale boom in the U.S. is important because the decline rates are so high, at around 50% to 75% in the first year of production.
My point is that more so than ever, oil companies have to keep drilling to keep production levels up, and right now, they are not. This is further compounded by the fact we use oil at around a 50% higher daily rate.
This means the oil market will come back into balance quicker than most expect, and I actually believe the market will be in supply deficit by 2018.
Another important factor is that higher oil prices will not mean more drilling. Oil companies must first gain confidence that prices will remain higher, and in many cases, they will spend one to two years repairing their balance sheets before increasing expenditures for drilling.
Yet another indicator of supply falling off is the VLCCF rates or what some call "floating storage." You can see the daily spot rates soared in 2015 with the oil glut, but are back down to 2014 levels.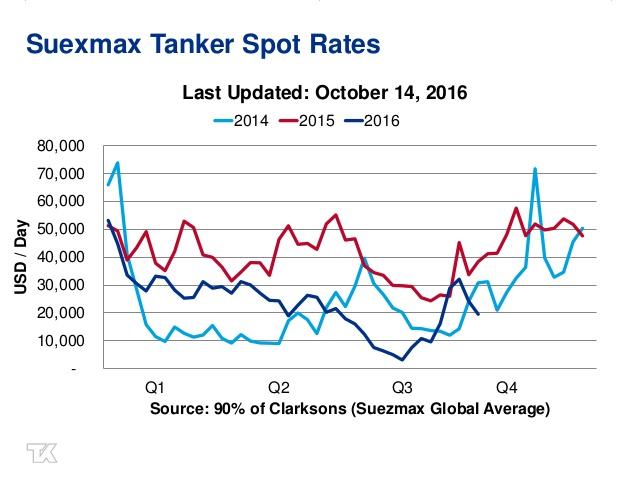 So what stocks to consider.
I have already suggested a pipeline and we are up nicely
Pembina Pipeline (NYSE:PBA)
JPMorgan analyst Jeremy Tonet initiated coverage of Pembina ($40.41) last Thursday with an "overweight" rating and a $47 per share price target. Pembina's shares have risen almost 50 percent since January. "We view Pembina as a core Canadian energy holding considering the economically irreplaceable assets, significant vertical integration and scale, leading financial flexibility and visibility," Mr. Tonet said in a research note. He said Pembina "won the lottery."
Pembina will release Q3 results November 3rd, and if they are half as good as Q2, I will be happy.
Pembina placed over $1 billion in new assets into service during the first six months of the year, including RFS II, Musreau III and the Resthaven expansion.
Generated second-quarter and year-to-date earnings of $113 million and $215 million, a 163 percent and 32 percent increase, respectively, over the same periods of the prior year.
Realized adjusted EBITDA of $291 million in the second quarter and $560 million year to date, 28 percent and 19 percent higher than the second quarter and first half of 2015.
Cash flow from operating activities increased by 31 percent and 65 percent to $273 million and $544 million while adjusted cash flow from operating activities increased by 33 percent and 14 percent to $235 million and $444 million compared with the second quarter and first half of 2015.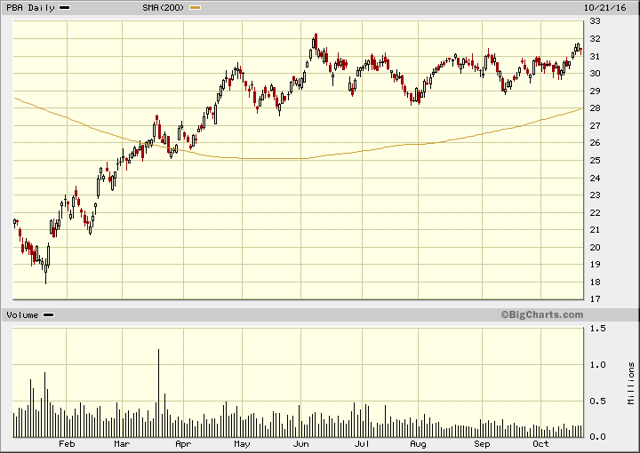 We are up almost 50% on the stock and collecting a nice 6.6% dividend yield. If you want to move the stop/loss up, I would consider $27.50, just below the 200 day MA.
I have two suggestions on oil stocks to consider. A high leverage play to rising oil, but risky and a conservative dividend play.
Whiting Oil NY (NYSE:WLL)
Recent price $8.80
High leverage play
Shares outstanding 226 million approximately
Whiting is a top crude oil producer in North Dakota and operates substantial assets in northern Colorado. Its largest projects are in the Bakken and Three Forks plays in North Dakota and the Redtail Niobrara play in Colorado. This accounts for 99% of the company's assets as it sold its North Ward Estes properties in July for $300 million with a potential $100 million contingency payment dependent on higher future oil prices.
The company is very focused and probably why it is a top performer in the Bakken. For wells completed between June 2015 and May 2016, the initial 90 day average production rate is almost 1,000 boepd.
Most of the information here is derived from the corporate presentation.
Production in Q2 2016 totaled 12.2 million barrels of oil equivalent (MMBOE), an average of 134,245 barrels of oil equivalent per day (BOE/d). Its guidance for Q3 is between 10.5 and 11.1 MMBOE with full-year 2016 between 46.5 and 47.3 MMBOE.
At these oil prices, the company has been losing money and production has been falling as it has curtailed capital expenditures. Yes, it is bleeding and lost $1.33 per share in Q2 and $0.84 per share in Q1. The company has not been profitable since 2014, but with good oil prices, it was earning $3 to $4 per share in 2011 to 2013.
My rough calculations indicate the company needs about $60 oil to be around break even. It has the financial flexibility to survive the next two years at low oil prices if it has to.
Whiting has $2.5 billion in bank credit good to 12/08/2019 and only $1.0 billion drawn, so it has room and flexibility here. No bond maturities until 2018 and no large maturities until 2019.
Oppenheimer's analysts Fadel Gheit and Luis Amadeo agree that the financial flexibility is important and they believe Whiting is an attractive takeover target.
Current long-term debt is at $3.78 billion as it has paid down $1.15 billion YTD. It has 58% of its production hedged in 2016 with three-way collars. The highest price the company could get would be $74.40 per barrel, and I doubt oil gets that high this year. The downside protection can vary with the price of NYMEX and the bought and sold puts. It gives the company protection to $43.75, and if oil goes below that, you would basically add $10 to the oil price (difference of strike price of the two puts).
Whiting Oil will keep bleeding with these low oil prices, but that is already baked into the stock price. I would not consider the stock unless you believe as I do that oil prices will move back up to $60 and higher over the next year or two.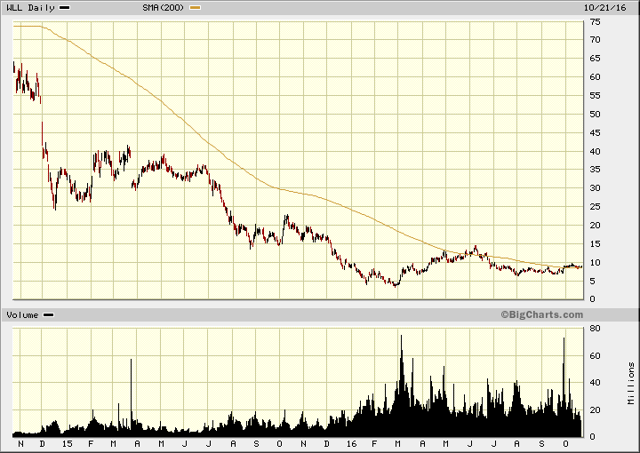 On the chart we've seen a good wash out in February/March when oil had dipped to $30, note the spike in volume. There was another volume spike the end of September (Q3 end), and the stock popped higher, so substantial buying came in. I also note we are now just above the 200-day MA, and the last time oil was at $60, the stock was between $15 and $20. We need to see a higher high (above $15) to confirm a new uptrend.
There is another interesting way you could play this and that is with a long-term call option. I like the January 2018 $10 call around $2.30. This way you have only $2.30 per share in risk. If the oil price does not recover, odds would be a loss of $2.30 on the share price anyway.
A move in oil to around $60 could easily move Whiting to $15 per share and the call would be worth $5 and you would gain just over 100%.
Northern Blizzard (OTC:NBZZF)
A Canadian oil play that is more conservative, with high dividend I like is Northern Blizzard.
- Recent price C$3.67.
- The stock mostly trades in Canada under symbol "NBZ," so I refer here to the Canadian dollars.
- Shares outstanding 119.5 million.
NGP/ Riverstone 80.8 million or 71%
Management 5.0 million or 4%
- Dividend C$0.04 per month
- Yield 13.3%
As you can see at 67%, Northern Blizzard is backed by two world-class private equity firms that helped it to go public in 2014 at $19 per share, although I will say their timing was not good.
World-Class Resource Base in Western Canada Basin - Alberta/Saskatchewan Border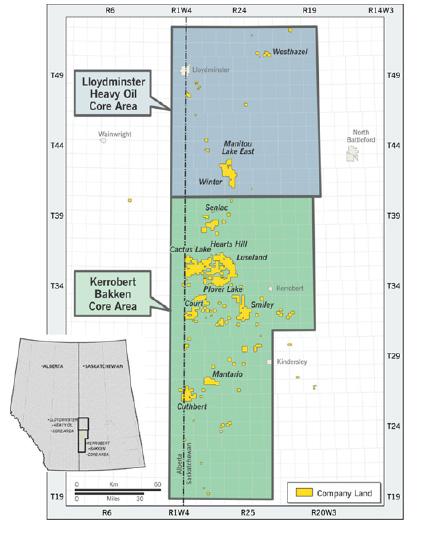 Approximately 2.1 billion bbl DOIIP(1) with ~12% recovered.
• Low corporate decline rate of 17% - trending lower.
• Long reserve life index (2P = 21.9 years; PDP = 8.2 years).
• Large inventory (>2,000) of low-risk drilling locations with good capital efficiencies.
Northern's asset base has one of the lowest decline rates in the industry, and this means lower capital expenditures to maintain.
Low corporate decline rate of 17% - trending lower.
Long reserve life index (2P = 21.9 years; PDP = 8.2 years).
The stock is trading like the dividend will be cut, and actually, I think it will have no problem maintaining it with current cash flow and earnings. According to its Q2 report, Northern Blizzard's ratio of cash dividends paid plus capital expenditures divided by funds from operations was 34% for the second quarter of 2016. Assuming all of the dividends were paid in cash, the ratio for Q2 2016 would have been 64%.
A lot of the dividend (about 70%) is given out as stock so it has not been a drain on the balance sheet. However, it is a cause of share dilution and may not go on for another year if the oil price does not recover.
One of the main reasons for its strong financial position was a well-timed hedge position. Over 60% of current production for 2016 is hedged at WTI US$79.50. For 2017, 10,000 bbl/d is hedged at WTI $66.51, so still about 50%. Q2 production was 18,207 boepd, and Northern is forecasting Q4 production at 20,000 boepd and for the year (2016) at 19,000 boepd.
This makes another important point, unlike most oil companies, Northern's production is actually increasing. This is driven by its 2016 capital program of $55 million that includes the drilling of 46 (42.3 net) wells in the third quarter and is focused on the Cactus Lake, Winter and Coleville areas.
A dividend cut does not concern me, and I am factoring in a 50% cut, so the yield could end up at 6.5%, which is still very good. Ironically, I have noticed that most oil stocks in a similar situation that end up cutting the dividend see their share price rise as the market sees a stronger financial future because of the smaller drain on the balance sheet.
Currently Northern is in good financial shape and its strength is demonstrated by:
Significant financial flexibility with $30.5 million of cash and an undrawn $300 million credit facility.
Bonds that mature in 2022 of $276.3 million (U.S.) with no maintenance covenants.

A strong hedge position with realized gains on physical delivery and financial derivative contracts of $55.3 million for the six months ended June 30, 2016; approximately 60 percent of the company's expected 2016 production is hedged.

Rigorous cost controls that resulted in a 6 percent year-over-year reduction in operating costs per barrel; operating costs per barrel have decreased 22 percent since the fourth quarter of 2014 when cost controls were initiated.

Long-life, low-risk reserves and production with an estimated corporate decline rate of 17 percent.

Over 70 percent of production has a positive operating netback at a West Texas Intermediate price of $30 (U.S.) per barrel.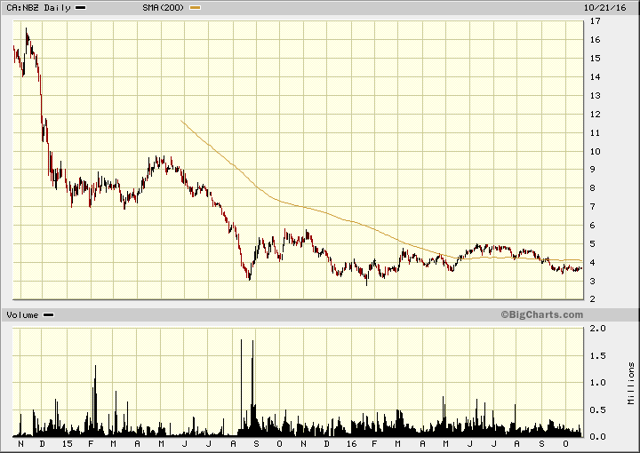 The stock is not trading on the 13% dividend yield, but more so if oil was still at $30. For the past 12 months, the stock has built what I call a Stage 1 base between about $3.50 and $5.00. It is trading near the bottom of that range and offers exceptional value. It has not responded to the recent rally in oil to $50 and makes for even a better deal in my books.
Disclosure: I am/we are long NGD, KGC, NBZZF, PBA, BTG.
I wrote this article myself, and it expresses my own opinions. I am not receiving compensation for it (other than from Seeking Alpha). I have no business relationship with any company whose stock is mentioned in this article.