Hoping to capitalize on what could be a turnaround for tech IPOs, the financial cloud based software company, BlackLine (NASDAQ:BL) has filed for an IPO, which is expected to hit the market at the end of the week.
They Need The IPO Proceeds
Per their balance sheet, BlackLine has cash and cash equivalents of $13.6 million, which represents a cash ratio of 0.17. Making matters worse is that their current assets are far below their current liabilities, showing us that there is a fairly significant liquidity issue. The prospectus states that the company will use the IPO proceeds to pay off the total balance under their credit facility, as well as use the rest for general corporate purposes. Below you can see what their consolidated balance sheet will look like following IPO proceeds.

Source: BlackLine's S-1
As you can see, their cash position increases 6.3X and their long-term debt is wiped clean. However, and this is important, BlackLine financed their acquisition of Runbook via an additional $30 million of debt, which is not shown in their pro forma. So, if their cash is increased by $72.2 million, and they pay the $34.4 million on their long-term debt, that would account for $106.6 million of the IPO proceeds. If we assume they sell their shares at the midpoint price of $14, then they will raise approximately $107.3 million. In this scenario, BlackLine will have to either carry the long-term debt or sacrifice their liquidity. However, if BlackLine can get their offering price to $15 per share, and/or if the underwriters exercise their option to purchase additional shares, then the company would raise enough money to possibly clear all long-term debt.
Margins Are Still Weak
BlackLine is seeing very strong revenue growth, so we are obviously going to give them some leeway on their margins. I'm estimating total revenue for 2016 to come in around $124 million, which is nearly a 48% increase from the year prior. Nevertheless, if they cannot turn positive cash flow then they will burn through their IPO proceeds rather quickly. For 2105, BlackLine held a pretty solid gross profit of 73%, which then gotten chewed up by heavy operating expenses, especially sales and marketing, resulting in an operating loss of nearly $35 million. 2016 has seen some slight progress in reversing their negative operating income, which was -$18 million on total revenue of $55.6 million for the first six months. This represents a marginal improvement due to a small increase in gross profit and small decreases in R&D and general and administrative costs. With IPO proceeds, I am expecting BlackLine's cash to be below $86 million with the possibility of still carrying an 8-figure debt balance. This indicates that BlackLine may burn through their proceeds rather quickly and need additional financing sooner than later.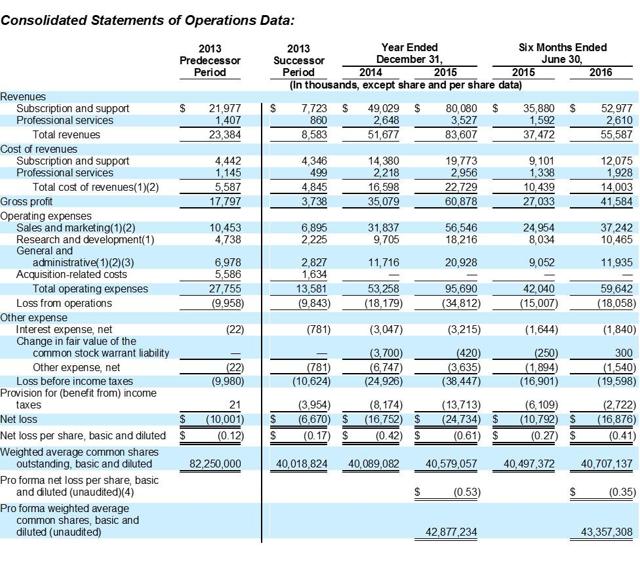 Source: BlackLine's S-1
The Runbook Acquisition Is Still Fresh
Less than two months ago BlackLine completed their $34 million acquisition of financial software company, Runbook, to improve their connectivity and integration to SAP. Since the Runbook acquisition doesn't meet the threshold under applicable SEC rules for financials, we are left with no pro forma statements in the prospectus. This leaves us with nothing substantial in understanding the synergies of this acquisition. Being a new acquisition and having no pro forma financials, we are left wondering what kind of impact the $34 million investment will have across both top and bottom line figures.
Conclusion
The tech IPO market has struggled but perhaps is on the upswing, especially with the recent Nutanix (NASDAQ:NTNX) IPO which went soaring. Nevertheless, it is always difficult to price these IPOs, especially one like this with so much uncertainty. I'm expecting to market cap on BlackLine to float around the $650-700 million range with a lot of volatility. An interesting IPO but not for the risk averse.
Disclosure: I/we have no positions in any stocks mentioned, and no plans to initiate any positions within the next 72 hours.
I wrote this article myself, and it expresses my own opinions. I am not receiving compensation for it (other than from Seeking Alpha). I have no business relationship with any company whose stock is mentioned in this article.