Huntington Ingalls (NYSE:HII) has rallied significantly since I first covered the company all the way back late in 2015. The company was a good bet then, given that the company was trading near historically low trading multiples (EV/EBITDA, P/E) without any clear-cut reason as to why. That price disconnect has long since evaporated, given the 50% bounce in the company's equity pricing since the end of 2015.
As a result, it isn't a surprise to see that the company is now back well above average cyclical earnings pricing. I've grown a bit bearish on the company as a result, especially when coupled with a news event that might potentially impact Huntington Ingalls long term.
New Center For New American Security Report
This news item may have been missed by many of those involved in Huntington Ingalls. Even after I provide some detail, I think the gut reaction of many reading it is to write it off as a non-event, but it does represent a growing sentiment within the government when it comes to the Defense budget. That news is the release of another report by the Center For New American Security, recommending (as it has often over the past several years) changes to the Defense budget.
For those unaware, the Center For New American Security is an "independent" think-tank based in Washington D.C., but its leaders have traditionally found themselves more favored by Democratic administrations. Obviously, with a Hillary Clinton presidency looking more and more likely, it is worth considering potential policy direction in the White House.
For a little context on how intertwined this think tank is within Democratic administrations, Center For New American Security co-founder Michèle Flournoy served within high-roles in the Bill Clinton and Barack Obama administrations, including serving as the Under Secretary of Defense for Policy for Obama from 2008-2012, and then helped advise on his re-election run from 2012-2016. I wouldn't be surprised to see Flournoy as a candidate for a higher Defense position in a Hillary Clinton government.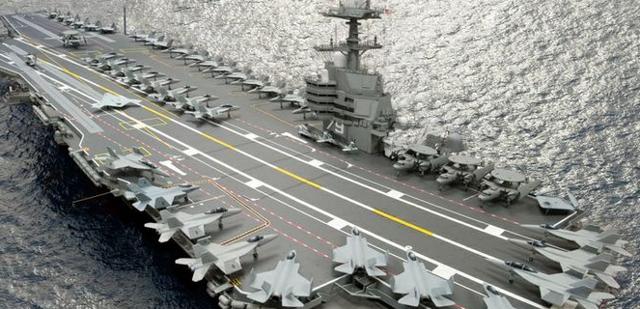 In particular, the recently released report calls for a "high-low mix" in technology spending, for example, by recommending purchases of older technology (F-16s, F-15s) while reducing buys of new technology (F-35s). This would allow the U.S. military to increase its number of platforms (aircraft, ships, etc.) while still reducing budget spending.
The thesis revolves around the fact that we are spending far too much money on cutting-edge weapons platform technology, when the vast majority of engagements that the U.S. Military will make does not call for it. Remember that over the past decade, the majority of U.S. strikes were against land targets that had little capability to retaliate against air targets. The new F-35 platform, despite being extremely expensive, would not have improved operating results in any meaningful way.
So why does this matter for Huntington Ingalls? The research firm recommends the complete elimination of the Gerald Ford-class aircraft carrier, which is set to be a key runway for growth for the company going forward. The massive ships are a step up in size (and cost) from older, smaller aircraft carriers of the past, and the expected revenue from the production of these carriers has been a big boost to the company's future prospects.
The Navy, in the report's opinion, is too focused on providing short-range aircraft with quick sortie turnaround. Against a formidable foe (Russia, China), these ships would be high dollar fodder for missile attacks. Instead, the belief is that instead the company should focus on longer-range platforms (B-21 stealth bomber, drones), which have extremely long ranges and don't need to be launched near targets.
Now, this isn't the first time the Center For New American Security has recommended this course of action, but given cost overruns in expensive cutting-edge military technology (see the F-35, along with Gerald Ford-class carriers), it is one that is starting to get more traction with both elected representatives and voting constituents. The U.S.S. Gerald Ford is now two years behind schedule, with $2.3B in cost overruns. See the below quote from Senator John McCain on the issue:
""The Ford-class program is a case study in why our acquisition system must be reformed -- unrealistic business cases, poor cost estimates, new systems rushed to production, concurrent design and construction, and problems testing systems to demonstrate promised capability," McCain said."
Remember that Huntington Ingalls is the sole builder and maintenance provider of aircraft carriers for the United States military, deriving 35% of its revenue from aircraft carrier contracts. While a large chunk of this is contracted in the short term, Huntington Ingalls needs the aircraft carrier to retain its relevance, and it needs to do its best to help get its programs back on track. Without improvements, the aircraft carrier remains on the chopping block in upcoming budget years.
For deep dive research on asymmetric risk/reward plays in the Industrial and Basic Materials sectors (particularly small and mid-caps), consider investing alongside me and other subscribers within Industrial Insights. Get cutting-edge information with proven results.
This new offering doesn't mean I will be cutting down on quality or my allocated time towards my free offerings on Seeking Alpha. Follow me (by clicking the "Follow" button at the top of this article next to my name) to receive general stock market research and commentary, especially on under-followed small/mid-caps across a wide variety of sectors and industries.
Disclosure: I/we have no positions in any stocks mentioned, and no plans to initiate any positions within the next 72 hours.
I wrote this article myself, and it expresses my own opinions. I am not receiving compensation for it (other than from Seeking Alpha). I have no business relationship with any company whose stock is mentioned in this article.