Last week I received an e-mail invite to purchase shares in an IPO just as a US court is about to rule to potentially shut the company down. Come again???
Let me rewind the VCR a little (I still haven't figured out how to rewind a DVD) and fill in the story with subtitles.
Movie Filtering Service - Good
On a Friday evening I occasionally enjoy watching a sci-fi flick. Call me conservative if you must, but I prefer movies which can hold true to their art-form without the gratuitous profanity, graphic gore and wanton licentiousness. I may be old-school but I appreciate movies for things like character development and plot.
Imagine how excited I was to find an online streaming service called VidAngel which would allow me to rent movies and apply any amount of custom filters to remove content which I felt was offensive.
Imagine my dismay when I found out that Disney (NYSE:DIS), a company which I thought was aligned with family values, was taking VidAngel to court in order to shut the service down. But not only Disney…add in Warner Brothers (NYSE:TWX) which is in the middle of a merger deal with AT&T (NYSE:T), Twenty-First Century Fox (NASDAQ:FOXA) and other heavy-hitters. Are the big studios really this angry over filtering and censorship?
My guess is that this is a money matter and not one of morality. VidAngel provides their movies for only $1 per 24 hour period if you want standard definition combined with your choice of filters. My first thought was how can VidAngel legally stream new movies - with or without filters - for only a buck? It seems they have found a creative loophole whereby they purchase movies out-right, sell you the movie for $20 and buy it back for $19 the next day. So technically speaking, you are purchasing a movie - albeit very briefly - and selling it back. But I can't see how the company, even though I love the filtering service, won't get shut down.
Think about it...Disney could put Twenty-First Century Fox out of business or vice versa. Disney could spend about a million dollars to buy up 50,000 copies of new Twenty-First Century Fox movies. Instead of re-selling, Disney could decide that they will let you assume ownership for 2 hours segments while you watch it streaming online. Suddenly, Twenty-First Century Fox is making only a million dollars per year in DVD sales and they go bust. Does it seem like the courts would approve of this? And that's probably why VidAngel is trying to shift the argument that this is a censorship issue and are bringing up strange arguments like how Disney is not shutting down websites displaying naked Disney cartoon characters. The reason is likely because this isn't a censorship debate.
Censorship Stock Offering - Bad
But I digress, back to the oddest stock offering I know. The studios are looking to the courts to provide a preliminary injunction shutting down VidAngel on October 31st. To me, I can't honestly see how VidAngel could win this. Imagine my surprise when just a few days ago I receive an e-mail from VidAngel that says this: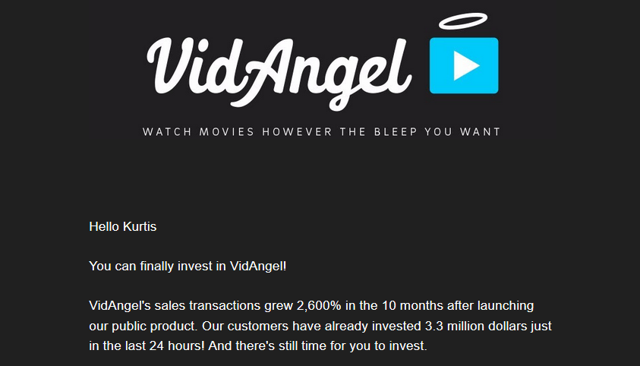 Uhh….what??? I thumb through the offering. They are offering shares at $3 apiece at a minimum purchase of 50 shares. Seems reasonable. But wait, couldn't this all come crashing down in like, I don't know, ONE WEEK! This is insanity. And what is the upside?
Again, I look at the financials. What is the money for? Then I find these lines:
"Net proceeds to the Company from this offering are anticipated to be $10,820,000, assuming we sell the Maximum Offering, and $4,720,000 assuming we sell the Minimum Offering, following the payment of offering costs."
"We intend to use approximately 94.40% of the gross offering proceeds if the Minimum Offering is sold or 96.18% of the gross offering proceeds if the Maximum Offering is sold to manage our business and provide working capital for operations. These amounts may be used to pay expenses relating to salaries and other compensation to our officers and employees."
Hmmmm… last minute 'grab the cash and dash'.
Company Financials - Ugly
But with high risk comes high reward - right? Buried deep on page 65 of the 78 page document I find some revenue and earnings figures: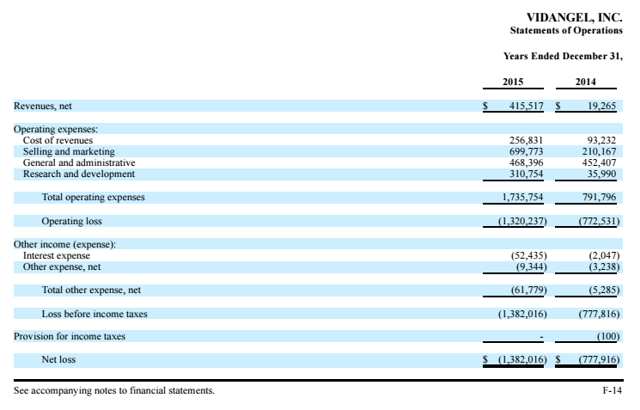 I know I won't be investing in this.
The company is going to be, more than likely, shut down. A week before the courts potentially decide to shut it down, an odd offering is made to VidAngel viewers. Is the money all being funneled into the court battle? No. The vast majority of the proceeds will be compensation of a potentially failed business venture. What about the 2,600% growth in the first 10 months after launching the product? Well seeing as they had revenues of $19,265 by the end of 2014, it would be difficult not to have massive growth.
While I will mourn the potential (I have to keep putting that word in) passing of an excellent film filtering service, I must also raise my eye-brows towards the bizarre last minute stock offering right before a court ruling potentially plucks the wings from VidAngel as they crash down to the ground.
Sorry VidAngel, I love your service but I just can't see how the business model can succeed. My only hope is that Disney will offer a similar streaming service in the future in the neighborhood of $5 per viewing.
Disclosure: I/we have no positions in any stocks mentioned, and no plans to initiate any positions within the next 72 hours.
I wrote this article myself, and it expresses my own opinions. I am not receiving compensation for it (other than from Seeking Alpha). I have no business relationship with any company whose stock is mentioned in this article.