Amsurg Corp. (NASDAQ:AMSG) is a top ambulatory service center management company. It has over 255 locations across the United States.
AMSG operates in a highly regulated field, across multiple therapeutic areas and states. As one of the largest players in this space, AMSG should have a strong competitive position. Plus, owing to the critical nature of its services, AMSG's centers should remain in high demand.
But instead of just looking at qualitative traits, I prefer to attempt to quantify them by examining long-term financial results. By trying to find trends in the historical operating numbers, I can try to confirm or dispel the characteristics of the company's competitive position. Although AMSG shares have done well over the long term, they have struggled to get going lately.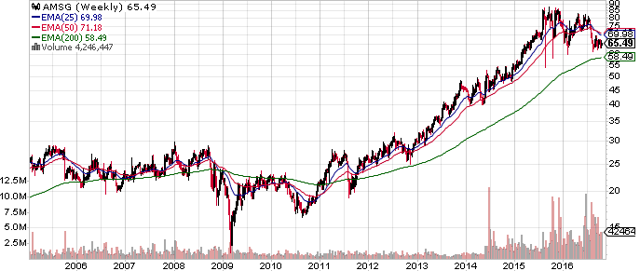 AMSG Business Overview:
The company that would become AMSG was originally founded in 1986. The business plan was draw-up by two co-founders on the back of a napkin. AMSG first went public in 1997, when it was spun off from its former parent, American Healthways. Since then, AMSG has continued to grow through expansion and acquisition.
The company has two reporting segments, ambulatory surgery and physician services. Through the ambulatory services segment, AMSG buys, develops and operates ambulatory surgery centers with physicians as partners. Through this physician services segment, AMSG provides outsourced physician services to healthcare facilities. The main therapeutic areas of focus are anesthesiology, radiology, children's services and emergency medicine.
Given this complimentary segment breakdown, the company has multiple levers to fuel growth. In addition to growing its footprint by acquiring more ambulatory centers, AMSG can also increase billings per surgery center. Since the physicians are partners, they're incentivized as well to try and do more procedures per year, and attract patients in need of higher cost procedures.
In terms of therapeutic areas, the company is primarily focused on patients in need of anesthesiology, radiology, emergency medicine and children's services. During 2015, anesthesiology made up 71% of revenue, while the other services brought in 12.4%, 5.9% and 7.3% respectively, with office revenue making up the final 3.4%.
Given the highly specialized nature of these services, and the low tolerance for failure in its end markets, I think AMSG could have a strong competitive position. It should be able to command pricing power given the critical applications. But let's see if these traits show up in the financial statements.
AMSG Financial History:
To try and quantify the supposed competitive strength of AMSG, I like to attempt to find trends in long-term operating results over a 10-year and trailing-12-month basis. Using data from Morningstar, I created some graphs to try and illustrate these potential trends.
In particular, I'm interested in consistent and predictable trends. Not only does this speak to the consistent strength of the underlying business, but it also makes it easier to forecast these results into the future. With that in mind, the first place I like to start is the top line.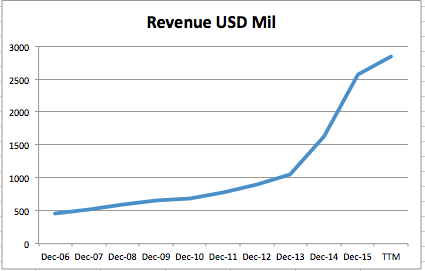 The reason I like to begin with revenue is because it gives a clear picture of how well a company is able to meet market demands. As you can see from the graph below, it looks like AMSG has been knocking it out of the park. Revenue has increased methodically each year. Not a lot of companies have this kind of track record.
But while this growth is impressive, I'm a bit skeptical that this rate of increase can continue for much longer. On the other hand, if AMSG can find acquisition targets it may be able to keep the top line humming. So far, this seems to have been the case. Whether or not this type of growth is profitable though is another story. We can try to confirm by looking at EPS.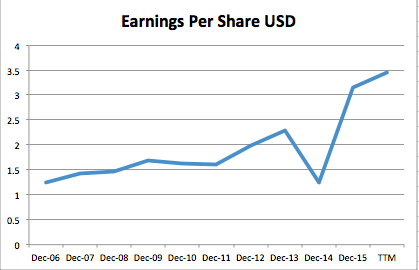 For the most part, EPS numbers have looked pretty consistent. One concern, of course, is the dip in 2014. However, this is likely more to do with accounting than the underlying operations of the business. Due to the large and ongoing mergers happening in this business, the earnings numbers can vary.
To help confirm this, I like to take a look at cash flow numbers. As long as the underlying business is still generating cash for shareholders, I'm willing to tolerate some fluctuations in earnings. Luckily, this appears to be the case with AMSG.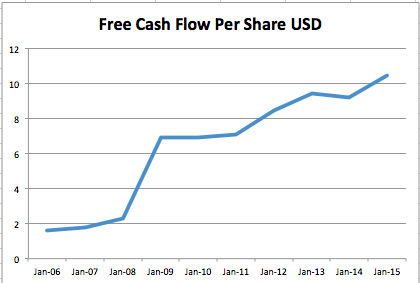 This consistent trend is really something I like to see. As long as AMSG can continue pushing this graph up and to the right over time, I'm happy to have this company on my watch list. This kind of cash flow growth gives a company a lot of wiggle room.
However, one concern I have is that AMSG has never paid a cash dividend. Thus, it's certainly not appropriate for income-oriented investors. And without distributions adding to returns, I want to be reassured management is allocating capital effectively.
One way to do this is to look at book value per share over time. Over the long term, this is a trend I really like to see. That's because all things being equal, share price should correlate to equity value. Therefore, as long as equity value is growing on a per-share basis, it provides another margin of safety for the investment.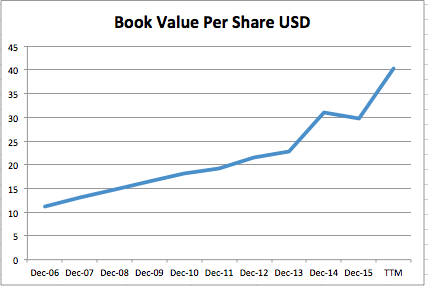 As you can see above, this trend really is quite reassuring. This kind of growth doesn't happen by accident. And it's encouraging that management has been able to compound book value. While the balance sheet has been levered recently, this is mitigated by its ability to consistently pump out cash and the corresponding recent increase in book value on a TTM basis. That said, an investment in AMSG does come with risk.
Potential Risks to Investing in AMSG:
Although investing in AMSG looks like it has appealing characteristics, there are always risks to consider. For this healthcare business, there are a number of unique factors to keep in mind, and some of them may be difficult to quantify.
First, AMSG is subject to a lot of regulatory risk. It operates in highly specialized therapeutic areas that require expertise and compliance with best practice. In addition to ongoing regulatory costs, government, payers and patients are always fighting for ways to reduce their healthcare costs. This is a constant headwind that AMSG must fight against.
Another risk to keep in mind is the things that can go wrong in the ongoing day-to-day execution of the business. While management has done a good job to date, there's always risk. This is especially true as the company expands into new therapeutic services, and further engages with physicians as partners. As the company continues to grow, it will need to be diligent with acquisitions and scale.
That said, one big mitigating factor for AMSG could be the valuation. With a forward PE around 13.5, shares aren't too expensive. As shown in the chart from Morningstar below, it seems that while AMSG stock price has stagnated the last year, valuation is coming back in line.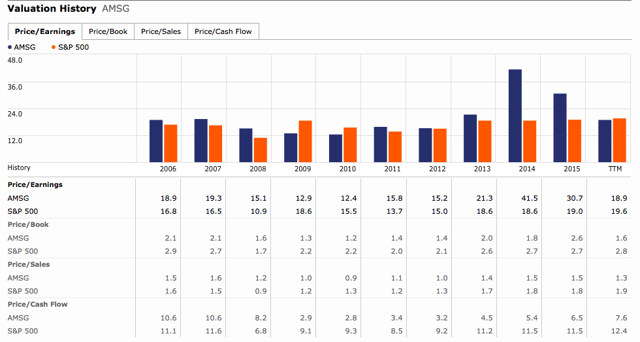 Even though AMSG shares have been treading water, the company has continued to generate cash. This has brought the valuation back in line, and I think at some point, something will give. Either free cash flow growth will go in reverse, or share prices will eventually follow fundamentals.
Conclusions: Waiting for an Entry in AMSG
I don't currently own shares of AMSG because I'm fully invested. But the company is near the top of my watch list, and as more cash comes in the door, I'll be looking to pick up shares of AMSG. In the interim, I'll continue to monitor the quarterly results with a particular eye on revenue and cash flow.
But what do you think? Do shares of AMSG present an attractive opportunity, or are the historical results about to reverse course?
Disclosure: I/we have no positions in any stocks mentioned, and no plans to initiate any positions within the next 72 hours.
I wrote this article myself, and it expresses my own opinions. I am not receiving compensation for it (other than from Seeking Alpha). I have no business relationship with any company whose stock is mentioned in this article.