Natural gas consumption is affected during the summer months due to cooling degree days (CDDs), since electricity powers air conditioners and natural gas has overtaken coal as the largest feedstock to utilities. But as illustrated in the graph below, natural gas consumption is mainly due to space heating over winter months in the U.S.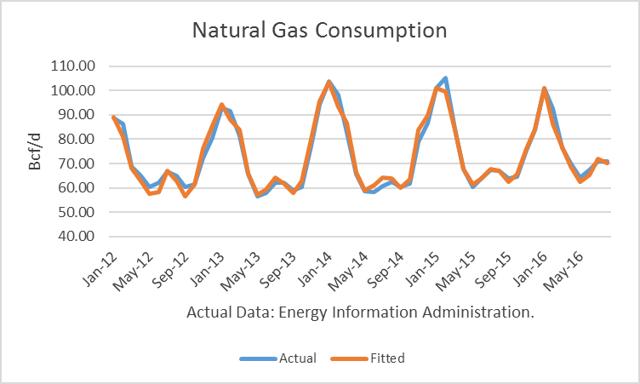 I can explain 97% of the monthly variation in natural gas demand based on three variables only: heating degree days (HDDs), CDDs and economic activity (OTC:GDP). The fitted line (red) above shows the monthly number the regression equation yields, as compared to the actual figure reported by the Energy Information Administration (EIA).
HDDs are the most important factor, by far. And so, I thought it would be useful to present HDD statistics to put current and future data into perspective.
The National Oceanic and Atmospheric Administration (NOAA) provides population-weighted HDDs. I have re-weighted them by use (see my methodology below); but for convenience, the graphs below are based on NOAA's data set.
NOAA provides normal HDDs for each month of the heating season which, by convention, runs from July through June. The normals are defined as the historical averages for the past 30 years.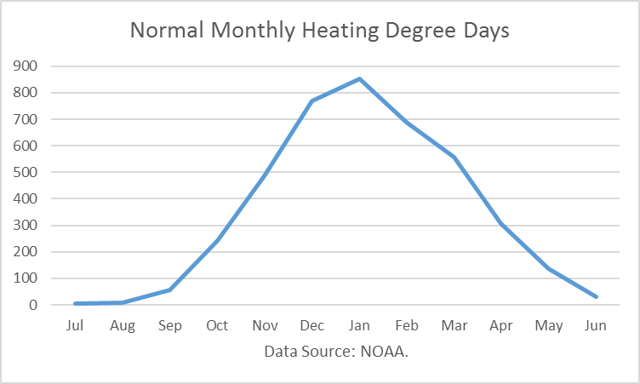 Based on data for the past 10 years (2005-2015 seasons), I calculated the standard deviation for each month to give a perspective on the degree of variation for each month, the largest being in December.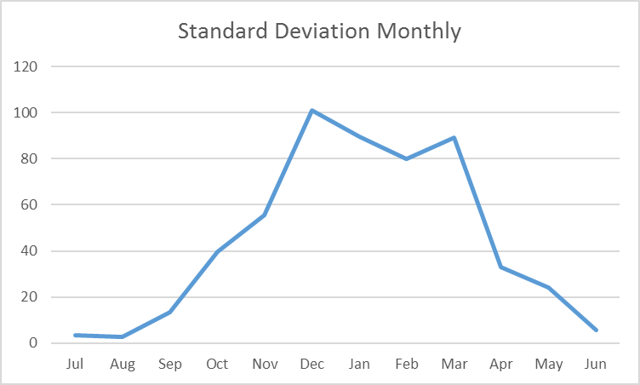 I plotted the cumulative normal HDDs v. a season with plus one standard deviation and minus one standard deviation. If HDDs are normally distributed, about 67% of HDDs for each season would fall between these the upper and lower lines.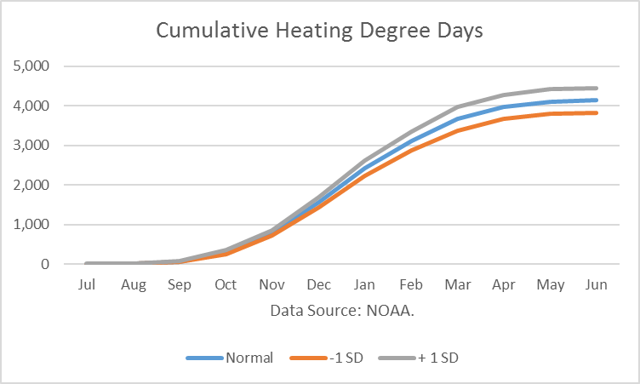 This next plot shows the cumulative percent of HDDs normally experienced by the end of each month in the heating season. January is the coldest month, but only 37.9% of all HDDs are experienced through December, on average.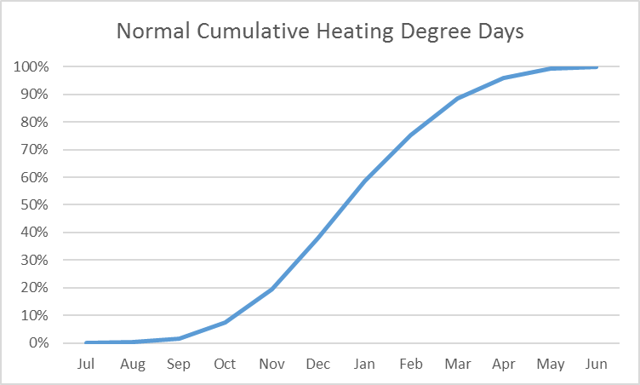 This next graph shows a comparison of the standard deviation measured on a cumulative basis v. a sum. Note that the sum is much larger than the cumulative. What this implies is that colder-than-normal months in some part of the heating season are offset by warmer-than-normal months in another part of the heating season, and vice-versa. This is particularly important to keep in mind during a warm period, such as now, when thinking about the remainder of the heating season.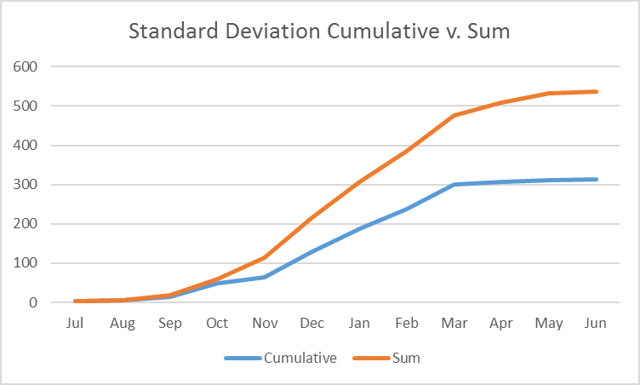 Conclusions
The next graph shows where the HDDs are projected through October for the 2016-17 season (with this week's NOAA projection). The news is that cumulative HDDs are lower than during any season going back to 2005, including 2015-16. But that is offset, in part, by the fact that storage builds have still been moderate. Also, only about 7.6% of HDDs for the season are experienced through October.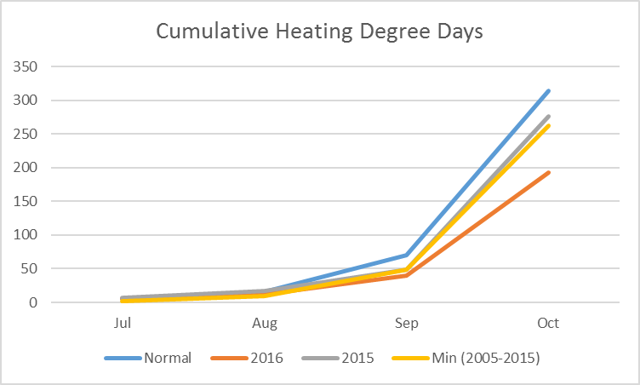 Use-Weighted HDD Methodology
HDDs are the difference between the daily temperature mean (high temperature plus low temperature divided by two) and 65°F. If the temperature mean is below 65°F, we subtract the mean from 65.
Example: The high temperature for a particular day was 50°F and the low temperature was 30°F. The temperature mean for that day was:
(50°F + 30°F)/2 = 40°F
Because the result is below 65°F:
65°F - 40°F = 25 heating degree days.
Heating degree days affects natural gas use because it is used to heat residences, commercial and government buildings. It follows that to understand how winter temperatures affect natural gas consumption, it is important to know where natural gas is used for space heating and how much.
NOAA produces a population-weighted HDD assessment and forecast for every state and combines them to create a U.S. total. I take this state-by-state HDD data and weight each state by its relative natural gas use. In that way, I get a more accurate picture of Natural Gas Use-Weighted HDDs than population-weighted HDDs.
The state weights for HDDs are indicated in the graph below (red columns). CDD weights are indicated by the blue columns. The states with the largest use of natural gas for space heating are New York, Illinois and California.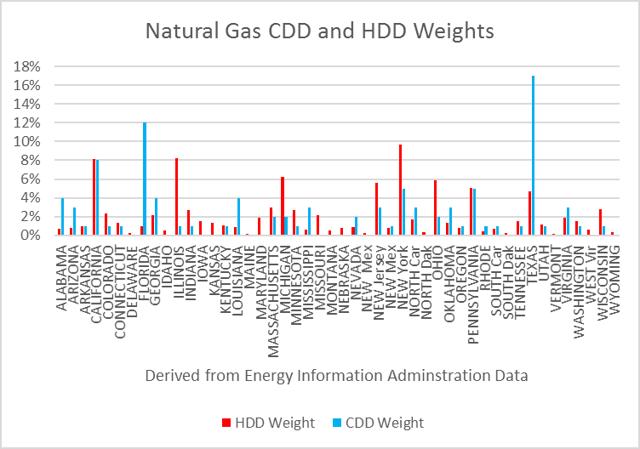 Disclosure: I/we have no positions in any stocks mentioned, and no plans to initiate any positions within the next 72 hours.
I wrote this article myself, and it expresses my own opinions. I am not receiving compensation for it (other than from Seeking Alpha). I have no business relationship with any company whose stock is mentioned in this article.