365 by Whole Foods (NASDAQ:WFM) will have a tough time competing with Trader Joe's going forward. The high-tech, small-size store concept does not necessarily attract millennials or boost sales. Whole Foods invested in 365 during a current consumer deflationary environment, and the concept may have a negative diversification effect going forward.
Whole Foods is like a luxury goods retailer. It has experienced a roller-coaster recovery from a peak of $38 in 2006 to trough a remarkably low $4 in 2008. Later it recovered to another peak of $65 in 2013. Since then it has declined consistently to a current price near $28 per share.
What happened this time is quite different than in 2008. During the great recession, other major competitors cut organic food inventory dramatically. During the recovery, Whole Food synergized the acquisition of Wild Oats and took full advantage of market bounce, which led to a rapid increase in revenue and profit margin. While Wal-Mart Stores (NYSE:WMT) usually outperforms during a recession, Whole Foods shines in times of prosperity. (See Figure 1)
Figure 1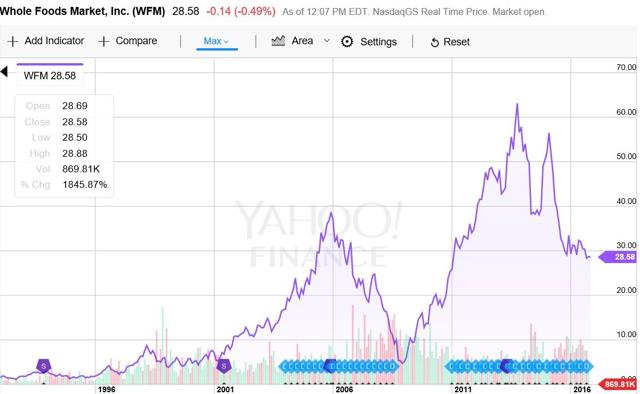 Source: Yahoo Finance.
However, this time, the game has changed. Since organic food has been the fastest growing sector in the US food industry over the past five years, the competition has become tremendously intense. In January 2016, BMO capital downgraded Whole Foods due to deteriorating comparable store sales, as WFM has lost certain market share to Costco in recent years. According to a survey, 69% of consumers would choose the less expensive organic foods from the traditional supermarket, while only 24% are willing to pay a premium for higher-quality organic foods. To deal with the consumers trading downtrends, Whole Foods started to build smaller versions of its stores, which it calls "365," to cater to millennials. These locations sell less-expensive, prepackaged products. The 365 by Whole Foods Market concept is a Costco-like (NASDAQ:COST) store scaled down to the size of a Trader Joe's.
In recent years, small, convenient locations with lower capital expenditures have come into fashion in the retail industry. Target (NYSE:TGT) opened Target Express, and Wal-Mart launched its Neighborhood markets. At first glance, it looked like small stores with less-expensive pre-packed products could cater to more millennials, and thus boost revenue. However, this is not necessarily the case.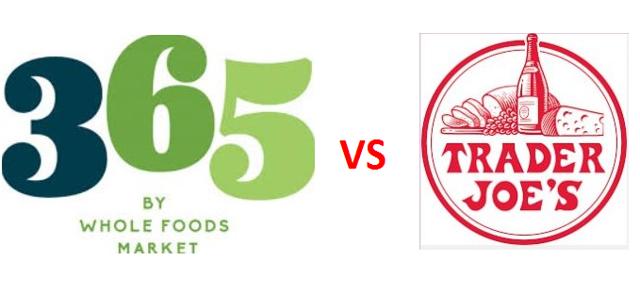 365 Needs To Adapt A Trader Joe's-Inspired Strategy
To avoid a failure reminiscent of Fresh & Easy, Whole Foods 365 should look closely at Trader Joe's competitive advantage. 365 introduced advanced technology, with electronic price tags and self-checkout point-of-sale systems. Thus, it can track detailed product information and reduce labor costs. Unfortunately, this strategy reminds us of Fresh & Easy, which started as a small-size grocery store in 2007 and expanded to more than 200 stores by 2013. Most of its products were prepared or pre-packed to cater to young professionals.
The store only hired one employee to watch the self-checkout POS systems. with no human cashier at all. While the checkout experience was fast, it was also cold, lacking any interaction between the store staff and its customers. After the operation of six years as a subsidiary of UK-based Tesco ([[TSCDF]], OTCPK:TSCDY), it went to bankrupt in October 2013 and blew through $2 billion.
Simply put, a small store combined with high-tech features and lower labor costs does not necessarily attract millennials. However, a store culture differentiated from competitors in terms of price, unique quality, and service, may help stores weather the storms.
That is why we are skeptical 365 can really compete with Trader Joe's. Why are Trader Joe's customers so crazy about the store? First of all, it offers cheaper organic food than Whole Foods. When Trader Joe's expands, it simultaneously reduces costs and cuts prices. According to the recent survey, Trader Joe's would offer 15% cheaper private-label products than Whole Foods 365.
Trader Joe's also has a long history of building a unique culture, one that other stores can seldom copy. Trader Joe's happy staff in Hawaiian shirts consistently remind customers of the top-notch vocational shopping experience.
Trader Joe's treats its staff pretty well. The executive management team travels around the world to look for the new fashion of food, then packs these foods into local store with its private labels. The upbeat staff are often the first customers when the new products are introduced to the market. Staff can get feedback to the management team pretty fast about what customers like, dislike, or want to improve, and production can adjust the flavors, tastes and volume pretty quickly. Feedback from the staff point of view is priceless compared with cold-data machine analysis. What Trader Joe' s counts on is the bonding relationship between staff and customers in a warm, relaxed environment. Very few stores can effectively copy this.
According to the chart below, Trader Joe's has the most unique snacks of any store catering to millennials. From sweet potato chips to sweet-and-salty popcorn, we cannot find them in any other stores. A large number of its products are unique. Trader Joe's doesn't cover a lot of product categories, but it has twice the sales per square foot as Whole Foods: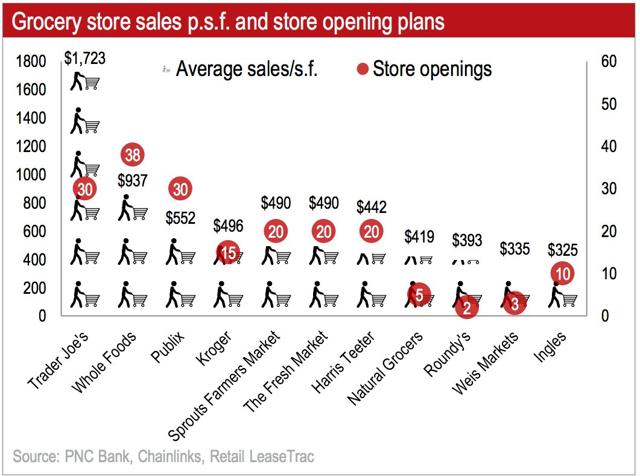 Image source: Business Insider.
We still don't know how 365 can compete with Trader Joe's, which is backed up by its parent's company, ALDI, a leading global discount grocer headquartered in Germany. On the other hand, Whole Foods' original stores need to compete with Costco and Target, which may have a negative diversification effect. That may be why Goldman Sachs sold 6 million shares earlier this year. Given Kroger's already high debt-to-equity ratio close to 2, and especially because of Whole Foods' recent Hepatitis A scare, I don't think Kroger will buy Whole Foods.
According to valuation ratios from 2008, as shown below, Whole Foods still has a long way to go. I would continue to stay on the sidelines and watch it slide.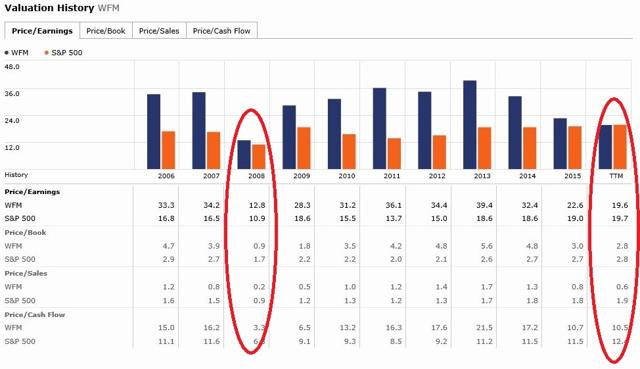 Source: Morningstar.
Jenny Liu, Brett Hershman - LeverageEquityResearch.com
Disclosure: I/we have no positions in any stocks mentioned, and no plans to initiate any positions within the next 72 hours.
I wrote this article myself, and it expresses my own opinions. I am not receiving compensation for it (other than from Seeking Alpha). I have no business relationship with any company whose stock is mentioned in this article.