SA Editor Clark Schultz called for a "profitable trade idea off of the evolution of cars." I don't have one, but I have 30. It's tough to predict what the self-driving future is going to look like, but it is much easier to identify what companies will be gone. If we know what companies will be gone, it becomes much easier to see which companies will benefit. I'll quickly go over each industry and how it will be affected and related stock tickers at the end of the paragraph that are a great starting point for further research. Here are 30 trades to profit from the self-driving car revolution:
Short Auto Companies - Cars sit unused 95% of the time. Fleets of self-driving cars are a much more efficient way to use resources. Fleet owners will be tough negotiators demanding quantity discounts. Fleet owners will also be much more rational buyers. Brands won't do as much good, and irrational preferences will play less of a role.
There is a lot of potential for tech companies to eat into the profits of big auto. Either by rent extracting on the back of the required technology or even just out competing them (think Apple (NASDAQ:AAPL) car). Tesla (NASDAQ:TSLA) is a bit of an unknown, but I think the automatic assumption it will do well in a self-driving future is dangerous. Another drawback of Tesla is that some of its potential cash flows are baked into the price because Musk draws attention to the potential frequently.
Costs of development of vehicles could go down, but overall the glory days of big auto are over. If there were ever any. Related stocks: General Motors (NYSE:GM), Fiat Chrysler (NYSE:FCAU), Ford (NYSE:F), Toyota (NYSE:TM), Honda (NYSE:HMC), Nissan (OTCPK:NSANY), Volkswagen (OTCPK:VLKAY), BMW (OTCPK:BMWYY), Daimler (OTCPK:DDAIF), Tesla, Mazda (OTCPK:MZDAY), Hyundai (OTCPK:HYMLF), Fuji (OTCPK:FUJHY), Ferrari (NYSE:RACE), Tata Motors (NYSE:TTM), and Mobileye (NYSE:MBLY).
Long Alphabet - There are several ways to profit through Alphabet (NASDAQ:GOOG) (NASDAQ:GOOGL). 1) Its self-driving car technology may take off, resulting in Alphabet making sales on selling the technology. 2) Alphabet may be able to profit off of its unrivalled record of miles driven without accident. If there is some kind of regulation tied to that metric, Alphabet's tech will be well positioned. 3) In a worst-case scenario people have significantly extra leisure time, they will spend using Alphabet's services. I still suspect Alphabet started on the self-driving trajectory because of an underlying strategic model that looks like this: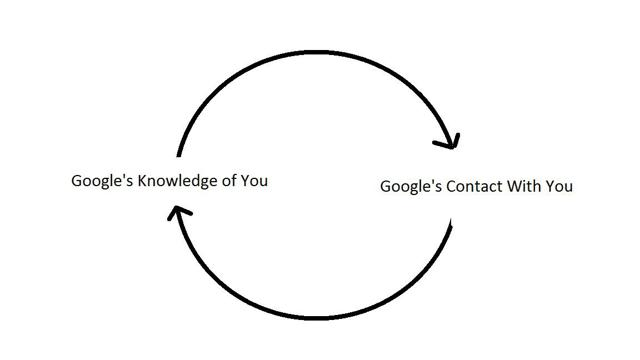 Image: Created by author
Alphabet wants to create its contact with you and consequently the knowledge of you, which allows it to increase its contact with you and on and on. Somewhere along the cycle it monetizes the connection while being careful not to break it.
In a self-driving vehicle, you could be using your regular devices or perhaps more powerful car-powered devices. Both could be running Android and you could be using apps, with Alphabet and Apple well positioned to profit from your additional leisure time.
We don't know for sure how things will work out for Alphabet, but you aren't really paying for any cash flows with Alphabet at its current price anyway.
Long Beer, Wine and Liquor Stocks - With no need for a designated driver, people have more occasions to drink responsibly. People don't need to turn down drinks because they need to drive later. There is the potential for some repressed demand to spring up here. It is almost certainly not priced in and this could be a good area to go stockpicking if you were interested to begin with. I'd say to look at brands in the higher segment. I'm not convinced it will unlock tremendous demand for quantity liquor, but could have a significant impact on premium wines or liquor for example.
Constellation Brands (NYSE:STZ), Brown-Forman (NYSE:BF.A) (NYSE:BF.B), Anheuser-Busch InBev (NYSE:BUD), Molson Coors (NYSE:TAP), Boston Beer (NYSE:SAM), Heineken (OTCQX:HEINY)
Restaurant Companies - Earlier on Seeking Alpha news, it was reported Morgan Stanley expected beer, wine and restaurant stocks to benefit. The companies pouring all that alcohol will be in the restaurant business and take their cut. In addition, dining out becomes a little bit more feasible with self-driving cars around as there's no one who has to be the designated driver and it doesn't take as much effort. Examples: Buffalo Wild Wings (NASDAQ:BWLD), DineEquity (NYSE:DIN), Brinker International (NYSE:EAT), Bloomin' Brands (NASDAQ:BLMN), Ignite Restaurant Group (NASDAQ:IRG), Kona Grill (NASDAQ:KONA), Diageo (NYSE:DEO), Constellations Brands, and Craft Brew Alliance (NASDAQ:BREW).
Short Prime Residential Real Estate - The most expensive real estate sq. ft. stands to suffer the most. The basic idea is that self-driving technology doesn't require us to concentrate populations as much. If commuting becomes less of a nightmare, its value goes down. There are additional threats we will get into later like nearby square footage reserved for parking space opening up, allowing for supply to appear where there was none before and railways coming under siege which tend to boost urban real estate value. Currently, I'm not all that interested in REITs. I don't know what examples of good shorts would be. Apartment Investment & Management Company (NYSE:AIV), AvalonBay Communities, Inc. (NYSE:AVB), Camden Property Trust (NYSE:CPT) and Equity Residential (NYSE:EQR) are apartment REITs that could offer a good starting point for more research.
Long Real Estate at One Hour Commutes from Working Hubs - Beach front property you thought too far away from nearby cities. This type of real estate becomes more valuable as long commutes become more bearable. Again I'm not too much into REITs. Maybe the long time Berkowitz holding St. Joe (NYSE:JOE) company could work.
Short Parking Garage REITs - Self-driving cars do not require parking. They definitely don't require inner city parking. A few examples, thanks to fellow contributor Mike Arnold's excellent article: Wilson Parking, a subsidiary of Sun Hung Kai Holdings (OTCPK:SUHJY), and Link REIT.
Short Medallion Financial - Back at the end of 2014, I favored the short side in an article on Medallion Financial (NASDAQ:MFIN) (accessible to Seeking Alpha PRO and The Black Swan Portfolio subscribers. The company profits by buying and renting out taxi medallions. These medallions allow a cab driver to operate in a certain jurisdiction. The company is already under huge pressure from Uber (UBER).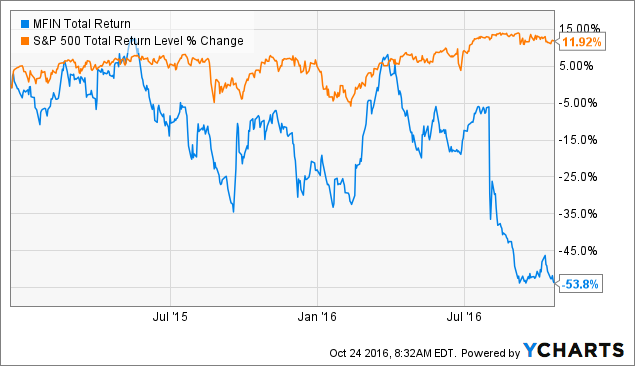 MFIN Total Return Price data by YCharts
Just imagine what self-driving cars will do to it.
Short Steel/Aluminum Companies - Several reasons why this could work: 1) See the case for short auto companies. 95% of cars sit unused. With fleets of self-driving cars, we don't need as many cars. Not to mention they won't dent/wear as much. This translates into much less aluminum/steel required. 2) Cars are currently primarily made out of steel/aluminum and it is all but certain they will need to be made out of those materials in the future. The reverse; betting on which material could pick up a lot of demand is a much harder exercise and a much more unreliable bet. I do fancy almost entirely transparent self-driving vehicles. Anyway among steel and aluminum companies, you will find many highly levered choices that will be ripe for the scrap yard in the driverless future.
Alcoa (NYSE:AA), Century Aluminum (NASDAQ:CENX), Kaiser Aluminum (NASDAQ:KALU) and Constellium (NYSE:CSTM). Commercial Metals Company (NYSE:CMC), Olympic Steel (NASDAQ:ZEUS), Reliance Steel & Aluminum Co. (NYSE:RS), Ryerson Holding Corp. (NYSE:RYI), TimkenSteel Corp. (NYSE:TMST) and Worthington Industries, Inc (NYSE:WOR).
Long Energy Companies - Self-driving technology makes traveling much more convenient and more affordable. People will log many more miles. Self-driving cars will surely drive more efficiency, but the increased demand will outweigh this. If high speed driving becomes a thing, there's even more upside here. Renewables stand to benefit just as well if not more. A few energy companies I like: Royal Dutch Shell (NYSE:RDS.A) (NYSE:RDS.B), Aker AS (OTCPK:AKAAF), Phillips 66 (NYSE:PSX) and PBF Energy (NYSE:PBF).
Short Airlines - Air travel is a huge hassle. When cars are self driving, people will use them to go longer distances. This will take a slight percentage of market share away from airlines. But do normal speed limits apply to self-driving cars? Maybe to start, but it doesn't make much sense long term. A computer-controlled car should do almost as well at 250 mph as at 100 mph under the right circumstances. There's potential to achieve much higher average speeds. There is the potential for faster cars to seriously disrupt airlines.
Allegiant Travel (NASDAQ:ALGT), Southwest Airlines (NYSE:LUV), United Continental (NYSE:UAL), American Airlines Group (NASDAQ:AAL), SkyWest (NASDAQ:SKYW), and JetBlue (NASDAQ:JBLU)
Short Tire Companies - Self-driving cars will put less stress on tires. Tires will be a commodity product. The fleet owners will buy in bulk and care only about price/performance and no amount of branding or F1 sponsorships will sway them away from the optimal choices.
Goodyear Tire & Rubber (NYSE:GT) and Cooper Tire & Rubber (NYSE:CTB)
Car Repair Shops - It doesn't matter if they are DIY, full service or hybrid. These are so obviously dead it feels like cheating to even mention them. Self-driving cars will be kept in fleets and the fleet owner will service them. The fleet owner will use a specialized provider of maintenance services. OEM maintenance services take care of them in house. He or she is not going to take their cars to a DIY shop.
Advance Auto Parts (NYSE:AAP), AutoZone (NYSE:AZO) and O'Reilly (NASDAQ:ORLY)
Long Car Washes - There will be a lot of demand from the fleet for car cleaning, especially inside the car, but mostly will take care of the outside as well. The model will be different from what car washes have going on now, but they stand to do well if they innovate to serve the fleet owners. Unfortunately, there are no publicly traded car wash companies I know off.
Long Payment Systems - Currently cars require a payment to the dealer, annual to the government, monthly to the insurance provider and frequently at the gas station. In a driverless future, this shifts to a small payment each time you take a ride. Number of miles traveled and rides will increase. In the aggregate, payment systems that are viable to be utilized in the transaction stand to benefit. MasterCard (NYSE:MA) Visa (NYSE:V), PayPal (NASDAQ:PYPL), and VeriFone Systems (NYSE:PAY) could work.
Long Media companies - U.S. citizens will once again see an increase in their leisure time thanks to self-driving tech. A trend that's been going on since 1890.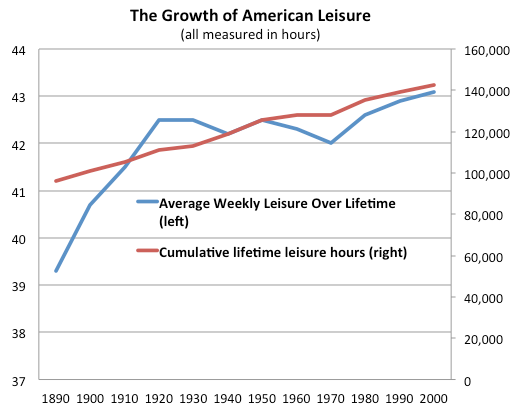 Where are they going to spend some of that time? Yes, on Netflix (NASDAQ:NFLX), Facebook (NASDAQ:FB) and HBO (NYSE:TWX) of course. Even books should do better. Self-driving cars could be perfect for reading. In the Netherlands, where I live, the railway company associates itself with literature. Presumably increased reading time is one of its selling points versus the car (that they have chosen this selling point to sell a mass market product tells you everything you need to know how their service compares to driving your car).
Short Railroad Companies that Transport People - Railway commute is a horrible experience in every country but Japan. With self-driving companies, no one will want to be on one of these things.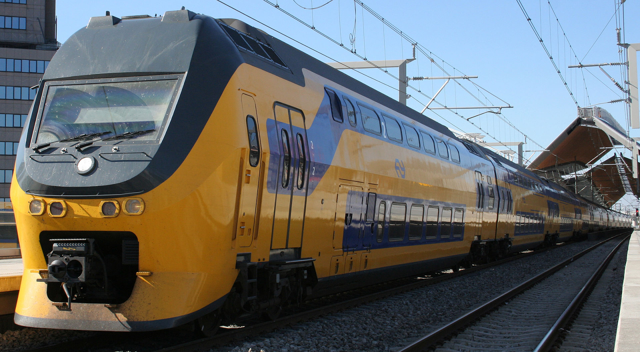 Source: Wikipedia
Las Vegas Railway Express (OTCPK:XTRN)
Short Railroad Companies that Transport Goods - Railroad companies have two advantages over transport by truck 1) more fuel efficient 2) less manpower required. Driverless technology for both trains and trucks cuts back on advantage.
Self-driving technology also cuts back on traffic congestion. Traffic congestion is a problem that holds back a primary competitor: transport by truck. Related companies: CSX Corporation (NYSE:CSX), Genesee & Wyoming (NYSE:GWR), Kansas City (NYSE:KSU), Canadian Pacific (NYSE:CP), Union Pacific (NYSE:UNP), Canadian National Railway (NYSE:CNI), Providence and Worcester Railroad (NASDAQ:PWX), Pioneer RailcorpA (OTCPK:PRRR).
Short Driving School Companies - When cars are self-driving, we don't need driver licenses. So we don't need driving schools. I've found one publicly traded example, the Eastern Pioneer Driving School Co. Ltd., but it trades in Shanghai, and it's Chinese, so it isn't the best actionable idea.
Short the Insurance Industry - I'm mentioning this one because it is often brought up when talking about self-driving cars. Self-driving technology needs different policies. There will be fewer accidents and thus lower premiums required. Fleet companies will negotiate better contracts. However, there is some potential to insure more cat risk. I'm not convinced it's a great short. These companies may profit in the short term and will see it coming and pivot away or return money to shareholders. Just because you are in a dying industry, it doesn't mean you can't generate returns for shareholders, see Philip Morris (NYSE:PM):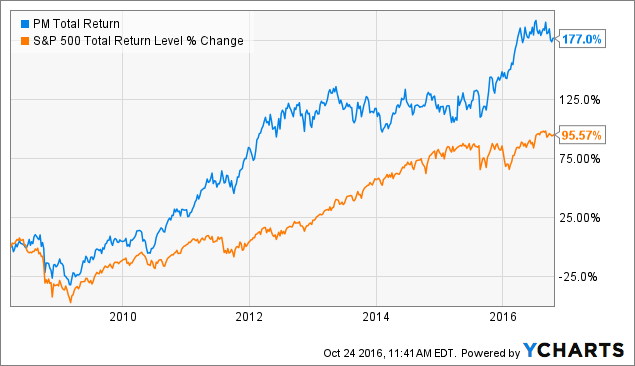 PM Total Return Price data by YCharts
Related companies: Progressive (NYSE:PGR) and Allstate (NYSE:ALL)
Long Trucking Firms - Trucking firms stand to benefit greatly. About 1/3 of their costs are associated with the driver. In addition the driver's cabin takes up a lot of space that can be used for cargo in a self-driving world. With these jobs getting eliminated, their competitive position vs. railroad, water transport and even air transport improves greatly. The one thing that limits upside is they already have a large piece of the transportation market.
J.B. Hunt Transport Services, Inc. (NASDAQ:JBHT), Knight Transportation, Inc. (NYSE:KNX), Landstar System, Inc. (NASDAQ:LSTR), Old Dominion Freight Line, Inc. (NASDAQ:ODFL), Swift Transportation Company (SWFT).
Short Road-Assistance Firms - Self-driving cars could break down, but my expectation is for these to be part of a fleet. Fleets are carefully cared for and maintained by fleet owners. Well maintained cars will crash less, run cheaper and last longer. Self-driving vehicles also potentially have lots of advanced technology on board that isn't easily repaired on the side of the road. Finally, the vehicle could return to a home garage by itself without passengers in some circumstances. It doesn't add up to a huge bounty for road assistance firms. I did not find any independent publicly-traded road assistance firms. If you know any, please help out in the comments or send me a message.
Long Package Delivery Firms - Just like trucking package, delivery firms will be better positioned. In a worst-case scenario, they will still need a handler on each truck to cover the distance from the truck to the door, but with some luck, it won't be necessary. The firms will be better positioned versus the innovative drone projects that are ongoing.
FedEx (NYSE:FDX) and UPS (NYSE:UPS).
Long E-tailers - With self-driving delivery trucks, it will become much easier to deliver within one day, 24 hours a day, reliably and on Sundays (in some countries this is a problem). E-tailers' competitive position improves vs. brick and mortar.
Amazon (NASDAQ:AMZN), Overstock (NASDAQ:OSTK).
Short Freeway Motels - No one is going to want to use a freeway motel if you can call up a self-driving vehicle that will run through the night and in which you can sleep or whatever you do in a motel. Again, I'm not big on REITs, but maybe Ashford Hospitality Trust (NYSE:AHT), and Condor Hospitality Trust (NYSEMKT:CDOR) could work.
Short Car Dealerships - It doesn't matter if they are second-hand dealers. All dealers are screwed. Fleet owners are going to bypass them. If you buy a couple of hundred vehicles, you don't need a dealer telling you about the air conditioning. These are dead.
CarMax Inc. (NYSE:KMX), AutoNation, Inc. (NYSE:AN), Lithia Motors, Inc. (NYSE:LAD)
Short Car Magazines - I don't think we'll need reviews of cars as much. Fleet companies will take care of this and the demand for car magazines will go down. I couldn't find any car magazines.
Short Luxury Car Brands - Not sure about this one. Anything can happen. Sure, there will be luxury fleets that are more costly per mile traveled and more comfortable. However, there will still be fewer sales. Luxury car brands already sell a limited amount of vehicles. As is, luxury cars spend a lot of time doing nothing. Much more than other types of cars. Quite often they represent a third or fourth vehicle for their owner who takes it out on occasions. On the other hand, the companies may be able to turn in something of a yacht builder. Building extremely luxurious vehicles that are self sufficient and can keep its owner on the road for extended periods of time while enjoying the comforts of a home. Ultimately, I favor the short. A target could be Ferrari.
Cybersecurity Firms - These are often the focal point of discussion around self-driving tech. The image of a hacker taking control of your car is so scary people find it convincing. However, there is little need for self-driving cars for this to be a threat. Modern cars could be targets for hackers anyway. So much of the technology is controlled by computers. If anything, self-driving technology may decrease the need for cybersecurity as a certain vehicle is no longer tied to a certain person. It will be a rare event where a hacker decides to kill random people with his joystick at home. Today, you can get on an overpass at the Freeway and throw down grenades but it's a rare event.
Some people will need expensive protection, but I'm not convinced this is going to be the driver (I'm so funny) of cybersecurity.
PureFunds ISE Cyber Security ETF (NYSEARCA:HACK)
Mapping Company - It's not a certainty but complete map databases could be valuable. It depends a little bit on what Alphabet will do. Alphabet has a few amazing assets with its map database, Waze and the data from its self-driving cars. The Dutch company Tomtom (OTCPK:TMOAF) owns the last remaining "independent" map database. Independent in the sense it's not owned by big tech. It is an interesting company with a lot of upside if the optionality embedded in its maps is realized.
Tomtom
Long Sensor Companies - Cars have lots of sensors, but self-driving cars will require a lot more of them. Firms that can make great Lidar sensors, Sonar, altimeters, gyroscopes and tachymeters could benefit. I do expect some of the upside to be priced in here, but throw out your best ideas in the comments. There are so many of these, and I'm not knowledgeable in the area. One company that could benefit would be Melexis (OTC:MLXSF).
There are many ways self-driving technology will change our future. One important thing to keep in mind is that a trade is much less likely to work out for you if the company will obviously derive a benefit from self-driving technology. Other investors will see it coming as well and drive (I know it's getting old) up the price. Ideally, look for companies that are undervalued on a fundamental basis without considering a self-driving future, but that actually have significant upside when it's here. For great shorts, it's the other way around. I'm not in tune with the fundamental value of every company mentioned, but let's help each other out, and if you have a firm that's greatly over- or under-valued based on fundamentals with optionality in case of a driverless future, let us know in the comments.
Disclosure: I am/we are long GOOG, OSTK.
I wrote this article myself, and it expresses my own opinions. I am not receiving compensation for it (other than from Seeking Alpha). I have no business relationship with any company whose stock is mentioned in this article.
Editor's Note: This article covers one or more stocks trading at less than $1 per share and/or with less than a $100 million market cap. Please be aware of the risks associated with these stocks.