Just a little over a year has passed since I last wrote about IEH Corp. (OTCQB:IEHC), and from the looks of the stock's performance, there is definitely some explaining to do on both my part, as well as the company's part. In relation to self-imposed errors, I was too quick to allow for historically high operating margins to be accepted as the norm. Operating margins have since contracted from 20% last year to about 13.5% for the TTM period: largely in-line with other bigger players in this space. This 33% decrease in margins definitely hurt the upside case for the company, and other issues which I will elaborate on have further contributed to the deterioration of the share price.
The Balance Sheet
Given that a majority of companies have very limited control over customer orders or economic factors affecting their business, internal controls should receive special attention to ensure no self-imposed hurdles are damaging business prospects or access to capital. The balance sheet should be the one internal item that is constantly assessed to avoid these pitfalls. However, when an investor sees the current state of the balance sheet at companies like IEHC, it becomes evident that these important internal standards are not being upheld.
While rudimentary business sense is to keep assets high and liabilities low, these guidelines fail to address the primary concern in investing. People do not put their money in companies to see it grow more inventory or accounts receivable. Cash is the desired result, and through the magic of our economy, people can turn input costs like labor and raw materials into more cash than they started with. When businesses fail to produce what is demanded of them - cash -investors begin to discount earnings streams and raise their required return on the companies in question.
The above has been the case for IEHC, and investors to this point have been correct in discounting earnings. As seen by the chart below, IEHC has reported net income for the past 5-years totaling nearly $7M, but has only grown cash by $1.6M (or less if you take the MRQ results).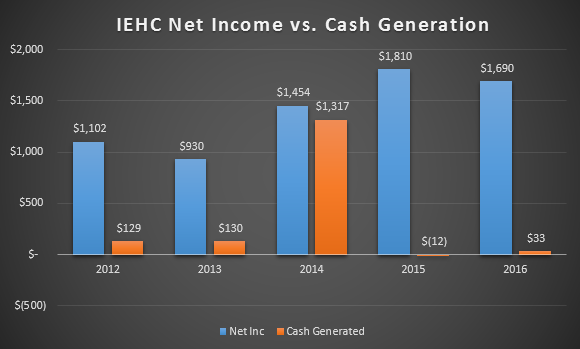 This means 80% of what owners should be seeing as earnings has been required to be reinvested in the business. But perhaps the word "required" is too strong in this case for IEHC. For instance, as I had alluded to in my previous article, inventory has been a major issue. Over the past few years this number has ballooned from $3.7M at March 2011 to nearly $8M in the MRQ, compared to an increase in sales from $13.8M to the TTM $18.8M. At best you could perhaps say that inventories needed an increase of about 50% from their previous level, getting to about $5.5M, meaning about $2.5M of what could have been free cash is stuck on shelves.
While inventory is the most startling in terms of its size in relation to the total company and its earnings power, the more egregious fault on the balance sheet comes from mismanagement of sources of capital. First, the company still utilizes funds from an accounts receivable financing arrangement which charges a credit-card-like rate of at least 12% per year. IEHC currently holds a balance on this account of just under $300,000, which isn't such a big deal in the grand-scheme, but taken with the next fact I believe it causes great concern. The company also has a prepaid tax account of over $1.9M compared to an accrued income tax liability of $328K. Sadly, this means the company would rather borrow money at 12% interest to prepay an account that doesn't charge interest or award discounts for paying earlier than required.
There are a lot of companies out there, and in that pool there are a good handful of successful large businesses. From all of my research into larger more successful businesses, I have never seen one that was trying to fork-over more towards taxes than they were legally obligated to any earlier than also required by law. There's nothing wrong with paying taxes, but there is something wrong with pre-paying next year's entire tax bill, and borrowing money to do so.
Management
I believe this mismanagement has culminated from a leadership that has hoarded as much as it could in recent years to hand over a business loaded with assets. Michael Offerman, the CEO, owns 40% of the company, and his son Dave Offerman has recently taken a seat on the company's board of directors, along with two other recently added positions. While the succession plan to Dave Offerman seemed relatively obvious, the relationship between the other directors gives extra reason to think a changeover is coming sooner than later.
According to the latest 10-Q,
"On August 10, 2016, the Board of Directors of the Company unanimously approved resolutions to increase the number of directors from three to six directors and elected Sonia Marciano and Eric Hugel as Class I Directors of the Company."
Sonia Marciano currently works as a clinical professor at NYU's Stern School of Business, and previously co-authored a book on Strategic Management. Eric Hugel, while his bio in the 10-Q insists on mentioning his co-CEO position of an Amazon Storefront, is also an equity research analyst whose work you can get a taste of here. I believe the entry of these two along with Dave Offerman to the board of directors represents a big signal to outsiders and insiders that there will soon be a changing of the guard. Not only does the timing make sense with the previously seated directors in their 70's, but little nuggets like Dave Offerman obtaining his MBA from NYU's Stern School of Business, where he most likely could have met Ms. Marciano, make the new board members seem as if they were picked by Dave himself.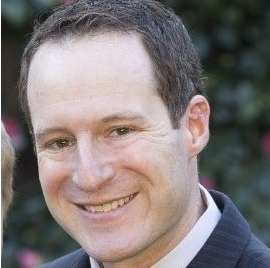 What does this mean for shareholders? At the very least, there will be a chance for a change in strategy. Whether or not this strategy will affect things like the balance sheet is another question, but given the level of detail that someone like Mr. Hugel has gotten to in analyzing companies in related spaces, I believe there is a good chance things can only get better.
Outlook
As outlined in my previous article, sales backlogs have been a reasonable indicator of future sales for the year. This year's backlog dropped to about $7M from $8.7M last year. That 20% decline in orders has been followed by about 13% sales drop year-over-year for the MRQ, and I believe these results mark a good estimate for what can be expected each quarter going forward. That means this next year will likely total around $17-18M in total sales, with about $2.3M in operating income. Even with the decline margins, odds are still good that investors are still buying a company at around 6X's earnings before interest and tax. If finances can get ironed out, this multiple has plenty of room to expand.
By my rough estimates, the company could easily free up $4-6M, depending on how far liabilities get stretched. For a company that trades for under $15M all in, that is a relatively significant amount. Inventories themselves represent an easy $2-3M just reducing the amount of raw materials to levels equal to other inventory categories.
Also, all of the steps to unlocking value still remain for easy picking such as changing the tax-domain from NY state to somewhere more commonly used like Delaware which has no state taxes. The transition would immediately deliver increased value for all shareholders, saving at least 20% of earnings from unnecessary taxes. As seen from note 7 on the latest 10-K, the company currently spends 12% of income on state and local taxes net of federal benefits, along with 34% as their base federal income tax rate. Saving this 12% paid towards taxes increases their share of the pie from 54% (46% tax rate), to 66% (34% tax rate). This would largely be in line with the bigger players in the space, some who even have lower rates due to foreign operations.
Risks
Of course, this is all coming from someone who previously pounded the table at a share price about 40% higher than it is today. There is a chance that I am completely wrong, either in the fact that management will take a longer time to transition than anticipated, or even with a change in leadership, there's no guarantee that any changes will be made in how the company is managed and investors will continue to hold the bag filled with empty net income.
Related to the bag of empty net income, investors may face some type of inventory write-down. The company says it conducts reviews and items go obsolete if unsold for three years. While these write-downs are temporary, they do represent capital being destroyed, and unless the company gets a handle on its inventory practices it could result in a depressed multiple for years to come.
Another risk includes industry moves such as the ones suffered by oil and gas companies have a distinct negative impact on suppliers. IEH Corp has already suffered a large cut in profitability, and its niche market can become a disadvantage if the perfectly wrong players are hurt. While most of these transitory moves can be overcome, IEH Corp is still a small company with limited access to capital in-case of these rainy-day situations.
Lastly, just in the nature of being small and having very little float, investors should be cautioned that the stock is subject to very high and low swings in price. This is a company where most big-players don't even bother to study the financials, and liquidity thus suffers for those with positions larger than even a few hundred shares. Using limit orders is a must, and for your awareness, the stock has many days where no shares are traded at all.
Summary
1. Dwindle down pre-paid taxes to be in-line with accrued liability
- this step alone frees up almost $1.6M
2. Get rid of accounts receivable financing, or at the very least renegotiate the stale terms
- possible re-evaluation of terms could lead to increased multiple
3. Focus on controlling inventories, eliminate the practice of buying more than what is required from suppliers
- compared to previous years, and especially comparable companies, there is likely at least $2M in excess inventory tied up on the balance sheet
4. Change tax domain- stop paying state taxes
- immediately adds 20+% to the total value of the business through increased net income
5. Eliminate the burden of having to invest excess cash by distributing it to shareholders
- cash that cannot be put to use at a reasonable return can and should be distributed, further increasing the attractiveness of the stock while also providing owners with liquidity on their position
While there are plenty of challenges ahead of the company, I believe that these five steps can unlock much of the value that has stagnated within IEHC, and that with the increased potential for fresh leadership, investors stand a good chance for at least some of these items coming to life.
Disclosure: I am/we are long IEHC.
I wrote this article myself, and it expresses my own opinions. I am not receiving compensation for it (other than from Seeking Alpha). I have no business relationship with any company whose stock is mentioned in this article.
Editor's Note: This article covers one or more stocks trading at less than $1 per share and/or with less than a $100 million market cap. Please be aware of the risks associated with these stocks.