A coffee by any other name...
History
I think most people know not only Starbucks (NASDAQ:SBUX), but also their order as well, so I'll keep this very brief. Founded in Seattle in 1971, the company has grown to over 24,000 stores (both company-operated and licensed stores). Starbucks reaches 68 countries and seven continents (yes, seven) and has become ubiquitous with the term coffee. In 1987, the original owners of Starbucks sold their company to a former employee Howard Schultz (the now CEO). The company went public in June 1992.
Revenue Sources
The company earns revenue through four outlets: company-operated stores, licensed stores, consumer packaged goods (commonly referred to as CPG - think Starbucks branded coffee beans, or K-Cups), and food service. The company sells products under the following brands: Starbucks, Teavana, Tazo, Seattle's Best Coffee, Evolution Fresh, La Boulange and Ethos. The breakdown of these segments is as follows:
Company-operated stores: 79% of revenue.
Licensed stores: 10% of revenue; SBUX sells the licensee the coffee and equipment and receives a reduced share of the total store revenues.
CPG: 8% of revenue, packaged coffee and tea as well as ready-to-drink beverages that are sold to grocery and warehouse clubs.
Foodservice: 3% of revenue, products sold to institutional foodservice companies that service business and industry.

Source: Data from SBUX 10-K
The company traditionally operates 50% of the stores and the remaining are licensed out. As of 2015, the number of company-operated locations was at a higher 53% because SBUX bought out its partner in Starbucks Japan (originally starting as a joint venture).

Source: SBUX 10-K
Store Level Economics
The store-level economics is pretty similar to most food-service companies: deliver a great product to customers in an efficient manner and keep them coming back. To see how well the company has done this, I looked at revenue per store. SBUX breaks out the amount of revenue from company-operated and licensed stores in each division. The divisions are broken up by geographic areas, but also include "other segments." Other segments includes Teavana, Seattle's Best Coffee, Evolution Fresh, Digital Ventures and Starbucks Reserve Roastery & Tasting Room.
You'll notice that revenue per store in EMEA has dropped since 2014. If you're wondering what's caused that, it is FX (shocker). The company experienced a decline in revenue of $94mm related to FX translation from the EMEA segment. On a positive note, the company did see 4% comp store sales.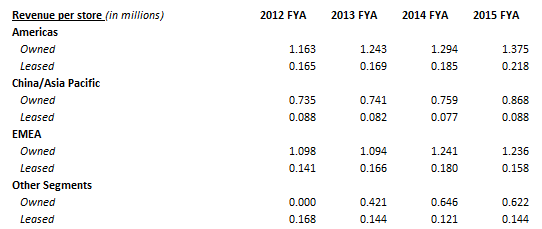 Source: Data from SBUX 10-K
The company does not specifically break out operating income for company-operated stores, but compute the operating income for all revenue sources in a geographic area. Using best estimates, it appears that store-level operating margins are in the mid-teens while EBITDA margins are in the high-teens to low 20s. The addition of licensed store revenue (which mostly flows through to operating income) helps bolster the operating margins.
Size
We have some idea of the base-level economics of the store, but what do these numbers look like at scale, and more importantly how large can the company grow? Just recently SBUX named Belinda Wong as CEO for China, and she claims that the company will double the store count to 5,000 SBUX locations in China by 2021.
I started by looking at the store count going back to 2011 for the four divisions. The store count has increased at a pretty moderate clip and does not appear to show signs of stopping any time soon.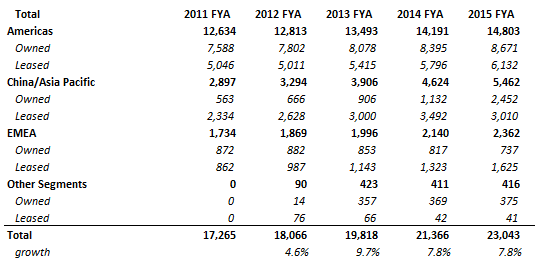 Source: Data from SBUX 10-K
I look at these growth numbers and I start to wonder how many locations can Starbucks reasonably have? In the movie Shrek 2, the writers make a joke about the Starbucks being destroyed and the town's people run to the store across the street and that movie came out in 2004.
To gauge just how large SBUX could grow to and what that growth looks like, I looked at the McDonald's (NYSE:MCD) and Yum! Brands' (NYSE:YUM) store count going from 2015 (left) to 2011 (right - MCD goes back to 2010). During the time period, store counts grew at a 2.2% and 3.6% CAGR, respectively.
MCD

Source: MCD 10-K
YUM

Source: YUM 10-K
Using these companies as a reference, I modeled the growth to look like the following. Let's quickly walk through each division. The Americas I have growing by 3.6% CAGR through the next five years. There are still plenty of places in the U.S. as well as Latin and South America that have much more room to grow; SBUX just opened its first location in Panama last year. We already touched on the Wong's commitment to have 5,000 Starbucks locations in China by 2021, but I have China modeled to 4,300 in 2020. 5,000 is clearly doable with a population that size, but I'll wait and see on the pace of openings. Additionally, I have Japan growing around 50 new locations a year. To be honest, this is probably wildly underestimating its growth capacity. The company seems intent to grow the Japanese market (I'd rather underestimate and be surprised) as judged by its recent acquisition. EMEA I have growing a little faster than historicals (8% CAGR since 2011 vs. 10.8% CAGR through 2020). I would like to note here though that this is all coming from the licensed stores and I'm modeling more closings in company-operated locations (in keeping with comments from management and in the 10-K).
The number of SBUX stores I have modeled in 2020 is getting close to the number of McDonald's locations (86% of 2015 MCD). As a US resident, I'm more biased with thinking that you can never be more than five minutes from a McDonald's. And according to the Telegraph, the farthest away you can be from a McDonald's is 145 miles (in South Dakota). For this reason, the modeling of the new stores starts slowing in 2016 and continues to slow through 2020. Modeling out to 2025, this rate slows to 3% in 2025.

Source: Data from SBUX 10-K
Valuation
Based on basic sector metrics, SBUX is overvalued. The company's growth has outpaced almost all others, so these valuations are not that relevant.
On a P/E ratio using lower than average multiple, SBUX looks to be slightly undervalued ($57 - TP).
On a DCF basis, SBUX appears to be undervalued by at least 10%.
Industry
I started by looking at the consumer discretionary sector and comparing SBUX on two metrics: P/E and Dividend Yield. As a proxy for the consumer discretionary sector, I pulled the holdings of the SPDR sector, XLY. The median dividend yield for XLY is 1.65 while the dividend yield for SBUX is 1.5 ($0.8 dividend on shares of $53.50). Setting the dividend yield for SBUX to 1.65 imputes a price of $48.44. Additionally, the median P/E for XLY is 18.665, applying that SBUX returns a price of $33.97.
The implied prices for Starbucks where clearly different than the market, so to check, I narrowed the window down to SBUX sub-industry: hotels, restaurants & leisure. The comps in this case were (MCD, YUM, MAR, RCL, CMG, DRI, WYN, WYNN). The dividend yield of the sub-sector was higher (2.536), implying a price of $31.50. The median P/E of 21.6 was also higher (mainly due to CMG) which implied a price of $39.31
How seriously should we take these four calculated prices ($48.44, $33.97, $31.50, $39.31)? While we should not throw them out, I think it's important to recognize that for the sub-industry, the median five-year revenue growth is 3.57% compared to 12.35% for SBUX. In addition, I think you'd be hard pressed to find investors who purchase SBUX for the dividend. So while I don't think they give a good barometer of a price for SBUX, I think they are instructive as a price floor if we see the growth in the company slow greatly.
Company P/E
To get to a target price using P/E, I decided on using a 25x multiple on 2018FYE. The 2016 fiscal year is wrapping up quickly, and we will get the annual report from the company in the next month. A 25x multiple on my estimated EPS of $2.28 imputes a price target of $57.05. I'll touch on the multiple quickly and then walk through the EPS estimates. I pulled the following historical P/E ratios from Morningstar. The 10,000x is a result of a litigation charge of 2.78 billion that SBUX took to settle a distribution dispute with Kraft (NASDAQ:KHC). This moved GAAP EPS down to $0.01 for 2013 (removing the charge resulted in an adjusted EPS of $1.11). Using 25 as a multiple is lower than every year, save 2007 and 2010. I would prefer to use this as it sets a more reasonable value, and the more conservative we are with our estimates, the less downside risk keeps us up at night.

Source: Morningstar
Now to get into the weeds a little bit. I modeled revenues two different ways and came up with very similar results, which gives me some confidence (not necessarily that they are right, more that they are at least internally consistent). My projections look like this:

I'll start with method 2 because I believe it to be easier and less involved to get revenue projections. I took the previous growth rates for each region and used those to estimate growth rates moving forward.
In the Americas, I modeled growth stepping down to 6% through 2020. In China/APAC, I have growth at 20% and stepping down to 12%. The important thing to note here is that the large jump, 112%, in China/APAC is a result of the purchase of the Japanese locations. The addition of the Chinese store expansion should manifest itself as high mid-teens growth through 2021. I however prefer to be more conservative here. I have EMEA growth remaining stagnant through 2016 and then slowly starting to come back through 2020. Channel development and others I have modeled growth stepping down to 6% and 5%, respectively, through 2020.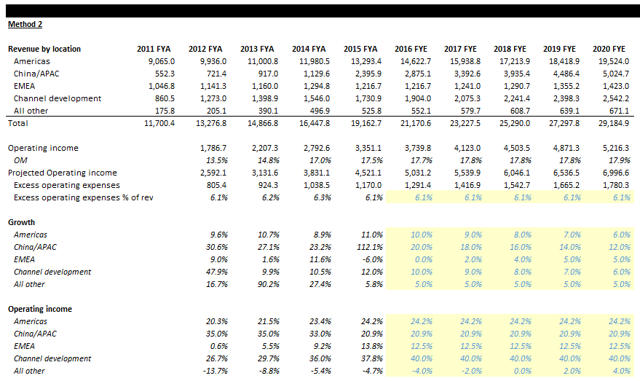 Source: Data from SBUX 10-K
The next question, of course, is are these reasonable growth rates and will SBUX hit them? Let's look at the most recent 10-Q and see how we are stacking up. While my numbers for this year may seem slightly high, I have little doubt that they are attainable for SBUX.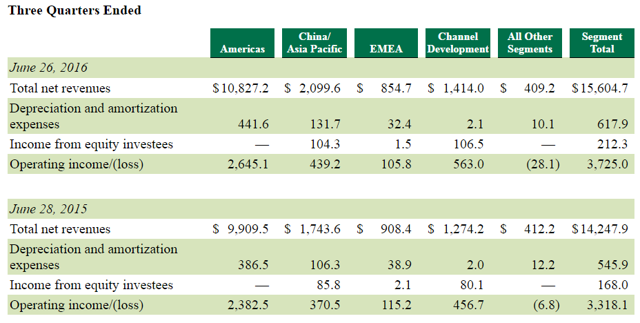 Source: Data from third-quarter SBUX 10-Q
Method 1 is slightly more involved. In short, I looked at the total locations we estimated earlier and found the average revenue per store for company-operated and leased buildings. I then applied a growth in revenue per store which takes into account both same-store sales and FX translation.
I know what you're thinking (no, gross, not that): "Didn't the U.S. same store sales just come in at 4%, and doesn't that mean SBUX will never grow like that again in the U.S.?" Yes, that's true, but management did give some explanations as to why that I found at least somewhat convincing. The company transitioned from a frequency-based to a spend-based model for MSR (My Starbucks Rewards). This launch was done at the same time as the annual "Frappuccino Happy Hour" event which ushers in the busiest time of the year for SBUX stores. Was execution here wonderful? No, but I believe this to be a one-time occurrence - not a new normal.
And maybe I'm drinking the Kool-aid, but I am inclined to believe that the company can get back to growing comp store sales at 5% per year in the U.S. It has done it for the last 25 quarters (prior to this most recent quarter), so I don't believe it's unreasonable.
A quick note on CPG and foodservice. I don't think there is much in terms of outsize revenue gains available there, but I don't see any reason why we should expect anything other than more of the same (which is great). Maybe one of you can tell me what I'm missing?
Source: Data from SBUX 10-K
Most of the margins I have tried to leave alone. There are a few things that could change based on what we know from the company. The first has to be the cost structure (duh?) which will be driven, not only on pricing adjustments, but also by how the company moves forward with its Chinese stores. We know that most of the new locations in EMEA will come as leased operations (or at least that has been the positioning of management so far). I have the growth in Chinese locations split evenly between company-operated and licensed stores. The more stores that come through as licensed will have lower revenues, but higher margins and much lower (if any) depreciation and amortization expense. Clearly, there is a lot that is open to interpretation.
One note on share growth. Currently I'm modeling shares to decrease by around half a percent a year. The company has ample room to add more debt to the balance sheet or can use operating cash flow to repurchase shares. According to the announced repurchase plan in 2016, the company has authorization from the Board to purchase another 125mm. I have modeled the company as purchasing back less than half.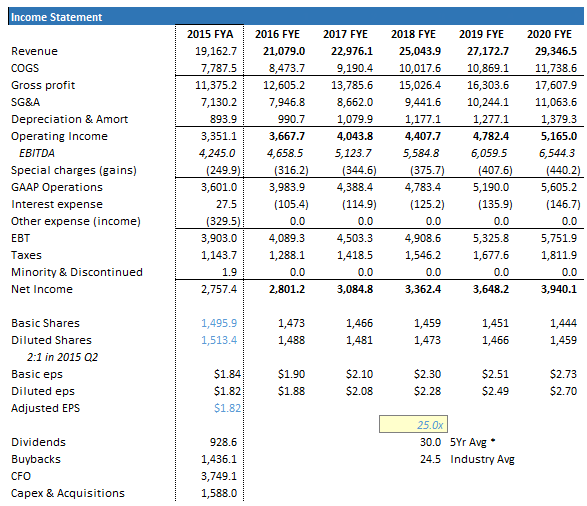 Source: Data from SBUX 10-K

Source: Data from SBUX 10-K

Source: Data from SBUX 10-K
DCF Model
Well, wasn't that fun? I'll try to speed this section up since we have already covered much of the heavy lifting. I pulled in the net income we derived above and put it in our CFO calculation. For non-cash charges, used two estimates to guestimate NCC. I used 18% to estimate the percentage of revenues that flows through as net income and non-cash charges. I estimate around 35% of this total comes through as non-cash charges.
I would like to spend a second discussing this method. It is a very easy simplification and some might say shortcut to finding non-cash charges. I have to agree with this critique. No matter how many times I tried to model all the non-cash charges I found that I was making so many assumptions with little to no evidence behind them that I had to ask myself what is the benefit to making these assumptions? Will it help the analysis at all or just get us stuck in the weeds? That is why I used a shortcut method.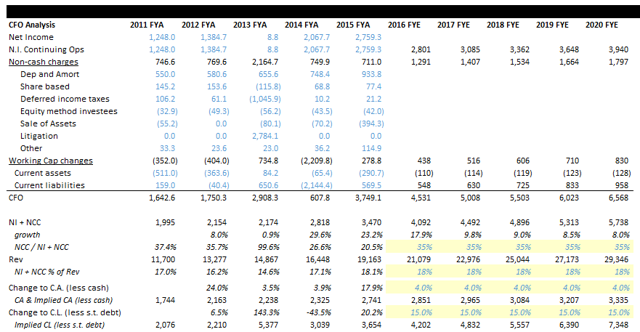 Source: Data from SBUX 10-K
Next, I needed to model out interest expense. I pulled the outstanding debt (SBUX technically has one more outstanding issue called the "2016 notes" which are due in December of 2016). To model the interest expense for 2016, took the first three quarters' expense of $56.6mm and added it to the expense incurred for a quarter with the current debt load.

Source: Data from SBUX 10-K
Finally, to model fixed capital investment, I used a new store expense of $750m to model the cost of new stores. I am aware that this will change based on many factors including what types of stores the company moves forward with, the amount of remodels, and store closings. I have also included the difference (delta) between what my method would predict for investments vs. what was realized.

Source: Data from SBUX 10-K
So let's wrap up this DCF, I can feel the caffeine wearing off. We need to derive a WACC and then we can discount our cash flows back and call it a day. First, let's pull in the operating leases.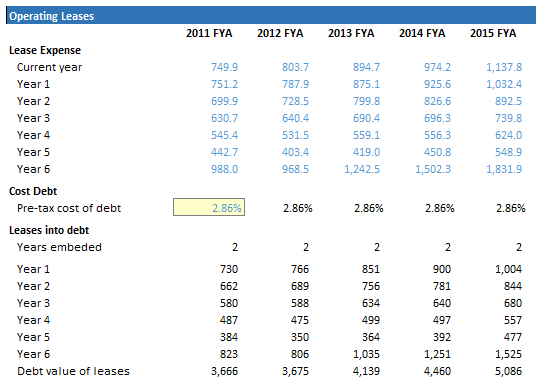 Source: Data from SBUX 10-K
And combine them with the current debt levels to estimate a WACC. A note here on beta. The beta for SBUX is reported as 1, and that's fine, but I'm becoming more hesitant using betas as they are very rarely listed with their standard error (unless you have a Bloomberg - I don't). For my next company, I'm going to see if I can find a better measure that works better for the cost of equity than beta.
I used A as the credit rating for SBUX for two reasons. First, Moody's rated its most recent senior unsecured debt as "A2" (it has no junior unsecured debt). Second, its net debt/EBTIDA metrics are in line with what you would expect from an "A" rated firm. I added the option-adjusted spread for A rated bonds to the current 10-year Treasury yield to get a cost of debt.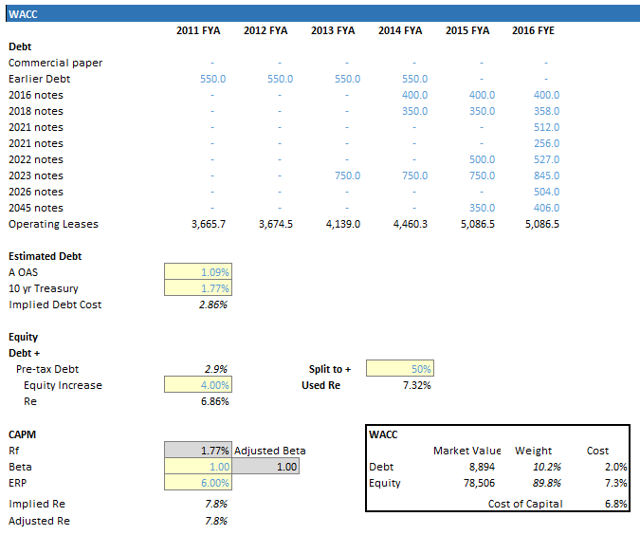 Source: Data from SBUX 10-K, US Treasury, ST. Louis Fred
Putting all the pieces we have a DCF that looks like the following. A quick note on the multiples listed below the valuation. Those are exit multiples for 2020 to determine terminal value.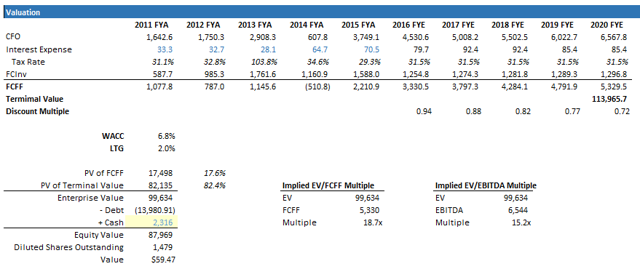 Source: Data from SBUX 10-K
The valuation yields an equity value of $59.47. If you recall, earlier we derived a value of $57.05 using a P/E model, so we have an estimated value in the high 50s. I believe my estimates to be somewhat conservative, so as the company looks today, I don't believe a $60 price target is out of the question. The company was trading this high in April and has traded as high as $64 in October (all these prices are split adjusted).
$60 a share imputes a 12% upside. I have tried to be conservative with my estimates, so I don't think that I have painted an overly rosy picture. I believe the catalyst will be the next annual report. In that report, investors will get to see if management has been able to return comp store sales in the U.S. to 5% or higher. In addition, we will get a better picture of the EMEA revenues and pace of store openings in the China/APAC region.
Disclosure: I am/we are long SBUX.
I wrote this article myself, and it expresses my own opinions. I am not receiving compensation for it. I have no business relationship with any company whose stock is mentioned in this article.