Server virtualization software company VMware (NYSE:VMW) and Amazon's AWS (NASDAQ:AMZN) have for long been strange bedfellows. Although the two rank as some of the leading enterprise cloud players, their cloud strategies seem to be diametrically opposed with VMware being a lynchpin for private clouds while AWS is predominantly a public cloud. The tension between the two companies reached fever pitch in 2014 when Amazon launched a management console that made it possible to port VMware virtual machines to AWS. VMware CEO Pat Gelsinger is on record telling partners at a past VMware partner exchange conference:
"if a workload goes to Amazon, you lose, and we have lost forever," and ''if Amazon wins, we all lose.''
But things have now gone full circle, and VMware and Amazon are cozying up to each other in a newly launched hybrid cloud partnership. The new service, which goes by the name VMware Cloud on AWS, will encompass VMware's enterprise-class software-defined data center (SDDC) running on AWS thus allowing VMware customers to run virtually any application across public, private and hybrid environments. Customers will now be able to run VMware's core products including VSAN, vSphere and NSX on AWS.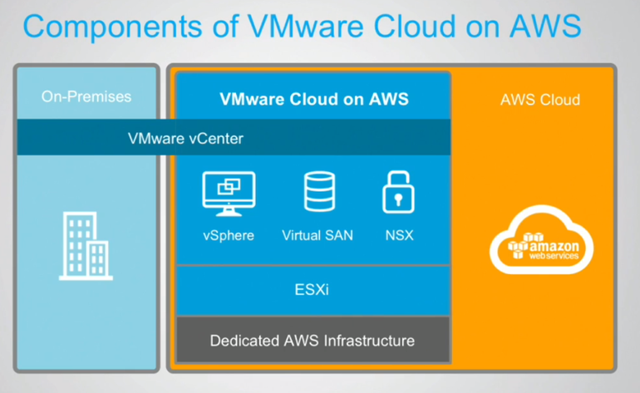 Source: ZDNet
Why the AWS partnership is critical for VMware's growth
After posting more than 10 consecutive quarters of double-digit top-line growth, VMware growth suddenly hit a wall two quarters ago. The company recorded revenue growth of 5.3% and 5.6% during the first and second quarters, respectively, the lowest growth in years. During the second quarter, overall revenue clocked in at $1.69 billion with license revenue coming in at $644 million, a mere 1% Y/Y growth.
It appears that predictions by VMware bears that the company would increasingly fall upon hard times due to ongoing enterprise cloud adoption are coming true. Traditionally, VMware collected a majority of its revenue from selling licenses of its still-popular hypervisor, vSphere. But businesses now prefer to pay for shared data centers instead of running everything on-premise, thus creating a major headwind for the company. Indeed, the company said that standalone vSphere revenue accounted for less than 30% of license revenues, or ˂ $193.2 million during the second quarter. These concerns have led to VMW stock underperforming the market with a three-year return of -8.6% vs. 22.3% gain by the S&P 500 over a similar period. The stock though has tucked on gains of 29% YTD as it continues to recover from the shellacking it received from the Dell-EMC merger.
VMware vs. S&P 500 three-year share returns

Source: CNN Money
But VMware has learned to turn its curse into a blessing. The company is now leveraging the ubiquity of vSphere to push adoption of its newer products including vCloud Air, vSAN for storage virtualization and NSX for network virtualization. During the second quarter earnings call, VMware said that cloud comprised ~8% of total revenues (which works out to $135.2 million) after showing strong double-digit growth. The company added that NSX license bookings had more than doubled with customers exceeding 1,700 while vSAN customers have exceeded 5,000.
The new AWS cloud partnership is simply remarkable given VMware's past antagonism against the largest public cloud. Although VMware vCloud Air has a vendor-agnostic approach when it comes to running operating systems such as Windows or Linux, its approach to the hybrid cloud has always been the direct opposite of AWS's because VMware focuses on building private cloud products and then uses its vast network of partners to deploy a fully hybrid solution. The private part of VMware's hybrid cloud is powered by vSphere while the public portion is powered by vCloud Air and its ecosystem of 4,000-plus partners.
AWS, on the other hand, lacks a true hybrid cloud and does not offer its cloud management software off-site. The cloud's hybrid approach involves the use of a Direct Connect Service that can be used to bridge a customer's data center with a virtual private cloud resource. AWS's Direct Connect is not a private cloud but only a connection that can be used to link to other public clouds. Amazon has been making some progress in the hybrid cloud space with initiatives such as AWS GovCloud for the U.S. Government program, though it remains to be seen whether the company will extend this to the private sector.
With the new deal, AWS will become VMware's primary public cloud partner while VMware will become AWS's primary private partner. It's definitely a win-win thing if you ask me, but more so for VMware, which badly needs its cloud strategy to work. Prior to the deal, VMware customers were left with a binary decision whether to continue using the company's software and infrastructure or to migrate to AWS due to the incompatibility of the two. Now they will get to enjoy the best of both worlds without having to incur extra costs to use AWS services such as developer tools, databases and analytics.
VMware struck a similar hybrid cloud deal with IBM (NYSE:IBM) in February, and it appears to be working well since the company said that more than 1,000 of its customers have migrated their VMware environments to IBM's cloud. Given the sheer scale by AWS, you can expect the effect to be much more pronounced.
Investor Takeaway
VMware's hybrid cloud deal with AWS has come unexpectedly given the past hostility between the two cloud players. The best part of the deal is that existing VMware customers will no longer have to make a tough choice between continuing using the company's network and infrastructure tools or migrating to AWS due to the incompatibility between the two. Meanwhile, AWS's millions of enterprise customers will now get a chance to try out VMware's cloud for their hybrid cloud deployments. This is likely to usher in a new phase of growth for VMware's burgeoning SDDC and help ease investor jitters regarding the company's slowing license revenue growth.
Disclosure: I/we have no positions in any stocks mentioned, and no plans to initiate any positions within the next 72 hours.
I wrote this article myself, and it expresses my own opinions. I am not receiving compensation for it (other than from Seeking Alpha). I have no business relationship with any company whose stock is mentioned in this article.